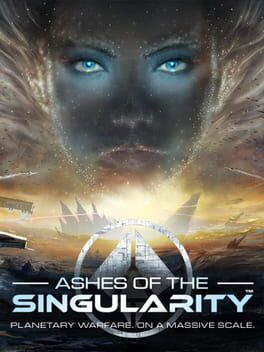 Ashes of the Singularity
Publisher

Stardock

Developer

Oxide Games

Release date

31 Mar 2016
Ashes of the Singularity is a real-time strategy game set in humanity's not-so-distant future. What it means to be human has changed with the coming of the singularity. In the post-human economy, sentience is now the most valuable commodity in the universe. The only way to acquire more of that is through the control of Turinium – programmable matter – which can extend consciousness to levels we can't even imagine. Worlds are being transformed into this substance and wars are now being fought across the galaxy for control of those worlds. Each conflict takes place across an entire world. It isn't a skirmish. It's a war. Thousands of units are constantly constructed and sent across the planet with the player directing entire armies, in real time, to capture key resources in an effort to gain total control of the planet.
see all / fold
| AGM score | 55% |
| --- | --- |
| GameSpot | 4 |
| Metacritic | 69 |
expand / fold
About Ashes of the Singularity
Ashes of the Singularity is released by Stardock in 31 Mar 2016. The game is designed by Oxide Games. Ashes of the Singularity is a typical representative of the Indie genre. Playing Ashes of the Singularity is a pleasure. It does not matter whether it is the first or a millionth hour in Indie, there will always be room for something new and interesting. Thrilling levels and gameplay Ashes of the Singularity will not leave anyone indifferent. The complexity of gameplay increases with each new level and does not let any player get bored.
In addition to it in 31 Mar 2016 released games such as:
In addition to Ashes of the Singularity, the representatives of Indie games also belong:
A complete list of games like Ashes of the Singularity can be found at AllGame here.
Ashes of the Singularity is versatile and does not stand still, but it is never too late to start playing. The game, like many Indie games has a full immersion in gaming. AllGame staff continues to play it.
Ashes of the Singularity is perfect for playing alone or with friends.
At AllGame you can find reviews on Ashes of the Singularity, gameplay videos, screenshots of the game and other Indie representatives.
Review of Ashes of the Singularity - huge battles in the shadow of shortcomings
Date: 2016-04-15 06:21:00
The review was based on the PC version.
Ashes of the Singularity is an RTS made of flesh and blood, aimed at people who require more than just spectacular battles from the game, although there are also plenty of these here. On the contrary ... they are and make a really big impression. Unfortunately, many elements of Stardock's work have been overshadowed by the fact that the creators focused primarily on the strategic, rather than the tactical, side of the product . Such an approach to the matter had to have certain consequences, not only positive, but also, and perhaps even above all, negative.
The game takes us to a rather distant future, to the end of the 22nd century to be exact. Humans have already given up their bodies and invested consciousness and intelligence in computers. A substance, called thurinium, has also been discovered that allows for the enhancement of this electronic intelligence. Typical human greed caused that planet after planet began to be transformed into this substance. This undisturbed development of the Post-Human Coalition faction could not, however, continue indefinitely. And here comes the second faction - Substrate, which is an artificial intelligence trying to stop humanoids from unrestrained expansion.
Showing our species as resource-hungry and capable of bringing the world to destruction is an increasingly popular topic, both in today's games and in movies. Currently, a more original solution would be to present people in a positive light than to refer once again to trends in pop culture. However, it must be admitted that the story is characterized by a certain amount of originality, although summa summarum does not turn out to be particularly thrilling . Presenting her through a campaign that looks more like an extensive tutorial than a full-fledged set of missions doesn't help either. Of course, this is not a game that focuses on a story as such, although RTSs with a great story and an interesting campaign are not that rare.
There are some problems with artificial intelligence both in the skirmish mode and in the traditional campaign. In single battles with the computer, it seems to be very uneven, which turns out to be one of the game's main drawbacks. AI either lets you do whatever you want with yourself, or it gives you absolutely no chance of winning. This has something to do with the selected difficulty level, but we are talking about the difference between the easy and normal variant. There are a few more levels above them, so it's hard to believe that this is a conscious decision of the creators. If we decide to accept the antics of AI, then we have to take into account that we will either win battles effortlessly or we will be doomed to fail regardless of the work we force our gray cells to do. At the beginning, the campaign leads us by the hand and makes us lazy only to throw us into deep water in the fourth mission. On the Internet, you can even meet with opinions that the episode is impossible to complete. It would be forgivable if it really felt like events were dependent on our abilities. However, in this case, the first thing to suspect is simply the existence of a bug, especially when you see the computer's gameplay, e.g. when the game gives us a few seconds to build anti-aircraft guns, the creation of which takes more time. These shortcomings (or maybe such a bizarrely designed difficulty level?) Make it practically impossible to derive any pleasure from single player gameplay.
Even though the battles are fought on a large scale, most of what we watch is very repetitive. The small diversity of units is a bit surprising with so many of them in almost every game. This means that - although the entire map is burning in the heat of battle - you can see practically the same everywhere. In addition, the units themselves within one group, e.g. dreadnoughts (the strongest in the game), are very similar to each other. You cannot complain about their graphic design, on the contrary, but the differences between, for example, two completely different dreadnoughts are at best cosmetic. On the other hand, placing a large number of ground frigates and cruisers on the battlefield results in the creation of something like an anthill, where without a magnifying glass, i.e. a solid zoom of the map, it is impossible to see anything.
Admittedly, developers have to be fair that a greater variety of units would translate into even less readability of battles, although that is exactly what they could solve by creating truly original military designs. Besides, looking at the user interface, one has the impression that such emphasis on readability has not been put . It is not very user-friendly, especially at the beginning, and visually, it is also nothing to admire. Just a few blue squares with a rather vague view of the most important information in the game. It is even worse with buildings. Within one faction they look very similar and it will take us some time to recognize them intuitively. Building designs perform much worse than the armies they are supposed to produce. At least those are aesthetically pleasing, although this applies mainly to the stronger and larger units.
The fact that we only have two sides to the conflict in the game does not save the matter. Of course, in this case, units and buildings differ much more than within one faction, but it looks like still not enough. Both fighting forces are quite similar in the storyline, and thus - use similar technology. At times it seems that the only thing they have different is the color of the paint on the ships. However, even this has not been emphasized enough not to lead to a situation where, after mixing our troops with the opponent during the fight, we are not able to, looking at them, determine whether we are winning a given battle and how much army we have left . The combat capabilities are also similar. PHC has slightly stronger basic machines, Substrate has specialized ones. In practice, however, both factions fall almost identically and it makes no sense to create a strategy specifically for one of them.
The visual side of the arenas turns out to be an absolute disaster. We have white, green and brown maps. Of course, it is about snow, grass and desert, but there are no "beautifiers" and the constant monotony, which is occasionally disturbed by some (of course repetitive) mountain, does not arouse admiration. However, it must be mentioned that although visually it is bad, there is nothing to complain about strategically. The distribution of raw materials (metal and radioactive substances) on the map directly affects the type of gameplay, and here the creators really made an effort and created projects of interesting locations, each of which requires a completely different approach to achieve victory.
Graphically Ashes of the Singularity (excluding the aforementioned maps) is very good . The attractions offered by DirectX 12 are waiting for the owners of the latest cards and Windows 10. The game then records a significant jump in the number of displayed frames, which, with very high graphics settings and huge scale of battles, makes an electrifying impression. However, owners of older computers should not be disappointed either. The title looks great at lower graphics settings, and its optimization allows for normal gameplay even on equipment that is already several years old. This production also offers a benchmark that checks how the computer copes during great battles.
Screenshots
Screenshots will help you evaluate the graphics and gameplay of Ashes of the Singularity.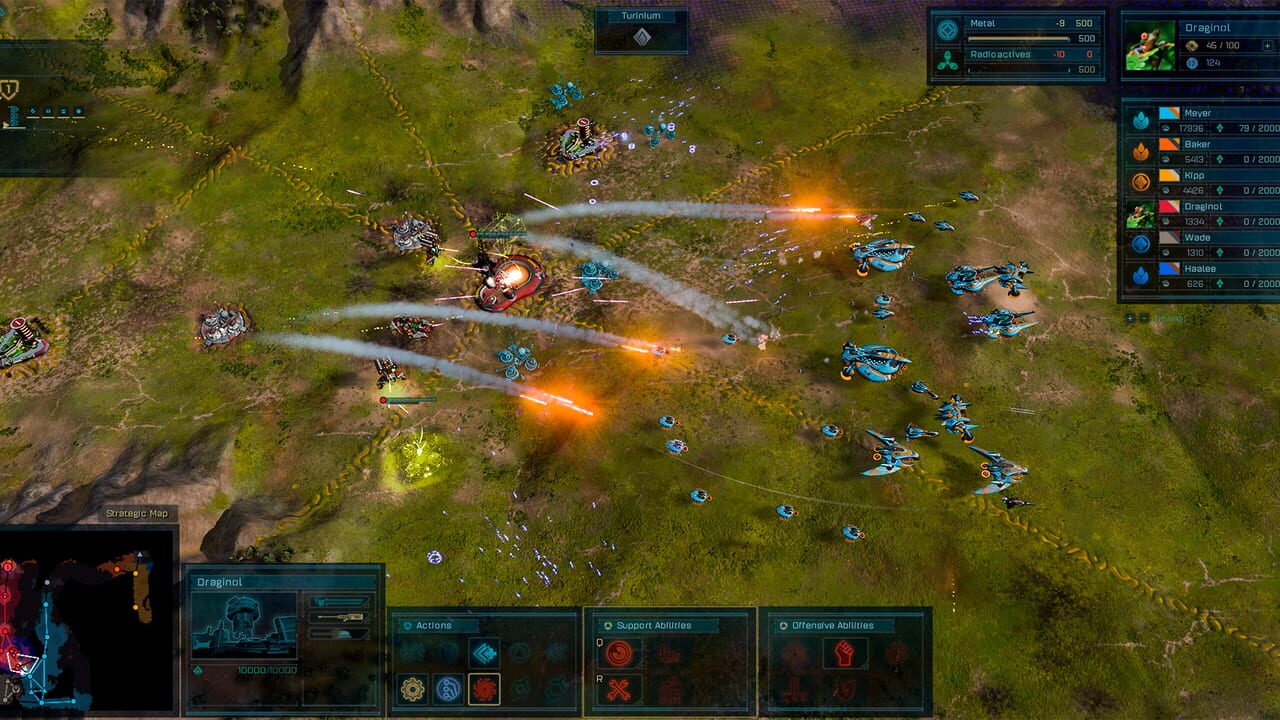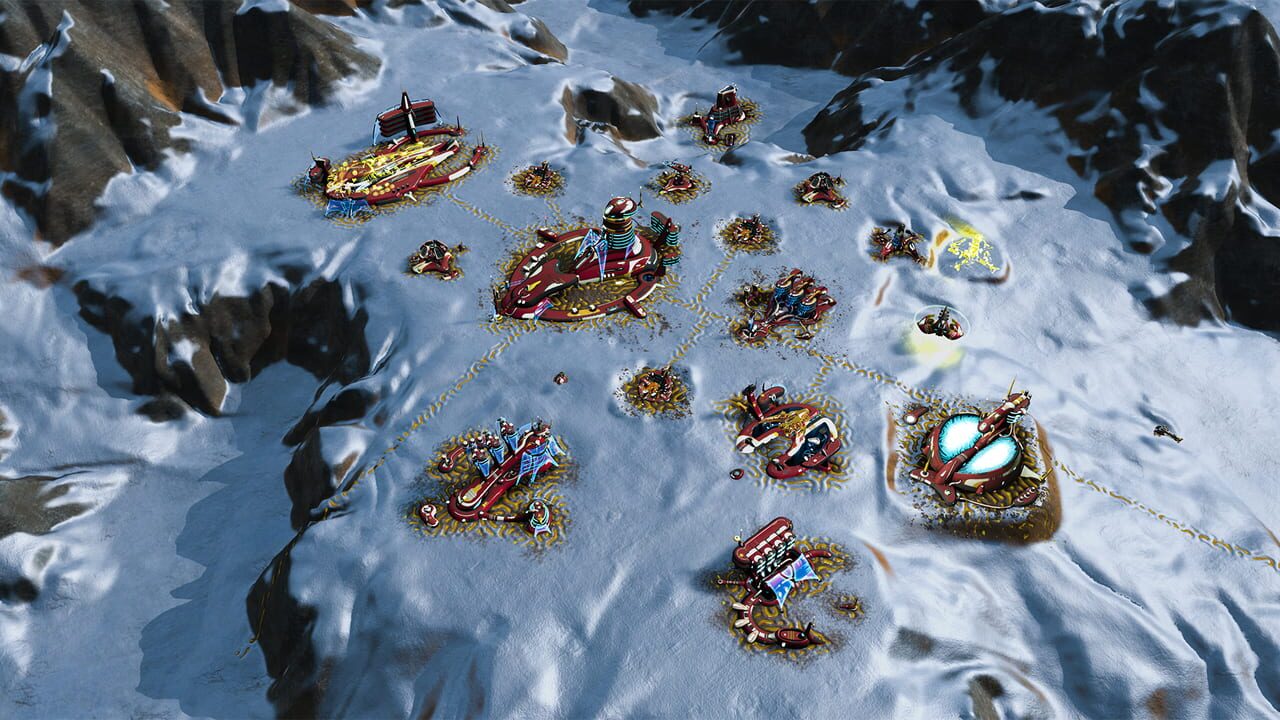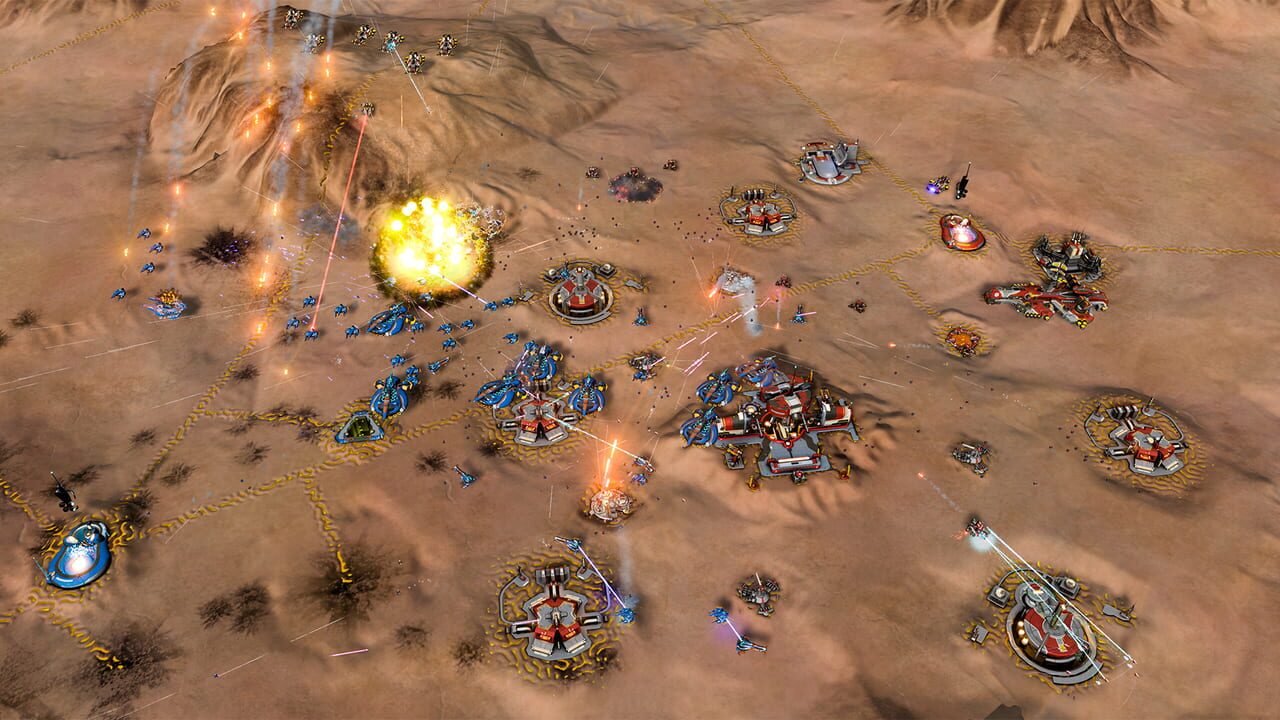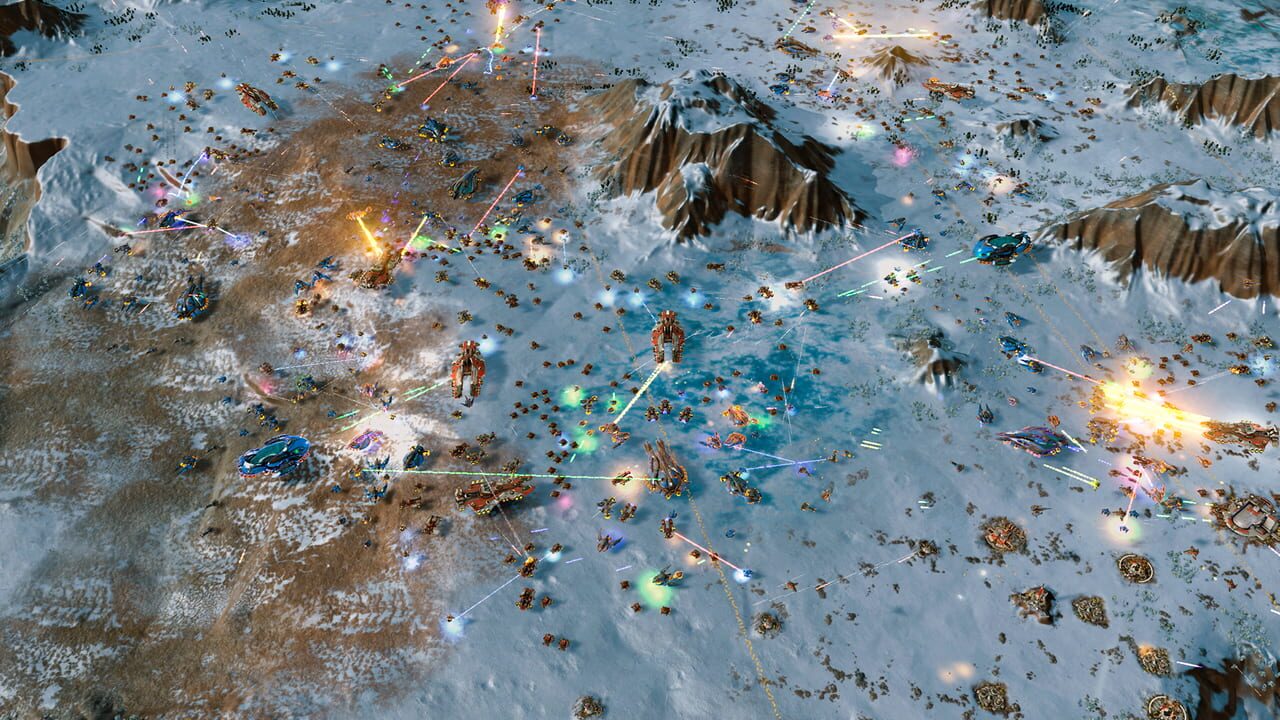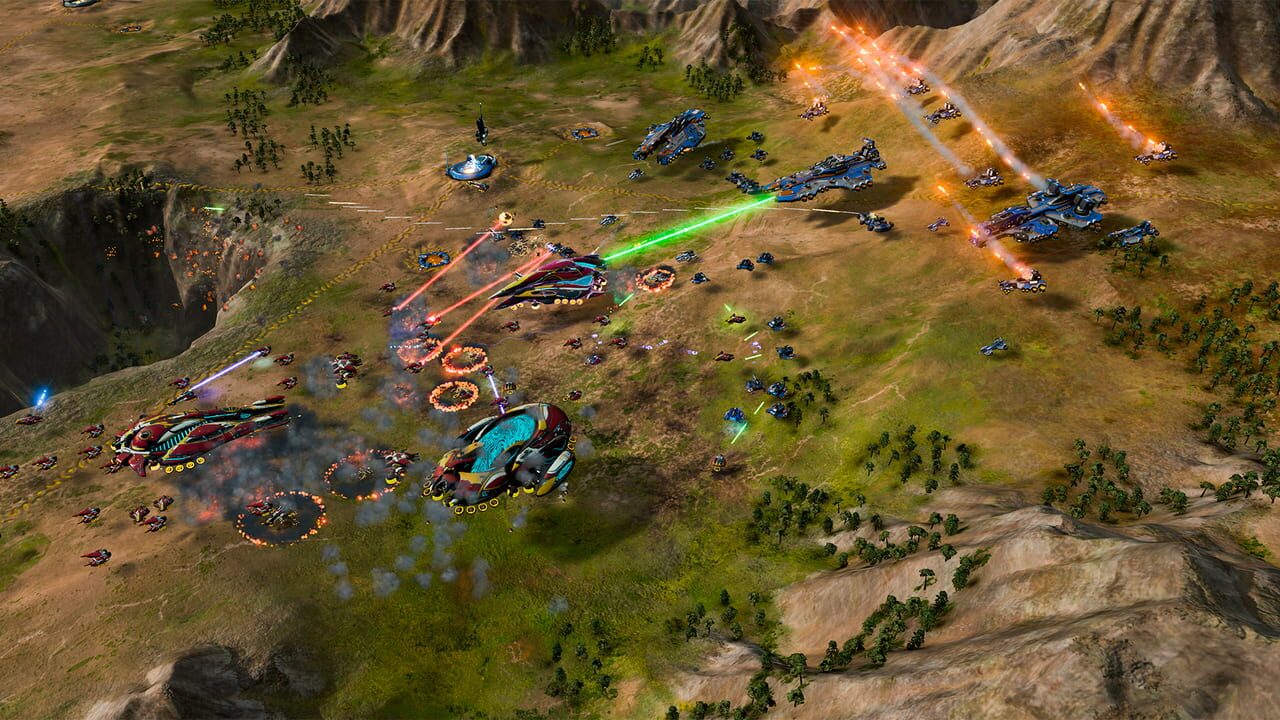 You may also like
If you like Ashes of the Singularity, but you're tired of it and want something new, you can try other games.