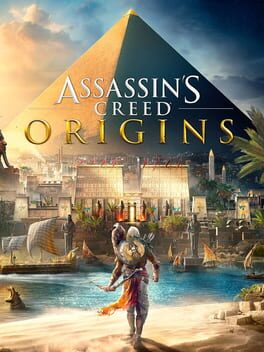 Assassin's Creed: Origins
Publisher

Ubisoft Entertainment

Developer

Ubisoft Montreal

Release date

27 Oct 2017
For the last four years, the team behind Assassin's Creed IV Black Flag has been crafting a new beginning for the Assassin's Creed franchise. Set in Ancient Egypt, players will journey to the most mysterious place in history, during a crucial period that will shape the world and give rise to the Assassin's Brotherhood. Plunged into a living, systemic and majestic open world, players are going to discover vibrant ecosystems, made of diverse and exotic landscapes that will provide them with infinite opportunities of pure exploration, adventures and challenges. Powered by a new fight philosophy, Assassin's Creed Originsembraces a brand new RPG direction where players level up, loot, and choose abilities to shape and customize their very own skilled Assassin as they grow in power and expertise while exploring the entire country of Ancient Egypt.
see all / fold
expand / fold
About Assassin's Creed: Origins
Assassin's Creed: Origins is released by Ubisoft Entertainment in 27 Oct 2017. The game is designed by Ubisoft Montreal. Assassin's Creed: Origins is a typical representative of the Role-playing (RPG) genre. Playing Assassin's Creed: Origins is a pleasure. It does not matter whether it is the first or a millionth hour in Role-playing (RPG), there will always be room for something new and interesting. Thrilling levels and gameplay Assassin's Creed: Origins will not leave anyone indifferent. The complexity of gameplay increases with each new level and does not let any player get bored.
In addition to it in 27 Oct 2017 released games such as:
In addition to Assassin's Creed: Origins, the representatives of Role-playing (RPG) games also belong:
A complete list of games like Assassin's Creed: Origins can be found at AllGame here.
Assassin's Creed: Origins is versatile and does not stand still, but it is never too late to start playing. The game, like many Role-playing (RPG) games has a full immersion in gaming. AllGame staff continues to play it.
Assassin's Creed: Origins is perfect for playing alone or with friends.
At AllGame you can find reviews on Assassin's Creed: Origins, gameplay videos, screenshots of the game and other Role-playing (RPG) representatives.
The story
This section tells the history of the world of Assassin's Creed: Origins
IT ALL STARTS WITH ONE Ancient Egypt. Once a prosperous and influential empire, now a crumbling civilization. Delve into this mysterious part of history and uncover the thrilling and dangerous tale behind the creation of the Assassins' Brotherhood.
Assassin's Creed: Origins put to the test - the perfection of a formula
Author: Dimitry Halley
Date: 2017-10-26 13:00:00
With Assassin's Creed: Origins, the Black Flag team wants to create a creative rebirth of the action-adventure series. In the test, however, it turns out to be much more than that.
The real money elephant
In Assassin's Creed: Origins there are three different ways to spend your real euros in the game: firstly, a regular DLC shop for upcoming expansions, secondly an item shop with a selection of legendary armor and weapons for our character Bayek, and thirdly, an arsenal of » Time savings « . There you get experience points, in-game money, overview maps of all secrets, resources and so on to advance faster in the game.
The items available in the shop are manageable at the time of release and rather silly curiosities (a unicorn as a mount ) as really useful. The best weapons, outfits and gadgets are completely free in the game.
The Heka chests, buyable treasure chests with randomly generated content, can also be unlocked fairly using in-game currency. The real money shop is so superfluous that Ubisoft is cutting its own meat here undeservedly. Because you shouldn't indulge in any illusion: The few outsourced items only serve the purpose of luring the players a few extra money out of their pockets.
And the sonorous part of the community will loudly denounce that. It's a shame, because Origins offers an extremely fairly balanced activation system that only looks unfair at first glance. And in general, the game didn't deserve to be reduced to microtransactions in forums and Steam reviews. Because Bayek's journey through ancient Egypt offers so much more.
Two main characters
Whereby "Bayek's Journey" falls a little short. In truth, Origins is similar to the predecessor Assassin's Creed Syndicate about the story of a couple. Most of the time you play Bayek, who is almost 30 years old, but in some story missions we control Aya.
In contrast to Syndicate, the two are not siblings, but rather lovers who seek bitter revenge in ancient Egypt after a shared tragic experience. "Antique" in this case means around 49 BC. The ancient pharaonic kingdom of the Egyptians has been under Greek rule for almost 250 years, now the Romans under Julius Caesar also want their piece of the regency cake.
And in the tension between these three nations, Aya and Bayek chase sinister conspirators across Egypt. In addition, there is Bayek's special job: As a so-called Medjai, he basically works as Captain America of the desert - officially he works for the Pharaoh, but in reality he serves as a protector for the Egyptian people.
The Ezio Principle
Quest gold
At Bayek, for example, we can empathize with his desire for revenge because the game takes the time to make his loss (which we are not spoiling here) tangible. If he cracks the skull of an enemy mastermind in a wild rage and then remains whimpering because revenge simply does not want to alleviate his pain, then your stomach will contract.
And where Bayek's inner conflict runs out of breath towards the end, Aya comes to the fore with a few twists and turns that almost make her the secret main character of the game. To make it short and spoiler-free: The main story of Origins relies on a classic revenge material, but entertains across the board, offers exciting twists and places itself coherently in the timeline of the series as the origin story of the Assassin Order.
The countless side quests, which we can tackle at any time, decorate the characters in the main story. For example, Bayek ( completely optional ) returns to the site of his first assassination and has to deal with the family of his former victim there.
This spins a chain of quests that ends in another tragic murder. Elsewhere, a couple loses their child as part of the campaign - after the relevant story mission, we help them both back to life. Also completely optional.
Egypt hui, present ugh
There are two major shortcomings in the story: On the one hand, in addition to the many great mini-stories, there are also various weaker side quests that work like "bandits kidnapped my brother". On the other hand, the contemporary history of Abstergo falls flat again.
The Ubisoft scribes have apparently completely lost the thread of their contemporary history. This time, with the playable Layla, there is again a specific reference figure who can roam freely in a small cave camp in Egypt. But she doesn't really have anything to tell.
You can read various Abstergo manuals or your mail traffic on your laptop. That's basically it. Okay, you can find one or two halfway interesting story twists, but in truth you could have deleted the present part without replacing the game without anything missing. Not a good sign .
Exploring is king
On the other hand, you will get so lost in ancient Egypt anyway that the present is becoming a long way off. The game world of Assassin's Creed: Origins is one of the most impressive open worlds we have ever experienced. Ubisoft has not only created the largest Assassin's Creed world to date , but has also made it varied. Not a matter of course in a desert.
Where Unity and Syndicate explored Paris and London on the side, we are now looking forward to what is waiting behind each sand dune. Bayek is currently traveling to barren canyons (either by horse, camel or horse cart) and battling his way through scorching desert heat, only to travel through fertile Nile valleys and ancient cities in the next moment.
Oh yes, and of course you can also travel the Nile and the Mediterranean Sea, looking for treasures underwater in shipwrecks. And of course there is also a lot of booty in the countless burial chambers and pyramids . From the ancient Djoser pyramid to the wonder of the world of Giza to Snofru's curious bent pyramid, you come across the relics of the bygone Egyptian empire in every nook and cranny.
The PC version
The world of Origins is full of magical moments, both large and small. The panorama views are a feast for the eyes - in general the graphics of the game shine at every nook and cranny. Occasionally you come across clone NPCs and coarser textures, but that doesn't reduce the all-round positive overall impression, which is only underlined by the atmospheric soundtrack .
Origins presents itself as a graphic bombast, especially on the PC. Denser vegetation, more vivid particle, sand and fog effects , reduced pop-ups and a graphics menu that comes up with an incredible variety of settings and should make every PC gamer extremely happy.
Ubisoft offers much more than just a wealth of options: Each controller shows the player how many levels are available and explains with a small description and an example image what the effects are in the game. There is also an integrated live benchmark that analyzes the performance of the game.
The options menu
Some noteworthy options are the variable Field of View, an FPS limiter and presets for simple graphic configuration and a controller for the degree of tessellation. An integrated benchmark is also included and if you change several settings, Origins offers to restart the game for you.
With a current high-end computer consisting of a Core i7-8700K, 16.0 GByte DDR4-2667 RAM and a Geforce GTX 1070, Origins runs a camel ride through an oasis with maximum details in full HD resolution at around 70 frames per second , in WQHD the system still achieved a stable 50 fps.
But even gamers with old hardware can be happy with compromises in the level of detail: With an AMD FX 8350, 8.0 GByte DDR3-1600 RAM and a Geforce GTX 960 with 2.0 GByte VRAM, the game overflows with medium details in Full HD 30 fps. With these settings, Origins still looks good and is still pleasant to play despite significantly fewer frames per second, but the reduced visibility spoils the fun a little .
Praiseworthy: The new Assassin's Creed also properly fires 21: 9 monitors. In the test, the expansive aspect ratio is implemented correctly and scores with significantly more generous viewing angles than with conventional 16: 9 monitors.
Overall, the PC version of Origins has made a very good impression on us so far. We have been spared annoying bugs or unusual performance problems as in many earlier parts, only when selecting a new graphic preset there was sometimes only a black screen, which could be remedied with a restart.
The jaw drops
Understandably, the game demands rather steep hardware performance in full details and 4K resolution , but the panoramic views with increased details in the distance let us drop our jaws. And in detail there are various eye-catchers in Egypt.
Even in a supposedly banal crocodile nest, Bayek discovers the corpses of unfortunate travelers, including a short letter that drove them into the crocodile's mouth.
And if you walk around in the desert for too long, you will even spot things that are not there. For example, a beautiful woman in a small flower garden. The Egypt of Origins is bursting with exciting discoveries. Also playful.
Is that still Assassin's Creed?
On the papyrus, the gameplay framework of Assassin's Creed: Origins is very similar to its predecessors. In the open world, we run to quest markers and start either main or side missions. In these, Bayek has to climb all kinds of walls and trees with nimble parkour maneuvers, take down enemy guards with hidden blades or attack in an open exchange of blows.
The main missions make a noticeable effort to provide variety aside from sneaking, fighting and escorting. There are always real boss fights , all of which play completely differently. Sometimes you fight a hyena guardian in a sandstorm, sometimes in the mythological underworld with a bow and arrow against a 20-meter-tall snake (that all makes sense in the story, don't worry).
At one point we climb the career ladder in the gladiator arena, only to later take part in a historic sea battle. We don't want to spoil too much here, just this much: Every single main mission is remembered in its own way, be it playfully or through its story.
And even with the similarities to earlier series parts, the actual execution of the game mechanics differs drastically. For example, important places are no longer displayed on the mini-map , but only marked as question marks on a compass. In order to find out what is waiting for us, we have to start the journey ourselves: It sounds like a trifle, but it increases the fun of exploring enormously.
Seeing eagle instead of eagle eye
After very long flights with the Adler , the loading times on the PC are significantly shorter than on the consoles. Very beautiful.
The only negative thing we noticed here was the "new" parkour system . In principle, this returns to the state of a black flag: You use a single key for fast climbing and jumping, but often the necessary precision is missing.
Here Arno was much more nimble in Unity , and we also liked the animations when quickly overcoming fences and boxes. However, the parkour run is much less common in the vast desert landscapes. Nevertheless: At least in the cities of Alexandria, Cyrene and Memphis we would have liked a smoother movement control.
By far the largest revision
Without a doubt, the combat system has experienced the greatest revision by far. Gone are the days when you could win every duel with an attack button and a counter button. Assassin's Creed breaks away from the rigid choreographies of days gone by and relies on dynamic hitboxes.
Bayek must bypass cover, make nimble combos of light and heavy blows, break a block with a quick shield strike, and charge special attacks. It is much more exciting to play than any previous combat system - and it also requires a lot of skill.
For the first time in series history, you spend a lot of time mastering a combat mechanic. Especially at the highest of the three levels of difficulty , a frightened camp with archers and enemy spearmen makes us hell in no time. Hairy situations can only be mastered if you have perfectly internalized your mix of blocks, combinations of strokes and switching weapons to the bow.
From commanders and interns
For the first time in the series, the choice of weapon also plays a major role. Each genre is aimed at certain types of players and offers clear advantages and disadvantages. With sword and shield you beat yourself as an all-rounder, but you have to cut back on damage.
The double blade is suitable for extremely fast, evasive blade dancers, but dispenses with the defense of a shield. The two-handed club offers a counter-parade, but a bulky heavy blow. What all weapon types have in common: Fighting is a hell of a lot of fun .
We have to make one caveat: on the PC we tend to recommend the gamepad to you. The keyboard layout worked, all keys can be freely assigned , the menus have been optimized for the mouse and archers enjoy the buttery smooth shooter control when aiming.
Nevertheless, Bayek's arsenal of movement and action options occupies so many buttons that it is easy to knot your fingers in close combat. If you avoid blocking, you have to use »Shift«, »Space« and »WASD« . The controller uses itself more smoothly in the fights.
At the highest degree of severity, however, there are situations in which even the best fighter has to flee. Good thing, because Assassin's Creed has always been a tad too undemanding. This is also noticeable at an easy and normal level - here the fights sometimes demand too little. But if you turn up the difficulty level, you actually have to ponder how you want to infiltrate a Roman fortress, for example.
More like Far Cry
With the predator's bow, Bayek zooms over a long distance and distributes fatal headshots, but the ammunition is quickly running out. Up close, he kills with the good old hidden blade . Alternatively, we contaminate corpses lying around with contagious poison.
Or we just wait for night to fall and surprise the captain while he sleeps. If he hadn't left the night shift to his interns.
A Roleplay?
The whole question of strategy becomes particularly tricky when we attack enemies who are in the level above us. Assassin's Creed: Origins relies on an RPG-like level system . There are experience points for various actions in the game, Bayek increases in level, unlocks new skills and becomes stronger. However, this also applies to opponents. If you attack an enemy at level 30 at level 20, you will achieve very little in stealth mode even with a hidden blade.
Theoretically, you can still sneak into a level 30 area and dust off treasures as long as you don't get caught, this freedom leaves the game to us. Despite the experience point system, Origins never degenerates into lengthy grind.
The campaign takes us across the world map - if you orient yourself a bit and take a few side quests with you to the left and right, you will almost automatically reach the recommended level for the finale.
The skill system
When distributing skill points, you don't have to go crazy, as in many role-playing games, to accidentally choose the wrong build. After reaching the maximum level, you will continue to receive skill points with which you can theoretically completely expand the skill tree.
However, this is not really necessary: The endgame content (including some particularly tricky optional boss fights) can be managed well with the maximum level of 40 and a correspondingly high-level weapon.
And as with most Ubisoft Open Worlds, you can tell at first glance which skills are cool and which are pretty lame. Who, for example, chooses a larger lung volume when diving or a discount at dealerships if instead they can tame lions or destroy enemy cover with a shield strike?
The available skills are significantly better than in Assassin's Creed Syndicate, but most players will choose the same skills (in a slightly different order) because others are rather unspectacular. So you can't speak of a real role-playing game here, especially since there are no decision-making options for the quests either.
Item hunting like in Diablo?
The role-play borrowings, however, extend to Bayek's equipment. With defeated opponents as well as more or less well hidden in the game world, we find new weapons in different degrees of rarity every minute.
Legendary items have certain perks, for example we can find a fire sword or a shield that lets opponents fall asleep if the block is successful. That might not be realistic, but it makes for an incredibly motivating hunt for new equipment.
However, you don't have to grind laboriously here either. Bayek gets many good weapons automatically in the course of the campaign, and he can increase weaker items at any time at the blacksmith in the level. However, anyone who takes the effort to search enemy camps away from the roadside, to explore old graves or to climb a vulture's nest, will finally be reasonably rewarded for it.
An achievement era ends
Hunting is also more fun than it used to be: with Bayek's Adler Senu, we spot animals that provide us with raw materials such as hard or soft leather. If you kill the booty, our warrior can use the resources to improve individual pieces of armor through crafting (see box). By the way: If you want to spare animals, you can simply attack enemy escorts or buy the stuff from the dealer.
The times when we only collected items for one achievement are noticeably over. Ubisoft is more than ever linking secondary occupations with meaningful activities. You don't just bag gold from treasure chests along the way, but find the loot in the middle of a hyena cave.
Or we hunt for antique panels, which no longer hover over the roofs as floating items, but are all hidden in abandoned graves behind quite simple but motivating puzzles. And then there are gladiator fights and horse races that you can use to top up your wallet.
The thing with the formula
Of course, not every mission playfully reinvents a cog. Even a perfect formula is a formula at the end of the day. Assassin's Creed: Origins weakens many of the problems of Ubisoft's open world concept, but it doesn't get rid of them entirely. Some activities are still redundant and repetitive: Countless times we walk next to NPCs at a snail's pace while they tell us something.
All Ubisoft Open Worlds have to cope with the same problem: If you go broader, you inevitably sacrifice playful depth. Assassin's Creed: Origins does not completely solve this problem, but it digs deeper than any other Ubisoft game to date.
Thanks to the countless small and big stories, believable characters, motivating game mechanics and incredibly successful game world, at the end of your journey you can associate every region of Egypt with a certain experience. And when so many details stay in mind in such a gigantic world, then that is a very, very good sign.
Screenshots
Screenshots will help you evaluate the graphics and gameplay of Assassin's Creed: Origins.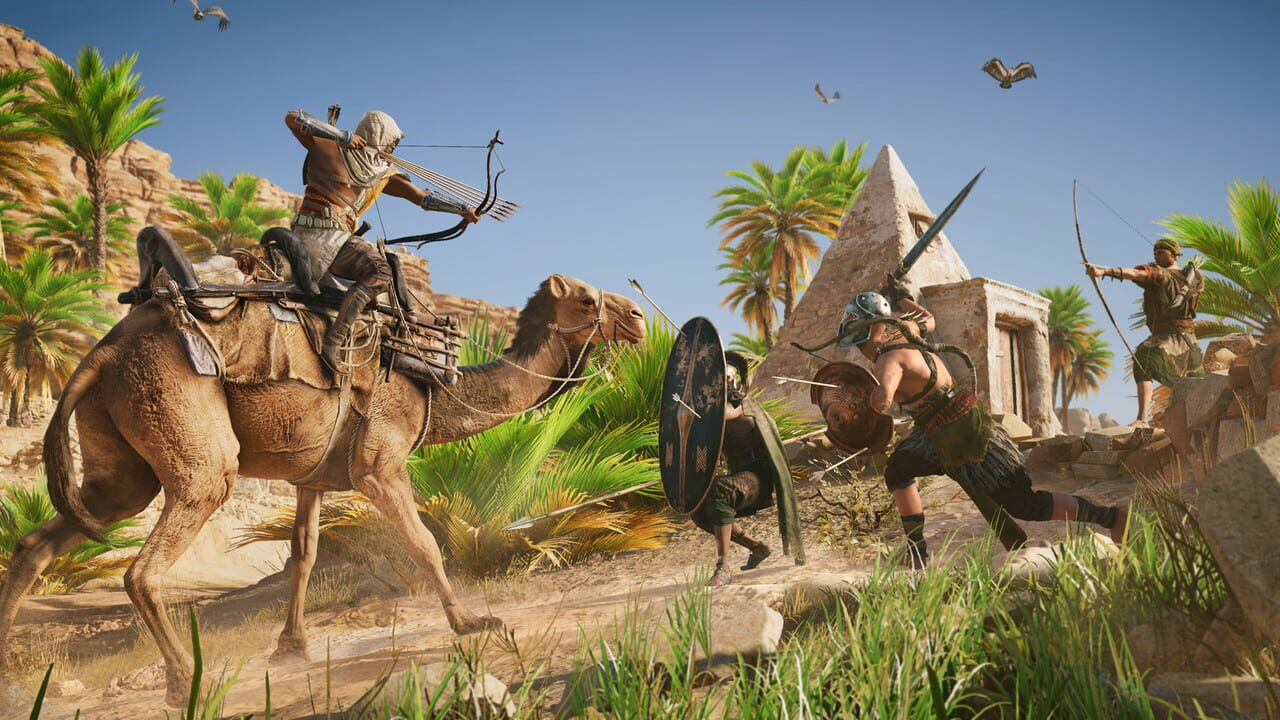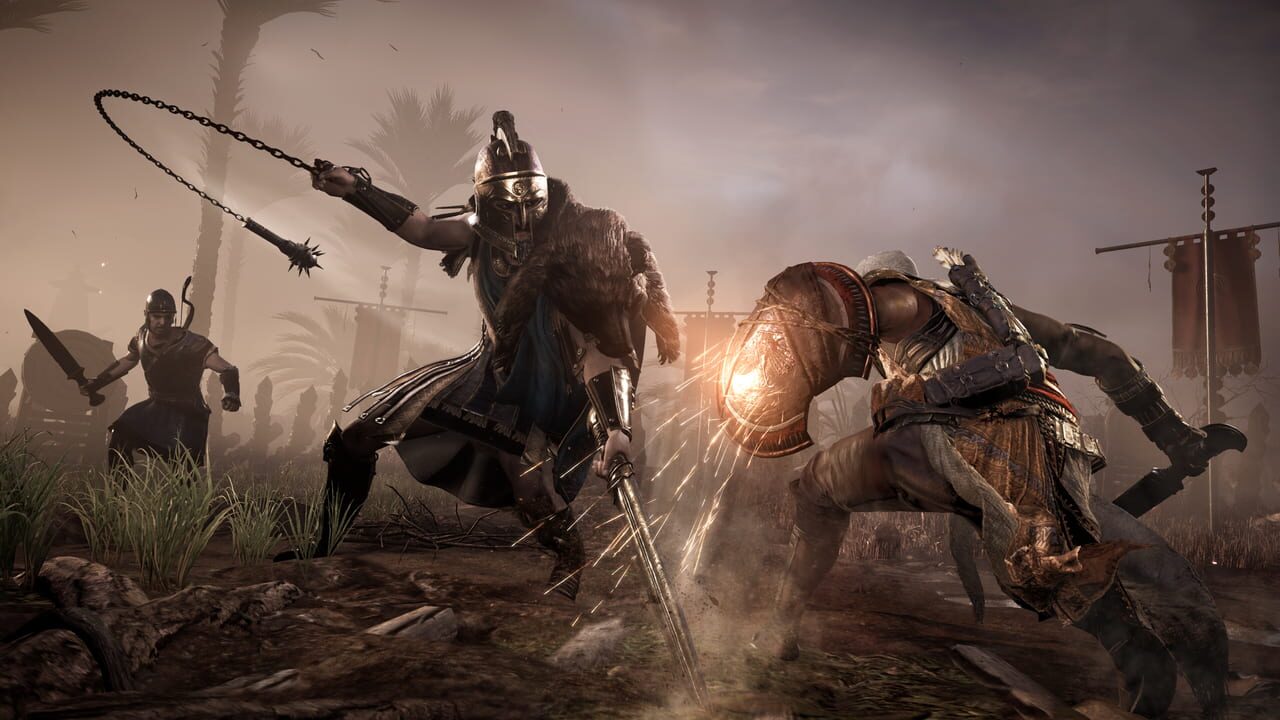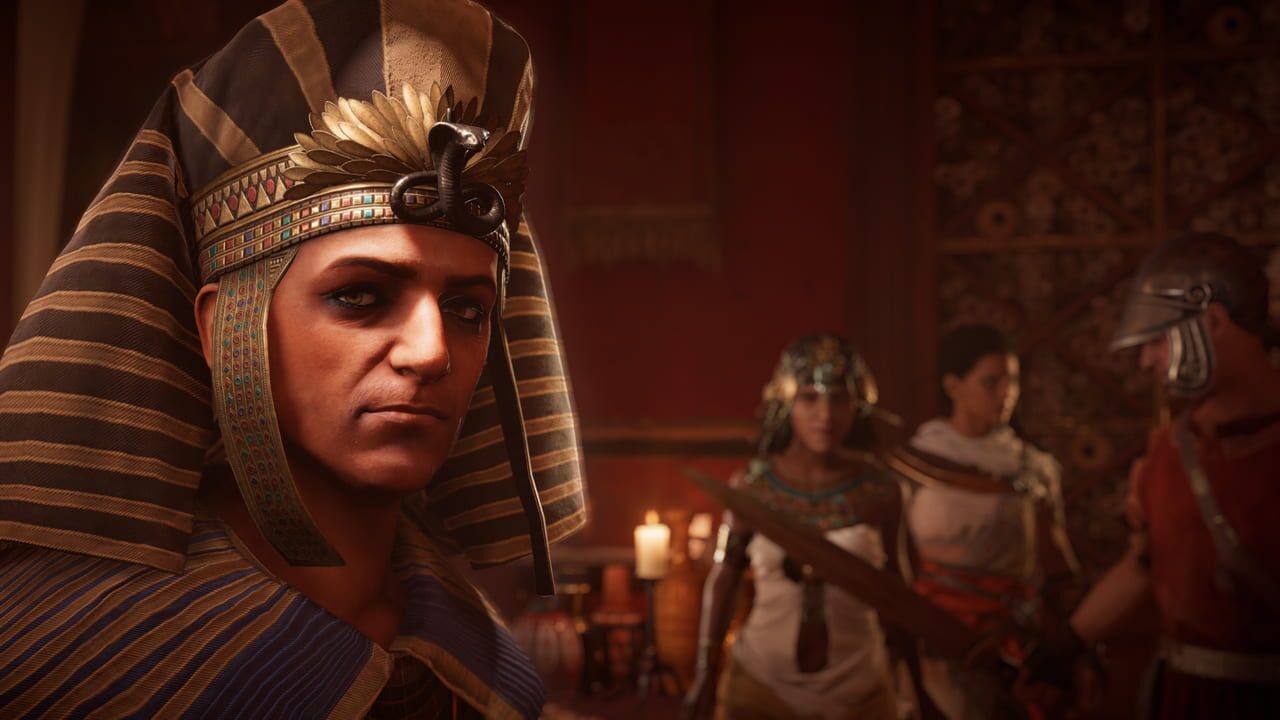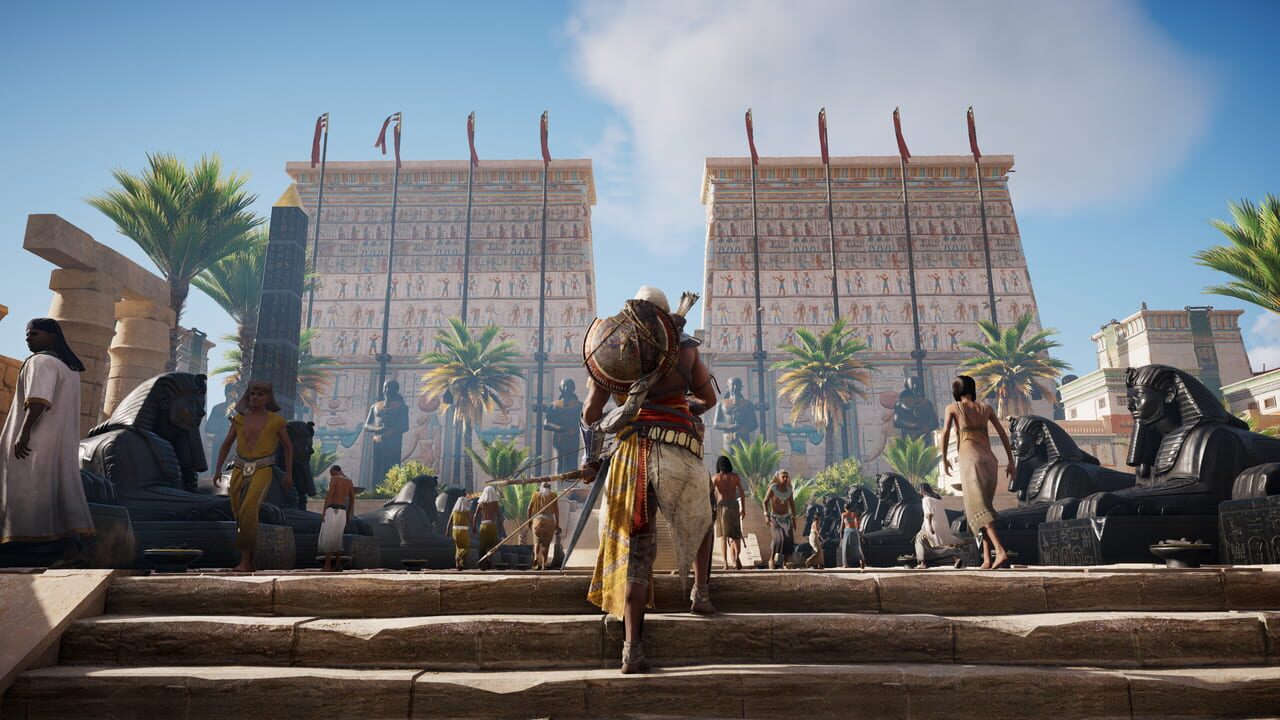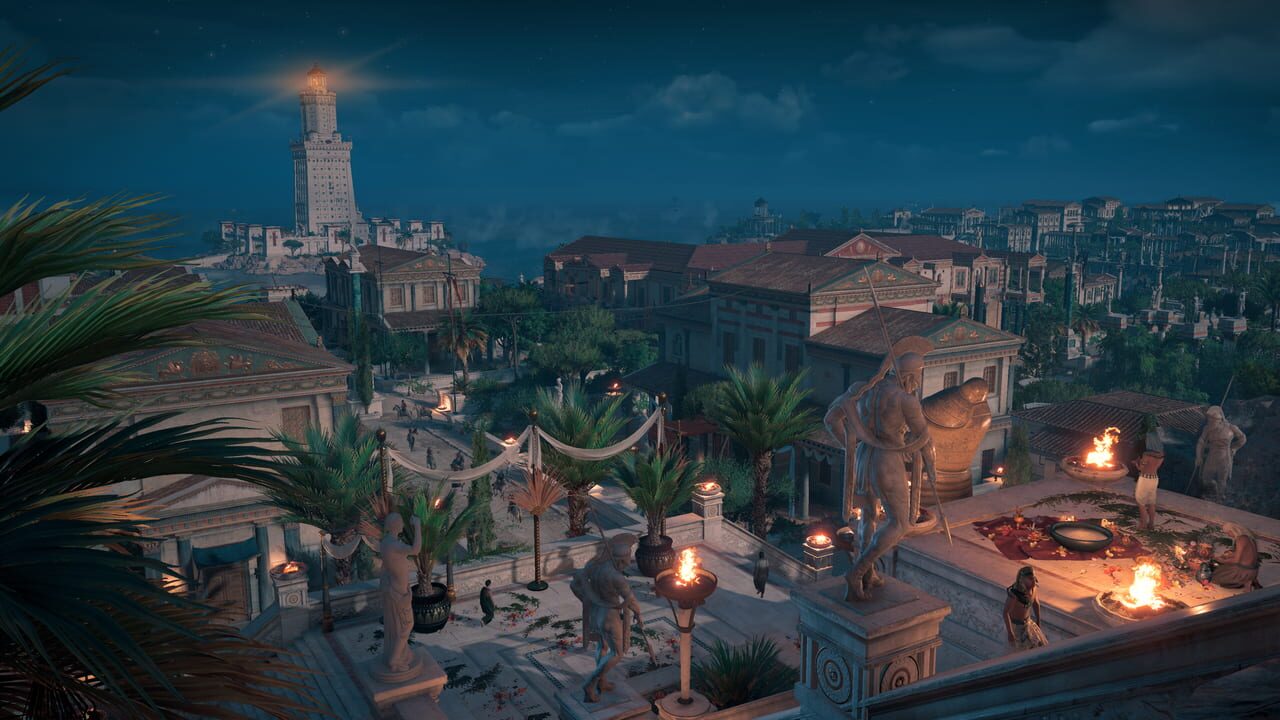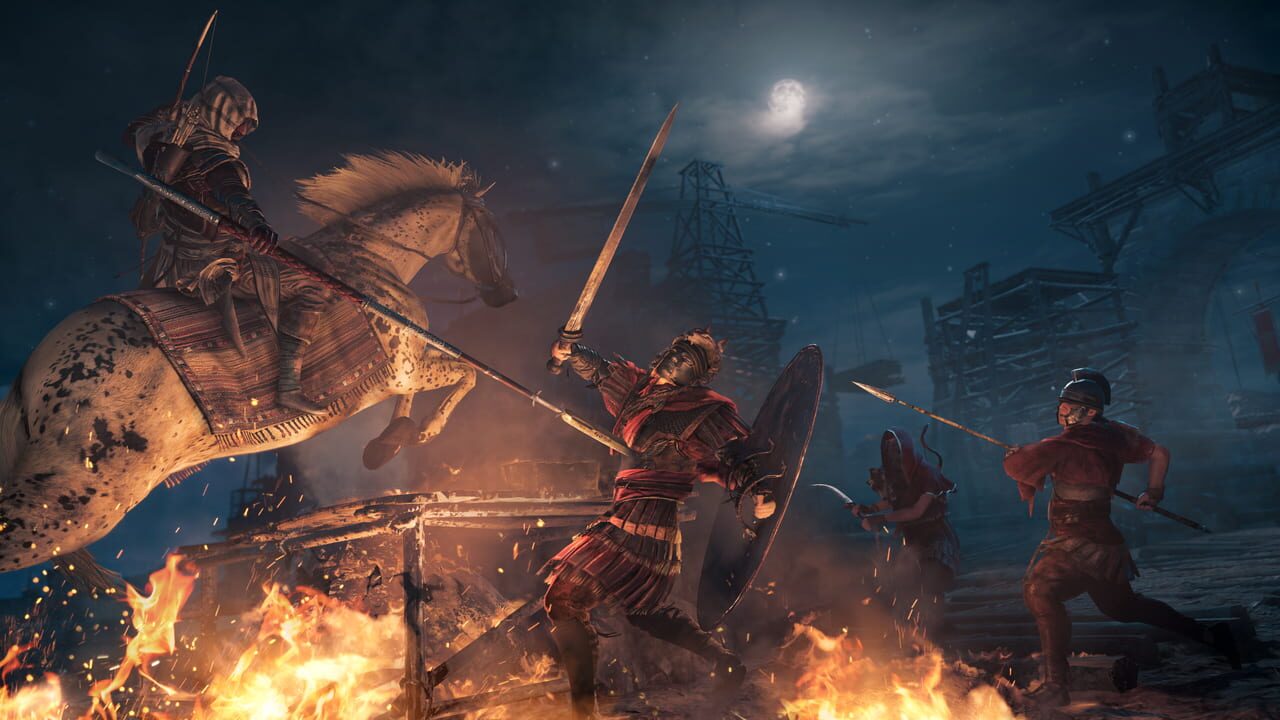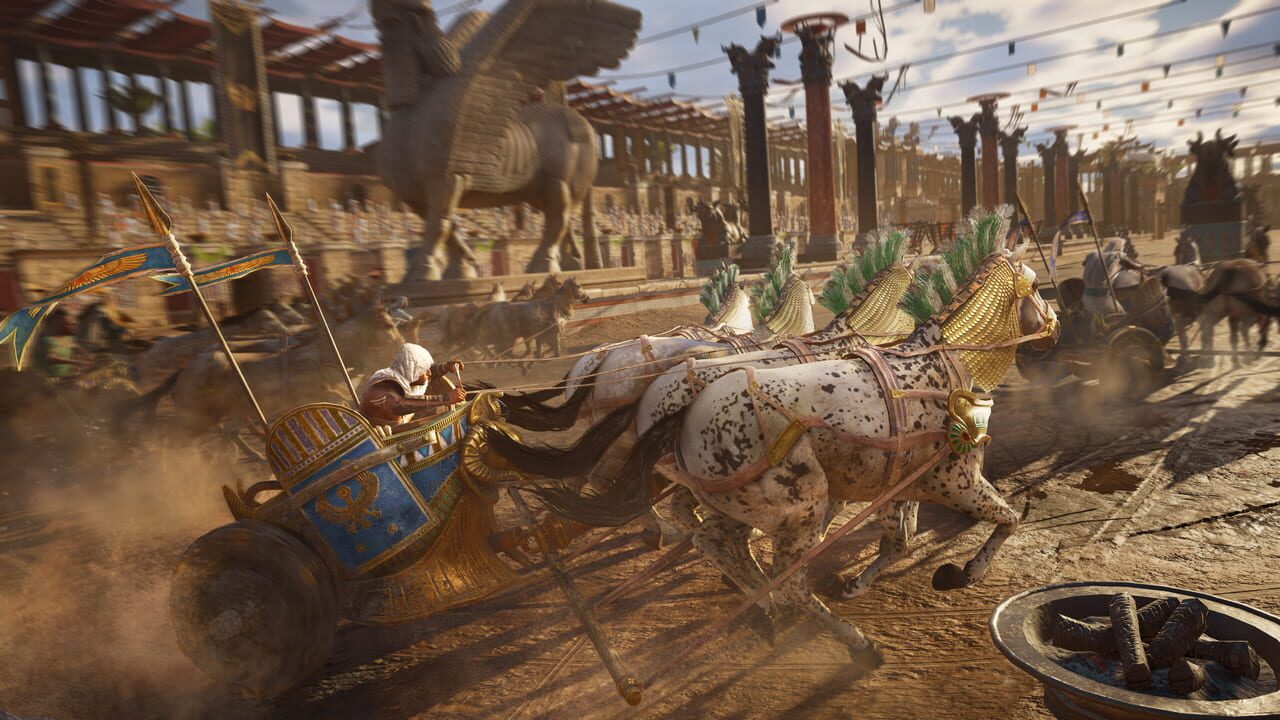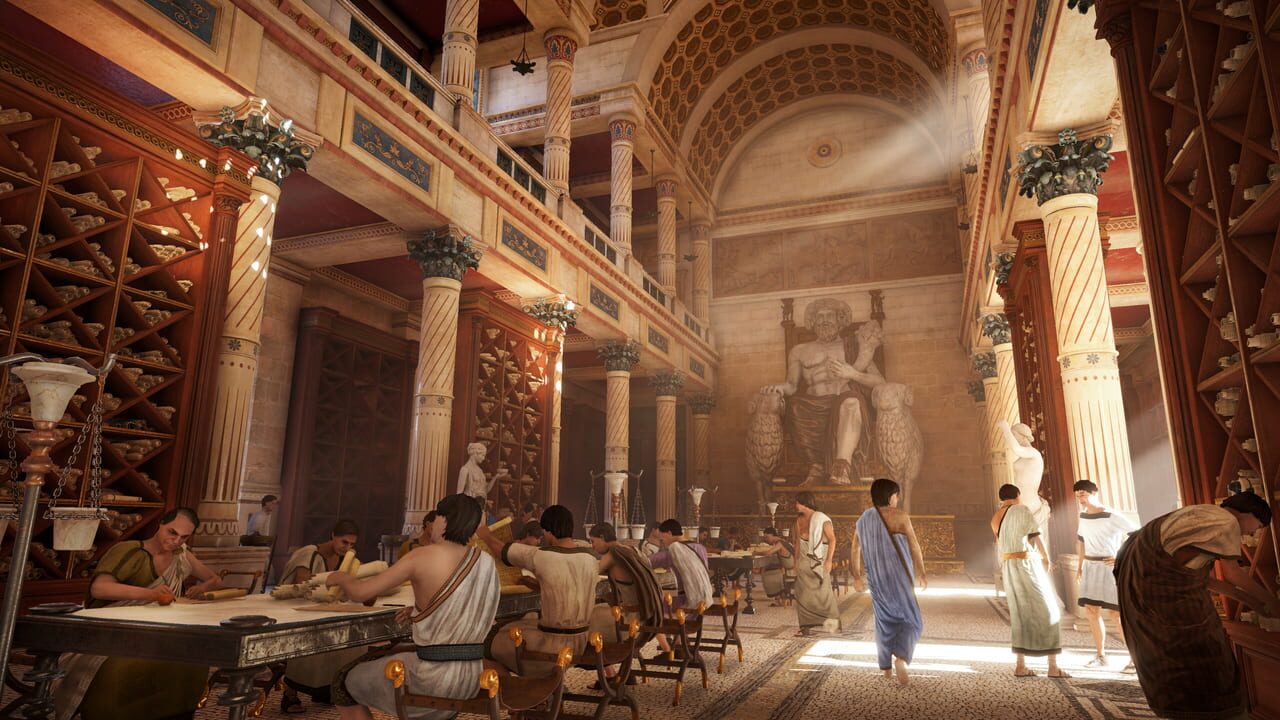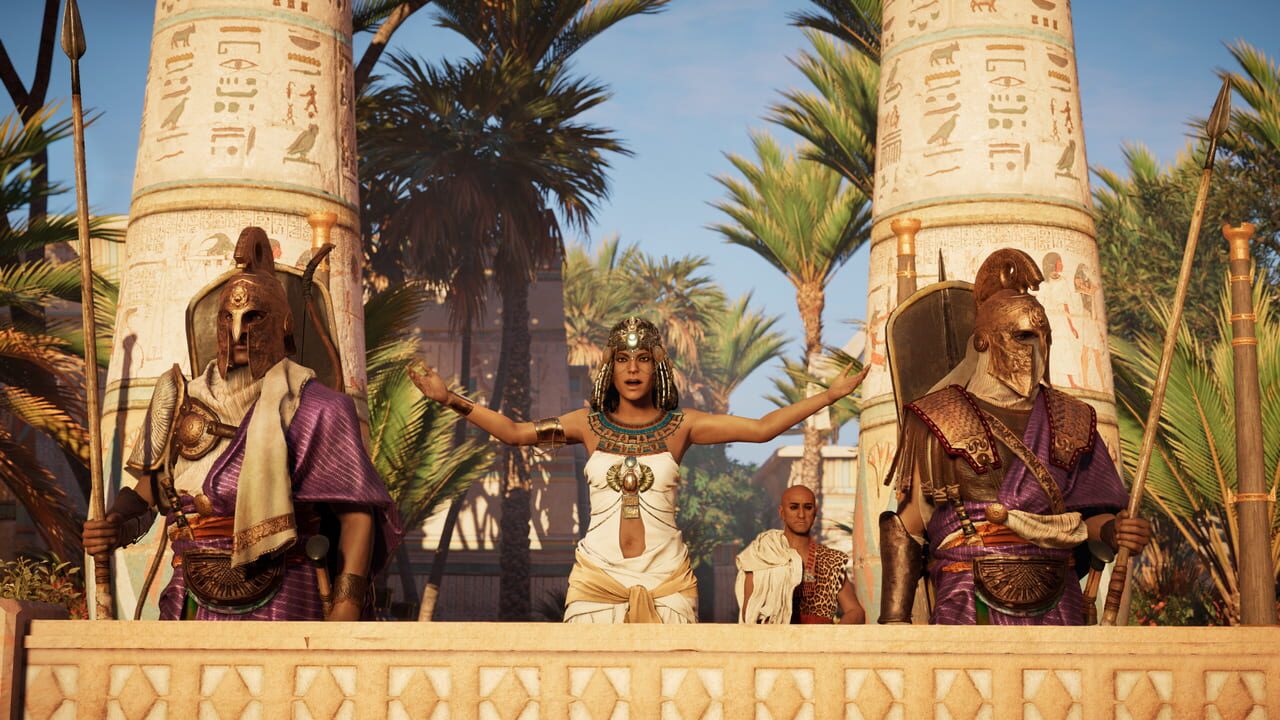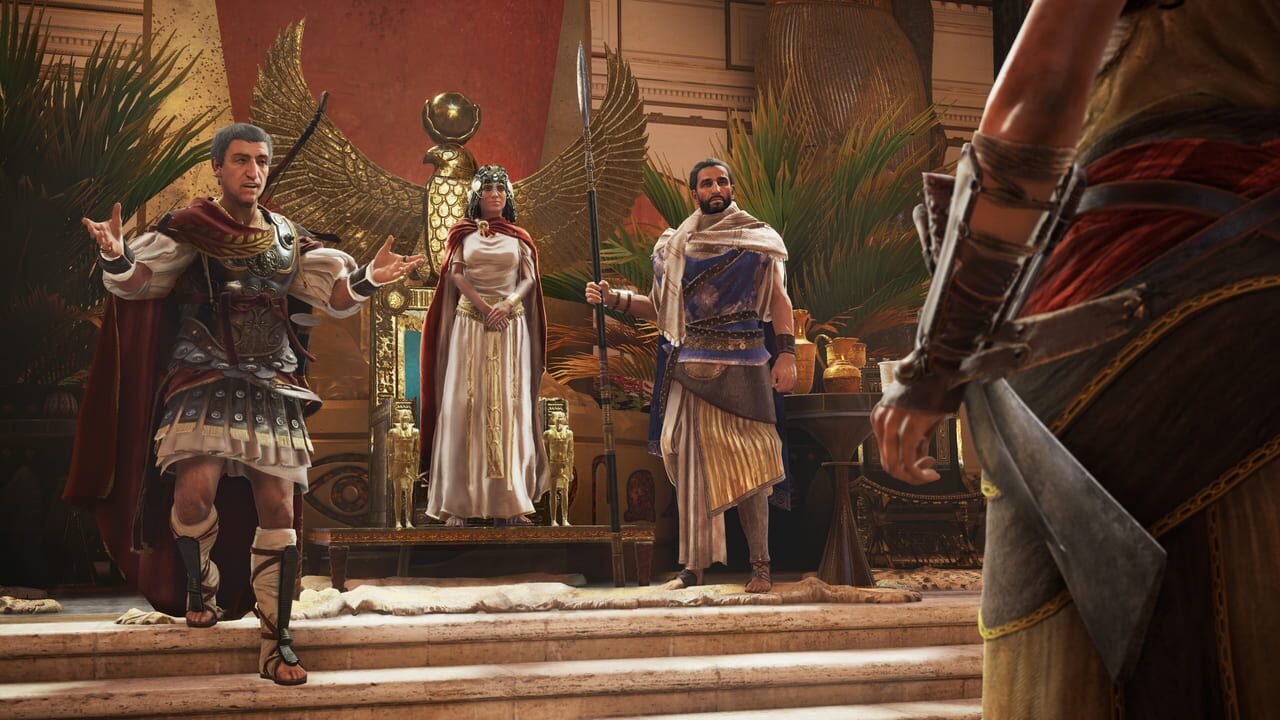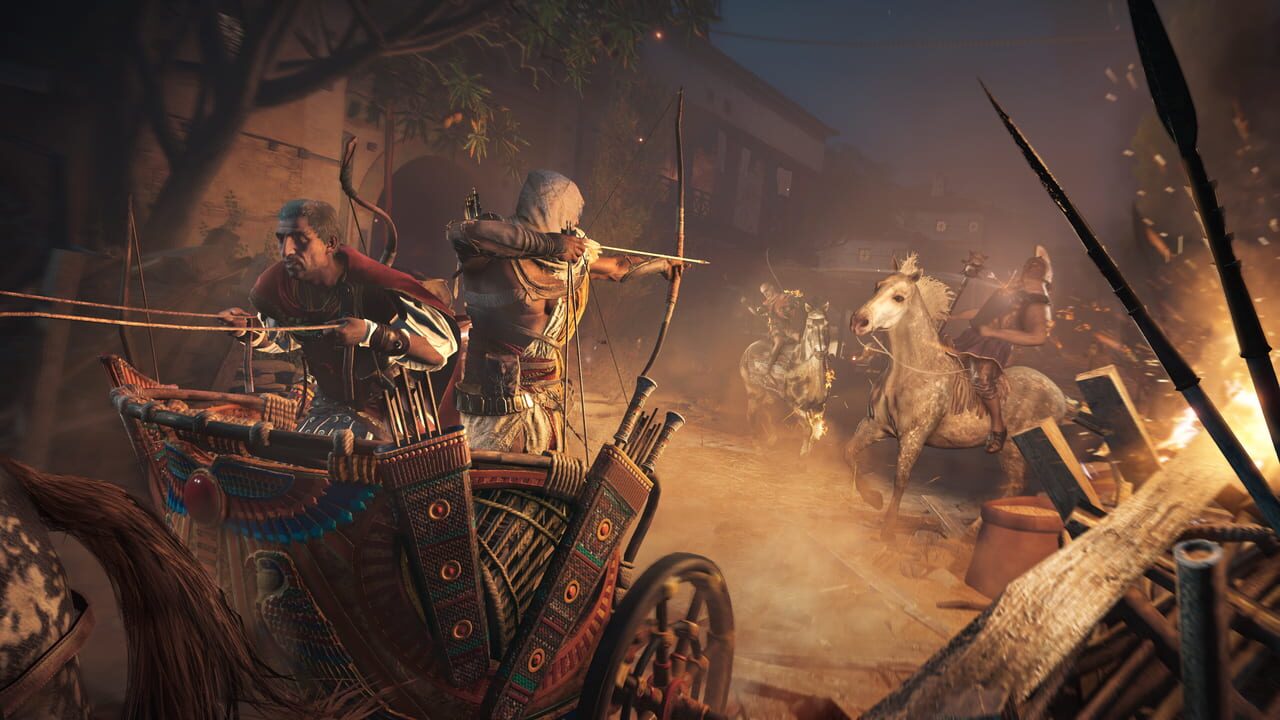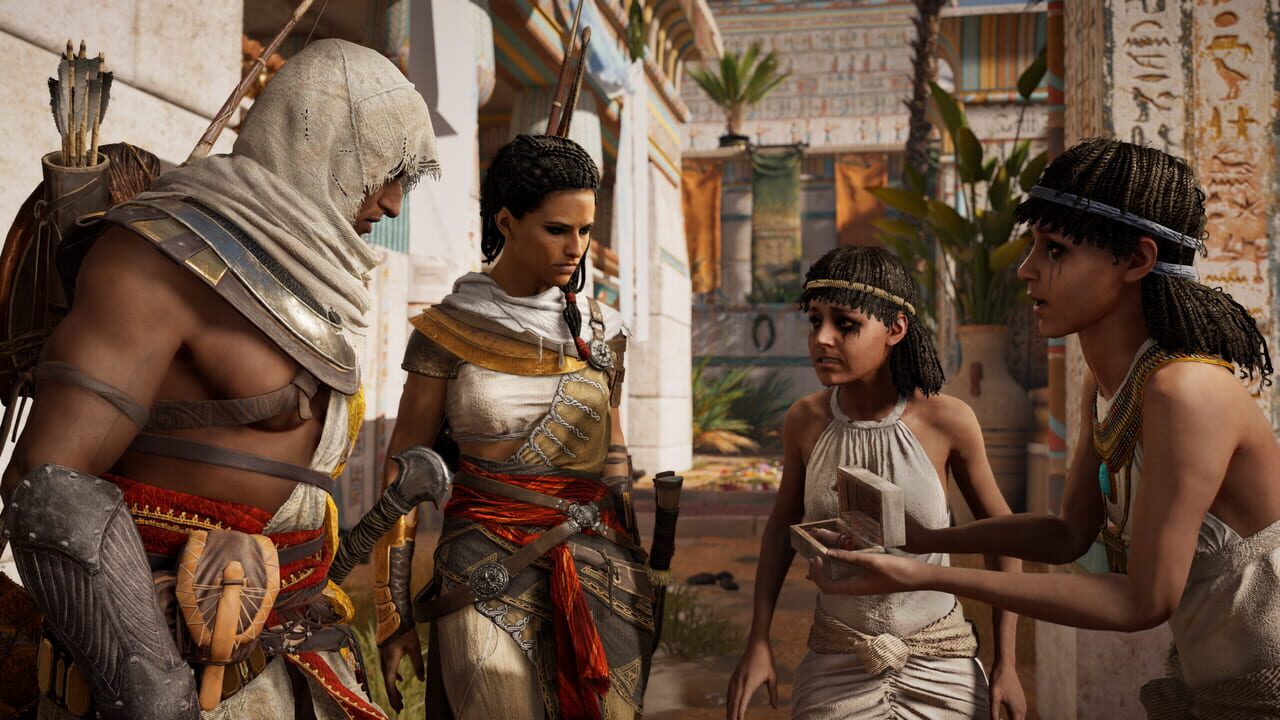 Videos
If screenshots are not enough, you can enjoy creative videos from Ubisoft Entertainment
You may also like
If you like Assassin's Creed: Origins, but you're tired of it and want something new, you can try other games.