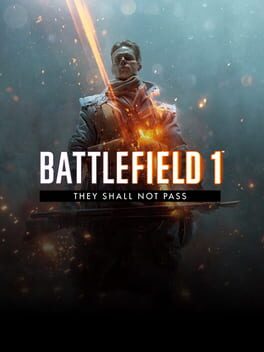 Battlefield 1: They Shall Not Pass
Publisher

Electronic Arts

Developer

EA Digital Illusions CE

Release date

28 Mar 2017
Releasing March 2017, They Shall Not Pass will be the first Battlefield 1 expansion. Featuring all-new maps, new weapons, and the new playable French Army faction, They Shall Not Pass will truly expand the theater of all-out war.
see all / fold
| AGM score | 53% |
| --- | --- |
| Metacritic | 53 |
expand / fold
About Battlefield 1: They Shall Not Pass
Battlefield 1: They Shall Not Pass is released by Electronic Arts in 28 Mar 2017. The game is designed by EA Digital Illusions CE. Battlefield 1: They Shall Not Pass is a typical representative of the Shooter genre. Playing Battlefield 1: They Shall Not Pass is a pleasure. It does not matter whether it is the first or a millionth hour in Shooter, there will always be room for something new and interesting. Thrilling levels and gameplay Battlefield 1: They Shall Not Pass will not leave anyone indifferent. The complexity of gameplay increases with each new level and does not let any player get bored.
In addition to it in 28 Mar 2017 released games such as:
In addition to Battlefield 1: They Shall Not Pass, the representatives of Shooter games also belong:
A complete list of games like Battlefield 1: They Shall Not Pass can be found at AllGame here.
Battlefield 1: They Shall Not Pass is versatile and does not stand still, but it is never too late to start playing. The game, like many Shooter games has a full immersion in gaming. AllGame staff continues to play it.
Battlefield 1: They Shall Not Pass is perfect for playing alone or with friends.
At AllGame you can find reviews on Battlefield 1: They Shall Not Pass, gameplay videos, screenshots of the game and other Shooter representatives.
Battlefield 1: They shall not pass - Análisis
Author: Diego De La Fuente
Date: 2020-07-31 00:37:32
After already waiting a few months anxiously for new battlefields in Battlefield 1, comes the first expansion They Shall No Pass phrase that is equivalent to They will not pass! in Spanish. This French phrase 'Ils ne passeront pas!' It became famous for its use by General Robert Nivelle who led the French army during the Battle of Verdun, in his fight against the Hungarian astro empire in the First World War.
It is in this expansion that the army of equality, fraternity and freedom enters the fray, to stop the enemy advance within France. Although in some maps of the game the action already took us to French lands, it is in this DLC where the combats are focused on battles that took place in France and in which the French army participated .
A new game mode called the Front , which has seemed a great success, brings us a mixture of assault with the conquest mode that despite having a maximum number of 32 players, brings more variety and action to the game. In this mode both armies start with the checkpoints in one line, with each side controlled by a faction being very clear. When starting only the central point does not belong to either of the two armies which have to capture the points successively so that the opposing army will retract. At the end the last checkpoint takes us to assault mode since it will be necessary to destroy to win the telegraph positions of the opposing team from which the enemy can still request artillery attacks on us. In this way a give and take begins in which many times even with your back against the wall it is possible to turn the game. Furthermore, as the teams are low on players, playing with a group of close friends will give even better results than in larger games.
The rest of the modes use the new maps, being as before, the operations mode the one that is more cinematic, by introducing us to the action always with the story of the battle we are in. The new maps by having the two enemy fronts well defined and having more trench elements even than the old maps, help to enjoy more in this way. We recommend you try operations on the Baum Fort and Verdun Hills maps, it will not disappoint you.
The maps of the expansion bring us great differences between them regarding the landscape that surrounds us. For example, the Colinas de Verdún map takes us to some burning hills, with all the ground full of holes due to enemy artillery and that is that in the battle that happened almost a century ago, the entire area was razed by the German artillery as preparation for the german offensive. A barren passage with some buildings in ruins and with many areas of barricades and bunkers. A great job done by graphic designers on this fantastic map.
Continuing with warlike and gray maps, we arrived at the Fort of Baux which despite being a fortress and developing many of the combats in closed areas and melee does not happen as with other Battlefield maps that you find yourself stuck in a mousetrap. Different paths and open areas outside the fort also allow fighting in the medium and long distance, being a fun map without being stressful thanks to the size of the map and the different areas it has.
The story of this fort during World War I was that it withstood German bombardment to try to access it, and one of the greatest battles within a fort took place inside it. Due to the tough resistance of the French soldiers, the fort was eventually taken over by the Austro-Hungarian army after the defenders were left without ammunition, medical supplies, food or water. In They shall not pass it will touch you as you play in one side or another to make history repeat or change!
After these two maps we went out into the French countryside with the Brecha and Soissons maps . In Soissons, we have at our disposal all the variety of vehicles that we are used to with the presence of French tanks, the fight is unleashed on the ground and in the air, looking magnificent Battlefield 1 as it has accustomed us in the previous maps. This map along with Gap are good maps for snipers so you have to be careful and look for cover when moving through the open field.
In Brecha , the most flowery map we have seen so far, highlights the large number of poppies around us through which we will cross, finding the remains of tanks from previous battles. The main point on this map is the river that divides it in two and the bridge that will allow us to cross our tanks quickly to the opposite side.
French tanks take on great importance in this expansion since instead of obtaining a zeppelin or armored train in this case a super heavy tank Char 2C will also appear, also known as FCM 2C, which is a huge mobile destruction machine. In addition to this tank we will also have the opportunity to pilot a Saint Chammond tank which became very important in World War I when the war changed from the trenches to the open field as in the last two maps we were talking about.
Of course in all these new maps we will continue to see a lot of terrain dominated by trenches and perhaps that is why the special class Trench Raider has been included with which we will head into action throwing grenades and with a spiked mace and a revolver, ¡ it's time to get the enemy out of that hole in the ground!
If we want to try how it feels to shoot large bullets, nothing better than using the siege cannons that we will find in some of the new maps. With them we can shoot as if they were gigantic mortars to attack the enemy sheltered in the safety of their trenches.
So that there are no surprises, we can also unlock new weapons for each class , for which we will have to carry out different actions specific to the class. And if you missed more melee weapons there are three new weapons to collect pieces so even more motivation for weapon collectors to play this expansion.
Screenshots
Screenshots will help you evaluate the graphics and gameplay of Battlefield 1: They Shall Not Pass.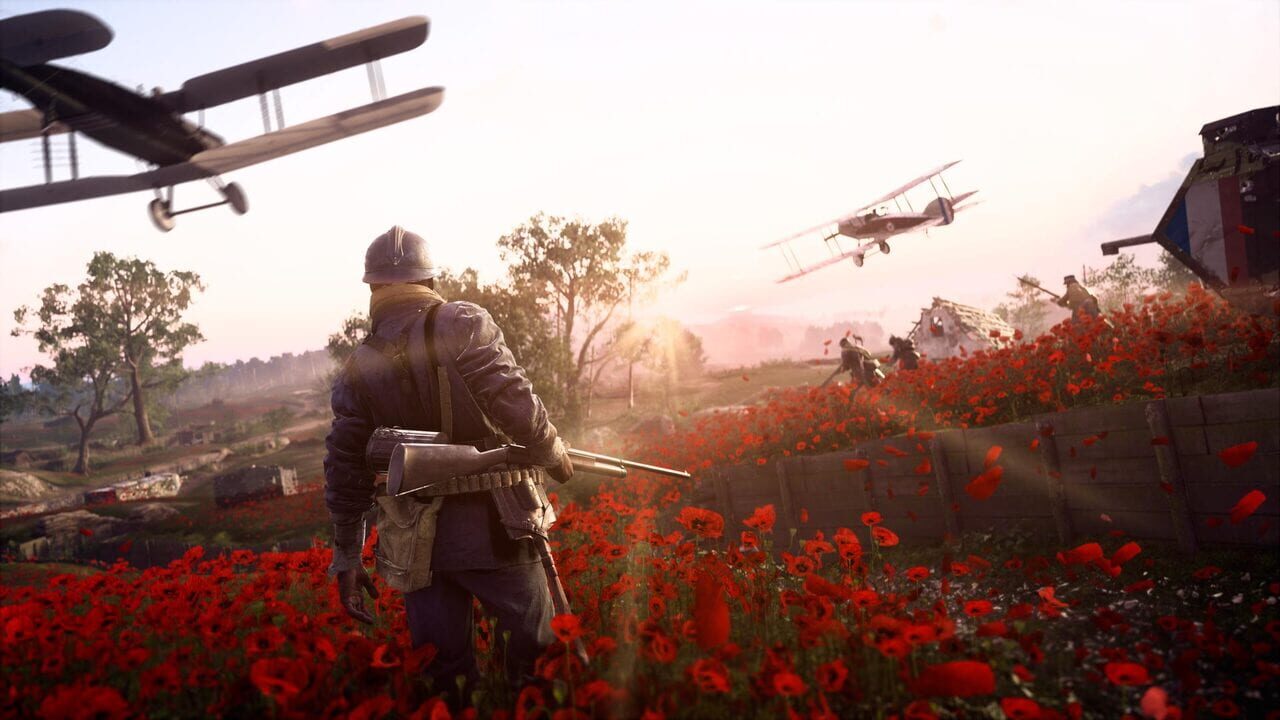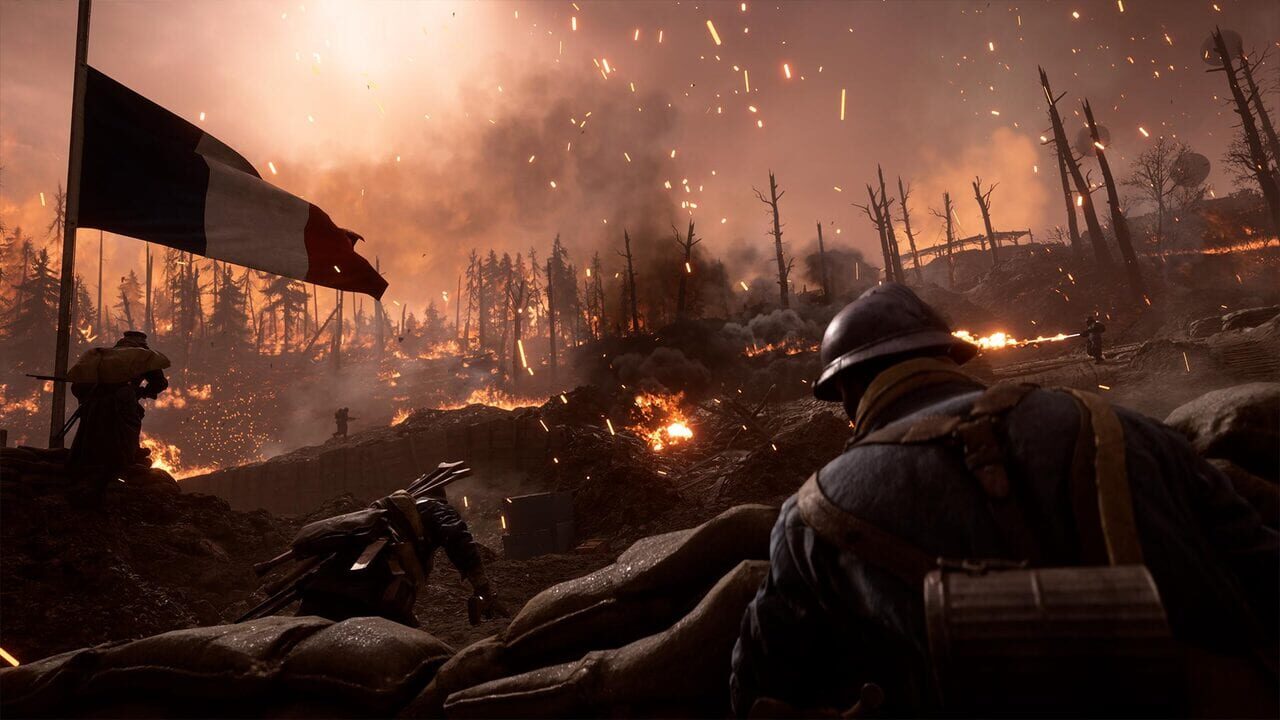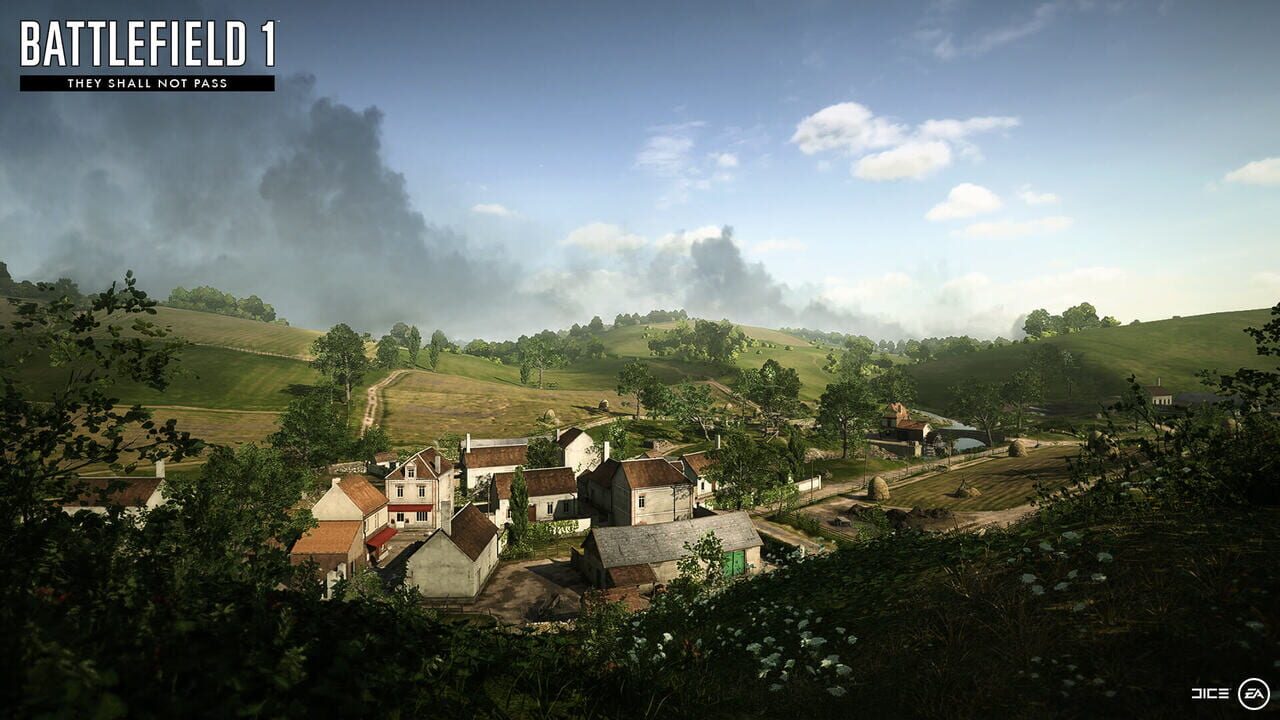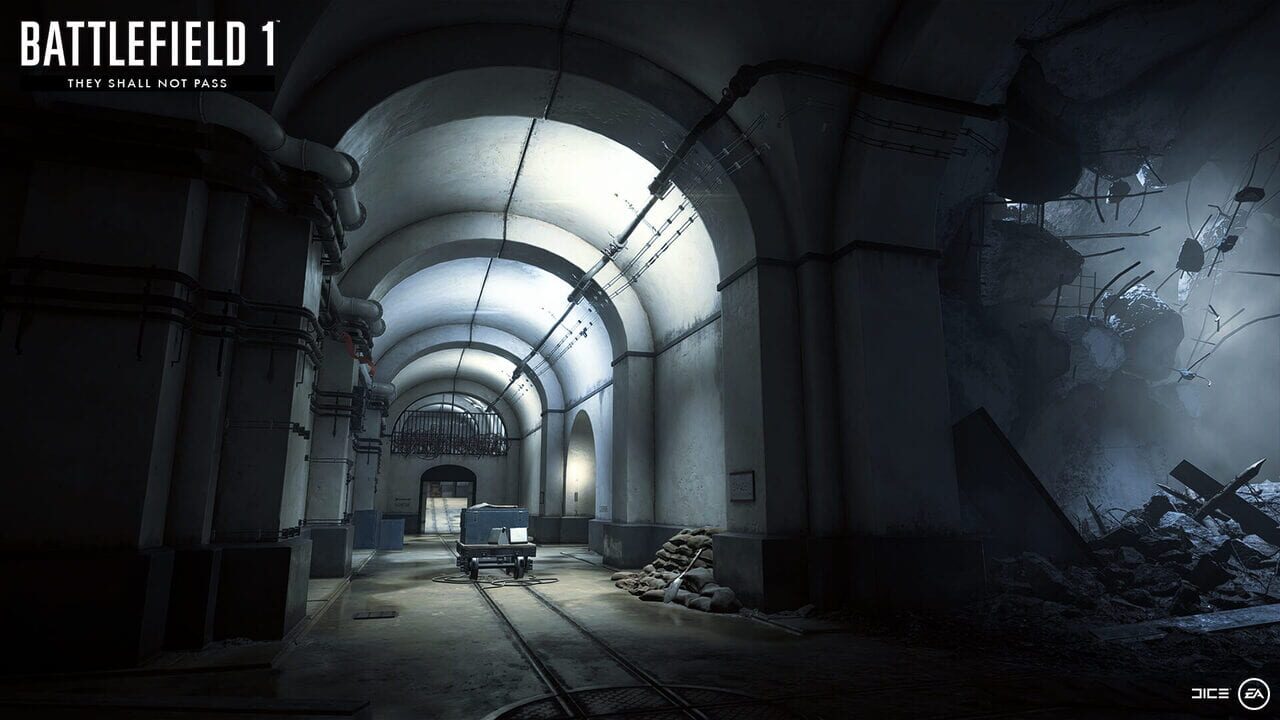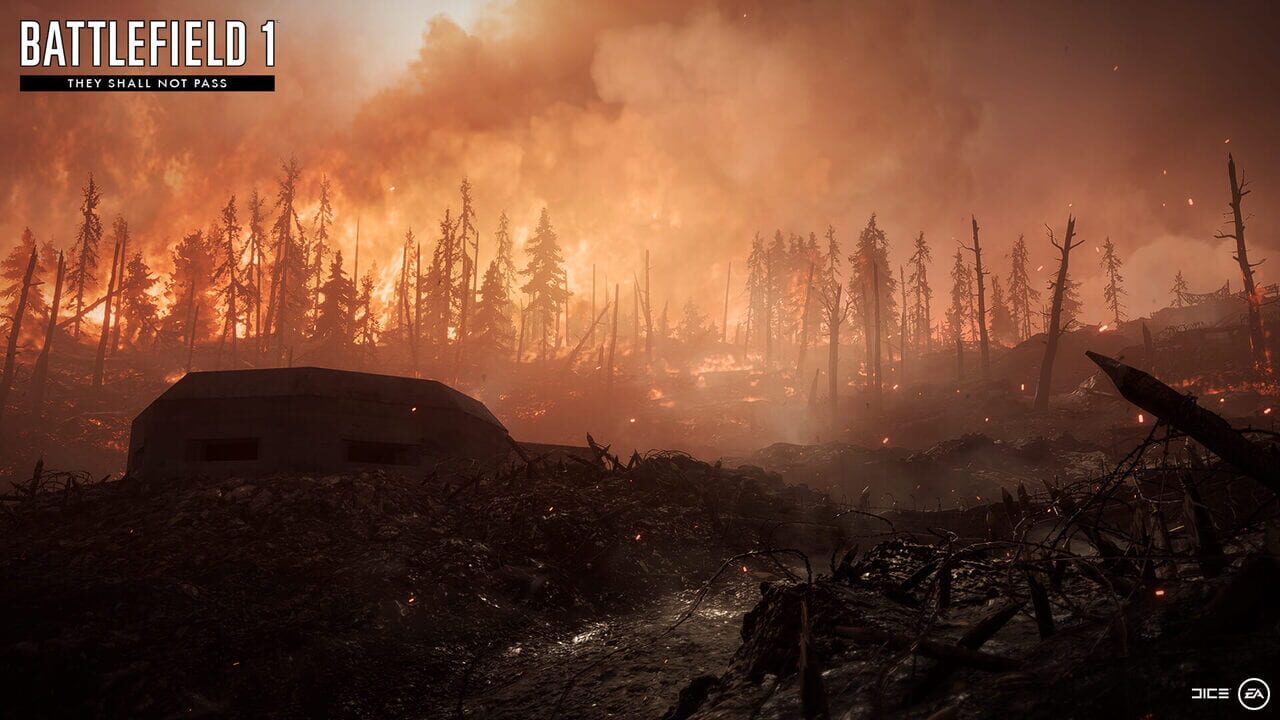 Videos
If screenshots are not enough, you can enjoy creative videos from Electronic Arts
You may also like
If you like Battlefield 1: They Shall Not Pass, but you're tired of it and want something new, you can try other games.