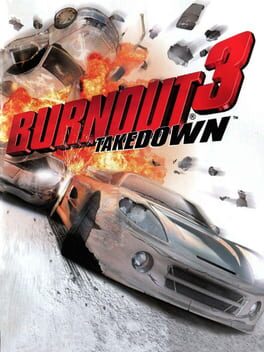 Burnout 3: Takedown
Publisher

Electronic Arts

Developer

Criterion Games

Release date

7 Sep 2004
Take anarchic driving destruction on a world tour and experience the pure arcade adrenaline-rush of Burnout 3: Takedown. Combine aggressive high-speed racing with the ultimate in slamming crash action to boost your way to the top. Takedown the competition across the USA, Europe and the Far East in over 60 Race events, or crush all comers with Burnout 3: Takedown's junction-jamming Crash event pileups. Push it to the next level with five competitive multiplayer models, then move the mayhem online to compete against up to seven players. Reap the rewards of dangerous driving, earning Crash $ and Burnout Points to unlock over 60 hot vehicles, coveted skill trophies, front-page headlines and much more. (Source PS2 Game Manual)
see all / fold
| AGM score | 94% |
| --- | --- |
| IGN | 9.4 |
| GameSpot | 9.5 |
| Metacritic | 94 |
expand / fold
About Burnout 3: Takedown
Burnout 3: Takedown is released by Electronic Arts in 7 Sep 2004. The game is designed by Criterion Games. Burnout 3: Takedown is a typical representative of the Racing genre. Playing Burnout 3: Takedown is a pleasure. It does not matter whether it is the first or a millionth hour in Racing, there will always be room for something new and interesting. Thrilling levels and gameplay Burnout 3: Takedown will not leave anyone indifferent. The complexity of gameplay increases with each new level and does not let any player get bored.
In addition to it in 7 Sep 2004 released games such as:
In addition to Burnout 3: Takedown, the representatives of Racing games also belong:
A complete list of games like Burnout 3: Takedown can be found at AllGame here.
Burnout 3: Takedown is versatile and does not stand still, but it is never too late to start playing. The game, like many Racing games has a full immersion in gaming. AllGame staff continues to play it.
Burnout 3: Takedown is perfect for playing alone or with friends.
At AllGame you can find reviews on Burnout 3: Takedown, gameplay videos, screenshots of the game and other Racing representatives.
Burnout 3: Takedown - game review
Date: 2004-10-04 04:56:00
The review was based on the PS2 version. Also applies to the XBOX version
When I had the pleasure and luck to play the beta version of "Burnout 3" a few months before the premiere of this game, after driving the first lap I realized that the development studio Criterion Games achieved its goal and that "Burnout 3: Takedown" is a triumphant crowning the sure path this series has gone through. And I mean the way to perfection.
Evolution can be talked about when there are any changes in relation to the subject and - what is important - these changes cause that our unit of interest receives some form for some reason suitable for it. I can successfully refer this confusing quasi-definition to the Burnout series.
When Criterion Games released the first part, it gained the opinion of a good arcade racer. The second edition with the subtitle "Point of Impact" was already an extremely strong point in the library of racing games on PlayStation 2. Enormous speeds, rewarding the player for dangerous driving (close passing cars, driving against the current, or spectacular turns on the corners), refined graphic design - All these perfectly composed elements are praised by the players to this day. However, nothing lasts forever and so the supremacy of "Point of Impact" has come to an end. The successor to the second part of "Burnout" was found, and it became a game from the same family, but this time it was released under the protective wings of Electronic Arts. Criterion Games in cooperation with EA obtained an almost perfect form of their work. I didn't even dare to dream about what I witnessed after putting the full version of "Burnout 3: Takedown" in the mouth of my console.
I will not lie if I write that the game modes have basically been "only" extended (there was one completely new - but about it later) compared to the previous edition. However, the devil is in the details and they - in the form of changes / modifications - transform the face of this game into an almost masterpiece of electronic entertainment.
The main axis of the game is "World Tour", where by conquering subsequent tasks / events, we unlock the next on three different continents. And the variety of forms of fun can shock you at first. There are regular races and with modifications (eg the last slop on the next lap is eliminated), they allow you to survive "crashes" (we run at full speed on the intersection packed with cars and try to score as many points in the collision we initiated), we also have time duels , racing one-on-one battles (we win the car of a delinquent), or competitions consisting in being thrown off the route or simply massacring a specific number of opponents. And let's stop here for a moment. This last action is the title "takedown". This is probably the most significant new element of the whole series. It's about getting rid of your rival - that's what you know. But how many ways we can do that makes me truly amazed! Sharp driving the poor man onto the gang, pushing him under the oncoming bus, crashing into the abyss, pushing him onto the pole, driving him under the rear bumper and throwing him up - the high level of adrenaline has no right to disappoint you in such moments! All this at enormous speeds and such a pace of action that the hair rears up! As if that wasn't enough, if you accidentally pass the "bell", or your participation becomes an unexpected flight mowing everything and everyone, you can slow down the action with the appropriate button and steer the wreck using the momentum collision (this option is called "aftertouch" ). Goal? Collapsing your opponent's road or collecting additional bonuses on the route (this is only in demolition mode at the intersection - at the beginning you can see the camera showing the details of the route, so you can choose the driving path and strategy before the massacre). You not enough Then add to this cauldron that if the right number of defenseless, innocent drivers take part in the collision, you can DON'T deton what is left of your cabinet to ... even more outrage! Because I really don't know how else to put it bluntly. These are not bumps or accidents. They are not even carambolas - they are a street massacre, destruction in which cars end their lives in a form that you have not seen before.
We've accelerated a bit on the road to massive car destruction, and we must not forget that the already mentioned "takedowns" (ie the elimination of rivals at the racing stages) do not look worse, and emotions bring even more! Here the camera "leaves" your car for a few short seconds, from spectacular shots and in slow motion showing what you have just done with the one who disturbed you on the route. After a while, however, it returns in a flash to its place to make you focus again on the winding route at crazy speed. Chills of wild pleasure will pass through your body more than once - not twice - you have my word!
In addition to the main mode, we can use the options: Race, Time Attack, Road Rage (so bow) and Crash, which are actually the components of the main mode. It is still online, but I was not able to try it myself (from the accounts of two or three people I can only conclude that it is fantastic - almost no slowdowns, nothing restrains the full emotion of fun). Multiplayer is also available for 2. Players on one console and comes in several forms. You already know Race and Road Rage (in the first we can set the number of console opponents). Team Crush is a demolition of points, where both players start at the same time and the points they accumulate accumulate to one result (cooperation). Double Impact are similar rules but here we compete with each other for a better result. The last multiplayer mode - Party Crash - is a known from the previous part variation of scoring breakdowns divided into turns - each player starts separately (up to 8 people), while we also have the opportunity to compete in two-person teams (up to 3).
The visuals of this game are a masterpiece. The routes are full of details, they were developed with amazing attention to detail. Along with the Gran Turismo series, it's the prettiest race on PS2 and I doubt any other racing title aspires to their level. I dare to say that on PlayStation 2 it will not be nicer on the road. Looking at, for example, the special effects (spark, screen blur) "Burnout 3" is second to none. It's amazingly effective, no animation slowdown, and deadly fast. Car models seem to be slightly different from the rest of the level, but let's not forget that the game must manage to present their plural to the power of numbers in crash mode; kogel-mogel that we are witnessing at the time, we could not look so "good" if you put in here car models straight from Gran Turismo (PlayStation 3, however, is coming, and then ...) Anyway, the visual experience is very, but it's very pleasant and we are able to admire most of the great views and graphic tricks only as a spectator, not a participant in the race, due to the effect of enormous speed, of course.
Many people complain about music. I do not, although I am not a fan of typical American rock, which plays here, and I think the best soundtrack in racing is the one from the ancient Wipeout 2097 on PSX (if you do not associate it - it is a great "ecectronics" by "Fluke") . But would an electronic beat fit here, as some suggest? I don't know - I would argue. For me it is OK, maybe a little with too little energy (and I do not mean volume). I also heard the opinion that it was a mistake that Criterion gave up the cool patent from the second part, when after firing the turbo music suddenly rose on power. I think that in "Burnout 3: Takedown" it would not work because we can use the turbo at any time, as long as we have at least a scrap of the bar charged; in the previous edition we could do it only when it was full. The conclusion is that in the "three" a skilled player the vast majority of the route slips on the "turbos", so the effect would not arouse any emotions - the muse would be louder by 80% of the route. What sense Turn up the "volume" of the music, turn down the sound effects (these are decent) and you will have the same.
Exactly. Don't waste your time because you're either convinced of this game or you're from another planet. You must give this game a chance - I guarantee you that it will not be wasted. "Burnout 3: Takedown" is the essence of console gameplay. The control is trivial in the sense of button padding, but reaching a high level of driving is a matter of some training. Each race is full of tension, emotions and strong impressions (opponents controlled by the console will provide you with aggressive driving like never before). The game is beautifully and effectively executed, and with this and its accessibility, it focuses not only on players. Do you want to convince someone who does not have it, or driven into the dead end of "PeCetowiec" to the console? Show them Burnout 3! For a long time I was not so sure about any advice I gave.
Every time I remove "him" from "her," my friend PlayStation screams not to do it. Good is ... this "Burnout". Eh, I think I'm playing too much. Sweetheart! Take the best "stroller" from the garage, we're going for a relaxing ride! I want to take a closer look at a certain intersection ...
Emil "Samuraai" Ronda
Videos
If screenshots are not enough, you can enjoy creative videos from Electronic Arts
Streams
But that's not all! We also carefully prepared the best strips from Burnout 3: Takedown.
You may also like
If you like Burnout 3: Takedown, but you're tired of it and want something new, you can try other games.