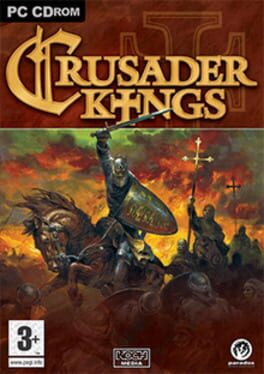 Crusader Kings
Publisher

Auran Games

Developer

Paradox Development Studio

Release date

15 Jul 2004
Gather prestige and piety and the world will whisper your name in awe. Will you co-opt other monarchs, and the Pope, under your leadership to liberate the Holy Land? Do you have what it takes to become a Crusader King?
see all / fold
| AGM score | 77% |
| --- | --- |
| IGN | 7.6 |
| GameSpot | 8.2 |
| Metacritic | 73 |
expand / fold
About Crusader Kings
Crusader Kings is released by Auran Games in 15 Jul 2004. The game is designed by Paradox Development Studio. Crusader Kings is a typical representative of the Simulator genre. Playing Crusader Kings is a pleasure. It does not matter whether it is the first or a millionth hour in Simulator, there will always be room for something new and interesting. Thrilling levels and gameplay Crusader Kings will not leave anyone indifferent. The complexity of gameplay increases with each new level and does not let any player get bored.
In addition to it in 15 Jul 2004 released games such as:
In addition to Crusader Kings, the representatives of Simulator games also belong:
A complete list of games like Crusader Kings can be found at AllGame here.
Crusader Kings is versatile and does not stand still, but it is never too late to start playing. The game, like many Simulator games has a full immersion in gaming. AllGame staff continues to play it.
Crusader Kings is perfect for playing alone or with friends.
At AllGame you can find reviews on Crusader Kings, gameplay videos, screenshots of the game and other Simulator representatives.
Europa Universalis: The Dark Ages - game review
Date: 2004-08-25 13:39:00
The review was based on the PC version.
The Europa Universalis series can be compared to high-end books. They are more demanding for the reader, knowledge and sublime taste are needed to be able to explore them, absorb them, see the writer's work in all its glory. It is similar with the EU - here you need not only self-denial and patience to master the multitude of options available in the game, but also an organizational genius able to use all the possibilities and deal a blow to the opponent at the right moment, increasing your influence (diplomatic or military) , and the incredible divisibility of attention and memory needed to manage our estates. In addition, it would be good to be fascinated, or at least interested in history. There are a lot of requirements and it is probably clear that there are few players who meet them. But that's the only way to make a unique game.
"Europa Universalis: Crusader Kings" ("Dark Ages" in the Polish version) is a real-time strategy that tries to faithfully recreate the realities of the Middle Ages. Anyone who would consider EU: MW as an ordinary RTS would be wrong. It is a huge and complicated game which - while preserving the historical reality - allows us to play the role of one of the rulers of that era. One of the first noticeable differences from the previous parts is the lack of a campaign. We simply choose the county, principality or kingdom (the county is the hardest to start, the kingdom is the easiest) that we want to rule and the year we want to start with. There are three possibilities here: 1066 (Battle of Hastings), 1187 (Third Crusade Expedition) and 1337 (beginning of the Hundred Years' War). The game takes place until 1452 - that is, just before the fall of Constantinople. So you can say that EU: MW is a kind of prequel to the series (let us remind you: the years in which we played in the EU were 1492-1792, and in the EU2 - 1419-1820). Interestingly, if the year 1452 comes, the game automatically saves, and this record can be later read in "Europa Universalis II" and continue the game. Fans of the series will surely like it.
While the previous parts of the series (EU, EU2) can be called state simulations, EU: MW is a ruler simulation. The difference is subtle, but believe me - EU: MW differs from EU and EU2 a lot. First of all, in order to win (that is, to score as many points as possible and be in first place in the ranking of countries), you must take care of the development of your dynasty. We do this through appropriate marriages, land conquest, the creation of new titles, and through the vassalization of subsequent counties, principalities, etc. For example, when you, as King of Poland, control a certain amount of lands - usually around 66 percent - of the historical land of Lithuania, you can crown yourself King of Lithuania, giving your dynasty glory, a stronger position, and the points necessary for victory. This is very important because you have to remember that the game tries to recreate the realities of feudalism, not nation states and absolute monarchies, as it was in the previous parts of the series. Here the key to victory is not to conquer all provinces and create a territorial empire (if only because the rulers can only control a limited number of provinces directly), but to build the power of their dynasty, ie "preponderance". Of course, other aspects of our policy include appropriate expansion of infrastructure in provinces, waging wars, appointing officials, controlling taxes and scientific development, and even the rights of inheritance, the type of church organization, and finally the position of states in individual provinces. And here comes a small drawback to this game. EU: MW is a game so complicated that the green player needs a lot of time to feel at ease and learn to control his dynasty. At the very beginning, a multitude of options, a bit uncomfortable interface (you have to click a lot) tire and scare you away.
But when we master them, great opportunities open to us. For example, you are from Lower Silesia and you think that this district should rule Poland and then the whole region? Here you are, you can become the prince of Silesia, then the King of Poland, on the way introduce someone from your family to the papal throne and excommunicate other rulers at will. Or maybe you want to play in some small county in the north of Spain? Free way. There is probably no political organism that would exist in the Middle Ages and would not be in the game. Unfortunately, we still have no influence on the shape of the battles, the computer commands for us, and we passively observe the change in the number of troops and the final result. We can only dream of battles in the style of "Medieval: Total War" ...
What is new is the army building system. Unlike the previous parts of the game, we do not buy but recruit troops. Each province has a certain number of soldiers that can be called up for arms. The army may consist of knights, light and heavy infantry, beauties, light cavalry. Unfortunately, on the screen of the game you cannot distinguish between the types of troops, they are always presented by some footman dressed in rags. It is true that the figure representing the army differs depending on the region (e.g. Frankish and Slavic troops), but it is still not enough. The composition of our army (proportions between knights, light and heavy infantry, etc.) depends on the position of the states in a given province. It is clear that the stronger the knighthood, the more he will be in the army, and the weaker the peasantry, the less light infantry. Every war costs money - as I mentioned before, we do not pay for the creation of an army, but for its maintenance. And this is not about the sum of 2-3 ducats, which reduces our monthly income, oh no! A large army can lead you to lose 500 or 800 gold in a few weeks. When you are "in the red", you may be forced to, for example, sell your rights to use a sawmill, ceramics factory or brewery (this is tantamount to losing these buildings). You can mobilize armies from provinces you control directly and the armies of your vassals. If too often you demand a fresh supply of cannon fodder from them, their loyalty will decrease, and eventually they will drop their fiefdom and declare war on you! Winning a battle is determined not only by the type and number of troops, but also by the commander, so it is very important to have a marshal at your court with a high "army" factor.
The Middle Ages are the era of "cross and sword". There was already about the sword, now a bit about religion in EU: MW. Here, Christianity has an absolute advantage and there is no question of the possibility of changing religion. Our position among Christian rulers is determined by points of piety. We get them by paying a sufficiently high tenth, fighting the pagans and creating bishoprics from our lands. For a larger period of the game, in the upper right corner we see an icon representing a sword and a monastic cloak. It is a symbol of the crusades and a reminder of the duty to fight the infidels. If we neglect this duty, we must take into account a slow but systematic loss of prestige. I can already hear the question: "Can you become pope?" Unfortunately, the game does not allow us to do this, but we can become papal legates (usually someone from the pope's family) and have control over the pope.
A very important area of our life as a ruler is the matter of children and successors. If we do not have a male heir or other candidate for successor (brother, his children, or female descendants - depending on what system of inheritance we have chosen), the game is over and we lose. That is why it is very important to marry a young, attractive girl in good time, with whom we will father a lot of children (16-year-olds rulez :-)). When sweet babies are born to us, we decide on their education from the age of 5. We can choose a court school (increase in prestige and development of management and diplomacy skills), monastic school (increase in piety and, in the case of sons, the possibility of becoming a bishop and even a pope) and military school (you know). In the long term, we must try to find suitable partners for our descendants. It is always better to marry daughters for princes or kings, and ultimately counts, than for some ordinary courtiers - after all, we will not marry our beautiful 17-year-old daughter to a count Warażdyn, but we will not despise the king of France. It is also necessary to make sure that our sons are not left without land and have some titles, because when they are "unemployed", it has a negative impact on our image. Thanks to such an extensive model of family management (the so-called "family resources management" :)), we can identify with our dynasty and watch our distant cousin become, for example, the king of Sweden. And all this because 100 years ago we married our daughter to some Nordic count ...
Besides dynastic marriages, intrigue remains within the reach of diplomatic means. One of our courtiers - the Spy Master - has the ability to send assassins to other courts and silently eliminate people who disturb us. Of course, the mission may fail, and then we lose a lot of piety. Well, whoever does not risk does not win ... On the other hand, what a perverse pleasure it is to eliminate the next children of the ruler, whose title we have a snoop on, so that he remains without successors. Shakespeare's castles and daggers hidden in the shadows bow down ...
The life of every ruler is a series of decisions, reactions to sometimes surprising events. Therefore, every few minutes icons appear in the game informing us about a given event and the ways in which we can react to it. There are a lot of them. From deciding on additional tithes from free peasants, to royal feasts, to our reaction to the smooth white-headed woman who tempts us with her charms. For example, we can tame passion by gaining points of piety (but this may have a negative impact on our fertility), or we can get carried away by lust and gain an offspring out of wedlock. The player decides, and each decision has its advantages and disadvantages. Thanks to all this, our ruler acquires a human dimension, and we identify with him and immerse ourselves deeper and deeper into medieval realities.
Time to write a bit about the binding. Graphics, as it happens in the EU series, do not impress, but also do not bother too much. I have reservations about the portraits of rulers that look like the faces from children's coloring books and the animations of military units, which seem to be different, but they all look like tramps :). The colors of the provinces are kept in strong, contrasting colors, which facilitates orientation on the complicated political map of medieval Europe. We have multiple map view modes focusing on political, economic, religious, vassal dependency system, or topography. The political map is chosen instinctively because it is the clearest and most practical. The musical setting helps us feel the medieval atmosphere of the game. Light, courtly melodies of troubadours are intertwined with Gregorian chants and sublime war music reminiscent of the Lord of the Rings. Thanks to such a variety, the musical setting does not irritate and does not get boring too quickly. The sounds keep the level, we hear the right signal adequate to the event, although there are not enough of them.
When it comes to localization, CD Projekt was up to the task again. The sentences are understandable and in Polish, there are no problems with the names of Polish provinces and Polish fonts. You can still find incomprehensible sentences, but this is the result of a game engine adapted to the simple language of English. This is not the first game that our native language has caused problems.
EU: MW is a huge game, delighting with its possibilities. It is an excellent journey into the depths of a period that fascinates crowds of people. It also helps in learning history, it is a much better way of getting to know the provinces' location than "cramming" from an atlas. So a scepter in the hand, a chain mail on the chest and with the cry of "Deus vult!" we rush to conquer the medieval continent! :-)
Michał "Matryca" Kacperczyk
Piotr "Ziuziek" Deja
PROS:
MINUSES:
Screenshots
Screenshots will help you evaluate the graphics and gameplay of Crusader Kings.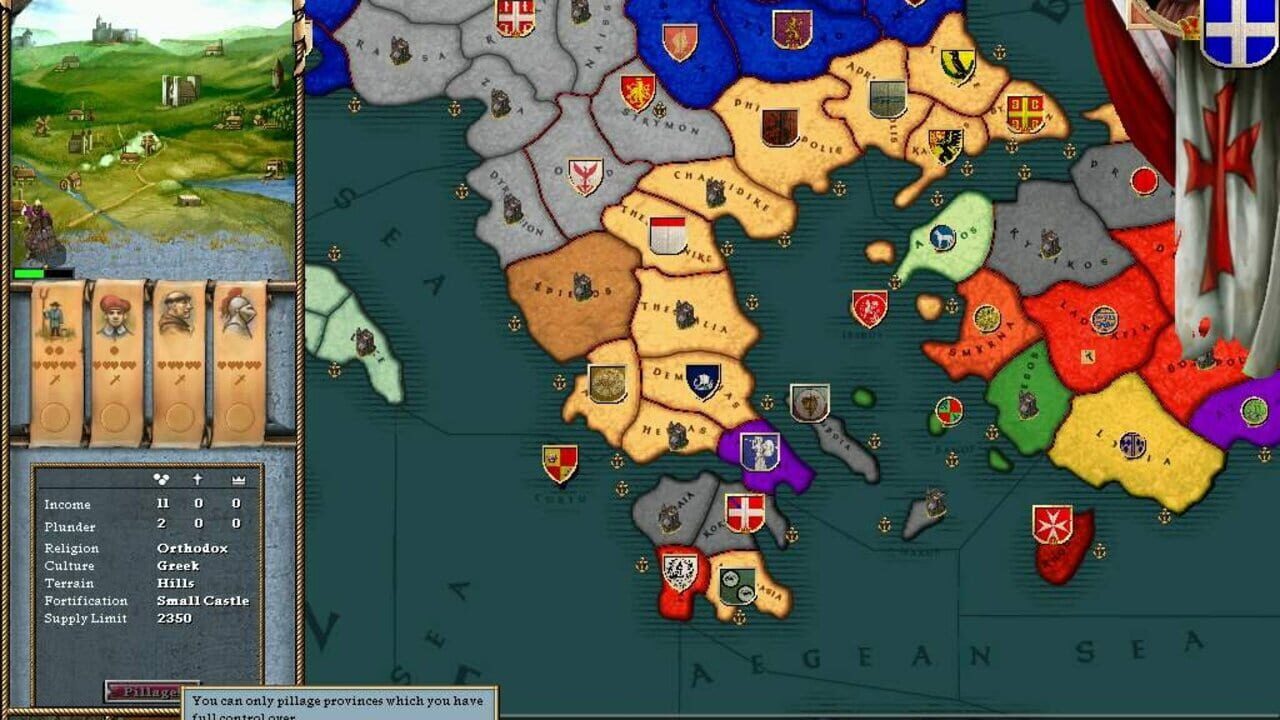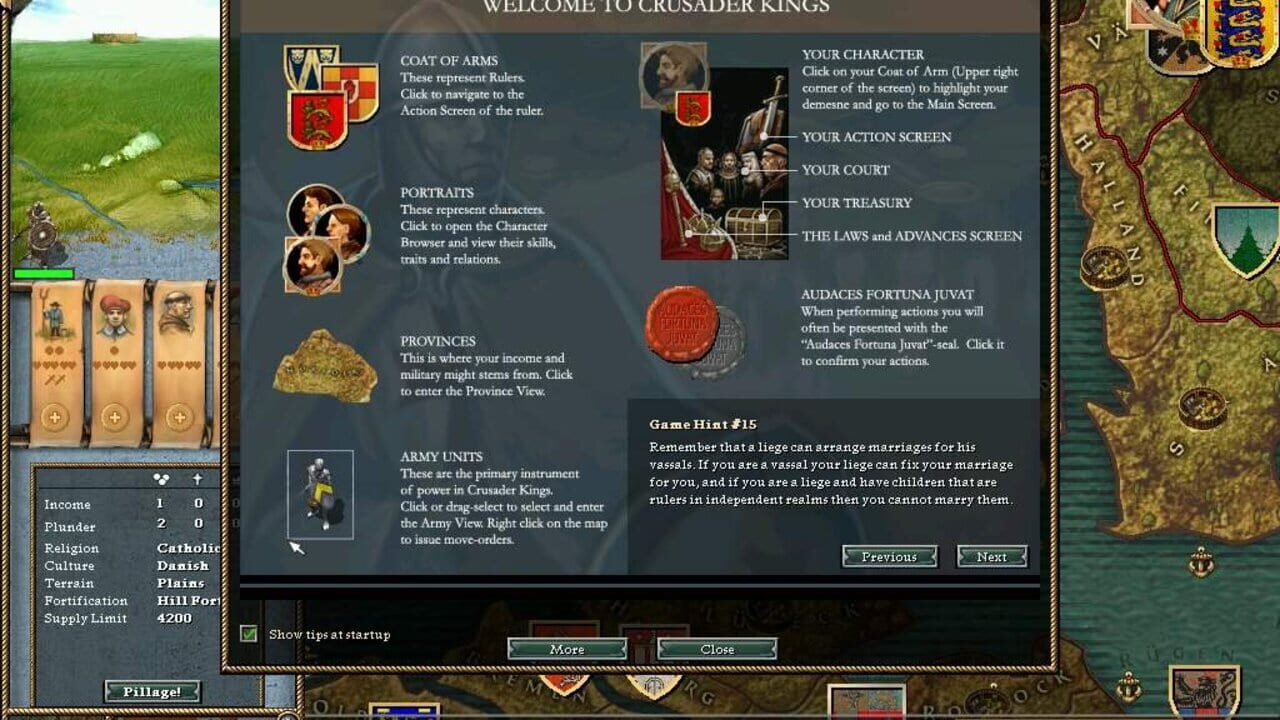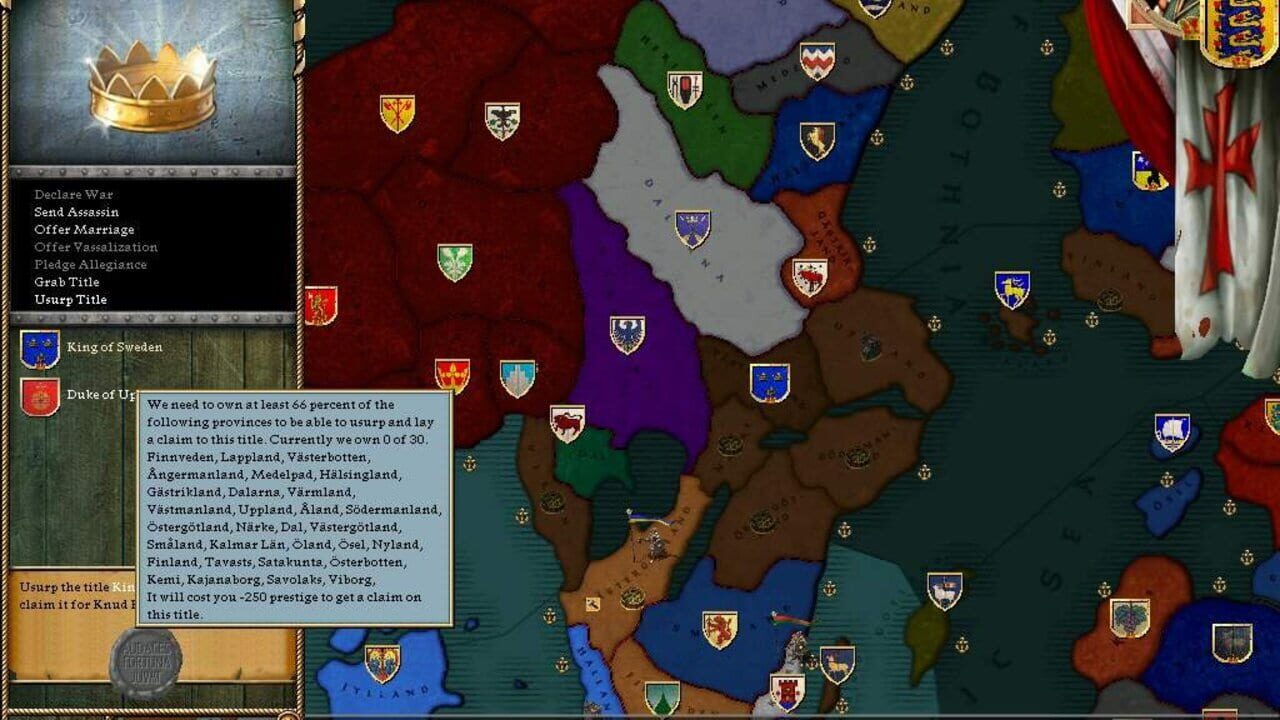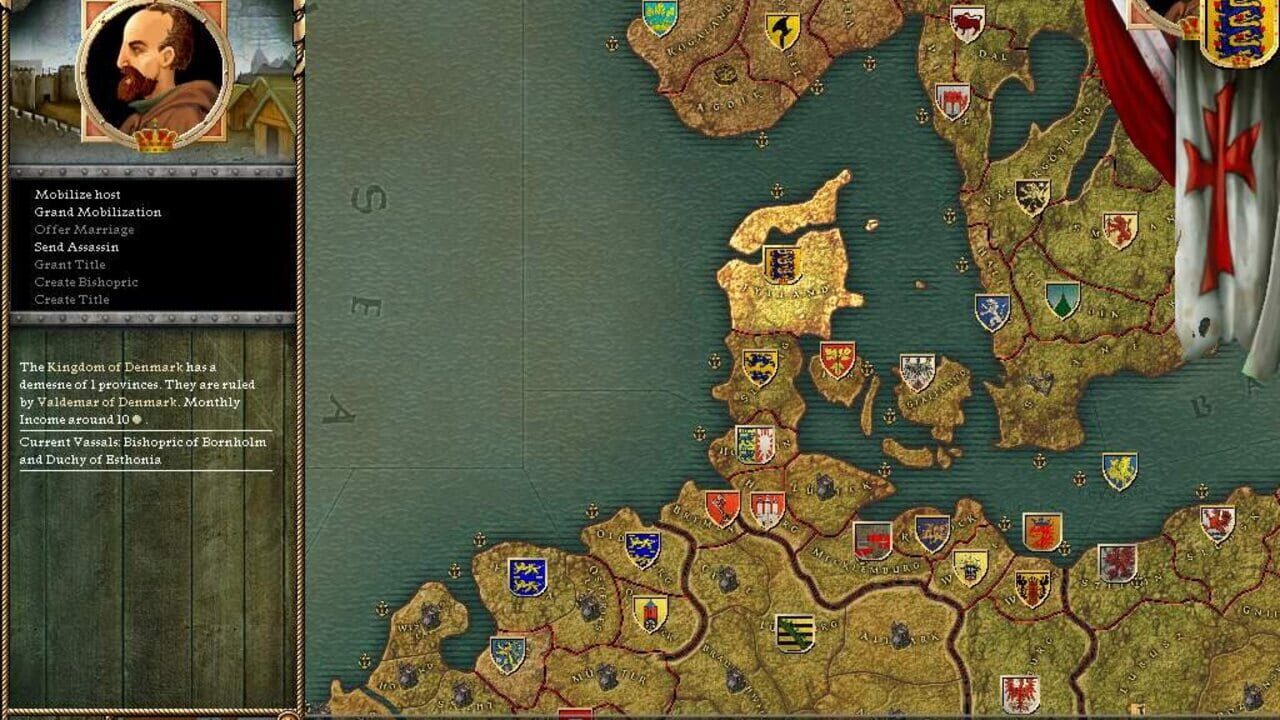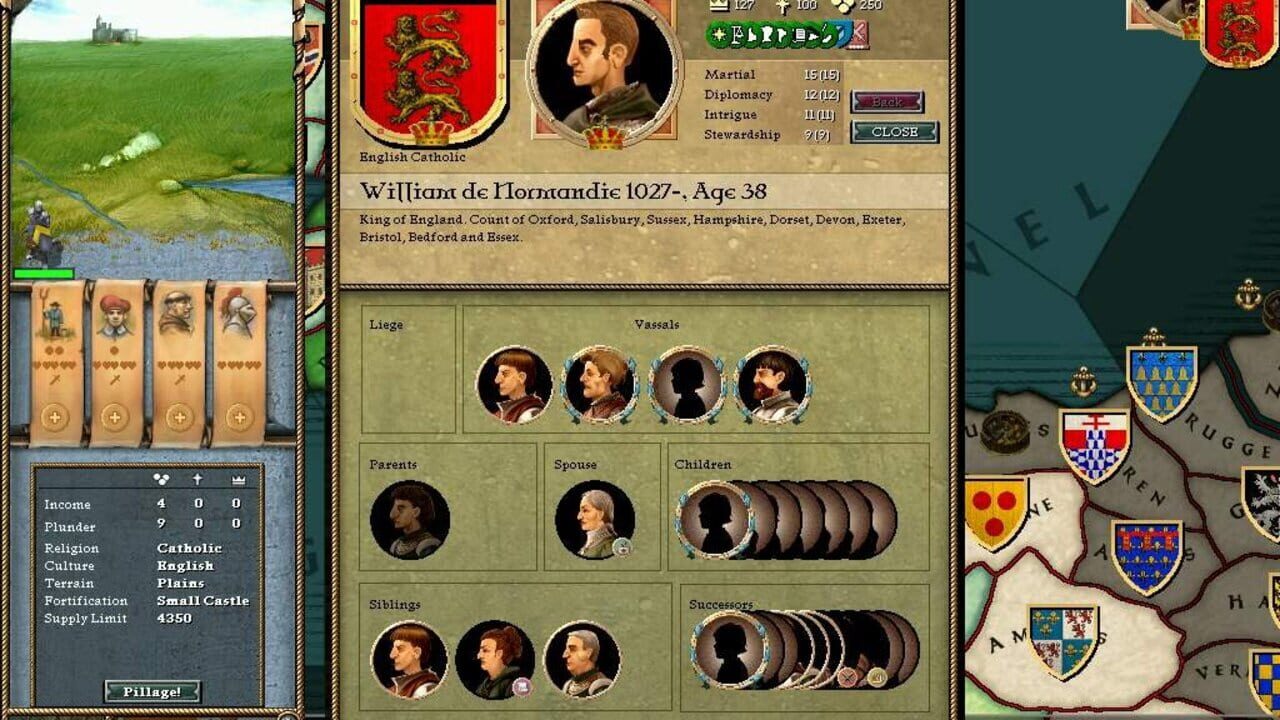 Videos
If screenshots are not enough, you can enjoy creative videos from Auran Games
No videos
You may also like
If you like Crusader Kings, but you're tired of it and want something new, you can try other games.