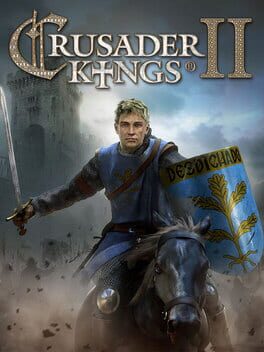 Crusader Kings II
Publisher

Paradox Interactive

Developer

Paradox Development Studio

Release date

3 Feb 2012
The dull occasions might be reaching a conclusion, however there is still disturbance in Europe. Irrelevant primitive masters seek the kindness of assaulted kings, who can scarcely keep control of their divided realms. The Pope is requiring a campaign to secure Christians in the Holy Land, in any event, when he won't surrender command over the bishops' inauguration - including their riches. Right now is an ideal opportunity for genuine enormity. Extend your territory possessions and secure the eventual fate of your line. Fill the state coffers, delegate vassals, track down tricksters and apostates, present laws, and connect with many nobles, each with their own objectives. A decent master will consistently require old buddies to support him. Be that as it may, be cautious, as faithful vassals can immediately become most despised foes, and some may not be as dependable as they appear ... Be prepared and battle for your renown until the world murmurs your name in stunningness. Do you have the stuff to be King of the Crusaders? Crusader Kings II lets you find one of the most significant ages in world history - in one gaming experience, high quality by the experts of Grand Strategy. Medieval Europe is enlivened right now about kings, plans and positions of royalty ... Principle highlights: start a game at some point somewhere in the range of 1066 and 1337 and play until 1453, pick a Christian master and ensure his administration is over the Generations of successors persistEach yourself to notoriety with every successor you play to carry on the magnificence of your dynastyExpand your territories - and shield them from falling apartDiscover the plans of your squires and vassals, each with their own sentiments and goalsTake that Cross your hands and battle the Moors, Gentiles and HereticsDefend yourself against the assaults of the Mongolian hordeFight for control of the clerics with the PopeExperience the Middle Ages today with up to 32 players in a serious multiplayer mode
see all / fold
| AGM score | 81% |
| --- | --- |
| IGN | 8 |
| GameSpot | 8 |
| Metacritic | 82 |
expand / fold
About Crusader Kings II
Crusader Kings II is released by Paradox Interactive in 3 Feb 2012. The game is designed by Paradox Development Studio. Crusader Kings II is a typical representative of the Role-playing (RPG) genre. Playing Crusader Kings II is a pleasure. It does not matter whether it is the first or a millionth hour in Role-playing (RPG), there will always be room for something new and interesting. Thrilling levels and gameplay Crusader Kings II will not leave anyone indifferent. The complexity of gameplay increases with each new level and does not let any player get bored.
In addition to it in 3 Feb 2012 released games such as:
In addition to Crusader Kings II, the representatives of Role-playing (RPG) games also belong:
A complete list of games like Crusader Kings II can be found at AllGame here.
Crusader Kings II is versatile and does not stand still, but it is never too late to start playing. The game, like many Role-playing (RPG) games has a full immersion in gaming. AllGame staff continues to play it.
Crusader Kings II is perfect for playing alone or with friends.
At AllGame you can find reviews on Crusader Kings II, gameplay videos, screenshots of the game and other Role-playing (RPG) representatives.
Crusader Kings 2 in the test - Kingdom of the professionals
Author: Patrick Lück
Date: 2012-02-17 14:47:00
After a few bow slings, Paradox is back in top form at Crusader Kings 2. The medieval strategy simulation convinced especially professional strategists thanks to the highly complex game mechanics.
The historic penitence to Canossa in 1076/77 is canceled this time. Because in the paradox strategy game Crusader Kings 2 , the history of the Middle Ages is different every time. Instead of arguing with the Pope, we as German emperors prefer to fight for supremacy in Italy.

Because we were on the move with the majority of our troops in Mecklenburg and Western Pomerania, various Italian princes seized the opportunity and renounced the Holy Roman Empire. The Tuscans in particular are proving to be tough opponents that will keep us busy for many years.

There is no time for a petty argument with the church. So we first grant the Pope the right to invest (i.e. fill church offices) and see if descendants cannot avenge themselves with a suitable and pleasing antipope.

This time, the developer Paradox is also spared a penance in the fan forums - because Crusader Kings 2 turns out to be a laudably finished and pleasantly complex professional strategy game.
The background: from the high to the late Middle Ages
Crusader Kings 2 begins in 1066 with the Battle of Stamford Bridge, in which King Harald II of England successfully repulsed Norwegian invaders, only three weeks later to be defeated by the Normans invading northern France to conquer William the Conqueror.

Before this historic date in European history, Crusader Kings 2 launched its 400-year campaign. During this period, we as players can slip into the role of almost every higher noble in Europe and Asia Minor, from the count of a province to the emperor of the Holy Roman Empire.

Only pagan and Muslim rulers and the Pope are currently excluded from the choice of roles. Some of it may still be submitted via DLC.
The goal: the dynasty is everything
Regardless of whether we start Crusader Kings 2 as emperor, king, duke or count, our only goal from now on is: Everything for our dynasty! Because as soon as our lineage dies out, the campaign is over. However, we can determine all other goals ourselves.
Do we as vassals fight for the independence of our dynasty or is the consolidation of our territory in troubled times enough for us? Are we aiming for the German imperial crown or are we taking Spain back from the Muslims?

Whatever we do, achieve or fail to do, as long as we can provide a valid heir, the game will not end until the end of the four centuries.


If necessary, we just have to change the right of inheritance (which is only possible once per ruler after ten years of rule), for example to help female heirs to office and dignity.
The essence: talk, marry, incarcerate, assassinate
Caring for our family is at the core of Crusader Kings 2. We take care of the marriage plans of our protégés in detail, take care of guardians or educators, send "superfluous" children to the monastery and generously distribute titles among our family members and vassals.

In this way, we ideally spin a Europe-wide network of dynasty members who either serve as allies or even open up new claims to rule.

But be careful: If important family members or allies bless the time, decades of work can quickly go down the drain, since all agreements and connections are always calibrated to the person, never to a country or an office. That means: If your uncle, the Count of Tuscany, dies, then the alliance with the Principality is also gone.
In addition, unloved family members can conspire against us and plan our murder. Fortunately, we can repay them with the same means (or we will graciously imprison them).
The possibilities of interaction, intrigue and diplomacy with all family members, subordinate vassals or aristocrats from other countries are extremely diverse, their organization is a lot of fun.

The council with its five advisors is one of the most important instruments of power in Crusader Kings 2. The administrator can, for example, speed up construction processes, while the court preacher carries out inquisitive measures and the agent leader increases the chances of success of our attempted assassinations.

In the context of the personal feudal rule of the Middle Ages, this is a thoroughly realistic model that precisely reflects the true core of medieval power and history.

In contrast, game mechanisms such as structure, economy, research or military tactics are sometimes far behind, even if they still exist (at least rudimentarily).
The game mechanics: real-time lapse
The basic game mechanics of Crusader Kings 2 are similar to the similar historical paradox titles like Europa Universalis , Victoria or Hearts of Iron 3 . The game continues to run in real time (one day passes in a few seconds). However, we can pause at any time or switch on the multi-stage time acceleration to bridge waiting phases.
We manage provinces and take care of the concerns of our dynasty members through reasonably pretty, if sometimes somewhat confusing, menus. We then move our armies on a reasonably respectable and zoomable world map. The fights will be fought by the AI as in Hearts of Iron 3, we are not allowed to intervene ourselves.

The developer and publisher Paradox has meticulously transferred a lot of elements from real history. For example, the religion of a negotiating partner plays as much a role as his affiliation with the dynasty. It is correspondingly difficult to declare war on other empires.

This requires legitimate legitimacy (like a holy war) - and be cleverly forged by our Council Chancellor.
The requirement: time and patience
If you approach Crusader Kings 2 with a lightweight Total War strategy, you will quickly experience your blue miracle: Declaring war on a supposedly weaker neighbor right away ends up in chaos due to a lack of money and support.
A campaign wants to be prepared through diplomacy and marriage policy as well as through espionage and legitimation reasons, besides full coffers guarantee the loyalty of powerful mercenary armies.

Preparing for war can therefore take several years, and expanding cities or castles can take decades or even centuries. You should plan a lot of gameplay and real time for a weapon run itself.

This is not for the impatient, but realistic. It was not for nothing that the Hundred Years War between France and England lasted - well - 116 years. The dynastic force relationships can shift enormously during these periods.
In a campaign, for example, we led the small Kingdom of Georgia to a considerable and proud regional power before "thanks to" the turmoil of religion between Byzantium (Christian Orthodox), Kiptschaken (pagan) and Seljuks (Muslim), our hard-won empire was crushed between the great powers ,

In the end, a measly independent province remains for us. It can be frustrating - or motivating.

Because a few generations later (!) The fronts start to move again, which gives us the opportunity to get back to the old glory. This ups and downs as a partly powerless, partly actively shaping game ball in history makes Crusader Kings 2 so appealing, but it is probably not for everyone.
Patient professional strategists should definitely be delighted. Then they hardly bother about the relatively rare and less serious bugs or the poor German localization. There could also be a little more feedback and convenience functions.

A strong and (usually) understandable AI and nice random events such as hunting accidents, art events or binge drinking delight the kingly mood.
Screenshots
Screenshots will help you evaluate the graphics and gameplay of Crusader Kings II.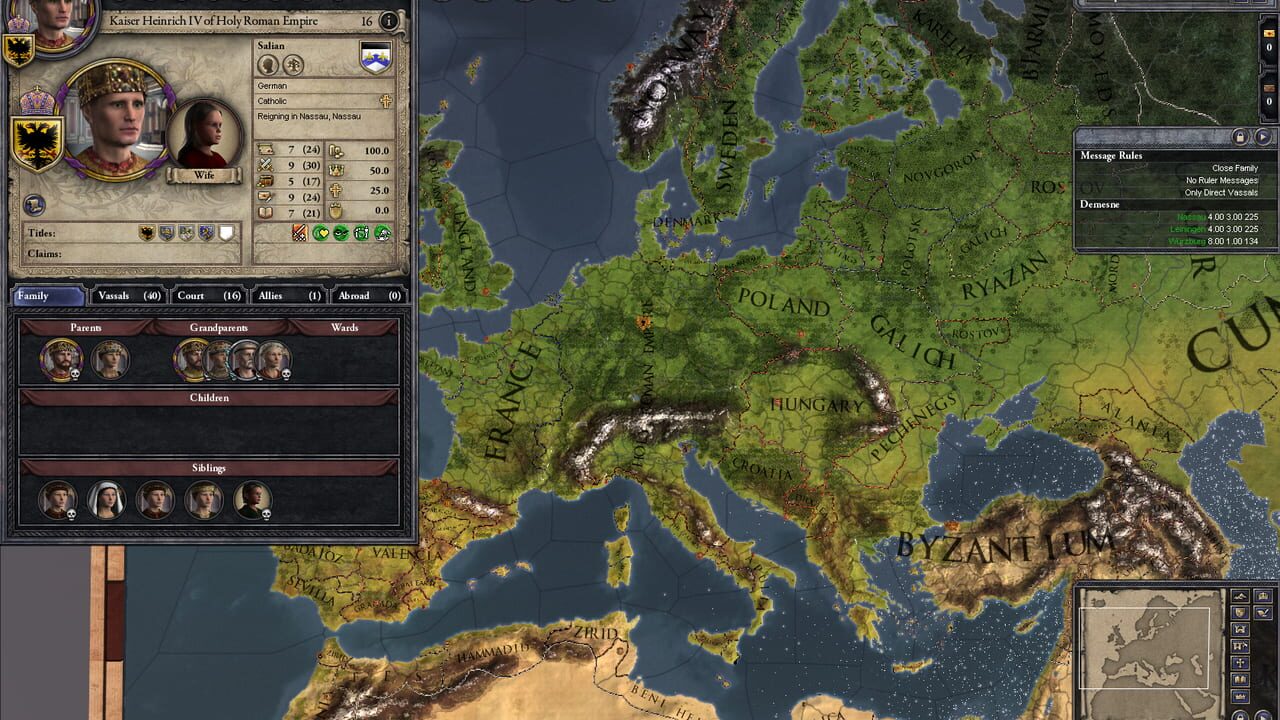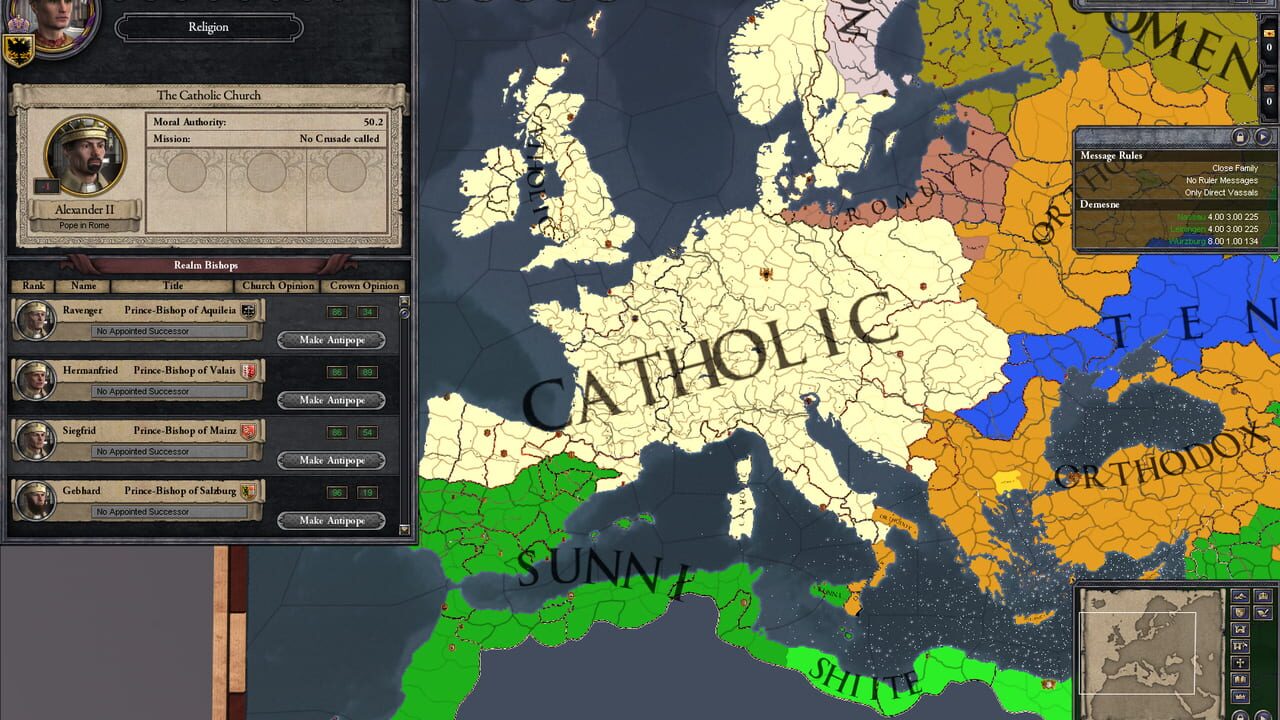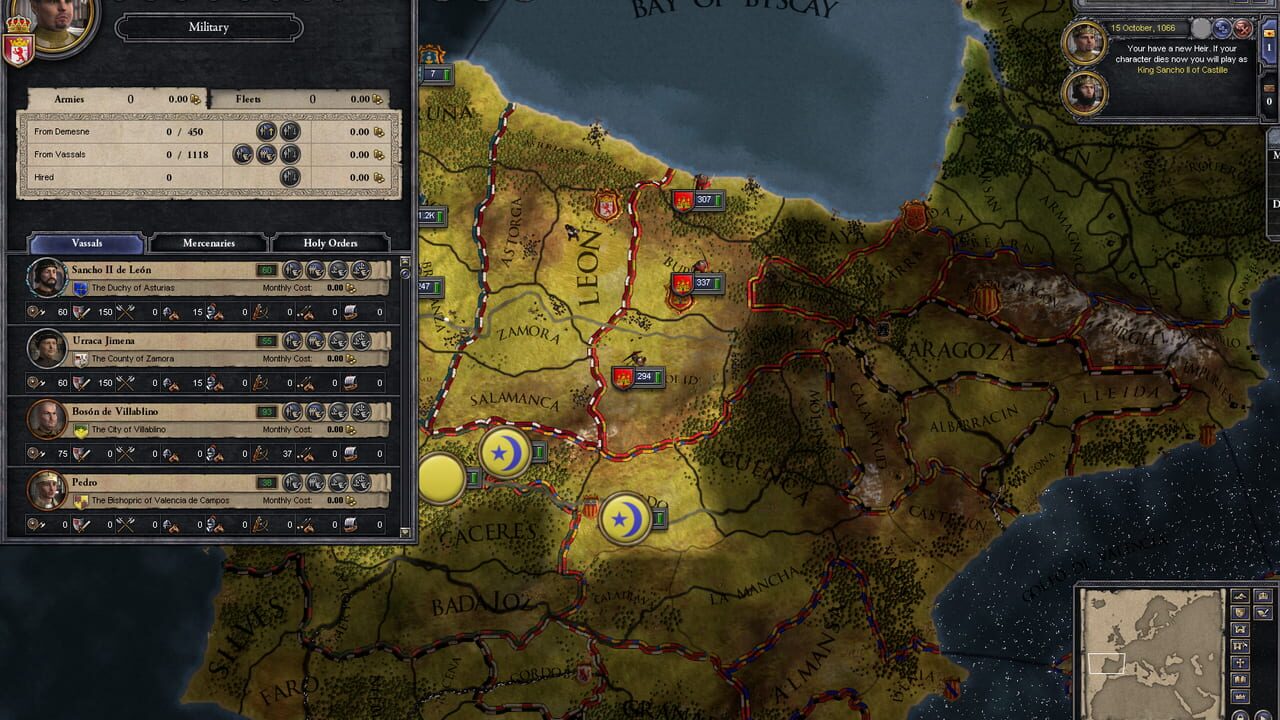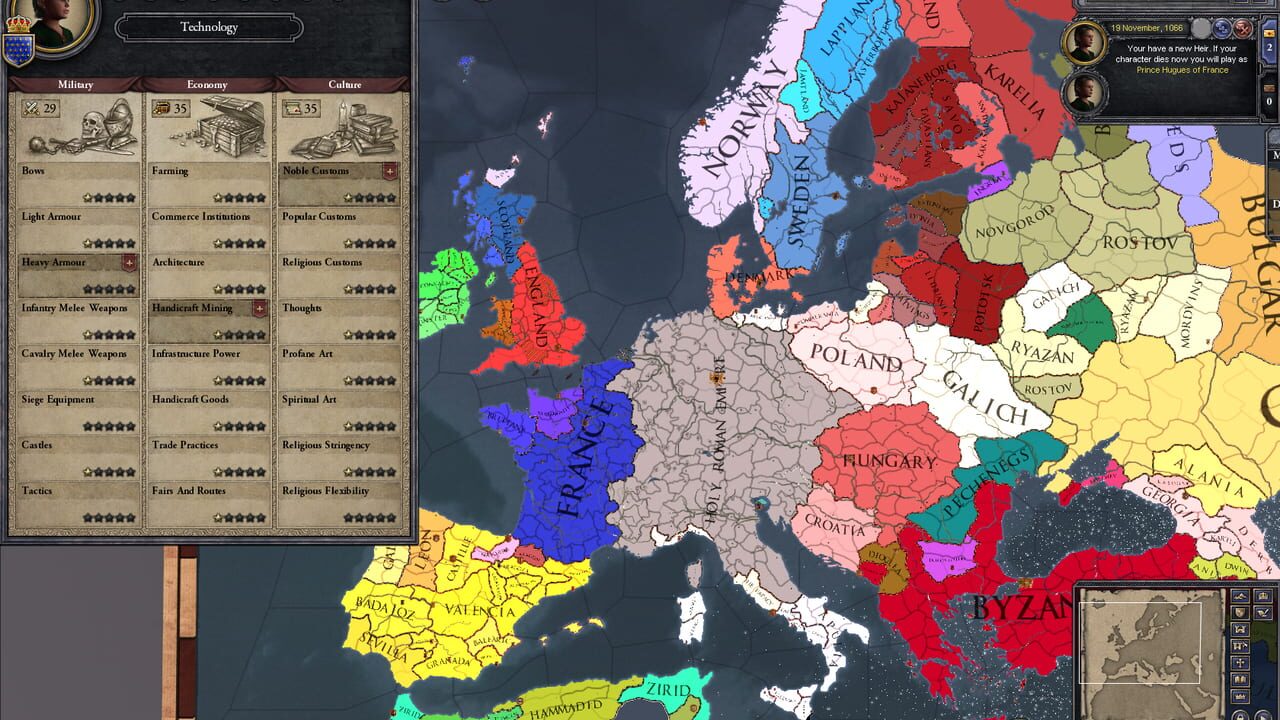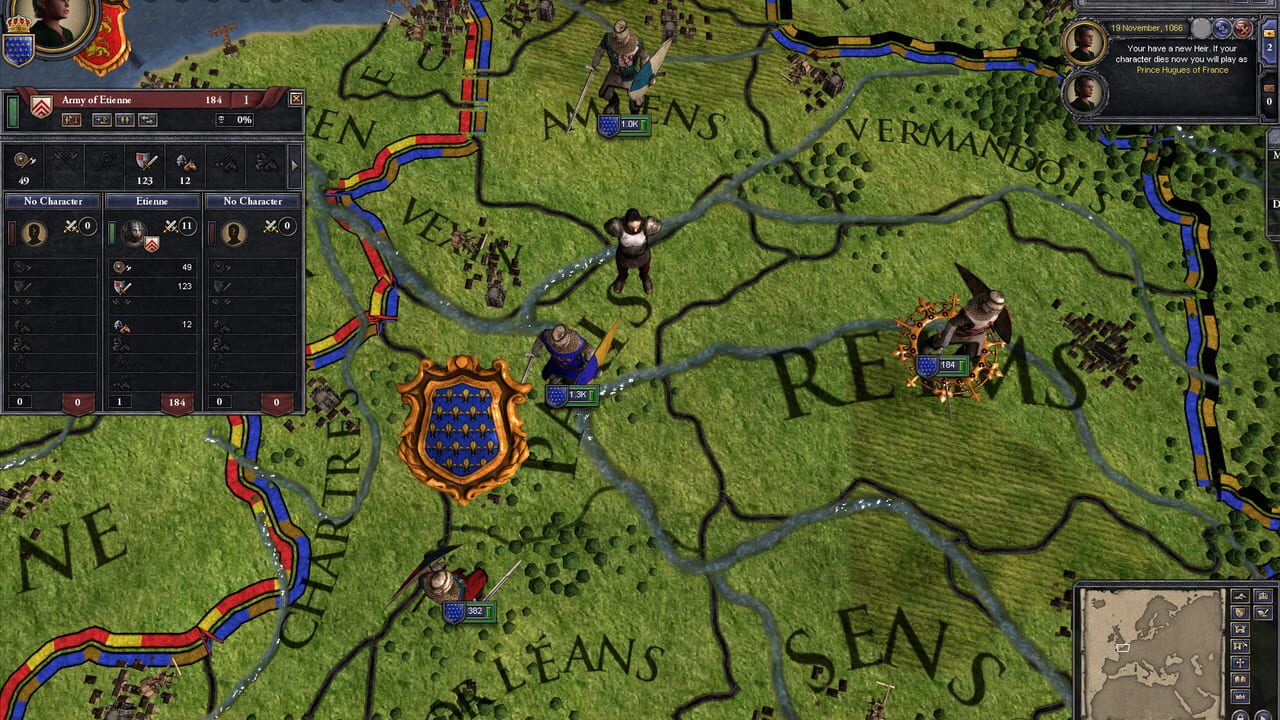 Videos
If screenshots are not enough, you can enjoy creative videos from Paradox Interactive
You may also like
If you like Crusader Kings II, but you're tired of it and want something new, you can try other games.