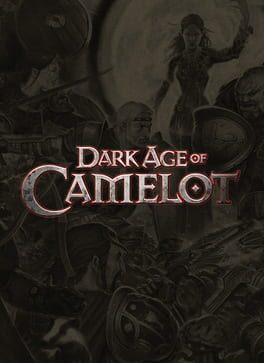 Dark Age of Camelot
Publisher

Mythic Entertainment

Developer

Mythic Entertainment

Release date

10 Oct 2001
Dark Age of Camelot (DAoC) is a 3D medieval fantasy MMORPG, released on October 10, 2001 in North America and in Europe shortly after through its partner GOA. The game combines Arthurian lore, Norse mythology and Irish Celtic legends with a dash of high fantasy. It is set in the period after King Arthur's death and his kingdom has split into three parts which are in a constant state of war with each other. DAoC includes both Player versus Environment (PvE) and Realm versus Realm (RvR) combat. Players can choose to adventure alone or join groups. Players may also join battlegroups, which are formed so all members are able to get completion of credit in large-scale PvE encounters and for communication purposes in RvR.
see all / fold
| AGM score | 90% |
| --- | --- |
| IGN | 9 |
| GameSpot | 9.1 |
| Metacritic | 88 |
expand / fold
About Dark Age of Camelot
Dark Age of Camelot is released by Mythic Entertainment in 10 Oct 2001. The game is designed by Mythic Entertainment. Dark Age of Camelot is a typical representative of the Role-playing (RPG) genre. Playing Dark Age of Camelot is a pleasure. It does not matter whether it is the first or a millionth hour in Role-playing (RPG), there will always be room for something new and interesting. Thrilling levels and gameplay Dark Age of Camelot will not leave anyone indifferent. The complexity of gameplay increases with each new level and does not let any player get bored.
In addition to it in 10 Oct 2001 released games such as:
In addition to Dark Age of Camelot, the representatives of Role-playing (RPG) games also belong:
A complete list of games like Dark Age of Camelot can be found at AllGame here.
Dark Age of Camelot is versatile and does not stand still, but it is never too late to start playing. The game, like many Role-playing (RPG) games has a full immersion in gaming. AllGame staff continues to play it.
Dark Age of Camelot is perfect for playing alone or with friends.
At AllGame you can find reviews on Dark Age of Camelot, gameplay videos, screenshots of the game and other Role-playing (RPG) representatives.
Dark Age of Camelot - game review
Date: 2002-01-09 06:26:00
The review was based on the PC version.
I was in contact with Dark Age of Camelot for the first time when I saw a letter from Mythic in my mailbox notifying me that I had been accepted into the fourth, final beta testing phase. Of course, I was very happy about this situation, thinking to myself: "Ha, I can play for a month for free, and God, let the game have as many errors as possible (which is the norm in this type of production), then it is heaven ..." my surprise, when after starting the game I found the sky, a little different from what I expected to see, but still the sky ...
... I also wanted to find the sky after firing the store version and if you want to find out what I found, you have to get to the end of this text.
It was Tuesday, normal-abnormal Tuesday, almost the middle of normal-abnormal week, Tuesday when a courier knocked on my door with a package in his hand. As usual, an unfriendly, surly and surly gentleman whose services I am unlucky to use, pushed the package into my hands, threw his question "legibly name and date here", and escaped humming along the way "This world is strange ...". Sometimes I wonder where such people come from. Such a small digression. Let's come back to me and to the mysterious package resting on my hands.
I am looking at the package - some stamps from the airport, customs invoices and other documents with equally vague hieroglyphs immediately led me to the right track: "Package from the States!" - I screamed and did not stop until the tear (literally) of cardboard into parts one. Experts would call it a greedy computer accessory - a digression again.
I look inside and see a beautiful dust-free box and ... what's that? Ah, these are just another piece of paper coming from anywhere - well, for them shag and to the trash, where the quartered cardboard is already lying. I decided to unpack the box like a human, in the end I did not want it to share the fate of cardboard, which by the way is probably the most dramatic and tragic figure in this review. He traveled so many thousands of kilometers, being thrown, abused, only to land at a "man" and in torture to look like this "man" gently, with grace equal to the ballerina unpacking the thing / something (as if not also looking at a cardboard box, but colorful and here called the "box") - the thing that this tragic cardboard box was in his protection. Okay, I'm finishing with digressions.
In the box I found the instruction, a huge poster and two "keyboard spreads" with the keys and their function in the game marked. Each of the spreads had land maps on the other side. And this is called a well-wrapped game, not a DVD box and a scrap of paper, which is for instruction.
Immediately after unpacking, I began the ritual that every player knows. When the line indicating the status of the installation showed 99%, my right eye could not stand it, and began to blink (or maybe ticking?). After launching, I was seriously worried because the game started the program to download the latest patches and additions, which exposed my left eye to similar, unpleasant complications. I could only pray. In the meantime, I decided to take another look at the box and here's what I read on the back (English translation)
"Dark Age of Camelot is a mythical online world that was presented using 3D graphics. Play against or against thousands of players from around the world, choose your character from many races and class combinations. Enroll in the history of the mythical war for dominance between Albion, Hibernia and Midgard. " Nice. Elsewhere in the box, I learned a little about the history of this "mythical war for domination." Well, the thing happens right after the death of the legendary King Arthur. The three kingdoms ruled by mighty Arthur no longer have a common ruler and are fighting among themselves to defend the holy relics and stop the invaders from seizing the earth. You enter here.
Fortunately, someone had to listen to my prayers, because my left eye withstood a few minutes of additional stress and thanks to that I could log in, starting my adventure on the Bedevere server, in the land of Albion, where, as I knew before, our compatriots play.
The next step was to create a character. In my land I had four races to choose from (min. Briton, Saracen) and five character classes (min. Fighter, Elementalist, Mage). Each of them after reaching the appropriate level, faces a further career path, e.g. from Fighter you can become a Mercenary, Armsman or Paladin. This is not the end, because every level we get specialization points, which we spend on training our hero in a given skill (and there are a lot of them). Everything in the pile gives you great opportunities to create our character. Of course, for the other two lands, classes and races are completely different, and thus, most spells and skills - not to mention architecture or climate.
After dealing with my origin and destiny, it was time to choose the sex, face, hair color and divide the pool of points into eight main attributes. There was also a name that I was worried about the most, because there cannot be two the same on one server. Their happiness that it was free.
Click on the start button and I'm ... in heaven again. Yes exactly. A lot has changed since the Beta, and only three months have passed - the sky I came back to was even better. A lot of interesting options have been added, such as horse riding (so-called Taxi), some bugs have been corrected, characters have been balanced and a lot of other small, but also pleasant and easy things have been made. Almost after two hours, the new player is familiar with the basic assumptions of the game and copes with controlling his character, which is rare in MMORPG games. This game is nothing like the old Ultima Online. Personally, I wouldn't even think of comparing it with Everquest or Asheron's Call.
Matters as sensitive as PK (Player Killing) and PvP (Player vs. Player) have been solved very innovatively, and they look so. The place of PK and PvP was replaced by the so-called Realm vs. Realm. No player can attack a player from his land. There are certain areas, called Frontier, where players from competing lands can fight. There would be nothing extraordinary if it were not for the castles and relics that can be obtained! Imagine a small castle, where a group of one hundred players gather, divide into smaller units and begin to conquer this castle. Archers remove archers from the walls, clerics raise the dead, and warriors fight the guards. And the great epic battles involving hundreds of players are just a sight! In no other game will you experience such emotions and such a dose of adrenaline when the last gate of the Midgardians' castle falls and a crowd of warriors pour in, cutting the northern ones evenly ... oh, my left eye.
Like other online games, a new "tradeskilli" system has been created for traders and craftsmen, that is craft skills. New is the so-called Siegecrafting, i.e. building siege machines that make it easier to obtain castles. Personally, I think this system is the best that has been created so far in this type of games. It's as easy and intuitive as the interface.
The world is huge, maybe I'm exaggerating a bit; it is big, on foot you can run sometimes 10 minutes, only to smash a goblin or skeleton by a beautiful lake. But this running has its good side - you can enjoy beautiful views and beautiful weather conditions (I dare say that they are better than those in Anarchy Online). People who have problems with orientation in the field can have a lot of trouble, and when the fog comes, it is better to forget about any "This is probably this way". Of course, there were dungeons, although there are not too many - according to assurances, they are to be successively added. Monsters - what for some are really smart beasts. Which pleasantly surprised me; especially watch out for those at high levels, and even those that occupy half the screen. Once I went under a snapshot, but before I could do anything, I lay on the ground. And they say that paparazzi have it easy.
DAoC is a typical team game, which will surely please many RPG fans. Only some character classes can play solo, but it is quite difficult for them. At higher levels this becomes impossible. Of course, the worst is playing with a group of total, unorganized geeks, where death reaches you every few minutes - then it becomes frustrating, but it's just like a normal life. For real roleplayers there are two special servers, where the rules are slightly changed and a lot of emphasis is placed on "playing" the character (you can be admonished even for the statement "Guys, I have to finish because my pizza is getting cold!") Fortunately, most servers is "normal".
As soon as you start this game, it casts a spell on you - you just can't break away. You think "I'll come in, for a moment, maybe there will be someone from my friends, I'll play for a moment and I'm going", and you end up waking up as it gets light outside the window. What I wrote above is not even a shadow of what you will find in the world of Camelot. There are still guilds of players (there are even two Polish guilds, which I cordially greet), the emerging market of artisans, hunting, tactics in battles, alliances, rare items, interesting quests and tasks to do - lots and lots of details that you need to see yourself.
Well, but everything has a price. And the price you have to spend to play in DAoC can scare many people away. First of all, you must have a permanent Internet connection and plenty of free time. Otherwise, for your own good, it's better to skip this title with a wide angle. The second thing is money. As in any game of this genre, you have to pay monthly for playing. And there is also a high cost of importing DAoC from the US, because the European version did not have a premiere yet (it is to be in the first quarter of 2002).
Dark Age of Camelot is definitely the king of RPGs, at least those online. Not everyone can like the fact that it is focused on team playing and certainly not everyone will find the atmosphere of this world fascinating. But it can't be denied innovation and original ideas, and it won't end with what I've written. In fact, it is only now that Camelot will begin to spread its wings. I haven't had so much fun for a long time and I recommend it to everyone who gets bored playing for an hour a day, in ten different games a month - honestly, it's probably all I can write, it's time to come back, because Midgard and Hibernia are not sleeping! But there will be emotions (ticks) ... oh crap, it's not enough that the eyes are still the right hand, and how will I play?!?
Gabriel Angel
Videos
If screenshots are not enough, you can enjoy creative videos from Mythic Entertainment
Streams
But that's not all! We also carefully prepared the best strips from Dark Age of Camelot.
You may also like
If you like Dark Age of Camelot, but you're tired of it and want something new, you can try other games.