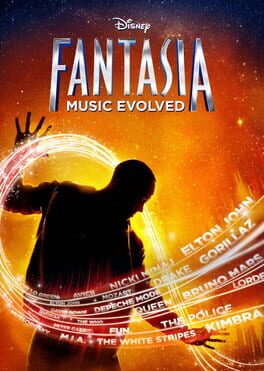 Fantasia: Music Evolved
Publisher

Disney Interactive Studios

Developer

Harmonix Music Systems

Release date

21 Oct 2014
Disney Fantasia: Music Evolved is a breakthrough musical motion video game inspired by Disney's classic animated film, Fantasia. In the game, players enter the magical realm of Fantasia, selected by the legendary sorcerer Yen Sid, to hone their musical and magical prowess as his new apprentice. Fantasia: Music Evolved takes players on an interactive and immersive motion-controlled journey through worlds of music and magic.
see all / fold
| AGM score | 83% |
| --- | --- |
| IGN | 8.6 |
| GameSpot | 8 |
expand / fold
About Fantasia: Music Evolved
Fantasia: Music Evolved is released by Disney Interactive Studios in 21 Oct 2014. The game is designed by Harmonix Music Systems. Fantasia: Music Evolved is a typical representative of the Music genre. Playing Fantasia: Music Evolved is a pleasure. It does not matter whether it is the first or a millionth hour in Music, there will always be room for something new and interesting. Thrilling levels and gameplay Fantasia: Music Evolved will not leave anyone indifferent. The complexity of gameplay increases with each new level and does not let any player get bored.
In addition to it in 21 Oct 2014 released games such as:
In addition to Fantasia: Music Evolved, the representatives of Music games also belong:
A complete list of games like Fantasia: Music Evolved can be found at AllGame here.
Fantasia: Music Evolved is versatile and does not stand still, but it is never too late to start playing. The game, like many Music games has a full immersion in gaming. AllGame staff continues to play it.
Fantasia: Music Evolved is perfect for playing alone or with friends.
At AllGame you can find reviews on Fantasia: Music Evolved, gameplay videos, screenshots of the game and other Music representatives.
Disney Fantasia: Music Evolved - Review
Author: Juan García
Date: 2021-02-02 00:15:58
Fantasia is a masterpiece of cinema that hit the billboards at the hands of Disney more than 74 years ago (to be said soon). An experimental ode that fuses images and music as few feature films have dared to do later (with the exception of Fantasia 2000, the continuation of that work that came to us in 1999). For this reason, that it now arrives in a video game format and by the hand of Harmonix is a declaration of intent. The greatest experts in musical games have set out to imagine the next step of that fusion to try to add one element to the mix: the person on the other side of the screen.
It is no longer just that music and images come together to try to create a unique fantasy, but that we are part of it. And the truth is that Harmonix achieves it in many moments, making us feel inside each piece of music like few times before. Getting us to let ourselves be carried away until we reach moments of pure fun and total immersion, in which we return to being that child who saw the Sorcerer's Apprentice for the first time, with that Mickey, his magician's hat and the happy brooms.
We also use this comparison with Mickey because the imagery posed by Disney Fantasia: Music Evolved is born from that short , with the old magician Yen Sid acting as master of ceremonies and also getting fully into a gameplay that will remind us of this little piece of film. In one part of it, the little magician controlled the music and the sky with the movements of his hands. Now we will be the new sorcerer's apprentice, having to do just that, move our hands to the rhythm of the music. We will do it following the instructions on the screen, although with a peculiarity that those who subscribe have found it especially interesting: nobody tells you which movement to do with the right hand and which with the left. This small freedom forces us to change the chip, getting even more into each of the 30 songs that the game proposes.
Thus, we will move our arms, which will be recognized with complete fidelity thanks to the magic of Kinect, as if we were any Leonardo Dantés, following the instructions on the screen: blows, dragging, simple pushing movements ... All of this merges into one little dance that will get us more and more into the action ... until you see yourself dancing classical music as if it were the most modern musical success. It is a different gameplay, which also clearly differs from other musical games thanks to two extra aspects: the composition spells and the mixing . The first are five different mini-games that are activated by 'nailing' the edges of the geometric figure on the screen, and allow us to create a small composition that is included in the mix. It's great to see something that comes out of our hands join some of the most glorious songs in music history. It makes you feel even more a part of what happens on screen.
Mixing is a way to change the face of each song, as there are two alternate mixes for each piece, each made up of multiple instruments. They are activated at certain points in each song, prompting us to hit the screen and then choose the instrument we want to use from the available mixes. We can thus change guitars for synthesizers, electronic rhythms for tropical sounds, etc ... It is less 'revolutionary', but it continues to improve the peculiar mix of Disney Fantasia: Music Evolved.
Of course, the success of the formula lies largely in its selection of songs, which very aptly mixes classical pieces and more modern hits . It is a total of 30 songs that will sound, at least, to any music lover worth their salt. They play different styles, although the balance falls more on the side of pop and classical. On the other hand, some may consider that the selection is a bit short, although the truth is that it will keep us entertained for a good handful of hours. The full list of songs included is as follows:
Videos
If screenshots are not enough, you can enjoy creative videos from Disney Interactive Studios
You may also like
If you like Fantasia: Music Evolved, but you're tired of it and want something new, you can try other games.