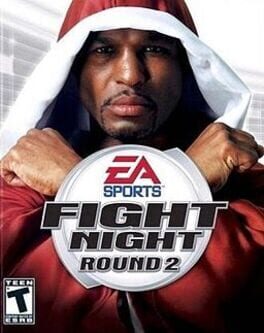 Fight Night Round 2
Publisher

EA Sports

Developer

EA Canada

Release date

1 Sep 2005
EA's Fight Night returns in its second installment. Once again, you can create a new boxer and start a career that begins as an amateur in a shady gym somewhere in Queens, NY and fight your way up to the top. Alternatively, you could relive the careers of some legendary boxers. Of course, you could go for a simple match with either a computer or a live opponent. Round 2 offers many new features, like fancy particle effects that show blood and sweat spraying into the camera in ultra slow-motion. The "Total Boxer Control", which lets you throw punches by making certain movements with the analog stick, has been improved. There are also many ways to customize the appearance of your character, up to the shaping of the cranium and ears. The soundtrack consists of a dozen contemporary (but unfortunately edited) hip-hop tracks.
see all / fold
| AGM score | 89% |
| --- | --- |
| IGN | 9 |
| GameSpot | 8.9 |
| Metacritic | 88 |
expand / fold
About Fight Night Round 2
Fight Night Round 2 is released by EA Sports in 1 Sep 2005. The game is designed by EA Canada. Fight Night Round 2 is a typical representative of the Sport genre. Playing Fight Night Round 2 is a pleasure. It does not matter whether it is the first or a millionth hour in Sport, there will always be room for something new and interesting. Thrilling levels and gameplay Fight Night Round 2 will not leave anyone indifferent. The complexity of gameplay increases with each new level and does not let any player get bored.
In addition to it in 1 Sep 2005 released games such as:
In addition to Fight Night Round 2, the representatives of Sport games also belong:
A complete list of games like Fight Night Round 2 can be found at AllGame here.
Fight Night Round 2 is versatile and does not stand still, but it is never too late to start playing. The game, like many Sport games has a full immersion in gaming. AllGame staff continues to play it.
Fight Night Round 2 is perfect for playing alone or with friends.
At AllGame you can find reviews on Fight Night Round 2, gameplay videos, screenshots of the game and other Sport representatives.
Fight Night Round 2 - game review
Date: 2005-05-12 04:20:00
The review was based on the PS2 version. Also applies to the XBOX version
For obvious reasons, boxing games are usually doomed to a rather niche existence and a murderous fight for every potential buyer. This is not a "gala", which man draws attention as if instinctively, without asking himself any elementary questions. The stimulus that a statistical breaker would have to experience to invest in virtual boxing usually remains in the realm of developers' dreams, and their works still reach a relatively small group of enthusiasts of this classic sports discipline. You have to work hard to create this kind of game that will kick the tasks of a wide audience. Hegemon sports simulation, EA Sports, almost this art succeeded on the occasion of Fight Night , released about a year ago. Now that Round 2 is spinning in my reader, I wonder. Will this game be able to break through the restrictions imposed on it by subject matter? It should, as the honey spilling from it has almost clogged my console reader.
Fight Night Round 2 at the very beginning attacks us with a thrilling intro in the hip-hop rhythm, in which, in the midst of angry, rap blacks and grateful sfx popping jaws, we observe a small preview of what can be done in this game. Ochota is growing. As it turns out, after the start of the first game, there are no distortions in the introductory video. In fact, you could skip exchanging positive sensations during the game and limit yourself to just one observation: charging your opponent with the strongest possible blow and watching him fall as breaths is pleasant as hell. It's enough.
Fighting in the full sense of the word consists of several stages in this game. The first is training, consisting of playing one of three fairly standard mini-games to increase the parameters of our player during the clash with a "live" opponent. The variety is not very big, but it works. We can beat the combos in a training doll (in the "repeat combination" or "whack") or play weightlifting. What's more impatient they can bypass this phase, relying on automatic training (risk of slight loss of form), or completely give up any modification of the physical condition of our strongman. The game of training is well thought out, however, that it trains not only him, but also ourselves. Elements mastered in mini-games are useful during the actual duel. Like nothing, and as long as it can change the reception of this whole quite complex part of the game. Great.
When the time comes, it is hard not to be enchanted. The performance of the players and the precision of their animation (no "hits in the air" - like a blow sits down, no one has any doubts about it) heralds a lot of joy, and the deciding factor on the huge decks of playability is above all a perfectly thought-out control. "Total punch control", because that is the name of the patent, which we use the right analogue, is championship in its class. You can really feel that our right thumb has this "total control" (slogan like from an razor ad). We can perform a dozen or so different blows, both on the head and on the body (with L1 pressed), combining them in combinations and using one of the most important novelties compared to the previous part - haymakers. At first it is not easy to make such a blow (knob first to the left, then around the perimeter a bit back and the same forward, to the very end), but with time we start to have everything in our fingers and our thoughts revolve around tactical develop the opponent, not the technical implementation of our plans. For more demanding opponents, it is not enough to master the offensive well. It will be necessary to be able to effectively block and counter (which are to some extent based on the guess-guess principle), as well as to cleverly "open" our rival with the help of decoy blows. Like boxing, right?
Another new feature is the manual operation of the so-called cutman, a team orderly who, in the intervals between rounds, does everything to bring the athlete's face to usability. In practice, this is another mini-game based on the rhythmic operation of the right knob. While we are trying to embrace the schnitzel formed on the face, our trainer gives us directions, explaining to the player ("Listen, kid ...") what he can do better. Over time, our coach's statements become quite secondary, although it is still a very creative flavor. Listening to the advice, you want to jump into the ring for the next few minutes mordobitki. Only Heart of the Tiger is missing.
We can have fun taking part in single fights (on standard rules or in a formula in which the round ends the fall of one of the players on the boards), playing the above-mentioned mini-games and of course starting the full career of the boxer. The latter mode is filled to the brim with interesting accents. We start our journey to fame in the amateur league, without cutmen, but with head protectors. Instead of training, we participate in a cultural tutorial, each time we teach us how to perform more and more demanding elements of the art of boxing.
At any time, we can decide to switch to professionalism (or continue my amateur career until winning the title of amateur world champion). Here everything is already at full speed. Before each fight, in addition to the need for intensive training, we can make additional investments, such as hiring girls supporting us or ordering spectacular lighting effects for the opportunity to enter the ring. All this, of course, reflects on our form during the duel, helping to get up from the boards when everything stands against us.
A very important element for the overall reception of the game is "Create a Champ", which is a mega-accurate character creation system. So modeling realistic human silhouettes is so simple? Ha, what's this Oscar for Gollum for? No, I am joking. However, the facts speak for themselves, the basic control over the shape of the nets forming the player's face is simply amazing. If someone is familiar with human anatomy from the artistic side, nothing stands in the way of introducing a friend's face to the game and later turning it into a turpistic beauty with a fist. Do you want to play a giant black man with dreadlocks and tattooed Jesus on the chest? Or a pale Russian, stylized like Ivan Drago of Rocky ? Nothing stands in the way, and your original creations will definitely be unique.
It is quite strange that the difficulty level is alarmingly low most of the time. It may sound suspicious, but playing on normal won all fights (until winning the double title of world champion, you can continue your career defending trophies) by knockout around a maximum of 4-5 rounds. I don't feel prepared in any way for this type of games, so I think the opponents are not very demanding. In addition, there are no truly surprising motives here during the brew. It happens that the opponent fell to the boards after one, well measured sickle, but practically every boxer must be thrown to the ground at least 3-4 times to pass the final knockout. Nobody heard about trainers stopping fights. It is possible for the referee to end the clash if we abuse abuses and not very legal games (a joke about Golota would be too trivial here), or if one of the players is bleeding too much. Theoretically, there are a lot of possible scenarios, but in practice most of the duels are played according to a tedious pattern after some time. On the other hand, honey is still there. Only a note of uncertainty is missing.
As I mentioned earlier, the visual setting of this virtual boxing can cause a thrill. When we knock the opponent onto the boards, we see our ending blow in a cycle of sadomasochistic, slowed replays from several cameras, showing sweat, blood and pain falling at the feet of the player. Another one bites the dust. It's very excitable. The visual whole presented by EA Sports usually does not drop from a high level. Dynamically changing (more "happier") faces of the fighting, exemplary camera work, twisted graphic effects when getting up from boards (boxers really have such a chaff in their heads? I do not envy), everything seems to be in place. Only the view of the audience supporting us is not sensational, although it can get over. We rarely have time to look around.
"Now it's easier to make a hip hop player than to write cucumbers" - quoting Wilq by the Minkiewicz brothers. According to this principle, EA Sports decided to embellish the game with a gangsta-rap atmosphere, which fortunately falls within the tolerance of "rhyming". The soundtrack serves us a bit of a black, rebellious flow, based on strong foundations and sometimes quite catchy lyrics ("I smell and I think it's coming from you."). The compositions themselves are perhaps nothing special, but their energetic atmosphere matches what is happening on the screen (i.e. there is no music during the fight).
So what? Should I write that "a perfect game for fans of virtual boxing"? Unfortunately, I feel something more ambitious than the level of the "entertainment" corner in women's magazines. Boxing games have always been such a peculiar fusion of sports production with murderous acts. What Fight Night presents is neither one nor the other. Such a title can be a nice breath for players bored with schemes who have never tried anything like this. It is a perfect entry into the "world" of boxing simulations, distancing all non-bullous competition by several lengths. You just have to answer the question - "do I want to have a boxing game?". If the answer is yes, the only right way out of this situation is before you.
Krzysztof "Lordareon" Gonciarz
PROS:
MINUSES:
Videos
If screenshots are not enough, you can enjoy creative videos from EA Sports
No videos
You may also like
If you like Fight Night Round 2, but you're tired of it and want something new, you can try other games.