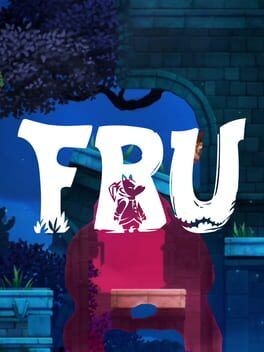 Fru
Publisher

Microsoft

Developer

Through Games

Release date

13 Jul 2016
FRU is a puzzle platformer that features an innovative use of Kinect, in which your silhouette becomes a "portal" between two worlds. You will find yourself solving puzzles by strategically positioning your body, combining physical interaction with traditional platforming. The game features four completely different chapters, all based around our innovative use of the silhouette, with a unique twist to each one of them. In addition to moving and balancing your body to solve levels, you'll also find yourself swimming inside your silhouette, striking crazy poses to activate contraptions, and awkwardly tiptoeing to avoid dangerous hazards!
see all / fold
expand / fold
About Fru
Fru is released by Microsoft in 13 Jul 2016. The game is designed by Through Games. Fru is a typical representative of the Puzzle genre. Playing Fru is a pleasure. It does not matter whether it is the first or a millionth hour in Puzzle, there will always be room for something new and interesting. Thrilling levels and gameplay Fru will not leave anyone indifferent. The complexity of gameplay increases with each new level and does not let any player get bored.
In addition to it in 13 Jul 2016 released games such as:
In addition to Fru, the representatives of Puzzle games also belong:
A complete list of games like Fru can be found at AllGame here.
Fru is versatile and does not stand still, but it is never too late to start playing. The game, like many Puzzle games has a full immersion in gaming. AllGame staff continues to play it.
Fru is perfect for playing alone or with friends.
At AllGame you can find reviews on Fru, gameplay videos, screenshots of the game and other Puzzle representatives.
Fru - Analysis
Author: Juan García
Date: 2020-03-03 23:22:59
Microsoft announced Xbox One with the Kinect review, stating that from now on the console and the peripheral would be nail and meat. The reality was different, with little support from Microsoft, let alone from outside companies. You can almost count on your fingers the games that take advantage of it: Kinect Sports Rivals, D4, the annual version of Just Dance and a retailer of downloadable minor. The worst part is that none of these titles gives consistent reasons for owning Microsoft's motion capture peripheral. That is precisely why we are shocked by a game like FRU, which comes just when everyone takes the device for dead, to the point of having announced the closure of the free fitness application, one of the great original assets for this addition.
The idea on which this project is built is simple: the silhouette of our body is a kind of portal between two worlds, which superimposed allow us to overcome the 110 static screens (there is no scroll in this game) that make up the main adventure. Sometimes, our silhouette will make platforms appear, other times they will disappear. It is even possible to create slopes with our hump and turn a steep wall into a gentle ascent. The grace of the matter is that, in general, it requires a certain amount of intelligence, and the same amount of skill, both with the command, and when moving around the room. A peculiar mixture that is better explained with images than with reading.
We control a character with the command, limiting ourselves to using the crosshead for movement and the triggers for jumps. Simple and simple, just enough to not have to worry while we do a thousand and one postures in the room. Because if something stands out and makes this title different it is to force us to move while enjoying a traditional experience. We are an active part of the function, and we also control the main character, thus achieving an implication and union with what happens on the screen very different from what we see in the most traditional games. For example, we will be surprised by taking the character in his hand and holding him which baby, while a smile is drawn on our lips. The key, of course, is in the variety and in the almost perfect integration of our silhouette in the FRU adventure.
The variety comes from the diversity of challenges, which are divided into four chapters of history. In the first we will just play with the silhouette and what is seen or not. In the second, our reflection on the screen will also create water through which the protagonist can swim. In the third one, a series of switches are added to the equation that activate or deactivate platforms in one of the two game planes. Finally, in the room, burning lava appears, forcing us to spin very fine in terms of what is seen in each plane, to prevent the game character from getting scalded too often. The game is demanding, and forces us to look for impossible poses to overcome each level, but also opens the hand by not punishing us for dying more than turning a few leaps back. That is to say, it manages to perfectly bite us and make us return again and again until we overcome each puzzle or situation.
This means that sooner rather than later we finish the game, leaving the hour count close to 3 o'clock. It is true that there are 24 collectibles that unlock a new game mode, although they are not too hidden. What we have liked and it has been worth repeating the game is to play cooperatively in the mode of a player. One controls the control and another the silhouette. What is lost in difficulty is gained in need of coordination, creating a different experience capable of destroying friendships or joining couples more than a sparkling Valentine. And the best part is that if we get all the collectibles (a task that, if that is not enough, is facilitated with the fantastic FRU level repetition system), a new game mode opens that is nothing more than the original demonstration of the game, in which a cooperative with two characters and two silhouettes was contemplated. This mode has its failures, but it must be understood as an extra that serves as a cherry for a different experience, which takes advantage of Kinect like no other game before, to the point of being closer to the asymmetric experience promised by Wii U than to a game for A console like Xbox One.
Technically the title is modest, but well done. The scenarios are detailed and sufficiently varied to avoid a sense of deja vu. In addition, there are no problems with Kinect or the capture of our silhouette, working perfectly most of the time. The music is light, although it ends up getting a little crushing, and the sound effects comply with the provisions. If we get stingy the story is too mild, with a narrative that tiptoes through the argument it tries to tell us. However, it is a lesser evil, since we have played FRU for the interesting and original of its proposal, not because we burned with interest to know the end of the story. A ruling that we could consider minor in a sea of successes, for one of the most original proposals we have encountered in recent months ... And the demonstration that Kinect was worth to offer us unique experiences.
Screenshots
Screenshots will help you evaluate the graphics and gameplay of Fru.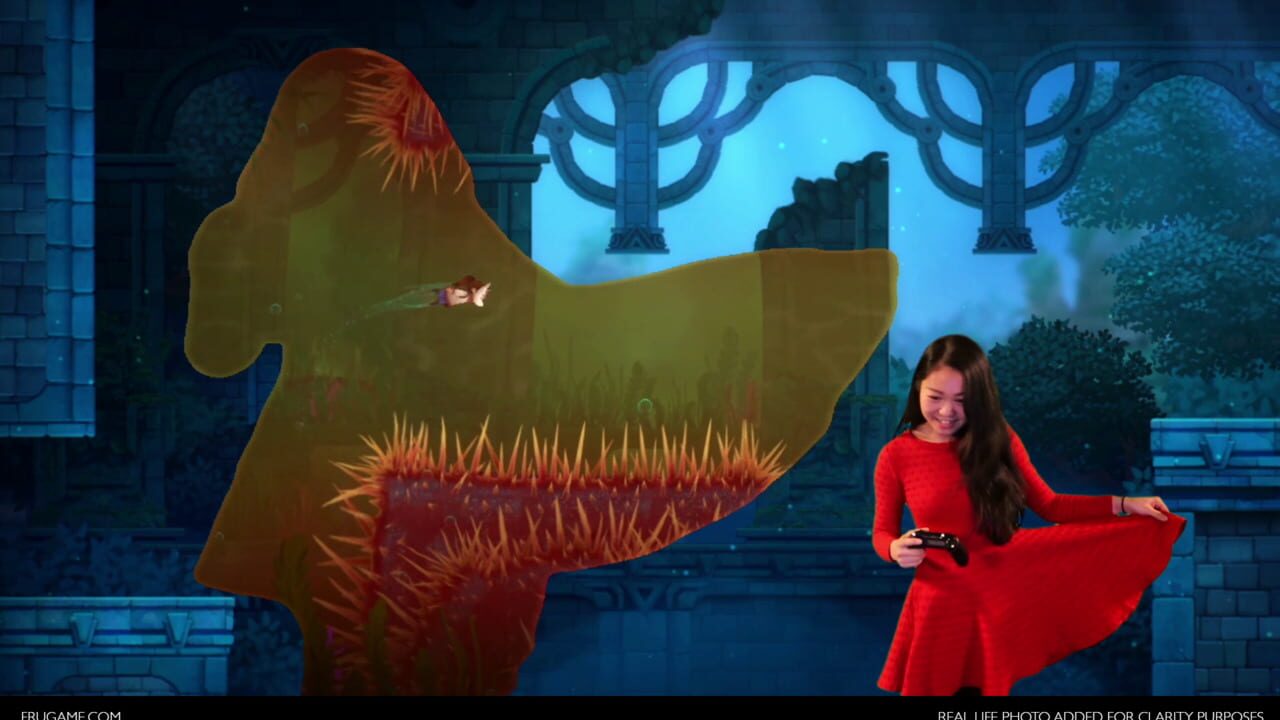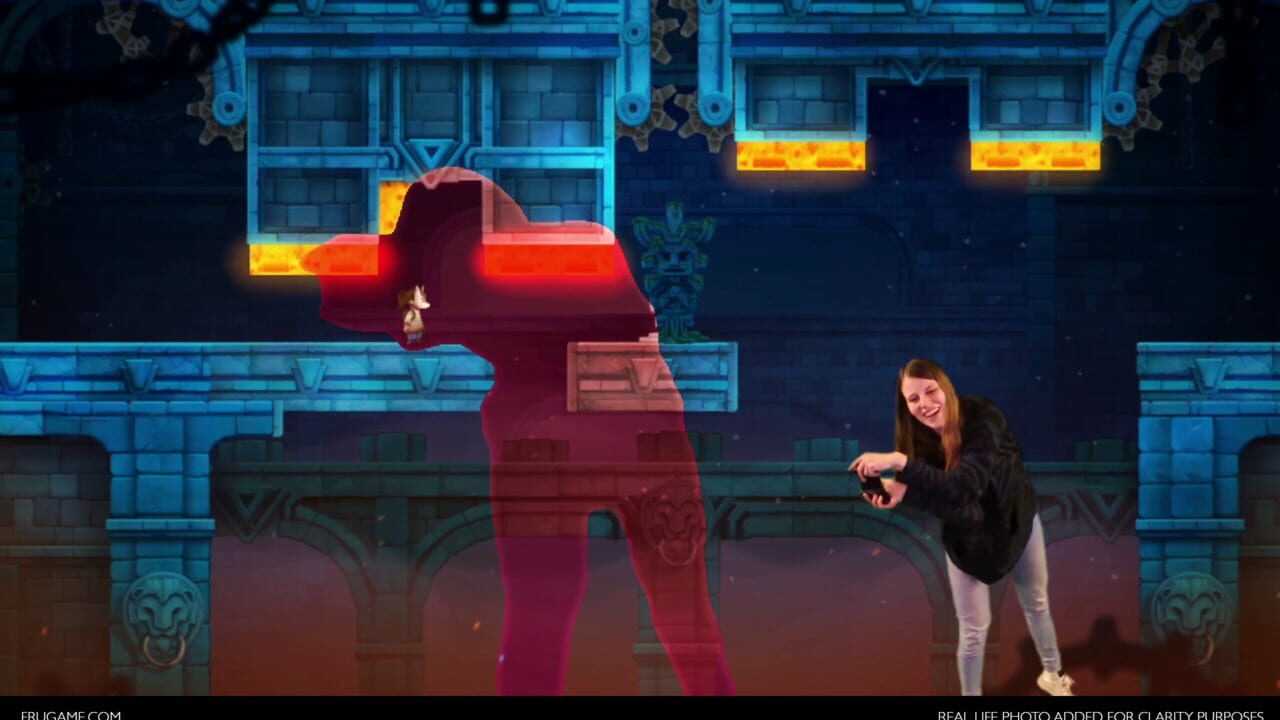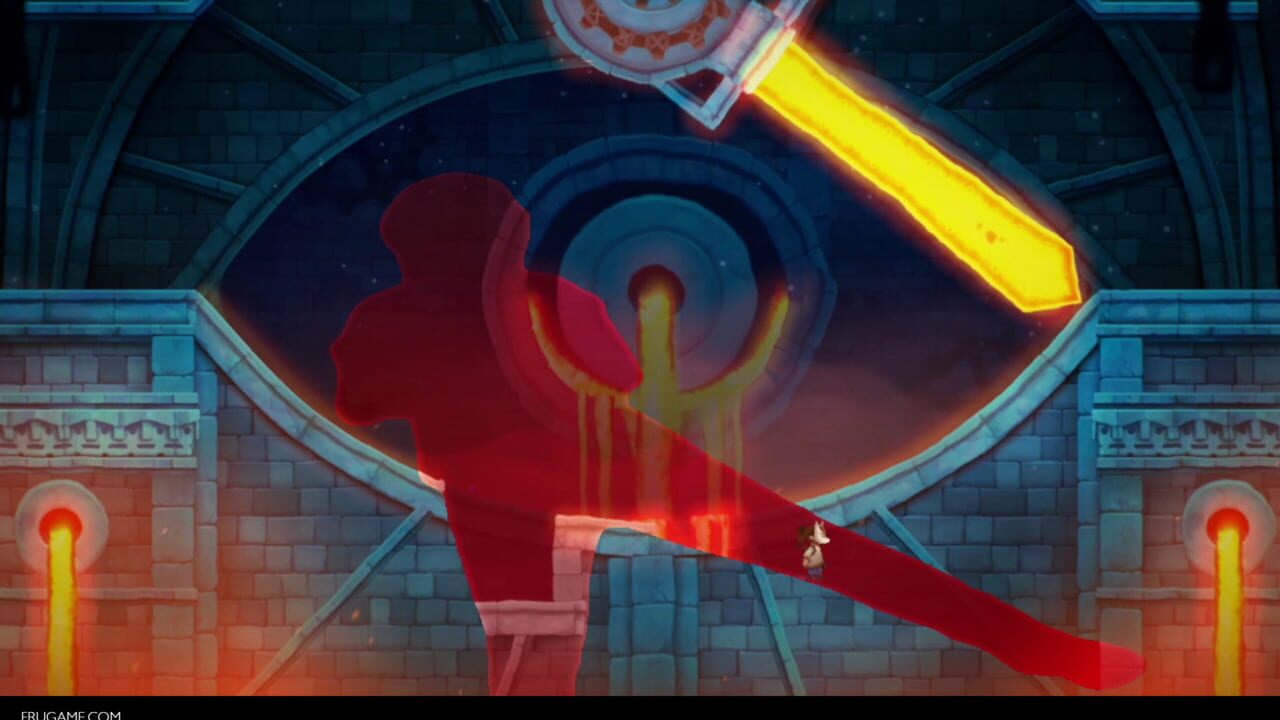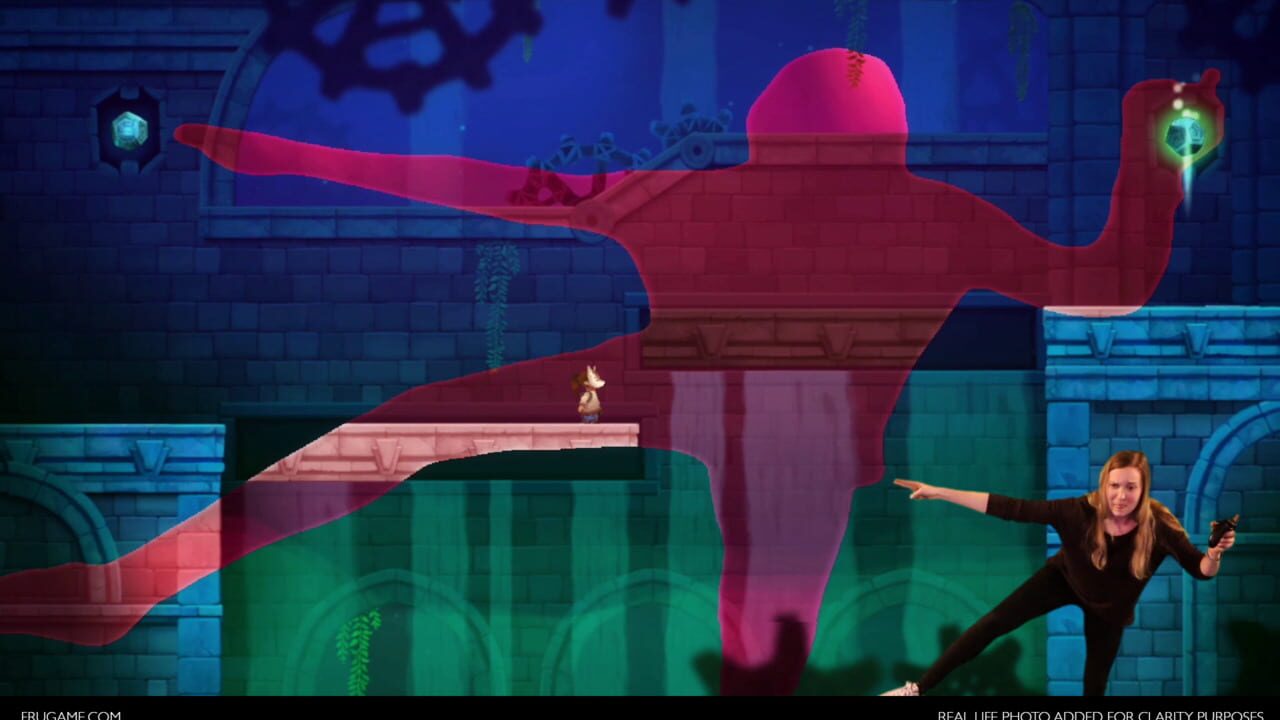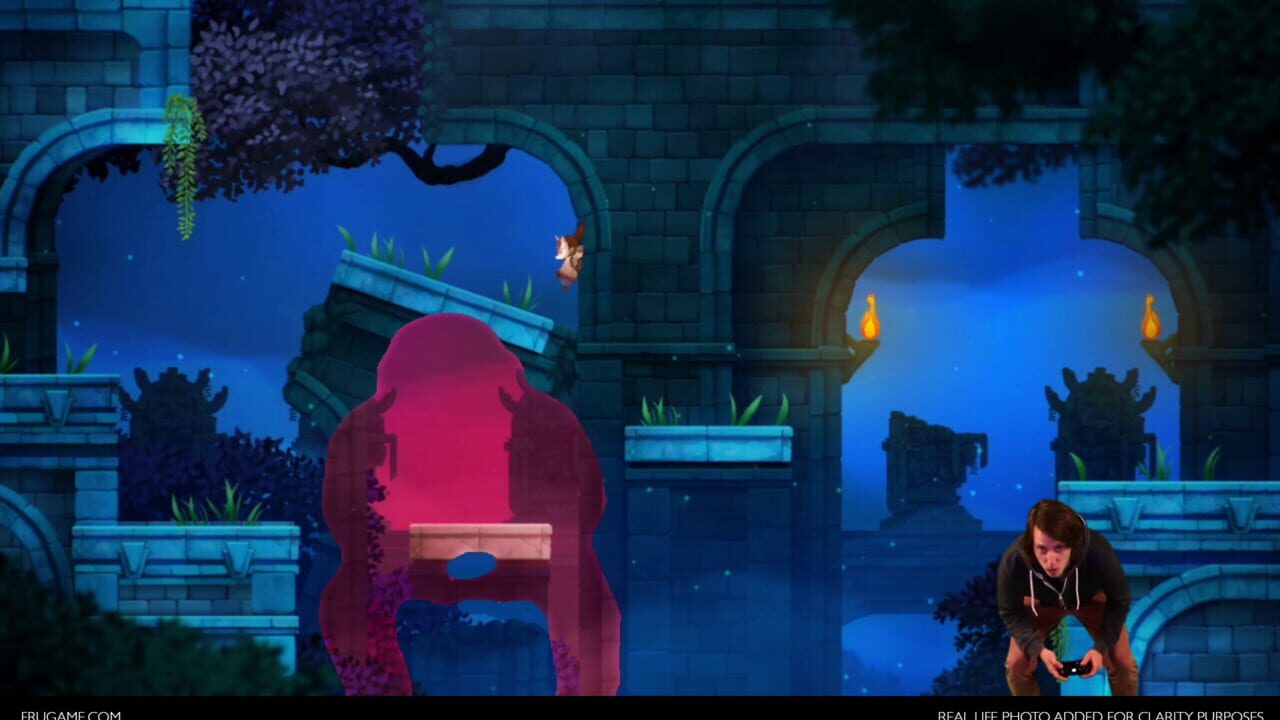 Videos
If screenshots are not enough, you can enjoy creative videos from Microsoft
You may also like
If you like Fru, but you're tired of it and want something new, you can try other games.