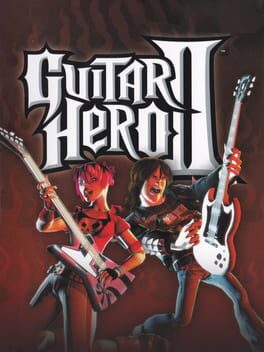 Guitar Hero II
Publisher

Activision

Developer

Harmonix Music Systems

Release date

7 Nov 2006
Unleash your inner rock star! Unlock new songs and venues to become the ultimate rock star in Career mode, jump right in and play any song you've unlocked in Quickplay, or play with or against friends in Multiplayer, all right from your living room!
see all / fold
| AGM score | 91% |
| --- | --- |
| IGN | 9.5 |
| GameSpot | 8.7 |
| Metacritic | 92 |
expand / fold
About Guitar Hero II
Guitar Hero II is released by Activision in 7 Nov 2006. The game is designed by Harmonix Music Systems. Guitar Hero II is a typical representative of the Simulator genre. Playing Guitar Hero II is a pleasure. It does not matter whether it is the first or a millionth hour in Simulator, there will always be room for something new and interesting. Thrilling levels and gameplay Guitar Hero II will not leave anyone indifferent. The complexity of gameplay increases with each new level and does not let any player get bored.
In addition to it in 7 Nov 2006 released games such as:
In addition to Guitar Hero II, the representatives of Simulator games also belong:
A complete list of games like Guitar Hero II can be found at AllGame here.
Guitar Hero II is versatile and does not stand still, but it is never too late to start playing. The game, like many Simulator games has a full immersion in gaming. AllGame staff continues to play it.
Guitar Hero II is perfect for playing alone or with friends.
At AllGame you can find reviews on Guitar Hero II, gameplay videos, screenshots of the game and other Simulator representatives.
Guitar Hero II - game review
Date: 2007-04-26 07:44:00
The review was based on the X360 version.
Music has never been my strong point. In elementary school, it was recognized that I belonged to a considerable group of people (referred to as "those whose elephants stepped on their ear") who were allowed to go through subsequent music lessons without being forced to sing. However, this did not prevent me from enjoying listening to great bands, especially those characterized by sharper sound. It is no wonder then, that sometimes the household members, looking into my room and wanting to turn down the unrelenting noise coming from it, could see a strange sight: me thrashing and shaking hands in the air in what seemed to me to be a reflection of the guitarist's movements. It has been some years since then, but I still had a childish desire to feel, even for a moment, the role of a real rock star. Playing Guitar Hero II on X360 has helped me realize this - a bit silly, I admit - a dream.
As the title suggests, this is the second (and in fact the third) installment of the series, which has its roots on the PS2 console. Only recently thanks to Harmonix and RedOctane can owners of the new Xbox enjoy it. Despite the fact that Guitar Hero II was originally released on PlayStation 2, it's difficult to talk about direct conversion. The creators took advantage of the few months that separated the two versions of the game from each other and refined a lot of details, preparing a product that is by far the best representative of the series. First of all, a completely new controller was developed, which mapped the legendary Gibson X-plorer guitar, graphics were upgraded, the option of downloading add-ons from the network was added, and the sound quality was improved so that the songs sound even better on home cinema sets. Since the target platform of the game was X360, there could also be a system of achievements, which in this case was very well thought out.
Let's return to the merits. The rules are simple: we grab the guitar in our hands, choose the artist representing us on stage, decide on a specific song that we want to perform, and then play. The slogan "Let's Rock!" and there is no turning back. We are the raging audience and the song that will make us sweat out of us. What is this "playing" about - some of you unfamiliar with the series will probably ask. I am in a hurry with the answer. The gameplay itself does not differ from what we have already seen in other music productions. On the screen there are different colored symbols that represent the notes, and our task is to "play" them at the right time, using the buttons located on the neck of the controller. However, just pressing the button is not enough, you still have to make the string tremble, which you do by moving a special switch located on the guitar body. If we manage to play the right sound at the right time, we will hear a piece of solid rock sound. It will be worse if we do not hit - then the speakers will get terrifying squeaks and creaks that will certainly not appeal to us and will give our neighbors a headache.
The way we are perceived by the audience (read: are we falsifying) was marked on a special indicator that can turn green (everything is fine and our concert is first class), yellow (it could be better, but you can listen to it) ) and red (what can you throw at this clown, so that he would stop tormenting us with his fiddling). Of course, our goal is to stay in the green field for as long as possible, which we will do without mistakes. It is also important for our scoring, because correctly played series of sounds automatically raise the multiplier multiplies the calculated result. Playing without falsifying fairly quickly will cause our points to increase two, three or even four times faster - of course, as long as we do not get it wrong, because the game is harsh and returns the multiplier to its original state even with the slightest slip.
It is worth noting that from time to time groups of notes appear marked with specific stars. Flawless playing of the whole set will be charged to us by a special strap that we can use (by tilting the guitar neck to the vertical) to double the multiplier value (if we multiply our result four times, for a moment we will be able to enjoy a multiplier of 8!). When playing long sounds, we can additionally modify them by adding characteristic vibrations to them; we do it using the so-called whammy bar, i.e. the wajchy at the bottom of the guitar. That would be it when it comes to the basics. During the game, we will also discover that without certain tricks you can not count on a proper performance of the song (especially at higher levels of difficulty). Further levels of sophistication do not introduce new rules, but only change the number of sounds to play, the speed of moving the notes and the number of buttons on the neck that we will have to use for fun (in easy mode 3, medium 4, hard and expert 5). Isn't that easy?
However, only in theory. In fact, to master songs at higher levels you need many sessions with the game spent practicing individual parts of the song. Satisfaction with a good performance of a hard or expert song is really amazing.
It is also worth mentioning the controller itself. As I wrote earlier, its appearance is modeled on the Gibson X-plorer electric guitar. In addition to the buttons needed for the game, the developers have equipped it with a d-pad and start and select keys, which make it easier to navigate the menu or pause the game. Unfortunately, they were placed in such an unfavorable place that it can be difficult to turn on the pause while performing a song. There was also a green button to enter the console dashboard options. In addition, the controller is equipped with a port that allows you to connect a headset, as well as a mysterious socket to which you can connect the guitar effect in the future (at least this is what the user manual says). My impressions associated with this unusual control device are the most positive. It is carefully finished, and the buttons on the neck are well distinguished. The guitar fits well in the hands and playing it is really comfortable (not counting the pain associated with forcing our fingers to move at high speed). The only drawback of the controller is that it connects to the console with a cable. I honestly admit that I'm already used to wireless technologies and tying the guitar "on a leash" is a big step back for me.
Since we already know how to play, we can begin to describe the game modes offered by the game. The basic one is a career in which we create our own band (giving it a name), choose the guitarist representing us, and then go on tour. The fun begins with the provincial review of rock bands, then we get to rather suspicious-looking venues, and as we gain greater popularity, we are invited to professional performances in front of thousands of spectators. In each location we can play five songs and one additional for an encore. We need to pass four of them positively. Then access to the next set of songs and a new place where the concert will take place is unlocked. For each well-performed song we receive a certain amount of money, depending on how well our performance was received. Earned dollars we can spend on shopping in the store for beginner rock stars. There, we will buy, among others, new songs, guitars and decorations for them, as well as costumes for our hero and other guitarists.
If in the course of your career you discover that a given song does not work well for you, we can use the practice option, which allows you to carefully work on any song you choose. However, you don't have to repeat it whole every time. It is rare that we fail the whole song. Much more often we will meet the situation when we can deal with verses, but for example the chorus and guitar solos are already beyond our capabilities. At this point, we can apply a useful solution consisting in practicing only a selected part of the song. However, this is not all. At higher levels of difficulty, we may have problems not only with mastering individual tricks, but also with the correct reading of characters quickly passing through the screen. Training will also be useful here, in which we can significantly lower the tempo of the song to be able to learn the order of pressing buttons in peace. Quite beginners can benefit from a short introduction to Guitar Hero , in which they learn the basics of the game.
Other options include the option of playing any song on the difficulty level we set (the so-called quickplay) and the multiplayer mode, thanks to which we will play with a friend. To do this, however, we will need an additional guitar-controller. Then we will be able to perform individual songs together, in which we will be able to choose whether we prefer to play the electric or bass guitar section (in some songs we can choose a rhythm or lead guitar). Of course, there could also be an opportunity to challenge your friend and compare your skills. It is worth noting that a second guitar is not necessarily required to play, but playing Guitar Hero with an ordinary pad simply misses the goal and does not bring much fun.
If you think that these options give little opportunities for fun and can lead to a quick boredom of the game, you are wrong. Thanks to the extensive list of songs (over seventy, of which ten are only in the version on X360) and a thoughtful rating system, most players will not rest until they have scored the songs with the best note. Once this happens, you can always raise the difficulty level. Then you will have to reckon with the fact that before we achieve a satisfactory result, we will spend a lot of time on practice. If we add to this the great potential that Guitar Hero reveals during social gatherings and events, we will get a picture of the game that can not be bored.
Every music production should have decent, licensed songs. In the case of Guitar Hero , we don't have to worry about choosing songs. There are a lot of them and they will satisfy various tastes. You will find, among others, oldschool rock ballads, hits from years ago, as well as contemporary songs. Among the over 70 songs that were on the game's soundtrack, everyone will find something for themselves, both those who prefer pure rock and supporters of punk, grunge or even metal. Unfortunately, most of the music in Guitar Hero are covers, popular songs made by less known artists. Fortunately, the creators made sure that the soundtrack presented an unusually high level, and the recorded songs did not differ too much from the original. In some cases, especially when the imitated vocalist had a very non-standard voice, the difference can be caught from the spot, in others the similarity is striking and a person who is not a fan of a given band may have serious problems distinguishing the cover from the original.
Graphic design is not a decisive factor for the success of the Guitar Hero series. Nevertheless, the creators made sure to adapt it to the requirements of the new generation of consoles: among other things, the resolution of textures was increased, the appearance of the character and the environment was improved, and a number of lighting effects not available in the PS2 version were used, which quite reflect the spirit of a dynamic rock concert, but at the same time can give some people a headache and nausea (especially at times when strobes move). During the concert, we watch (or rather, our friends watch, because we are busy concentrating on passing notes) the band's performance. The singer runs around the stage, the guitarist does various tricks with the guitar, and in the background there are various large, animated figures (e.g. giant death). The artists' behaviors look quite realistic, but in some cases there were clearly no different animations for different genres of music. It then comes to funny moments when our band, for example, when performing a sharp metal song with vocal growling behaves as if they were playing an ordinary rock song. You don't have to be a keen observer of the music industry to notice that such Iron Maiden behaves on stage completely differently to say Rage Against the Machine. Unfortunately, this is not included in the game.
At first, my wife was sniffing at the thought of playing Guitar Hero, but when she picked up the guitar, she quickly changed her mind. Now it is hard to tear it off.
Instead of ending, I feel obliged to warn you. You read it right: warn. The game is extremely addictive and not only avid players, but also other people who accidentally find themselves in the range of its operation. So if you are not ready to share the console with your family, if you complain about the lack of time and would like to have something that will allow you to break away from reality for a moment, and in addition you have terribly sensitive to the noise of neighbors, this game is not for you. However, if you carry the dream of becoming a rock star, an artist giving a concert to a raging audience, if you know that you have nothing to count on decent mastery of playing a real guitar, Guitar Hero II will be the right purchase for you. This is not a simulator, it is a huge dose of entertainment closed on a small disc and in a controller looking like a child's toy.
Artur "Metatron" Falkowski
PROS:
MINUSES:
Videos
If screenshots are not enough, you can enjoy creative videos from Activision
You may also like
If you like Guitar Hero II, but you're tired of it and want something new, you can try other games.