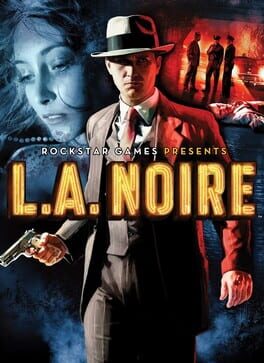 L.A. Noire
Publisher

Take-Two Interactive

Developer

Rockstar Leeds

Release date

17 May 2011
In the middle of the post-war blast in Hollywood's golden age is LAPD Detective Cole Phelps, who was tossed headfirst into a city suffocating in her own prosperity. Defilement is a daily event, sedate trafficking is blasting and the homicide rate is at an exceptional high. In his struggle for advancement and equity, Phelps must discover reality behind a progression of arson attacks, blackmail, conspiracies, and brutal killings, while battling against the underworld of LA and even individuals from their own police station to reveal a mystery With a breakthrough new animation technology that captures each nuance of the actors' facial developments in amazing detail, LA Noire is a wrongdoing thriller that blends breathtaking action with real investigator work, at no other time deliver an interactive game encounter like this. Search for clues, chase suspects and interrogate observers as you attempt to discover reality in a city where everybody has something to hide.LA Noire: The Complete Edition Includes all previously released DLC for the console adaptation (including additional outfits , Weapons, and cases, for example, "Nicholson Galvanization", "Kifferwahnsinn", "Die bare Stadt", "False Papers", "Der Konsuls" and more) and makes them available from the start of the game. Online DisclaimerSoftware license terms available in game manual and at http://www.rockstargames.com/eula. Non-transferable access to special features, for example, exclusive, unlockable, downloadable or online substance, administrations, or capacities may require single-utilize serial code, additional expense and/or online account registration (13+). Access to special features may require web association, may not be available to all clients, and may, upon 30 days notice, be terminated, adjusted, or offered under various terms. Unauthorized replicating, figuring out, transmission, public performance, rental, pay for play, or circumvention of duplicate insurance is strictly prohibited.This is a fictional story set in 1940s Los Angeles portraying concocted and fictionalized historical characters, gatherings, locations, scenes and occasions in a manner that isn't historically accurate and should not be deciphered to be factual. All brand names are trademarks of their separate proprietors, who are not affiliated with this game. The makers and publishers of this computer game don't in any capacity embrace, excuse or encourage engaging in any lead portrayed right now.
see all / fold
| AGM score | 86% |
| --- | --- |
| GameSpot | 9 |
| Metacritic | 82 |
expand / fold
About L.A. Noire
L.A. Noire is released by Take-Two Interactive in 17 May 2011. The game is designed by Rockstar Leeds. L.A. Noire is a typical representative of the Adventure genre. Playing L.A. Noire is a pleasure. It does not matter whether it is the first or a millionth hour in Adventure, there will always be room for something new and interesting. Thrilling levels and gameplay L.A. Noire will not leave anyone indifferent. The complexity of gameplay increases with each new level and does not let any player get bored.
In addition to it in 17 May 2011 released games such as:
In addition to L.A. Noire, the representatives of Adventure games also belong:
A complete list of games like L.A. Noire can be found at AllGame here.
L.A. Noire is versatile and does not stand still, but it is never too late to start playing. The game, like many Adventure games has a full immersion in gaming. AllGame staff continues to play it.
L.A. Noire is perfect for playing alone or with friends.
At AllGame you can find reviews on L.A. Noire, gameplay videos, screenshots of the game and other Adventure representatives.
The story
This section tells the history of the world of L.A. Noire
Amid the post-war boom of Hollywood's Golden Age, Cole Phelps is an LAPD detective thrown headfirst into a city drowning in its own success. Corruption is rampant, the drug trade is exploding, and murder rates are at an all-time high. In his fight to climb the ranks and do what's right, Phelps must unravel the truth behind a string of arson attacks, racketeering conspiracies and brutal murders, battling the L.A. underworld and even members of his own department to uncover a secret that could shake the city to its rotten core.
LA Noire in the test - murderous facial expression
Author: Jochen Gebauer
Date: 2011-11-12 10:26:00
Extensive investigation results confirm: LA Noire can only conceal its console origin with difficulty. In cross-examination we reveal why an acquittal is still enough.
Sold four million copies and still went broke. The makers of LA Noire achieved this feat in late summer. An eight-year development period and the immense costs of the elaborate facial animations broke Team Bondi's neck despite the decent sales figures.

The PC implementation (which also contains all previously published console DLCs) was taken care of by Rockstar Leeds, which until now was mainly active in the handheld sector. Bad omens for noir-hungry PC gamers? Not at all, because Team Bondi's playful legacy is still proving to be a great storytelling art - even if it can't really deny its console legacy.
The crime scene: moral painting of an era
LA Noire is the story of Cole Phelps. Cole is young, idealistic, a little naive and very, very ambitious. Besides, Cole is a cop, and when he accidentally stumbles upon a murder while out on the streets, of course he doesn't wait for the "big boys" to come. No, he smells fame, honor and a promotion, solves the case on his own and thus becomes the police chief's darling.
A young, good-looking, energetic cop, that fits the image of Los Angeles in the 40s, the golden era, pioneering mood and Hollywood glamor. This is how LA Noire begins, the ascent of Cole Phelps, which, as in a Greek tragedy, inevitably has to be followed by a deep fall.

Because LA Noire is not staging a heroic epic, but the moral painting of an era, unmasking the ugly grimace behind the glittering facade. And in the middle of it all, the character study of a man who is losing himself in this juggernaut of violence, drugs and corruption. This is tough narrative tobacco in the style of James Ellroy (LA Confidential), often perfectly staged, but just as often on the verge of an interactive film, because our interaction is limited - similar to Heavy Rain, for example - especially in the really thrilling moments of just watching.
The search for clues: Has Pling already done it?
The playful process follows a strict pattern. We are assigned a case, race to the crime scene in the car (preferably we don't knock pedestrians overboard) and look for clues. That sounds exciting - but it is only partially. Because in practice, the adventure aspect turns out to be a stubborn scrambling of hotspots. We hardly ever come across puzzles in the classical sense; and if they do, then at best they are a real challenge for bloody beginners. And even the (mostly uneventful) driving to the crime scene turns out to be so boring after an hour of play at the latest that we prefer to leave the steering wheel to our companion in order to "beam" us to our destination.
In the search for clues, we also come across a completely different matter: the console origin of LA Noire. Instead of using the mouse pointer to search for clues, as is typical of PC Adventure, we have to have Cole walk awkwardly over the crime scene using WASD and occasionally spot tiny objects such as butts with eagle eyes. LA Noire only tells us that we are dealing with a hotspot when we almost stand on it - then it does a subtle »Pling« and an optionally switchable magnifying glass appears in the lower corner of the screen.
This is doubly stupid because the "pling" is darn easy to miss and the magnifying glass was positioned so unfavorably that we constantly have to look away from the action. The best solution: an Xbox 360 gamepad. This not only allows us to walk more precisely and smoothly over the crime scene, but also receive optimal vibration feedback when searching for hotspots.
The interrogation: We as a lie detector
Once all the clues have been collected, you can go straight to the playful highlight: the brilliantly staged interrogation. In the case of witnesses and suspects, it is not only the "what" that is relevant, but above all the "how". Twitching corners of the mouth, avoiding eye contact, a fake smile, all of this can be read and used from the amazingly realistic facial animations.
Since we rarely have solid evidence to convict our counterparts of lying, LA Noire poses the question everywhere: are we just getting a bear tied up here? Is the recently widowed wife honestly shocked or is she just playing? Does the bartender avoid our eyes or are we just imagining it? If we sense the right lead and drive a suspect into the corner and nail it down during interrogation, then that feels very satisfying. Whereby the outcome of the interrogations has no influence on the course of the story: During the course of the game, Cole inevitably has to arrest several innocent people before he can finally "get" on the killer.
The verdict: extenuating circumstances
The first-class dialogues are an elementary part of the convincing detective feeling. This can only be heard in the original English, and despite the optional German subtitles, knowledge of English is sometimes very helpful. So it is not that easy to study the facial expressions of a witness and at the same time follow the subtitles. We find the atmospheric background music to be very successful, as well as the fact that LA Noire visually leaves a latently rotten impression.
The events appear sharper in high PC resolutions and some textures are not quite as washed out as in the console versions. Technically, LA Noire can not keep up with current reference titles. The PC version already contains all optional console DLC cases as well as all bonus weapons and suits.
Screenshots
Screenshots will help you evaluate the graphics and gameplay of L.A. Noire.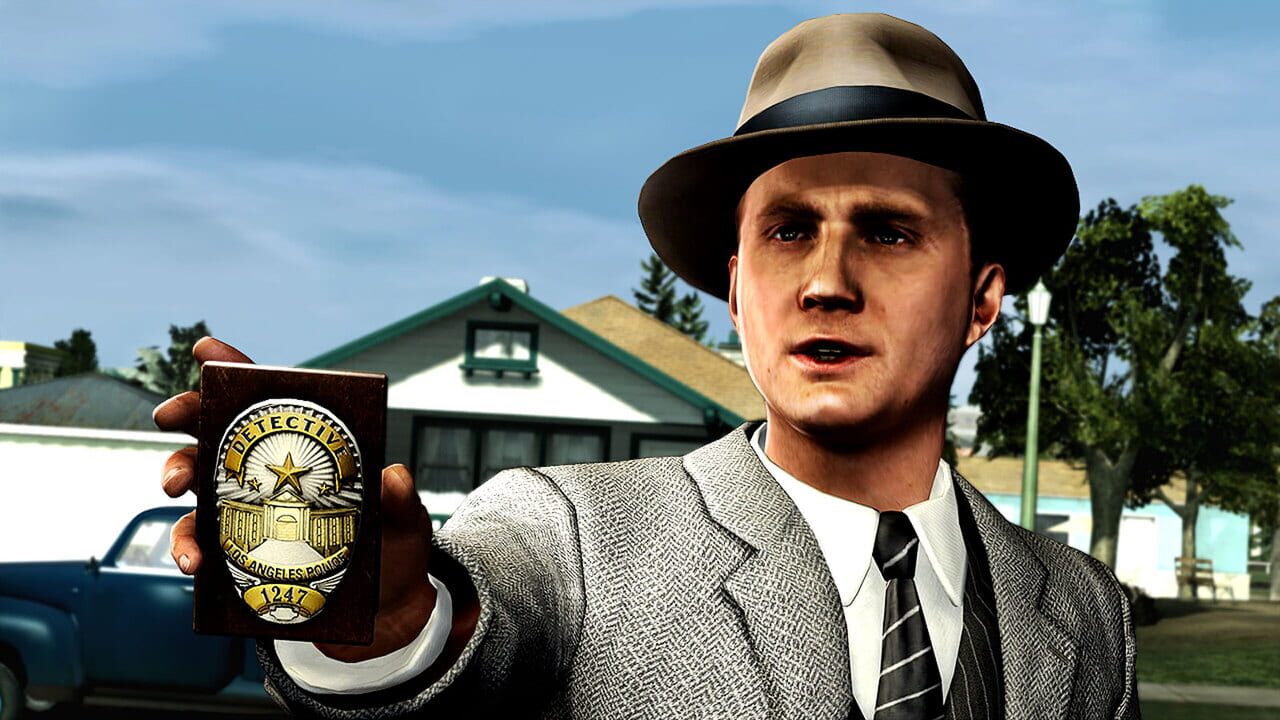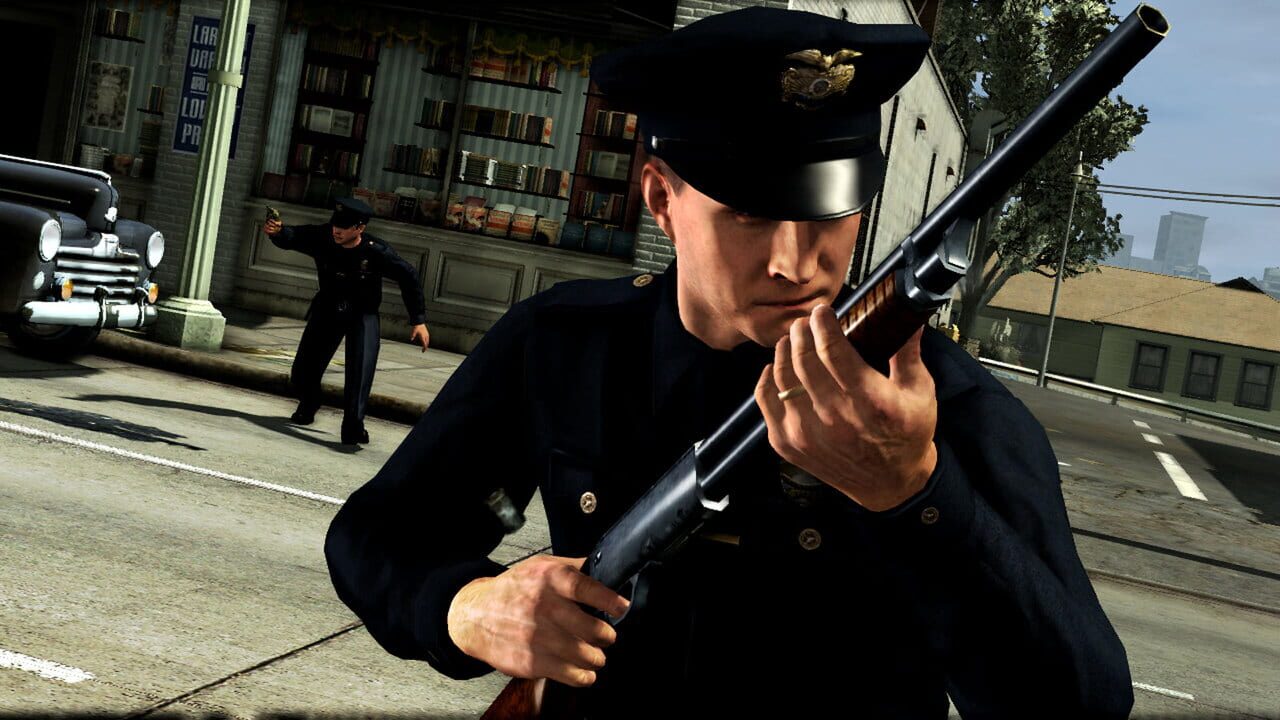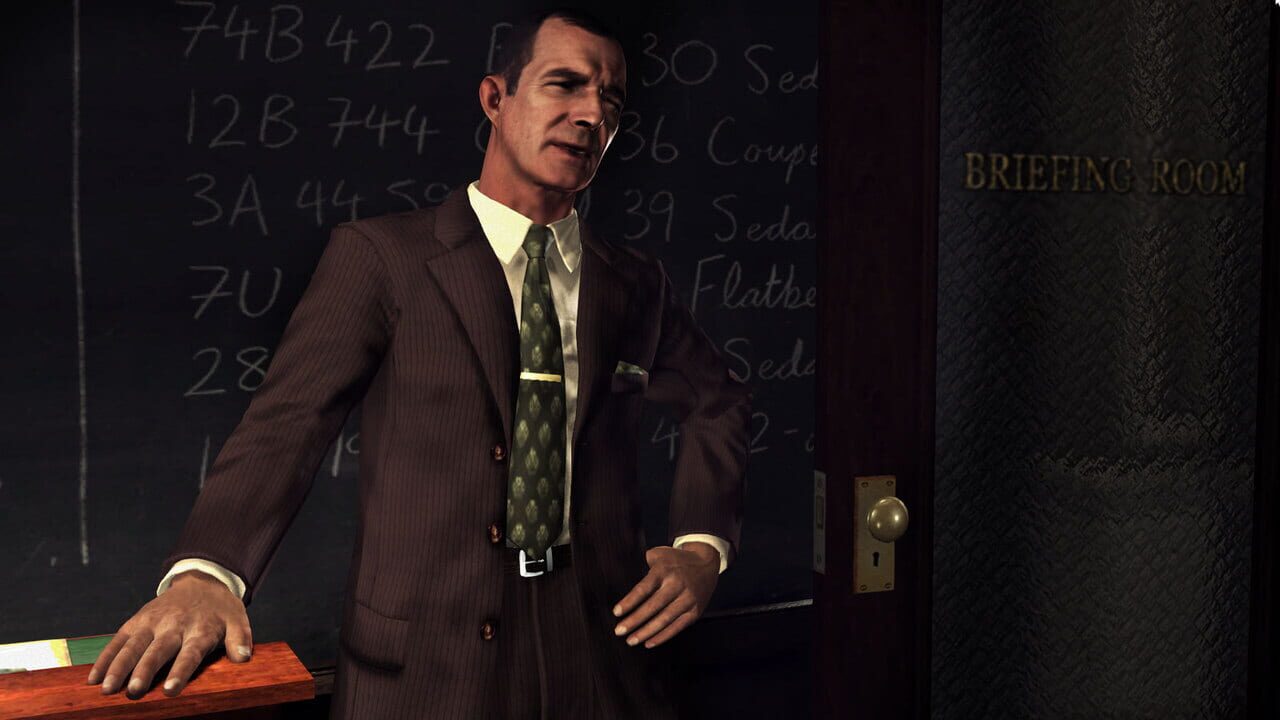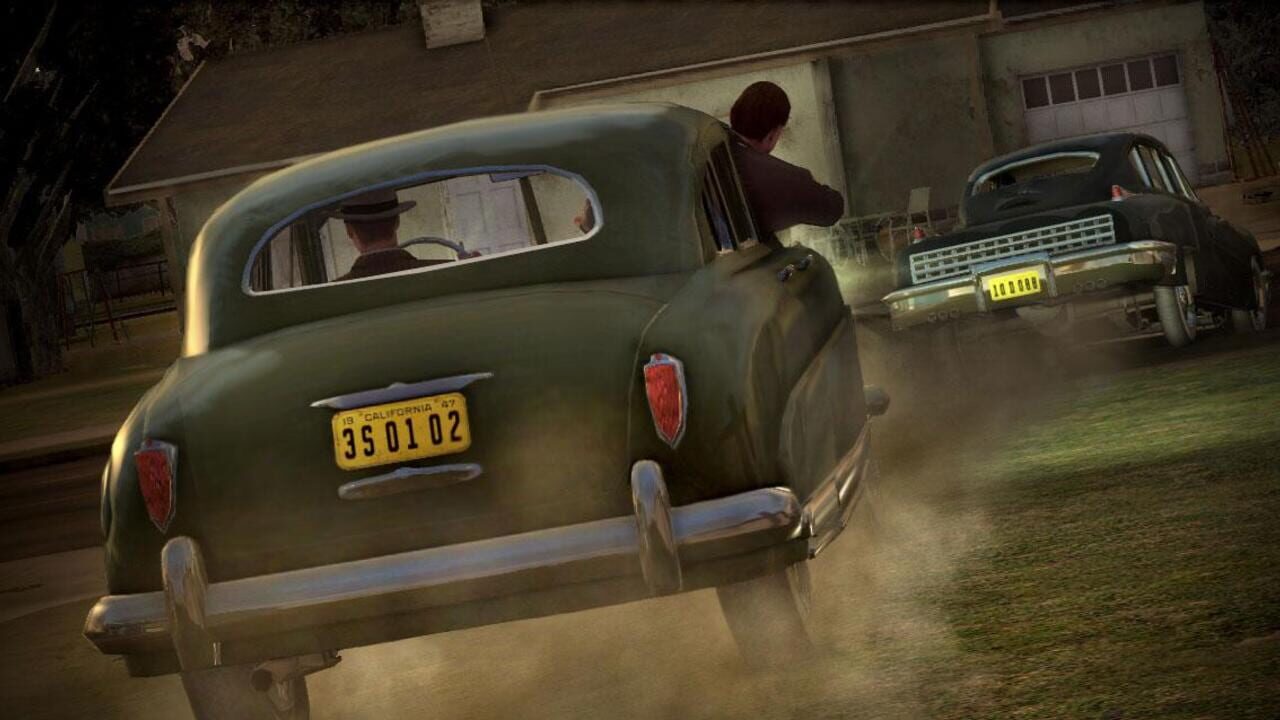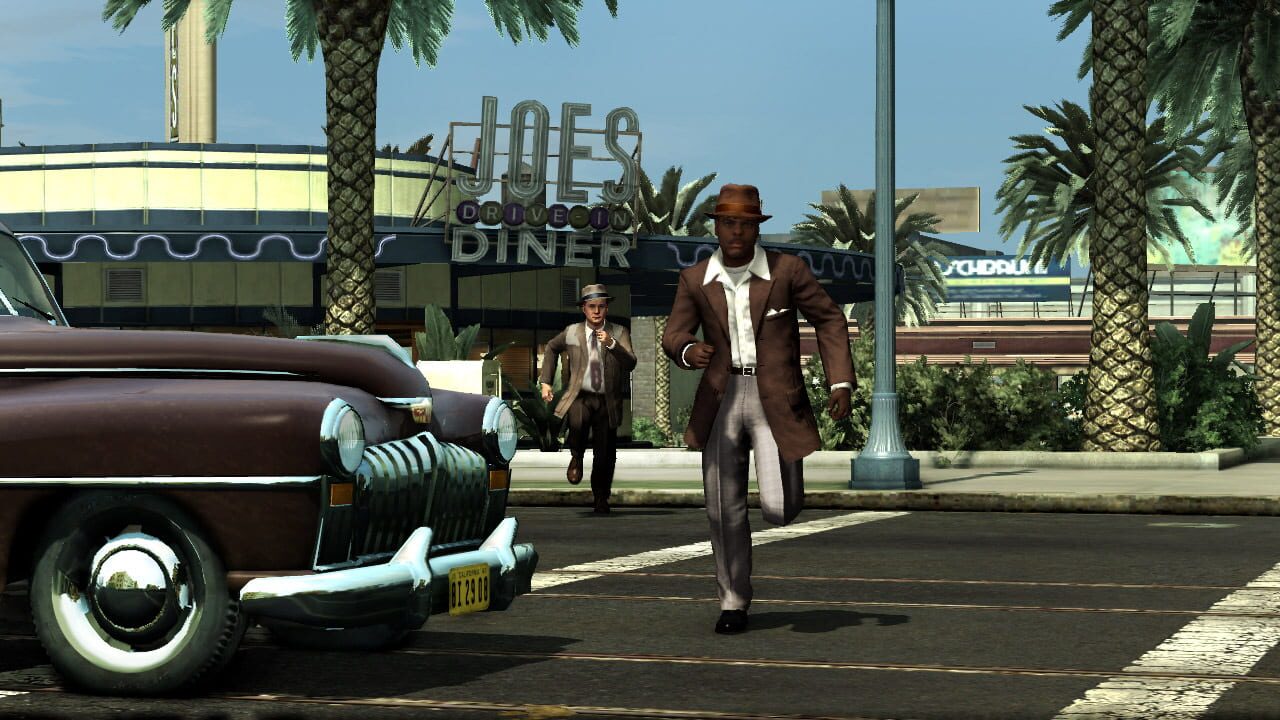 Videos
If screenshots are not enough, you can enjoy creative videos from Take-Two Interactive
No videos
You may also like
If you like L.A. Noire, but you're tired of it and want something new, you can try other games.