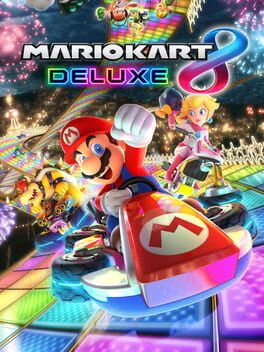 Mario Kart 8 Deluxe
Publisher

Nintendo

Developer

Nintendo EPD

Release date

28 Apr 2017
"Hit the road with the definitive version of Mario Kart 8 and play anytime, anywhere! Race your friends or battle them in a revised battle mode on new and returning battle courses. Play locally in up to 4-player multiplayer in 1080p while playing in TV Mode. Every track from the Wii U version, including DLC, makes a glorious return. Plus, the Inklings appear as all-new guest characters, along with returning favorites, such as King Boo, Dry Bones, and Bowser Jr.! "
see all / fold
| AGM score | 93% |
| --- | --- |
| IGN | 9.3 |
| Metacritic | 92 |
expand / fold
About Mario Kart 8 Deluxe
Mario Kart 8 Deluxe is released by Nintendo in 28 Apr 2017. The game is designed by Nintendo EPD. Mario Kart 8 Deluxe is a typical representative of the Racing genre. Playing Mario Kart 8 Deluxe is a pleasure. It does not matter whether it is the first or a millionth hour in Racing, there will always be room for something new and interesting. Thrilling levels and gameplay Mario Kart 8 Deluxe will not leave anyone indifferent. The complexity of gameplay increases with each new level and does not let any player get bored.
In addition to it in 28 Apr 2017 released games such as:
In addition to Mario Kart 8 Deluxe, the representatives of Racing games also belong:
A complete list of games like Mario Kart 8 Deluxe can be found at AllGame here.
Mario Kart 8 Deluxe is versatile and does not stand still, but it is never too late to start playing. The game, like many Racing games has a full immersion in gaming. AllGame staff continues to play it.
Mario Kart 8 Deluxe is perfect for playing alone or with friends.
At AllGame you can find reviews on Mario Kart 8 Deluxe, gameplay videos, screenshots of the game and other Racing representatives.
Review of Mario Kart 8 Deluxe - the second raisin on Nintendo Switch
Author: Przemysław Zamęcki
Date: 2017-05-05 11:05:00
The review was based on the Switch version.
The idea of games in which we race go karts is not new, and the idea itself does not come from Nintendo. Nevertheless, it was this company that, thanks to the consistent development of the Mario Kart series , led to a situation in which in the eyes of players around the world it was the mustached plumber and his pack that became the symbol of good fun with small toy cars. And also motorcycles, which is not insignificant in this case.
Since the time of SNES, each generation of Kyoto tycoon consoles has been enriched with another title from the series and it is no different with Nintendo Switch. Only this time we are getting doubts about the intentions of the Japanese . After all, this item was already signed with the Wii U logo, in which it received excellent notes. So why did the Big N decide to release this game once more - only this time but enriched with all previous DLC and the new Battle fun mode? The answer is obvious - it's about money. But you know what? I don't care, because Mario Kart 8 Deluxe is a thrilling game designed by real magicians, from which it is difficult to break away for a long time . Provided, however, that you have friends with whom you will be able to play together - even via the Internet.
Hoo hoo! Let's-a go!
If you have just bought a Switch and do not know what game to make yourself right after completing The Legend of Zelda: Breath of the Wild (it is a must), then you can do it best by investing in Mario Kart 8 Deluxe . These are extremely colorful races of funny go karts, behind which are popular characters known from many Nintendo games . There is a whole lot of them in the reviewed program because it has been enriched - compared to the previous version, intended for the Wii U and containing thirty playable characters - by several more, including, for example, Inkling Boy and Inkling Girl from Splatoon or Link and Bowser Jr .
It is more attractive to add up to sixteen new tracks to the Deluxe version (actually old, because coming from games intended for older generations of Nintendo equipment, but subjected to an incredible facelift). In total, we have forty-eight tracks, including some inspired by other popular series, such as Animal Crossing or of course Zelda .
I started with this type of statistics to make you realize that we are dealing with a huge and extremely diverse game in terms of content . Covering many challenges - the competition is played in several classes of machines, from small 50cc to much faster and crazier vehicles with a capacity of 200cc, which appeared only in the DLC to the "eight" on the Wii U. Here we have everything in the package, but on this it's not over! It sounds a bit like miserable advertising for Mango TV products, but to mention any attractions added to this item, I would have to focus only on them. And this is not what the review is about.
Whoo hoo! Good play!
It is quite difficult to describe to someone the positives of the Mario Kart game if that person has never had the opportunity to test any title in this series . From an observer's point of view, Mario Kart 8 Deluxe may appear to be first for children and secondly very slow. Go-karts, especially with a capacity of 50cc and 100cc, move like flies in pitch and all this fun related to overcoming subsequent laps of the track does not seem particularly attractive. Only after taking over the rudders do we find that the game literally stirs up emotions, all the time rushing ahead in nervous expectation that someone can attack us with any of the collectibles gathered along the way, and these gentle and winding routes require a lot of skills in sliding in without slipping unnecessarily.
It's one of those games that is said to be "easy to learn, hard to master," and it's the truth. Artificial intelligence can inflict blood in single player mode, but the real fun begins when we sit on the couch or connect via network with friends. Unless they are suffering from aversion to Ninny's cute characters, great entertainment is guaranteed. Unless we prefer to screw the results in a lonely time trial. It's true that such generalities can be written on the occasion of many other titles, but what distinguishes MK8 from the competition is the number of possible interactions that we enter into during the race. Bumping car rivals and using the acceleration, throwing banana skins, bombs and many other obstacles have defined this cycle for many years. This is a festival of putting each other's legs together, putting the stick in spokes and digging holes under the others, which you also sometimes fall into yourself . Great fun!
Oh yeah, oh yeah!
In addition to the many add-ons that hit the Deluxe version due to the fact that they were previously part of the DLC to the usual "eight", there was also a completely new Battle mode. It allows you to fight duels in one of five arenas in several fun options. Here, just like in any other competitive mode (you can play eight people in a local multiplayer and twelve via the Internet), you can also face bots. As I have already written, the immortality of the series is given primarily by the human factor , and the capture and capture of balloons or the pursuit of the sun are a great escape from racing - provided that a group of volunteers is found. I will not discover America, if I mention that next to Splatoon and Super Smash Bros. is the most multiplayer title in the Nintendo stable.
The new N console also allowed to increase the resolution in which we can play on the TV. Currently it is full 1080p, supported by sixty frames per second, which with fabulous-looking and well-designed routes makes us ride with a banana on our faces all the time. What Nintendo graphic designers have done is not to be disliked - believe me, even when you run along the track designed for the MK edition intended for the old GameBoy Advance, you only find out because at the beginning of the race information about this fact appears. However, the rest is the new generation of Nintendo.
The game is equally great on the Switch screen, which admittedly uses 720p resolution, but it does not bother having a great time. I confess that I spent more time playing this way, although the title undoubtedly makes an even greater impression after connecting the console to the TV.
Hahaha. Bye bye!
Almost all this has already been said, owners of the game on the Wii U version will say. And they will be right. If you've tried this item on previous-generation Nintendo hardware, then, to tell you the truth, I don't know if it makes sense to buy it again . Unless you have a packet of friends who, many months after the premiere of the standard edition, still finds honey in it. However, for fresh fans of the Japanese company and people who desire high-quality fun, this is a must buy.
Screenshots
Screenshots will help you evaluate the graphics and gameplay of Mario Kart 8 Deluxe.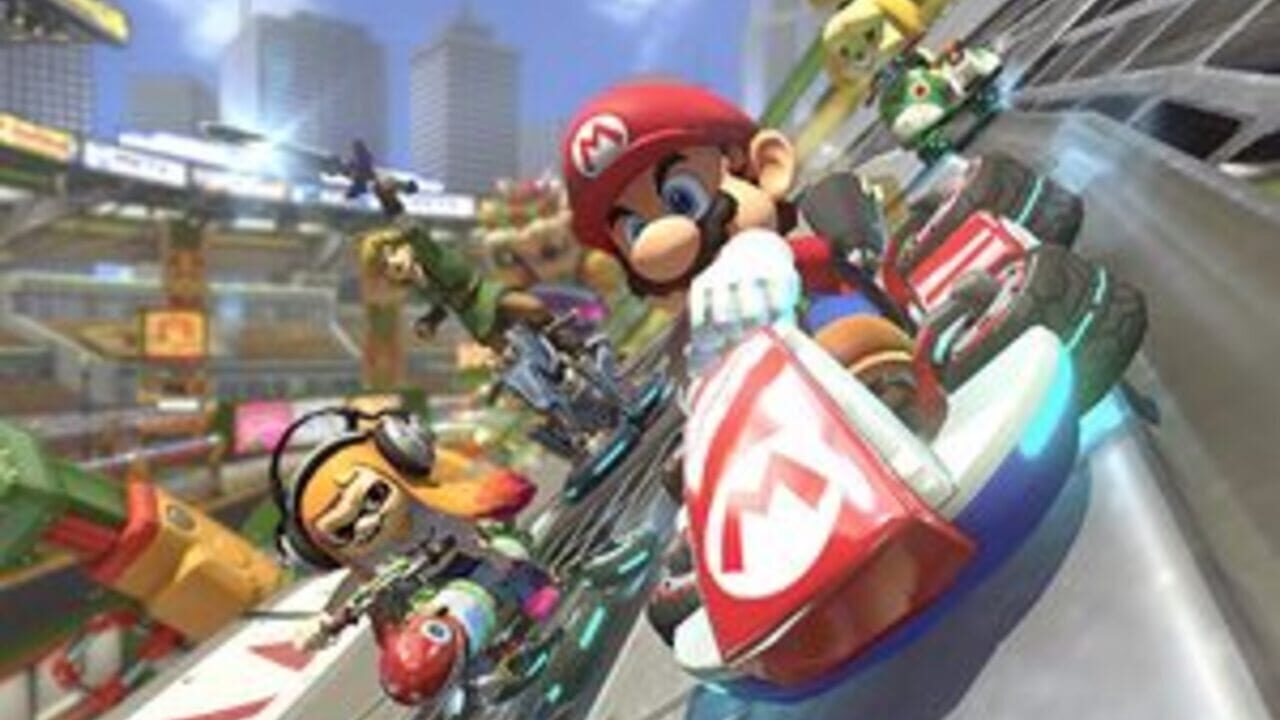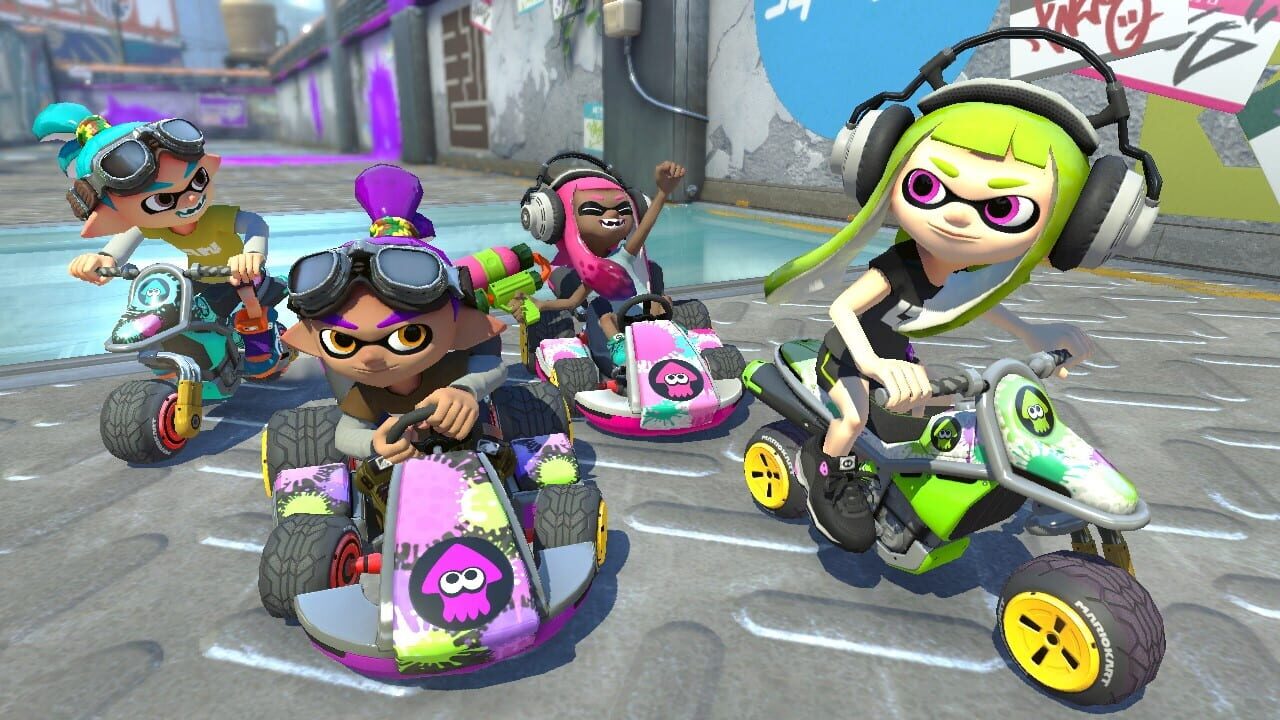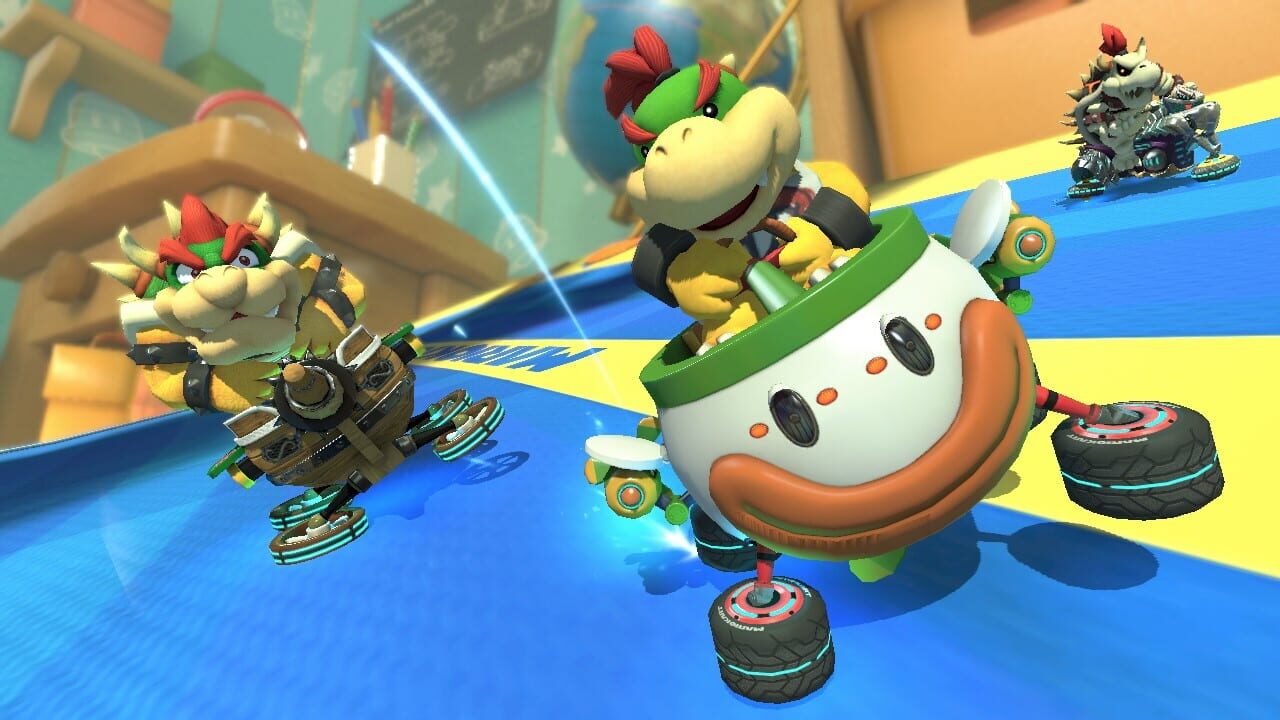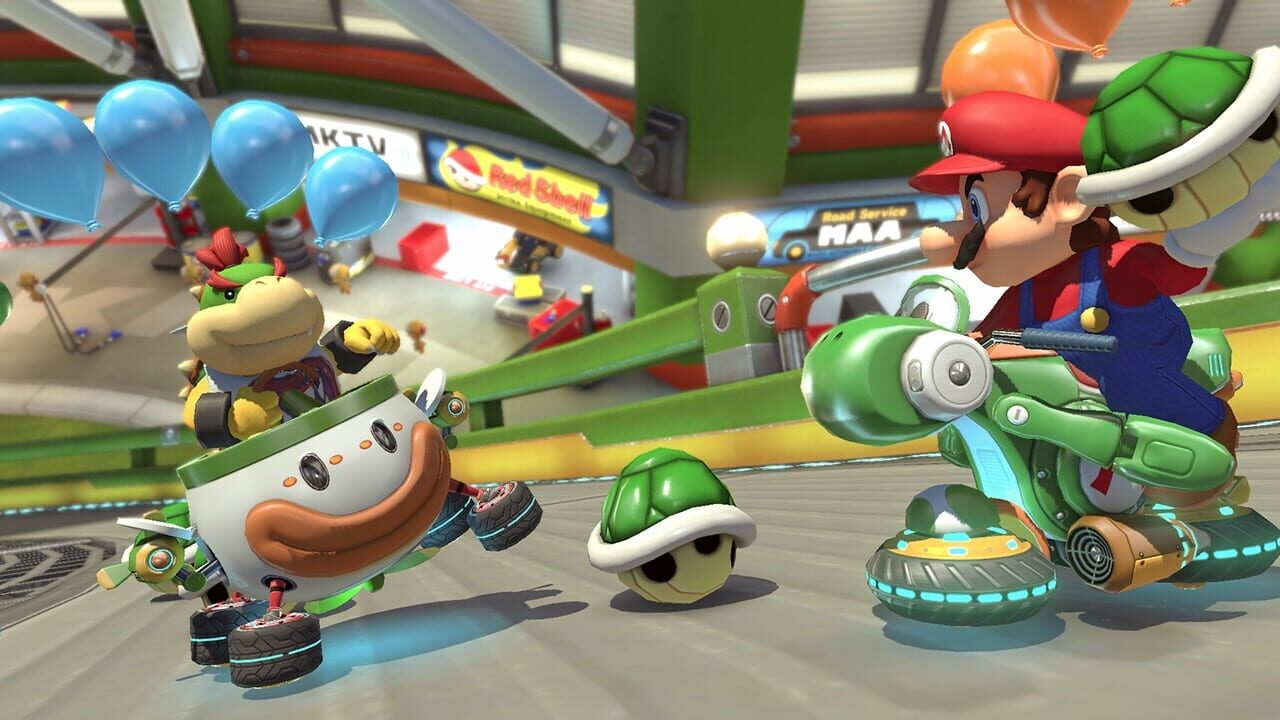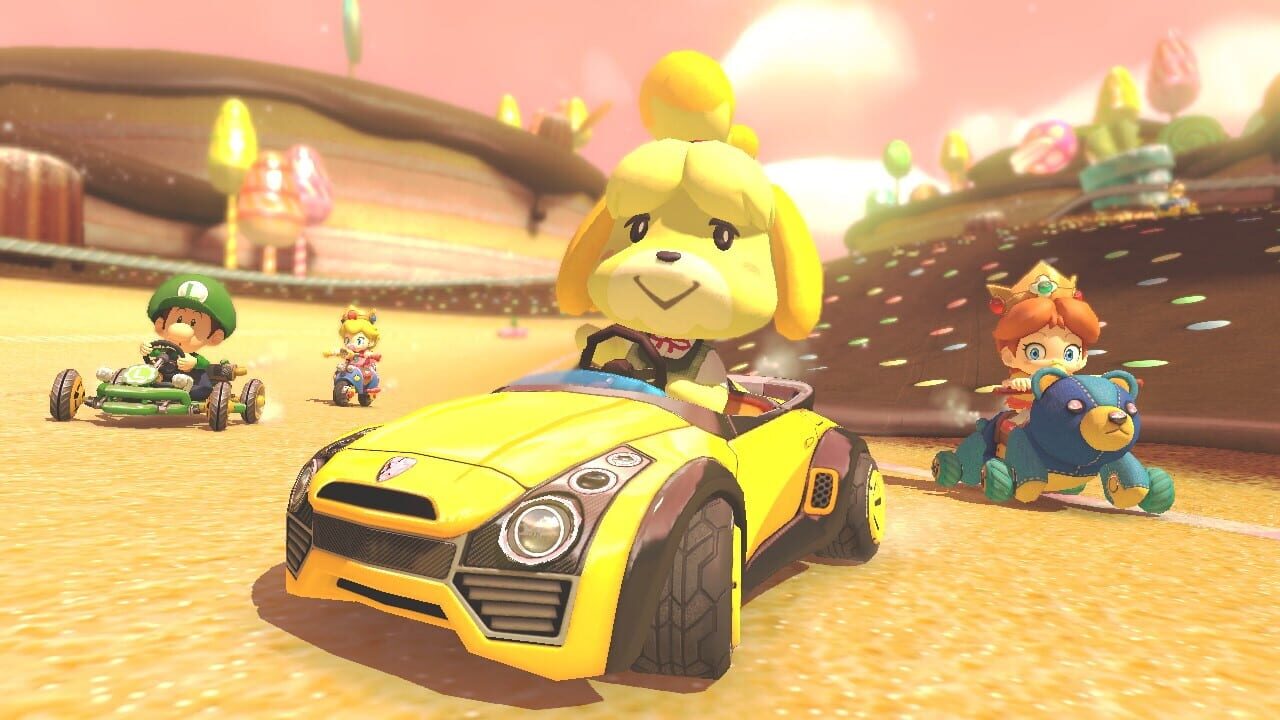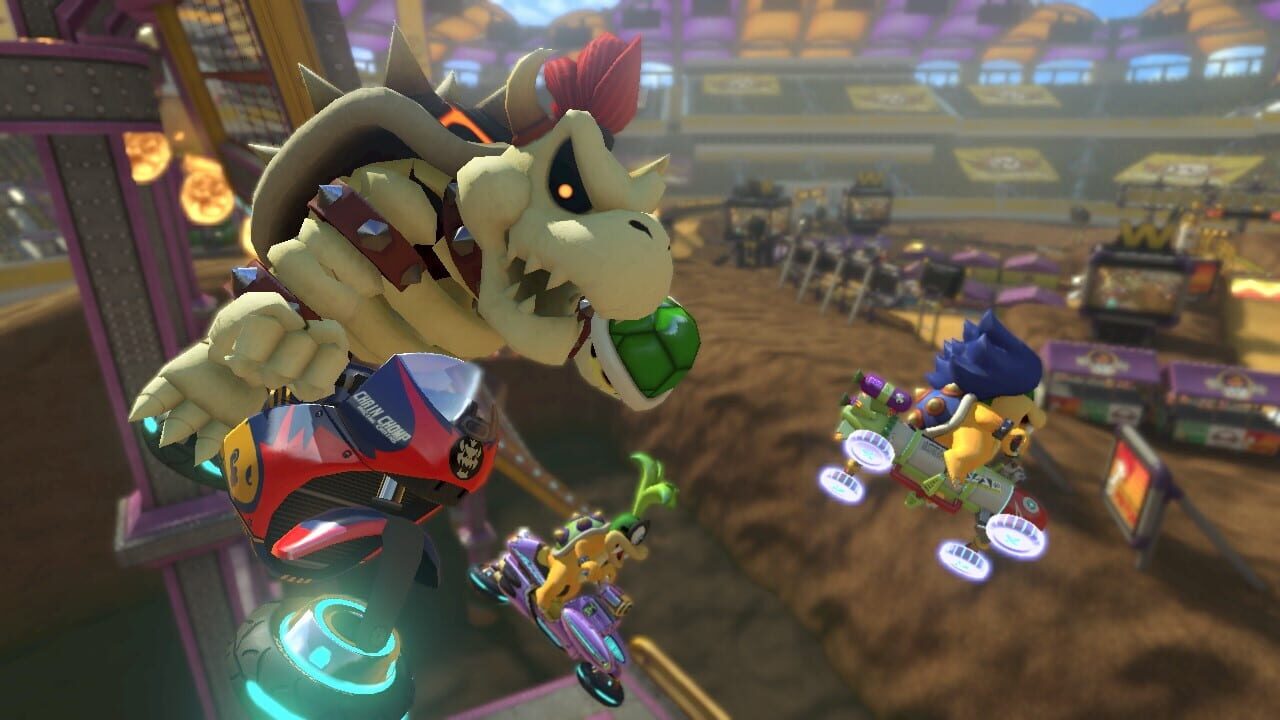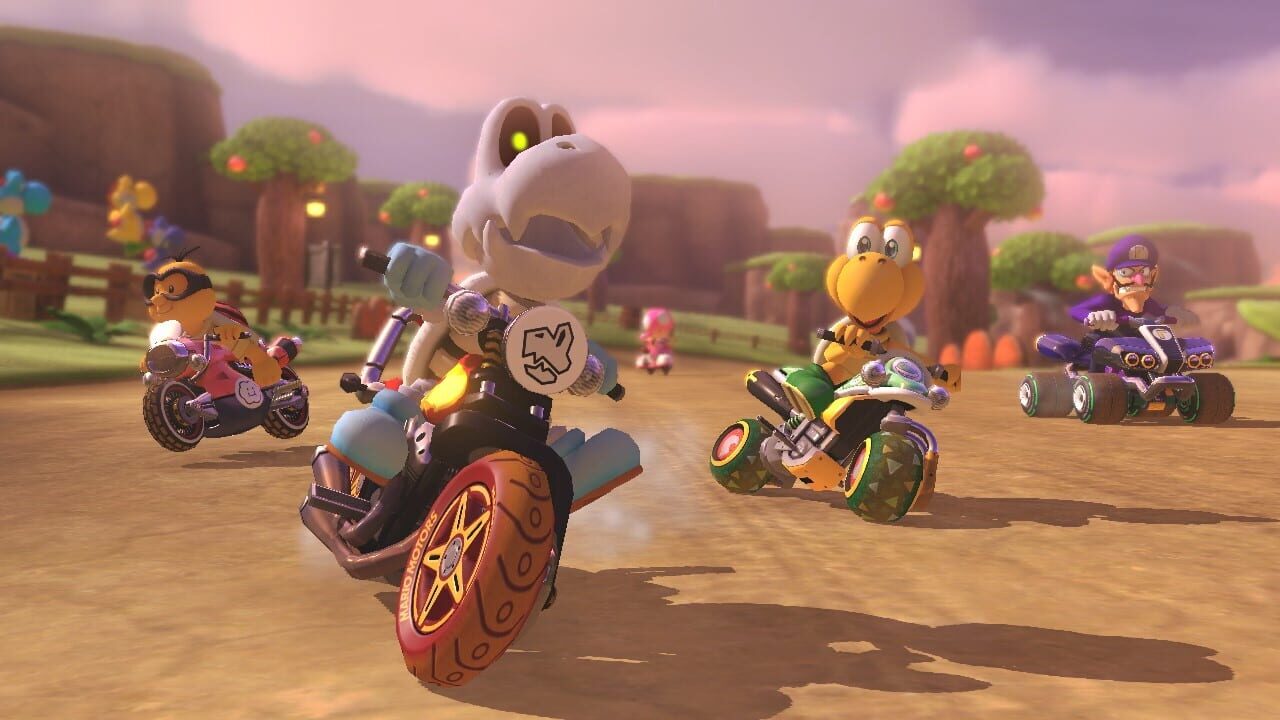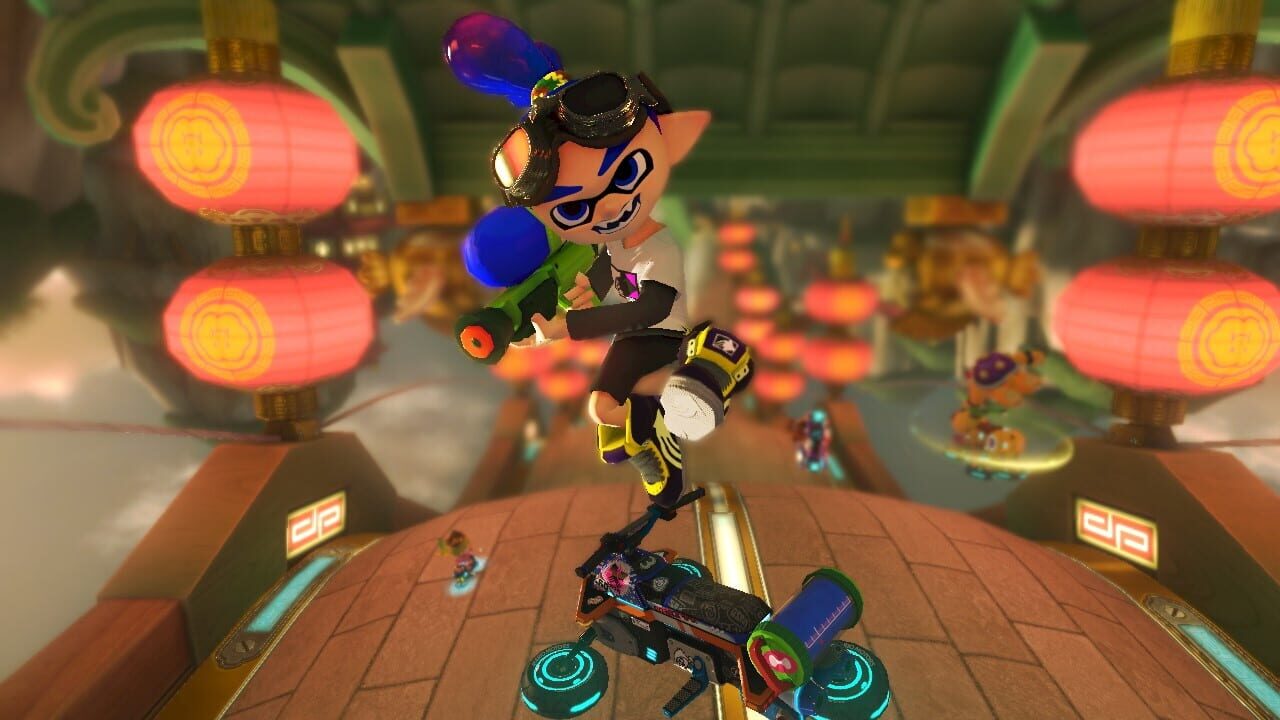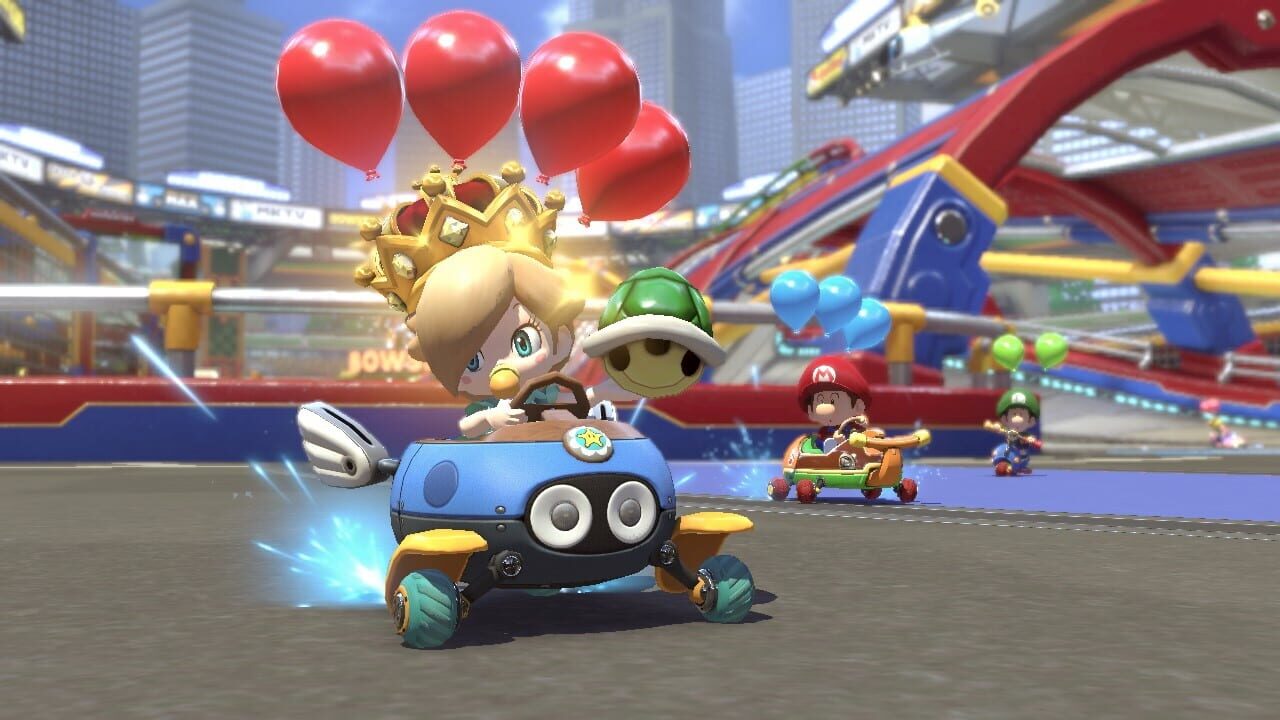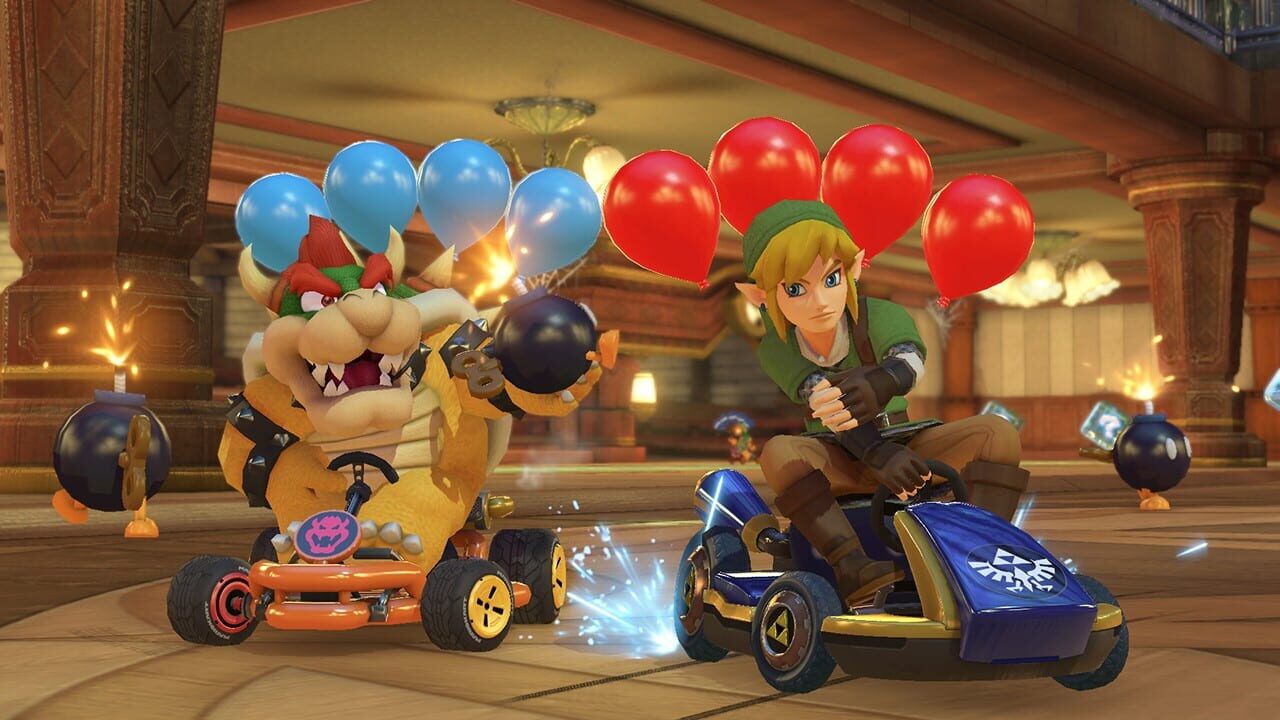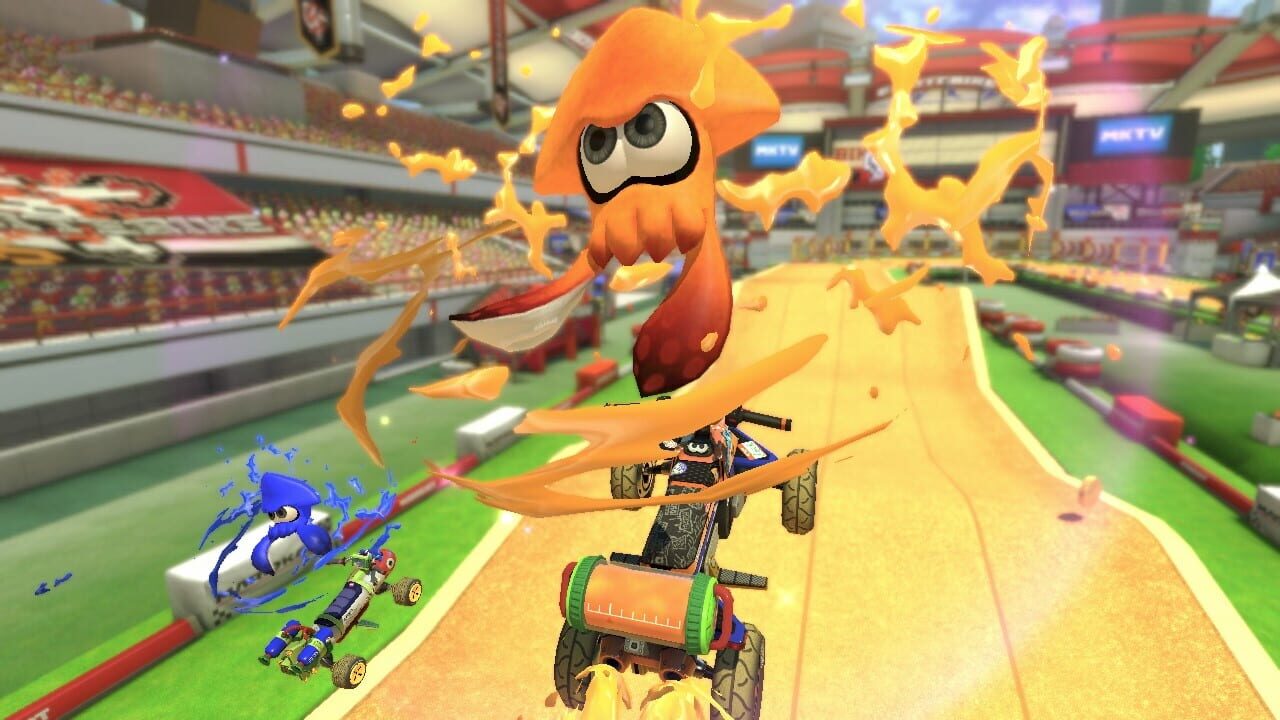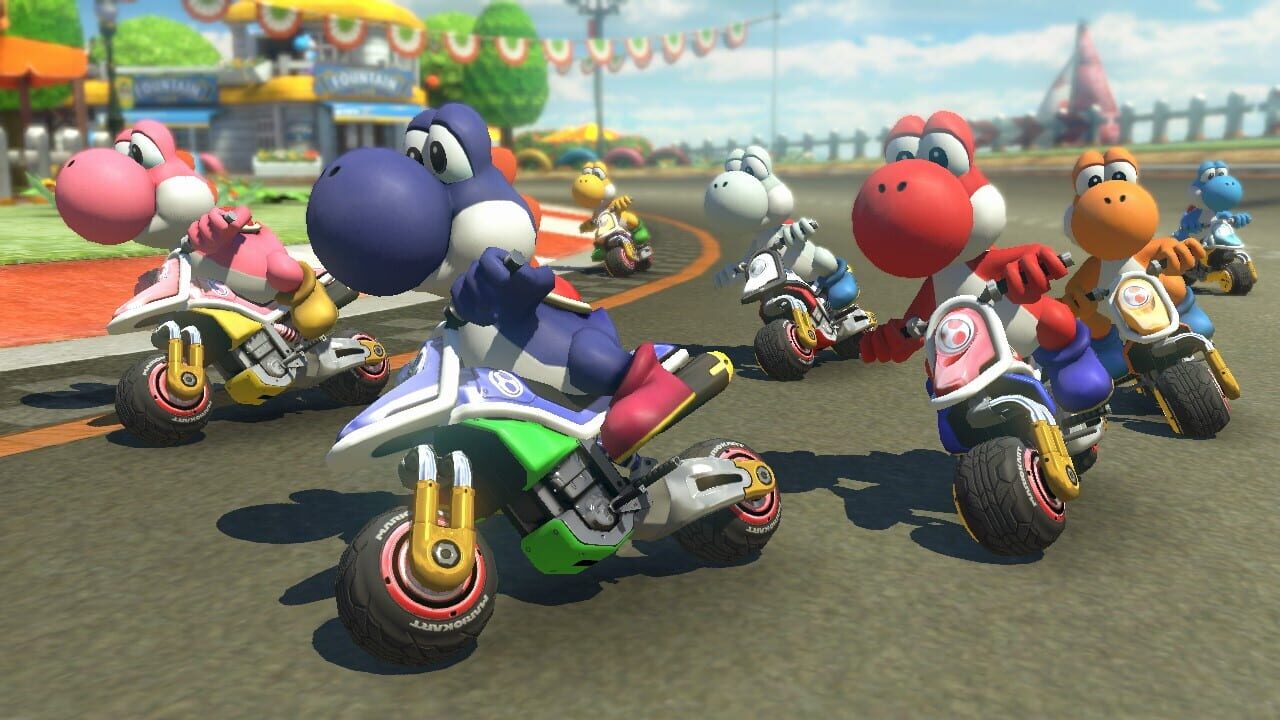 Videos
If screenshots are not enough, you can enjoy creative videos from Nintendo
You may also like
If you like Mario Kart 8 Deluxe, but you're tired of it and want something new, you can try other games.