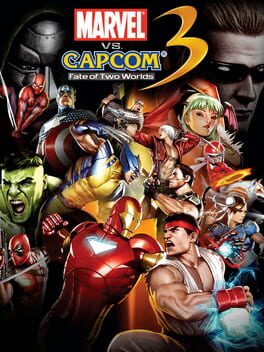 Marvel vs. Capcom 3: Fate of Two Worlds
Publisher

Capcom

Developer

Eighting

Release date

15 Feb 2011
Marvel vs. Capcom 3: Fate of Two Worlds (Japanese: マーヴル VS. カプコン 3 フェイト オブ トゥー ワールド Hepburn: Māvuru bāsasu Kapukon Surī: Feito obu Tū Wārudo?) is a crossover fighting game developed by Capcom in collaboration with Eighting. The game features characters from both Capcom's video game franchises and comic book series published by Marvel Comics. It was released for the PlayStation 3 and Xbox 360 consoles in February 2011. It is the fifth installment of the Marvel vs. Capcom franchise and the first to use three-dimensional character models instead of sprites. In Marvel vs. Capcom 3, players select a team of three characters to engage in combat and attempt to knock out their opponents. It features similar tag team game mechanics to earlier games in the series, along with new methods of play designed to make the game more accessible to new players. The game was produced by Ryota Niitsuma, who had previously worked on Tatsunoko vs. Capcom: Ultimate All-Stars, which utilizes the same simplified three-button attack system. The game received generally positive reviews from critics, who praised its gameplay and character roster, while criticizing its online component and lack of features and game modes. More than 2 million units were shipped worldwide a month after its debut, rendering it a commercial success. Less than a year after its release, Capcom announced an updated version of the game, titled Ultimate Marvel vs. Capcom 3. The standalone update was released in November 2011, and featured additional characters, stages, and gameplay tweaks.
see all / fold
| AGM score | 85% |
| --- | --- |
| IGN | 8.5 |
| GameSpot | 8.5 |
| Metacritic | 85 |
expand / fold
About Marvel vs. Capcom 3: Fate of Two Worlds
Marvel vs. Capcom 3: Fate of Two Worlds is released by Capcom in 15 Feb 2011. The game is designed by Eighting. Marvel vs. Capcom 3: Fate of Two Worlds is a typical representative of the Fighting genre. Playing Marvel vs. Capcom 3: Fate of Two Worlds is a pleasure. It does not matter whether it is the first or a millionth hour in Fighting, there will always be room for something new and interesting. Thrilling levels and gameplay Marvel vs. Capcom 3: Fate of Two Worlds will not leave anyone indifferent. The complexity of gameplay increases with each new level and does not let any player get bored.
In addition to it in 15 Feb 2011 released games such as:
In addition to Marvel vs. Capcom 3: Fate of Two Worlds, the representatives of Fighting games also belong:
A complete list of games like Marvel vs. Capcom 3: Fate of Two Worlds can be found at AllGame here.
Marvel vs. Capcom 3: Fate of Two Worlds is versatile and does not stand still, but it is never too late to start playing. The game, like many Fighting games has a full immersion in gaming. AllGame staff continues to play it.
Marvel vs. Capcom 3: Fate of Two Worlds is perfect for playing alone or with friends.
At AllGame you can find reviews on Marvel vs. Capcom 3: Fate of Two Worlds, gameplay videos, screenshots of the game and other Fighting representatives.
Marvel vs. Capcom 3: Fate of Two Worlds - game review
Date: 2011-03-02 08:07:00
The review was based on the X360 version. Also applies to the PS3 version
The madness of capcom fights enters Marvel vs. Capcom 3 to an even higher level. The game rejects all barriers, limitations and conventions - it mixes the craziest ideas that came to mind by its creators. Epileptic ultracombos, fancy heroes, a complex combat system, an overwhelming amount of small visual accents that can only be seen in freeze frames. This is a game for people who want to enjoy it. For loyal fans. And probably only for them.
Looking at the composition of the available characters, you can expect madness both in terms of gameplay and game content. Unfortunately, the latter does not exist at all: the only proper single-player mode is the dismal, conservative arcade. A series of fights ended with a boss (Galactus) and a short outr - bye, start over. There are no introductions, interludes, accents (like the character of the "rival" in Street Fighter IV ) - you can see Capcom decided that the juxtaposition of so many worlds and heroes in one place cannot be justified in writing. So he blew it off, with the result that we have little motivation to play the game with different characters. And the four initially hidden warriors - the only sensible bonus to unlock - we discover somehow casually, not even knowing what for.
In the absence of a plot and interesting gameplay modes, it remains to focus on the battles themselves. There are teams of three to join them: so each time we choose as many as three heroes. Obviously, this raises the bar of "entering" this world, because it is not enough to remember Hadouken and Shoryuken, you have to embrace something new. Fortunately, getting to know the heroes in the game is great fun.
Warriors are, of course, divided into those derived from Marvel comics and those known from Capcom's games. On both sides, we find both conventional (Wolverine, Ryu, Dante, Thor) and experimental (Amaterasu, Arthur, Deadpool, MODOK) characters. It depends on the player's preferences whether he wants to go towards an accessible classics or play in a slightly weirder way. I'm on the experimental side, I had a lot of fun analyzing Viewtiful Joe and Tron (Mega Man Legends). Capcom characters evidently feel better in this environment, because their blows are often indirect easter eggs. Especially ultracombos: Wesker, for example, uses a series of moves known from the final scenes of Resident Evil 5 in combat. If someone likes cross-overs, he will smile at the fact that the creators keep winking at us. Marvel vs. Capcom 3 is a geeky compendium in which the player who understands the Deadpool convention as a character breaking the fourth wall will feel at home.
The skirmish system is so extensive that it's easy to forget about something in the heat of battle. Well, because yes: three buttons are responsible for delivering basic blows (this is a change compared to classic Capcom fights, usually "legs" and "hands" are separated), plus two assist / character change buttons, crossover attacks, ultracombos, the X-Factor system, team air combos, team counter air combos, etc. It could be a long list, and I think that most potential buyers of this game will not master a large part of these systems.
The fights here are completely different than in Street Fighter , unlike in the previous Marvel vs. Capcom . You can feel the influence of Tatsunoko vs. Capcom , which is a recent product on the Wii. Thoughtless tapping on the buttons, contrary to appearances, has short legs, you need to approach the matter more analytically. And here comes the problem of the lack of a meaningful tutorial that would explain the individual elements of the clash. The challenge mode known from the fourth Street Fighter appears, but, like in that production, it is intended for people very skilled in the use of the game. All that remains is the laborious trial and error method, reading forums, and seeking help from more experienced players. This is not quite expected from the game that was released in 2011. The Japanese seem to be forgetting that there are thriving arcade communities not everywhere in the world that can drive one another. Multiplayer Marvel vs. Capcom 3 will end up with misunderstanding, loneliness and rejection. To feel that not everyone is welcome here.
The small number of single-player modes find no counterbalance in the lush multiplayer: it's also poor there. In the multiplex, we create our showcase (more extensive than in Street Fighter IV, this time the game presents a fairly in-depth analysis of our style and favorite characters), and then we enter the fight. Ranked or not. We can enter matches individually or use the lobby system. And here is the dog buried, because each of these modes has obvious flaws in terms of utility. Searching for ranked / unranked matches in most cases does not work, the game returns a message that failed to connect after several seconds of thinking. Really, Capcom? The most important element of the fight and we get so defective network code? Lest it were: I checked it on three different internet connections. As for the lobby, it is better to connect it, but there, in turn, it is ... boring. We have a room for up to eight people with a maximum of one (!) Match at a time. So if we lose, we wait a good 10 minutes for our turn. Not being able to watch colleagues clash, without anything. Hopeless.
The most sensible multiplayer game mode in Marvel vs. Capcom 3 turns out to be ... arcade mode from the single. Because there we can choose the option of allowing other players to dynamically join us - in the past, we would have compared this to a coin tossing in by another player. The fight is automatically stopped and we go back to the character selection screen. The whole process takes only a few seconds, it is so effective that if we play single-with-multi-option, we won't play the single at all - there will always be a partner to fight after a few seconds.
The game is beautiful, but to appreciate it requires further sacrifice. We won't experience most of the massacre animations without watching a slow-motion video. It's nice that the authors play with such details, but in fact, who are they doing it for? For myself? Another reason a player may feel alienated. You can also feel the scarcity of content: although there are a lot of characters, it's not so good when it comes to arenas. There are only a few of them and, to be honest, they are not very happily chosen. The Ghosts' n Goblins styled arena is a great idea, why hasn't it been addressed and given more characters such cool boards? A street from Final Fight , a laboratory from Resident Evil 5 ... not bad, but these aren't some iconic locations. I would much more like to see something like Okami graphic style or a pub with Devil May Cry . There was no problem with licensing, so I guess it just felt like Thor's completely asexual arena was a better idea. Wrong.
There are also no cutscenes: the endings for the individual heroes are lousy, static boards without an interesting plot, and the "unlockable movies" available from the menu are just trailers for the game that fans already know by heart. A nice touch, however, is the ability to choose the language that each character uses individually (!). A bit fetish, but why not? Nice thing.
Marvel vs. Capcom 3 is a game that requires sacrifice. You have to buy it with the intention of a deep analysis (mainly on your own), with the decision not to be discouraged after dozens of lost multiplayer matches, with the conviction that we will not be bothered by the lack of specific content. The authors made this production in total faithfulness to the hardcore ideals: what matters is sport, perfecting skills, kicking the opponent's ass after months of training. Along the way, it has been forgotten a bit that it could also be a more user-friendly game, with more rewards for your effort, and more meaningful unlockables. If you are fans of fights, you have experience in them and you can get into the above assumptions, then you will have a great time. Don't let the rest of the group get fooled by the comic-book hilarity, frivolous outbursts and shapely chest Morrigan. It's a wolf in sheep's clothing.
Krzysztof "Lordareon" Gonciarz
PROS:
MINUSES:
Screenshots
Screenshots will help you evaluate the graphics and gameplay of Marvel vs. Capcom 3: Fate of Two Worlds.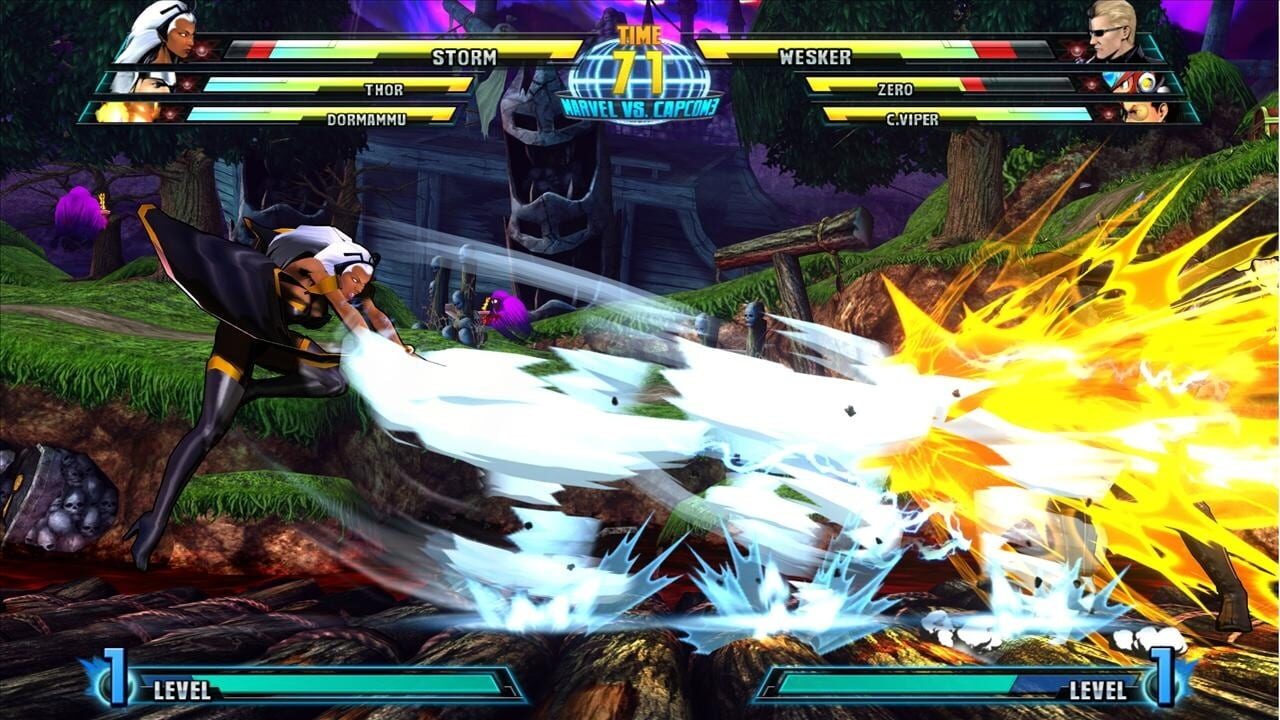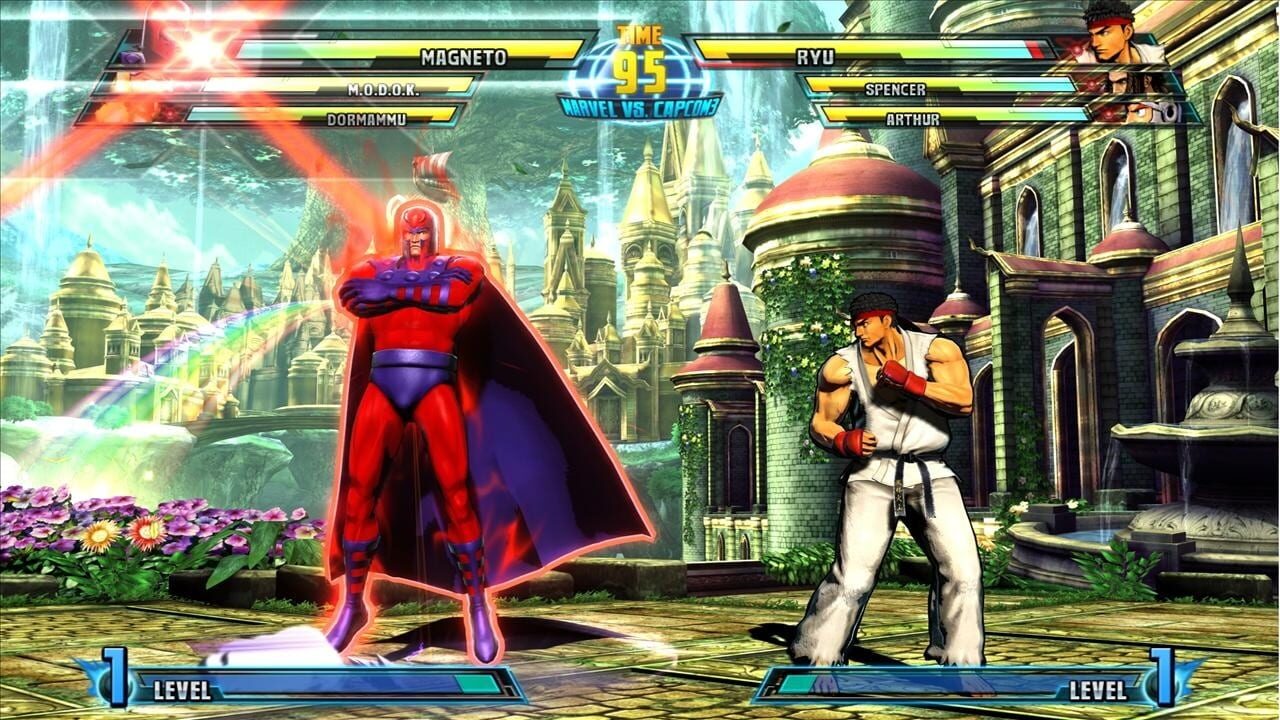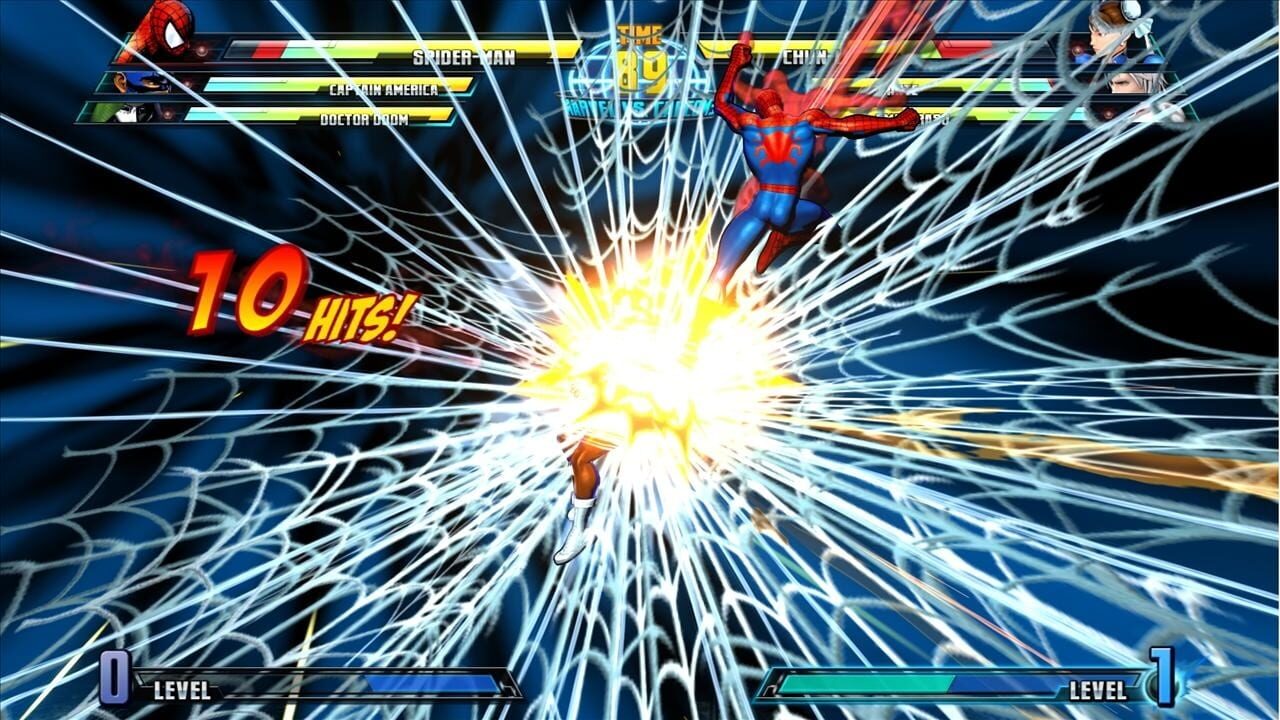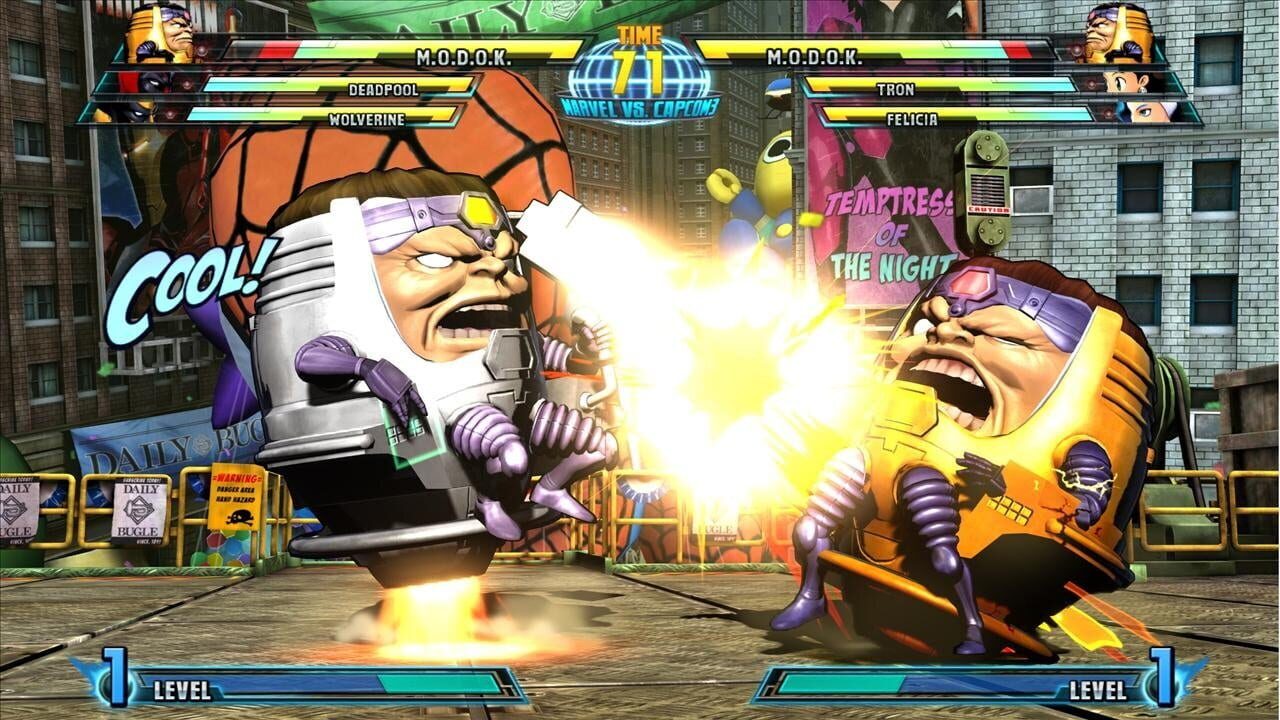 Videos
If screenshots are not enough, you can enjoy creative videos from Capcom
No videos
You may also like
If you like Marvel vs. Capcom 3: Fate of Two Worlds, but you're tired of it and want something new, you can try other games.