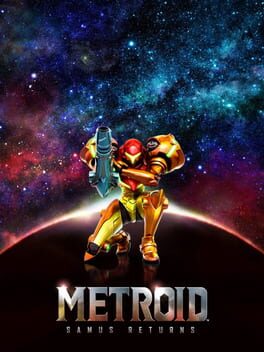 Metroid: Samus Returns
Publisher

Nintendo

Developer

Nintendo EPD

Release date

15 Sep 2017
Metroid: Samus Returns is a remake of Metroid 2: Return of Samus. It uses a 3D graphic style with a side view camera that zooms in and changes for cutscenes. It also has new mechanics, items, and abilities. "Brave the hostile terrain of an alien planet teeming with vicious life forms as legendary bounty hunter Samus Aran. Her mission? Terminate the Metroid menace in this masterful reimagining of her 1991 Game Boy adventure. Samus Aran's arsenal has been enhanced with new moves and abilities that are sure to help her face the deadly surprises that await. This intense, side-scrolling action platformer is a great entry point into the Metroid franchise and perfect for returning fans as well, and it's available only on the Nintendo 3DS family of systems."
see all / fold
| AGM score | 87% |
| --- | --- |
| IGN | 8.5 |
| GameSpot | 9 |
| Metacritic | 85 |
expand / fold
About Metroid: Samus Returns
Metroid: Samus Returns is released by Nintendo in 15 Sep 2017. The game is designed by Nintendo EPD. Metroid: Samus Returns is a typical representative of the Adventure genre. Playing Metroid: Samus Returns is a pleasure. It does not matter whether it is the first or a millionth hour in Adventure, there will always be room for something new and interesting. Thrilling levels and gameplay Metroid: Samus Returns will not leave anyone indifferent. The complexity of gameplay increases with each new level and does not let any player get bored.
In addition to it in 15 Sep 2017 released games such as:
In addition to Metroid: Samus Returns, the representatives of Adventure games also belong:
A complete list of games like Metroid: Samus Returns can be found at AllGame here.
Metroid: Samus Returns is versatile and does not stand still, but it is never too late to start playing. The game, like many Adventure games has a full immersion in gaming. AllGame staff continues to play it.
Metroid: Samus Returns is perfect for playing alone or with friends.
At AllGame you can find reviews on Metroid: Samus Returns, gameplay videos, screenshots of the game and other Adventure representatives.
Metroid : Samus Returns - Critique
Author: Sam Claiborn
Date: 2020-07-30 22:41:39
Translated from English by IGN France.
Other than a few minor improvements and a new look, Metroid: Samus Returns doesn't add much new to the series; and that's probably what he does best. Metroid hasn't made good decisions since the Metroid Prime trilogy, especially with a spin-off called Federation Force or Other M which has disappointed many fans including myself, who wanted to return to a 2D adventure like this one. by Super Metroid. Samus Returns is technically 3D, of course, but its 2D platformer gameplay is still as good as a classic Metroid, and even better than that.
Here's something that Metroid fans should remember memories of: In Samus Returns, you explore labyrinthine dungeons, with interconnected passages that sometimes lead you to dead ends, and often to new areas. The more you explore, the more you can improve your arsenal which is mainly made up of energy balls and mods from previous games, but with new blocks to destroy, special doors to open, ceilings to roll on and obstacles on. which ones to jump. Sometimes some dead ends won't be so unnecessary to explore - a satisfying feeling that is the foundation for a full-fledged map genre, used from Castlevania to Cave Story. And like the best Metroid games, there are no characters or dialogue in Samus Returns. It's just a lady, armed with a cannon, dodging traps in search of space pirates and space marines serving as a father figure like any other Metroid games.
Less than a year ago, when Breath of the Wild radically reimagined Zelda, it's surprising how Metroid retains its original formula. And in the end, it's just as satisfying. I realized that I wanted to play even more despite the 13 hours I had just spent to complete it 100%.
It could have taken longer, considering that Samus Returns has a bigger map than all other Metroid games (apart from Prime). But this artificial extension is quickly put aside by the appearance of a new skill that reveals nearby rooms and secrets at the push of a button. It's built like a cheatcode, so I don't recommend using it the first time. But it may make Samus Returns more accessible to newcomers, but I remember how much I got my noggin to work on maps from previous Metroid's, and this feature sacrifices those moments for accessibility. excessive.
If 3D will never be as good as the SNES sprites for me, I still couldn't wait to see what it was going to be. For starters, Samus is sublime, and the 3D offers a lot more detail during her movements: she prepares her cannon, and shoots to the side with class. Then, each 2D element that surrounds you nevertheless gives rise to a kind of window through the decor, revealing a polished background, adding a special atmosphere. Crystals and cascades of water glow in the background, some caves reveal a vast subterranean gap constructed by the Chozo, releasing spooky aliens in the midst of your exploration. I even found myself turning on 3D to enjoy it more.
I especially enjoyed the passage through the ruins of the Chozo civilization, this winged people who raised Samus and who freed the Metroid in the galaxy, signing the end of their civilization. You can also unlock 3D scenes on the history of the Chozo, via the main menu. However, there is no discovery of hieroglyphics like in Metroid Prime, and even fewer wild creatures to scan.
In terms of gameplay, Samus Returns differs from the old Metroid while paying homage to them. There are new movements based on rhythm. This is a tricky thing, because you have to come to a complete stop to perform this type of move; at the start of Samus Returns you have to do a lot, slowing the pace of the action. Fortunately, a bit later in the campaign, you can upgrade your weapon to slide under enemies and perform a special move to acquire Aeion (refills for your special abilities). During boss fights, this technique becomes even more useful, and can quickly mean the difference between life and death. It was in those moments that I learned to love him. A massive boss in particular offers no respite if you don't master it, especially with its difficult strategy and requiring concentration that is not unlike a certain Punch-Out !!.
With a few tips, Samus' classic moves are better than ever. Shots are even more precise with the new laser, the heroine instantly spins in the air, and can quickly jump from one level to another, minimizing wasted time and maximizing exploration . For example, an area filled with small twisted passages, in which we navigate in a ball can only be truly revealed thanks to a weapon that we unlock later in the adventure.
Like Metroid Prime, Samus Returns has a similar focus on exploration and combat, although some of the clashes are still a bit too repetitive. You'll see the same monsters on a regular basis, especially because your ultimate goal will be to kill 40 Metroid minibosses to unlock all areas. You'll also have to deal with the same boss a dozen times, and possibly a larger version a dozen more times. Some bosses are not only bigger: they have a more varied behavior. And you won't only face the Metroid: if you track down a hidden mini-boss, some of its minions will come to haunt you along the way.
These clashes are very tough - that's what I loved - but my long and repetitive battles mostly raised an issue with the controls in Samus Returns. Some shots need to be activated with different buttons on the console, which tends to tire your hand, and make your game sore. After several tries, I had to leave my 3DS aside. I spent hours on 3DS games, often difficult, but Samus Returns is to be stored alongside Kid Icarus: Uprising: it gives cramps.
Screenshots
Screenshots will help you evaluate the graphics and gameplay of Metroid: Samus Returns.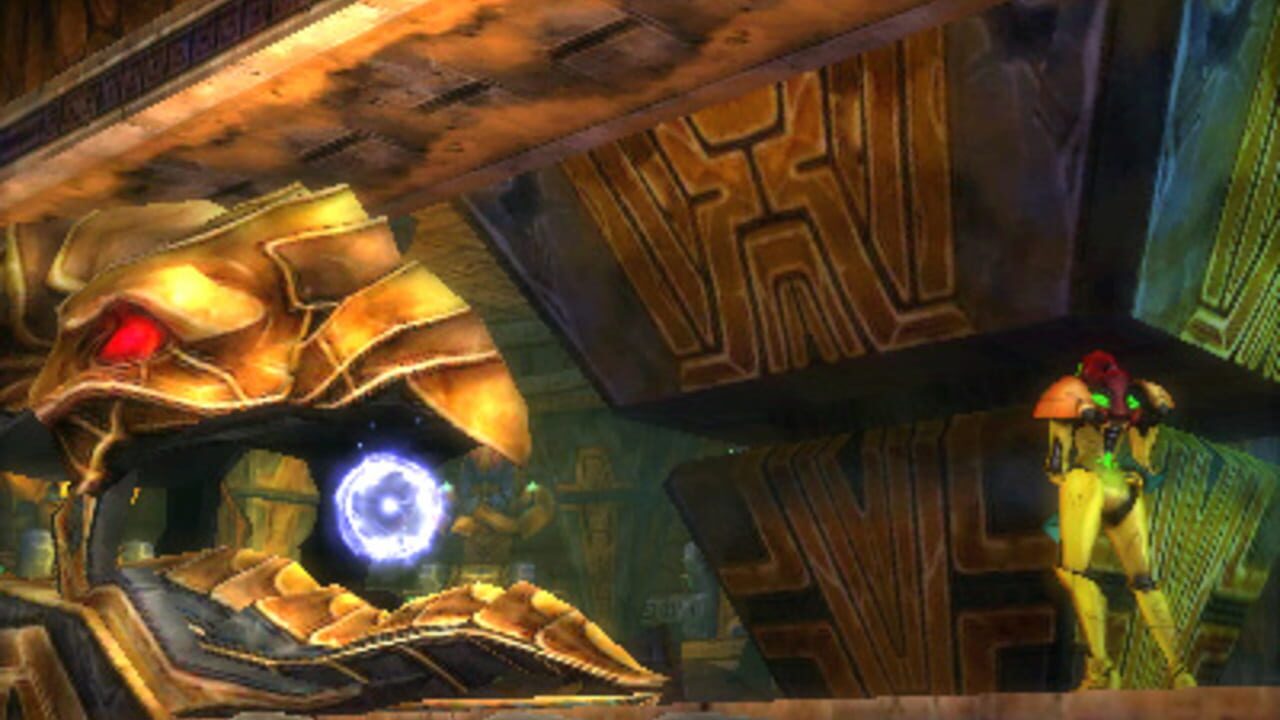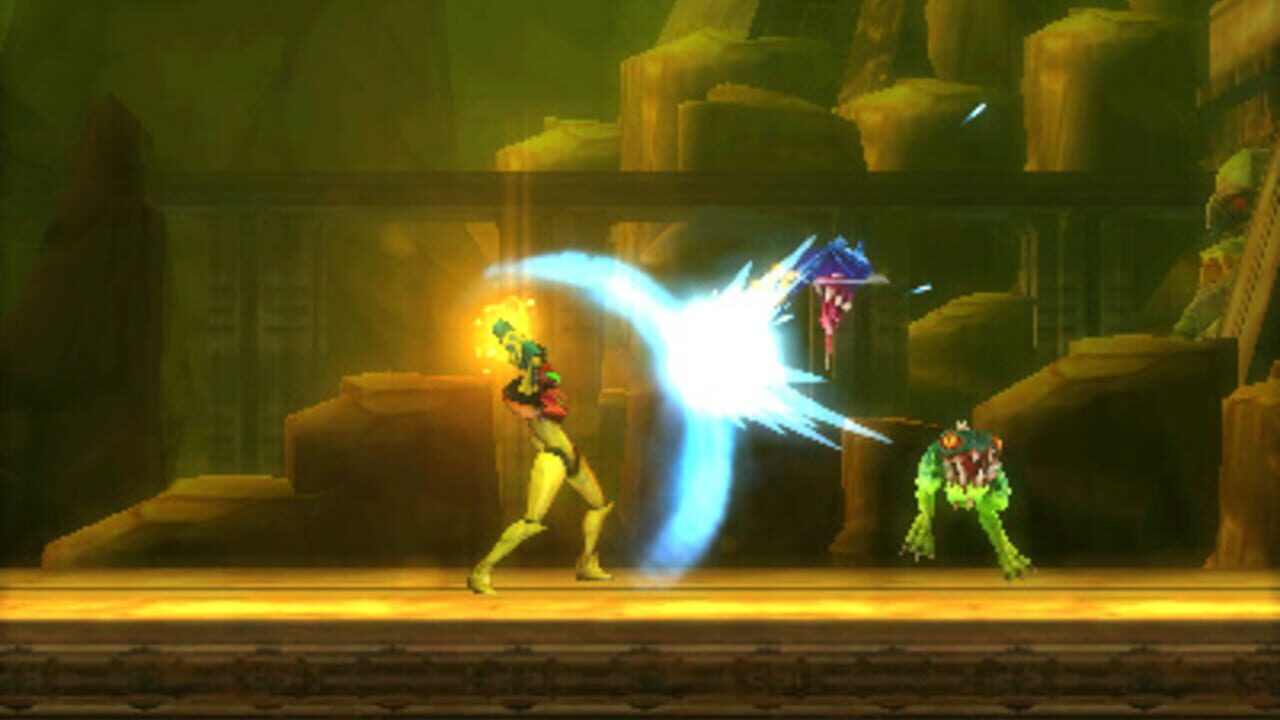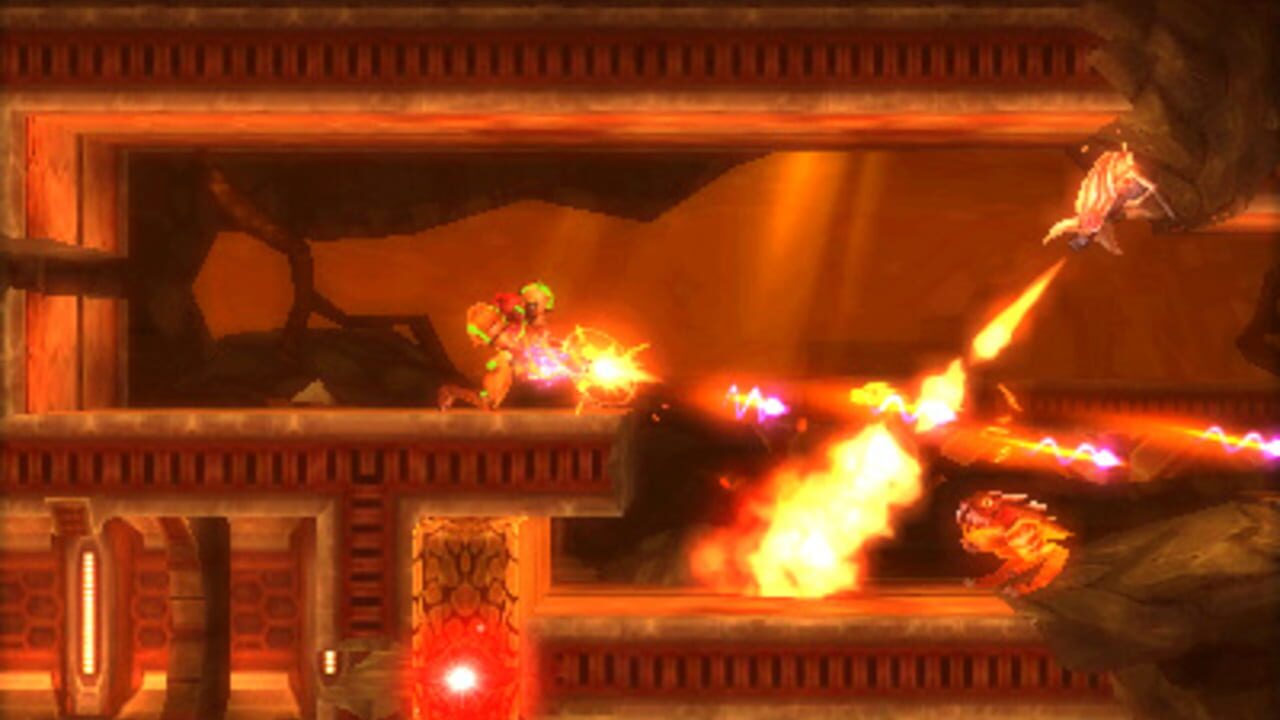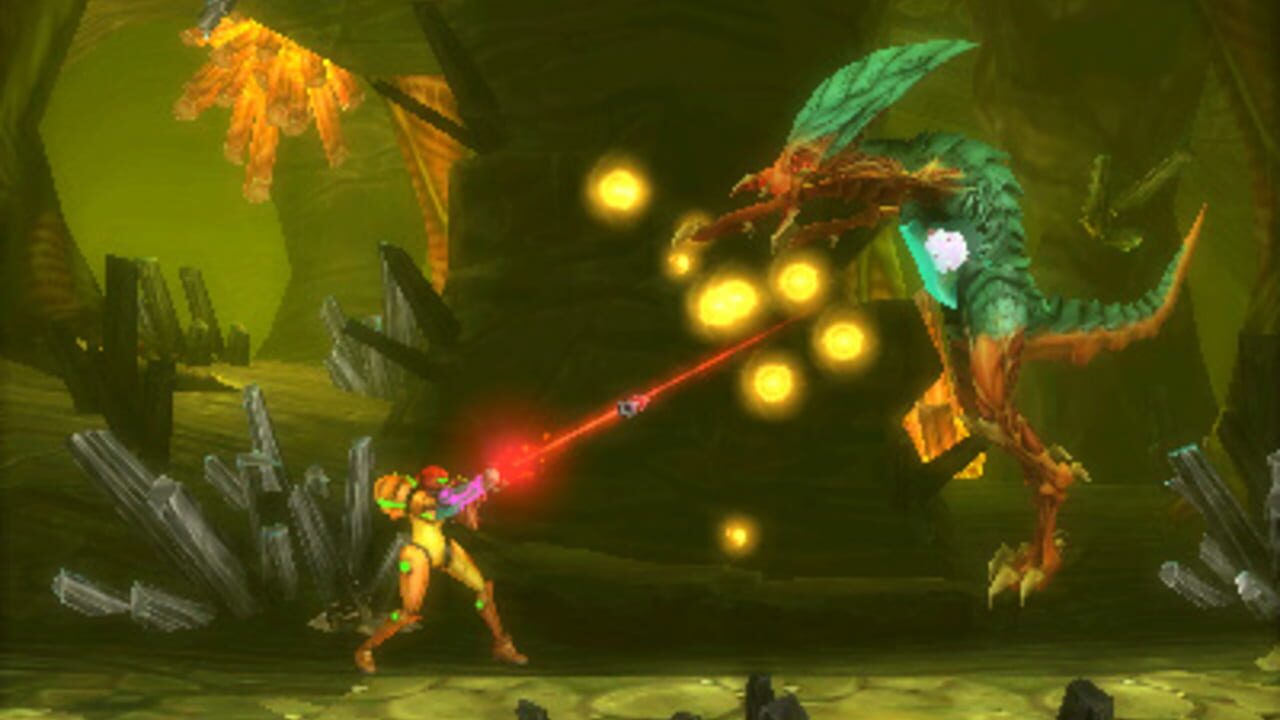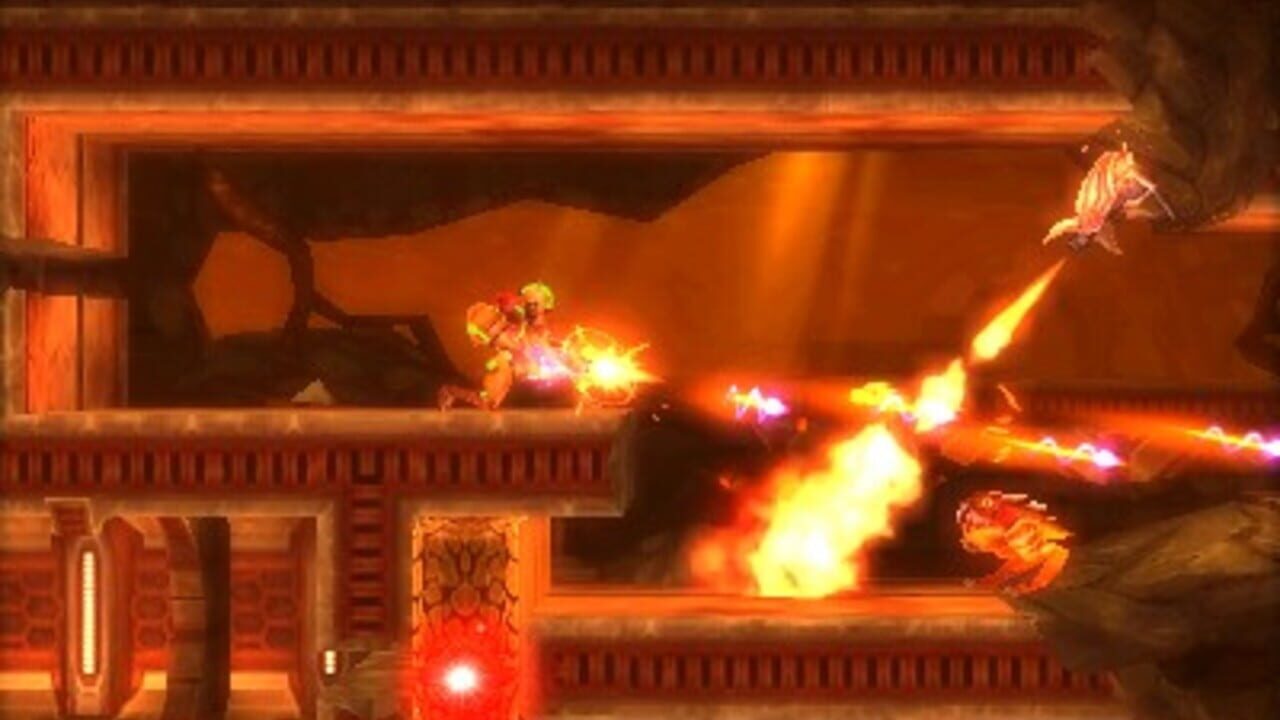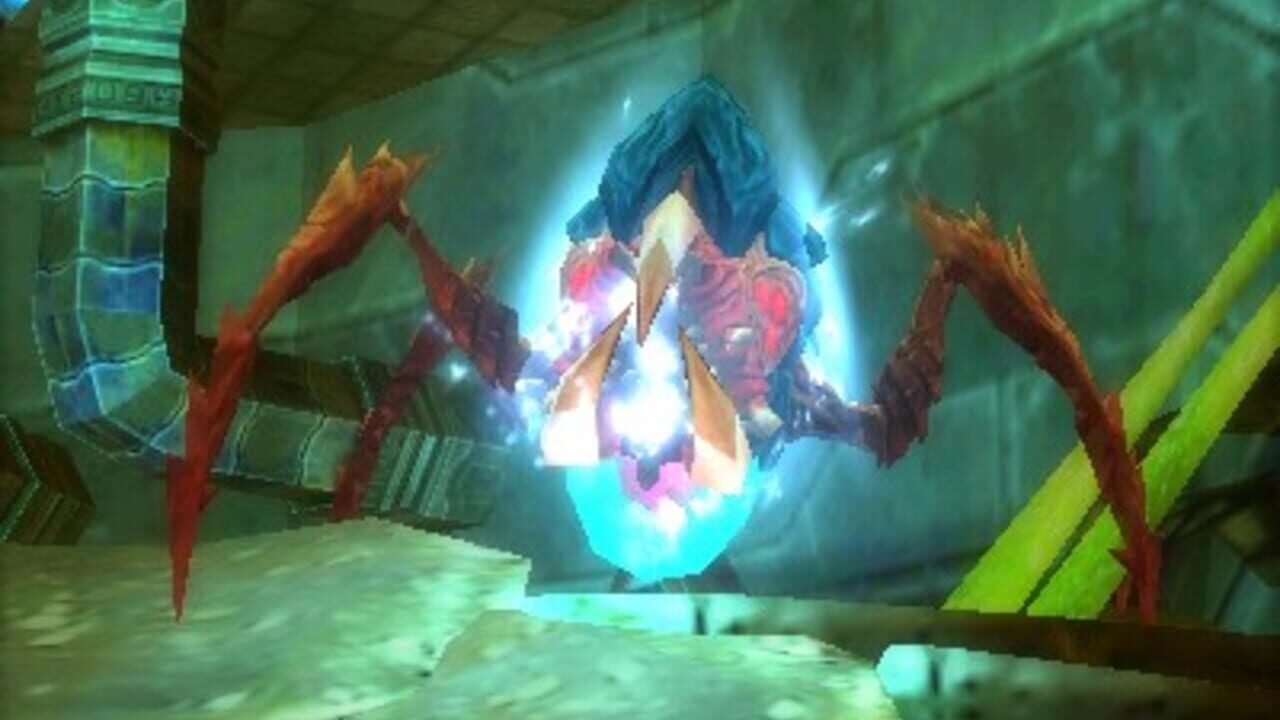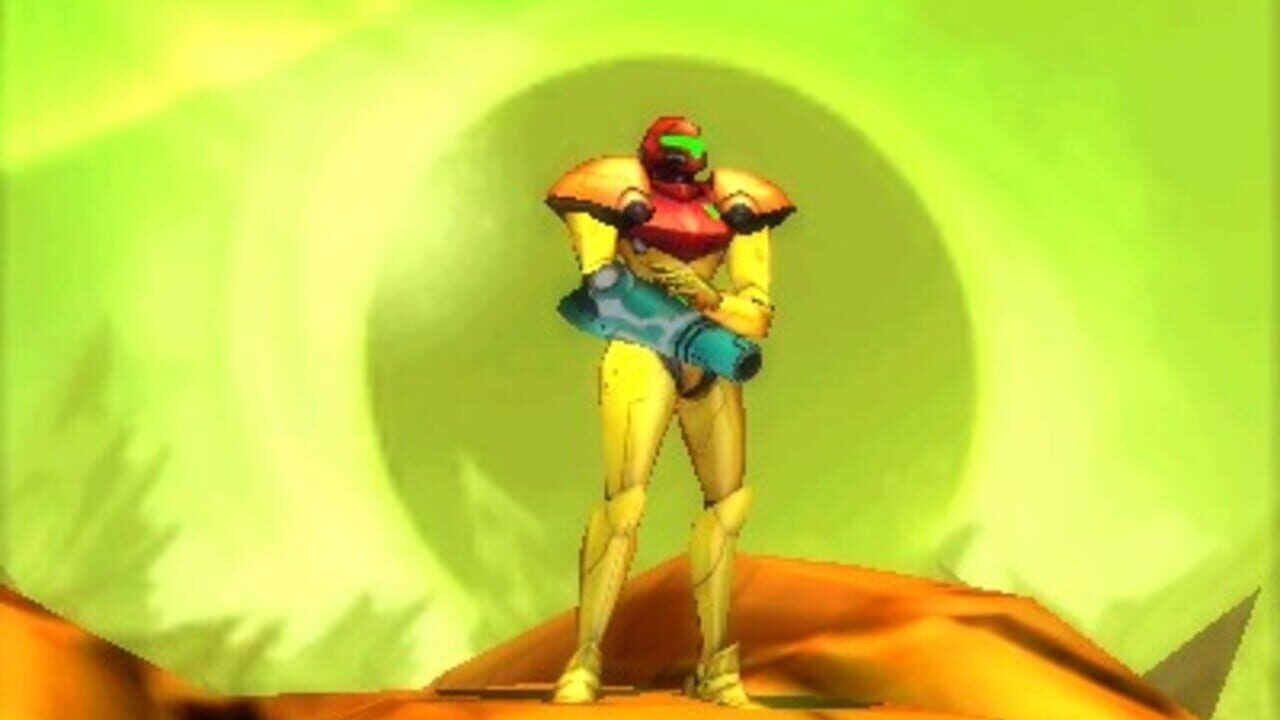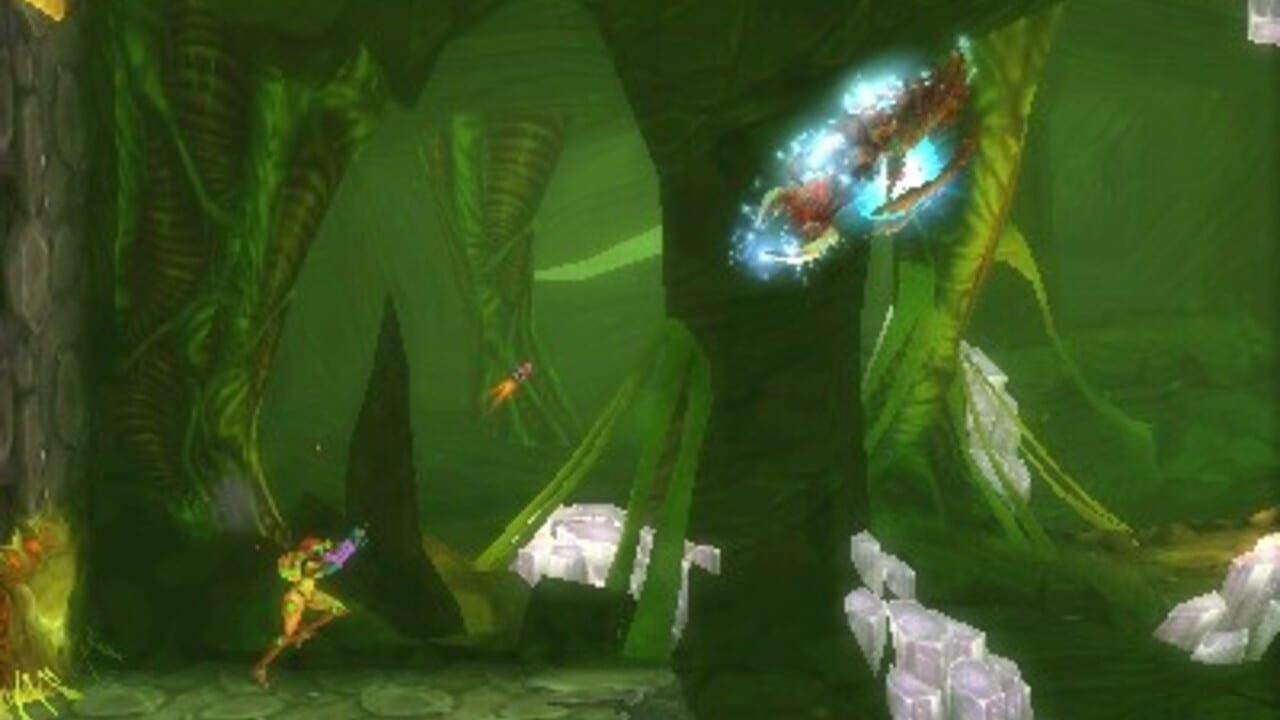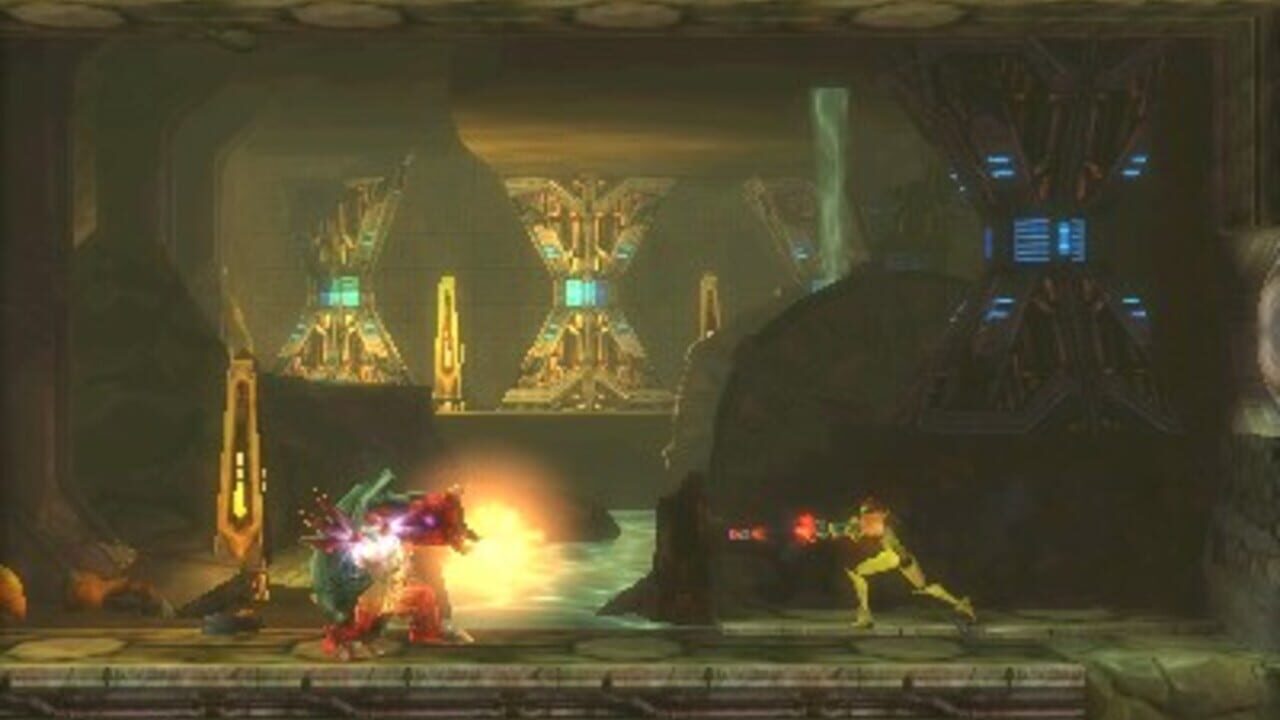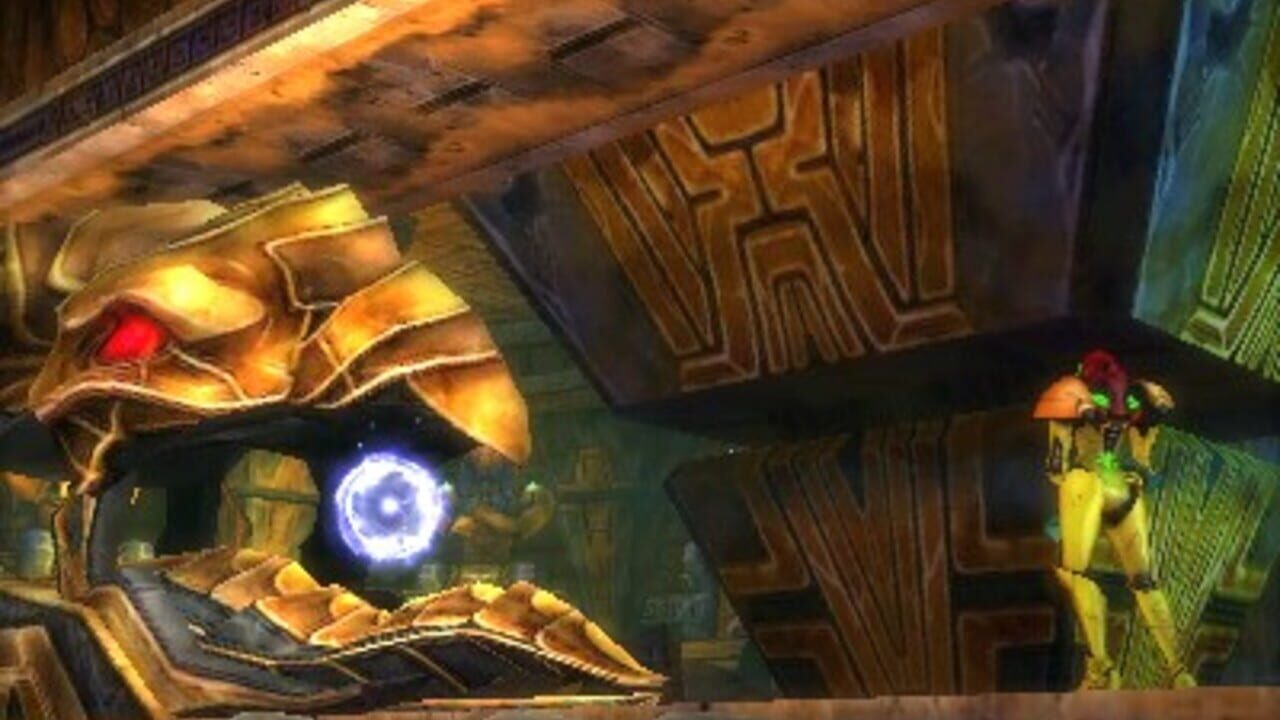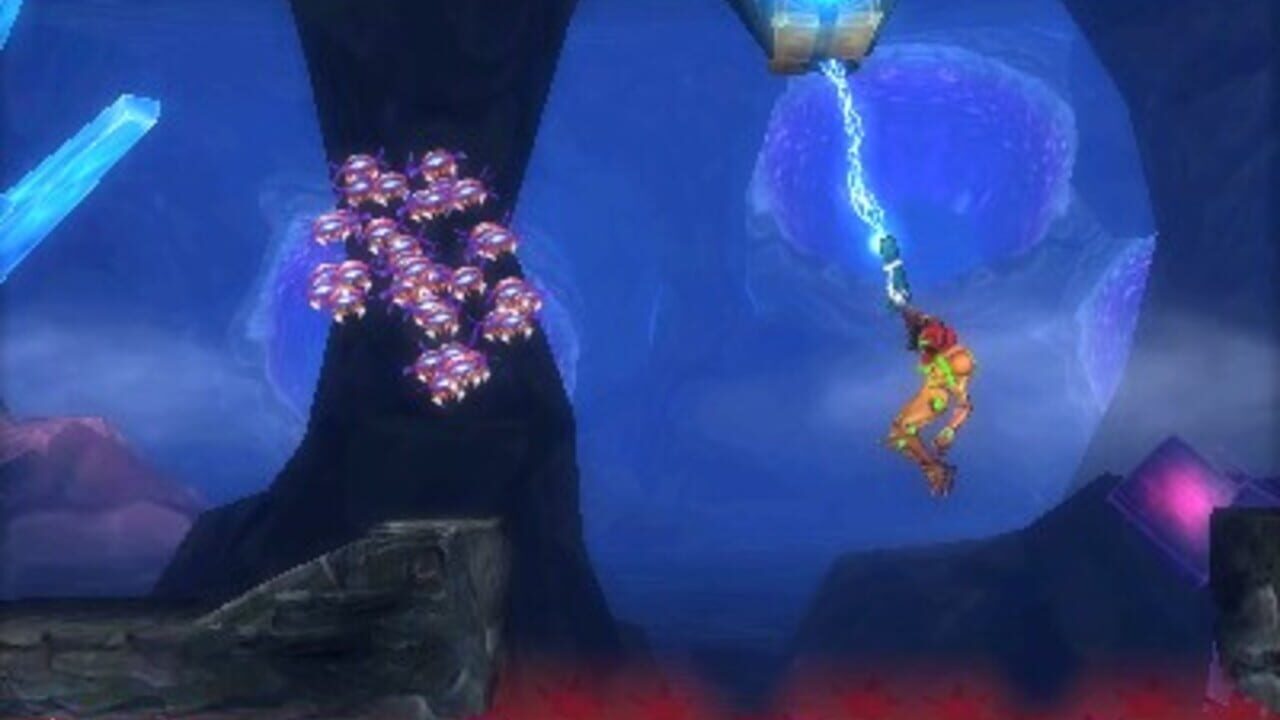 Videos
If screenshots are not enough, you can enjoy creative videos from Nintendo
You may also like
If you like Metroid: Samus Returns, but you're tired of it and want something new, you can try other games.