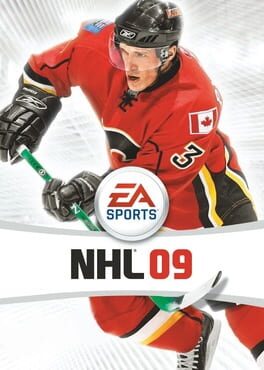 NHL 09
Publisher

EA Sports

Developer

HB Studios

Release date

9 Sep 2008
NHL 09 is the 17th video game in the NHL series released by EA Sports in 2008. Both the Nintendo DS and Wii versions had been planned, but canceled. It was the last installment of the NHL series to be released on Playstation 2 and the last to get a PC release
see all / fold
| AGM score | 73% |
| --- | --- |
| IGN | 9 |
| GameSpot | 9 |
| Metacritic | 40 |
expand / fold
About NHL 09
NHL 09 is released by EA Sports in 9 Sep 2008. The game is designed by HB Studios. NHL 09 is a typical representative of the Sport genre. Playing NHL 09 is a pleasure. It does not matter whether it is the first or a millionth hour in Sport, there will always be room for something new and interesting. Thrilling levels and gameplay NHL 09 will not leave anyone indifferent. The complexity of gameplay increases with each new level and does not let any player get bored.
In addition to it in 9 Sep 2008 released games such as:
In addition to NHL 09, the representatives of Sport games also belong:
A complete list of games like NHL 09 can be found at AllGame here.
NHL 09 is versatile and does not stand still, but it is never too late to start playing. The game, like many Sport games has a full immersion in gaming. AllGame staff continues to play it.
NHL 09 is perfect for playing alone or with friends.
At AllGame you can find reviews on NHL 09, gameplay videos, screenshots of the game and other Sport representatives.
NHL 09 - game review
Date: 2008-11-13 07:30:00
The review was based on the PC version.
For most healthy Europeans, soccer is like a religion. The situation is completely different in North America, where the passions of local sports enthusiasts are torn between four disciplines - basketball, hockey and two others, the rules of which no self-respecting inhabitant of the Old Continent even tries to understand. In Poland, hockey is mainly associated with jokes about Nowy Targ and the NHL series. I would even put forward a bold thesis that on the Vistula River more people "play" this sport in front of computer screens and TV sets than on a real ice rink, which necessarily proves the great success of EA Sports.
A year ago, in the review of the PC version of NHL 08, you could read HopkinZ's extensive list of complaints about the development of the series, which mercilessly duplicates the previous patterns. There will be no surprises - the latest edition is almost a perfect carbon copy of what you could have played a year or two ago, and it adds very little news to the fun. If you do not want to pay well over a hundred zlotys for a patch updating mainly lineups, then you can go ahead and finish reading this paragraph. The rest of the review is addressed mainly to people who had no contact with the NHL or who parted with the series before 2006. Without this assumption, writing a new text would not make sense, it would be enough for me to stick around the words of HopkinZ, paragraph after paragraph.
NHL 09 lets you feel the spirit of real hockey at its best. Licenses for all possible logos, names of teams, players, melodies, fan songs and ice rinks were remembered. It's just like on TV. It must be mentioned that for several years now these are licenses not only for the best teams from Canada and the United States (both NHL and AHL), but also from the Czech Republic, Scandinavia, Germany and Russia, which is making its debut this year. The creators did not forget about the most important national teams and about reflecting the specific character of slightly wider European ice rinks. A small thing, but it enjoys, and it is played differently.
We can choose from a dozen different game modes. Most of them are quite secondary and duplicate their own patterns, while Dynasty Mode deserves special attention, in which we play the manager of a top-class team. In addition to playing matches (there is a simulation option), we are responsible for the relationship with the owner, team tactics, transfers carried out, basic squads, analyzing statistics and a few other cool things. In fact, with the right dosage - up to 2-3 meetings at a time - this mode is extremely sweet and makes us really addicted to our task.
The other modes allow for a slightly looser approach to hockey. The creators have added a very nice system of challenges, in which in one-on-one situations with the goalkeeper we have to score as many goals as possible. A good springboard from everyday life. The real hallmark and ace up EA Sports' sleeve for NHL 09, however, is a mode called Be A Pro, which surely sounds familiar to FIFA lovers. This time we have the opportunity to direct the fate of a single, self-created hockey player. We fully define his personal data and appearance, and then head to the world's largest ice rink. For each meeting, our hero receives experience points (depending on the quality of the game presented in the match, defined in three categories), and these allow you to reach new levels.
Managing the fate of one player is ... average. There is no such boredom as in the case of Be A Pro from FIFA, but on the other hand, the fun is not equal to managing the fate of the entire team. Well, our character is a terrible wimp at the beginning, and if we wanted to have problems with hitting an empty goal, we would go to the skating rink ourselves! The multiplayer mode is naturally waiting for fans of online struggles, so it's best to look for a Canadian to have fun together. And that's a surprise for you!
When it comes to gameplay, a simple reflection - it's a miracle that the ice hasn't melted yet. There is real fire in it! The players are really comfortable and easy to control, and the various tricks and tricks that they can perform deserve great respect from the players. This is real hockey, in almost every detail of the NHL match broadcast. So much so that when we play the thirtieth game, the players still surprise with unconventional moves.
Goalkeepers are also very good, not making stupid mistakes and occasionally impressing with robinsonades on the scale of the greatest football legends. It's just a shame that all these great moves are hard to enjoy in replay mode. Although we can precisely repeat each situation, adjusting the camera with the mouse is a real torment. A much better solution would be to use the keyboard - as in FIFA 09 . The gameplay is solid, fluid, logical and only occasionally there are minor mistakes, such as the stick penetrating the body parts of the players. The great advantage of NHL 09 is also that all the fun can be done using three buttons (plus arrows, of course).
The sound throws you on your shoulders. Really. The creators remembered about great fan chants, NHL melodies, in menus we hear subdued rock rhythms that will appeal to fans of all kinds of music, even from Rubik to Behemoth. There is also a commentary, thankfully in English, which is really solid. Theoretically, some inaccuracies can be found, but the level and quality of its performance completely make such an action completely meaningless.
The graphic design certainly does not match what we see on the new generation consoles, but I have no major reservations. The animations are smooth and effective (although they could be a bit more diverse), the setting of each game is at a great level, and the virtual hockey players are not yet cunning enough to turn off the computer with screaming. The menus are dark, elegant and clearly legible. Certainly, the whole audiovisual setting is positive, and the complexes in relation to the next-genes (or actually the current-genes) should not be as big as some people think.
EA Sports employees showed that they are real Canadians. For several years they have been desecrating the FIFA brand, a year ago they effectively ridiculed the NBA series, but the computer NHL is holding a very high level. A piece of hot and playable hockey. The latest edition is admittedly a perfidious carbon copy of the previous part, but treating it as a completely new product, NHL 09 deserves a really solid note. Well, the publishing policy is of course a big deal, but this is a matter between EA and players and their wallets. It was great for me.
Jakub "Kuba" Kralka
PROS:
MINUSES:
Screenshots
Screenshots will help you evaluate the graphics and gameplay of NHL 09.
Videos
If screenshots are not enough, you can enjoy creative videos from EA Sports
No videos
You may also like
If you like NHL 09, but you're tired of it and want something new, you can try other games.