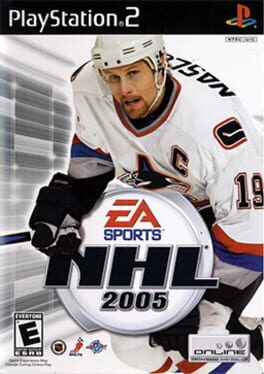 NHL 2005
Publisher

EA Sports

Developer

EA Black Box

Release date

14 Sep 2004
Capture all the speed, finesse, and action of professional hockey with NHL 2005, the successor to NHL 2004. The game's new EA Sports Open Ice Control lets you execute offensive plays, such as a give-and-go and a breakaway pass, and you can also call for defensive double-teams. Dynasty mode has been enhanced with more interactive GM/owner relationships, including a new e-mail system. NHL 2005 also delivers all the action of the World Cup of Hockey with International Teams and venues from North America and Europe.
see all / fold
| AGM score | 78% |
| --- | --- |
| IGN | 8.3 |
| GameSpot | 7.9 |
| Metacritic | 73 |
expand / fold
About NHL 2005
NHL 2005 is released by EA Sports in 14 Sep 2004. The game is designed by EA Black Box. NHL 2005 is a typical representative of the Simulator genre. Playing NHL 2005 is a pleasure. It does not matter whether it is the first or a millionth hour in Simulator, there will always be room for something new and interesting. Thrilling levels and gameplay NHL 2005 will not leave anyone indifferent. The complexity of gameplay increases with each new level and does not let any player get bored.
In addition to it in 14 Sep 2004 released games such as:
In addition to NHL 2005, the representatives of Simulator games also belong:
A complete list of games like NHL 2005 can be found at AllGame here.
NHL 2005 is versatile and does not stand still, but it is never too late to start playing. The game, like many Simulator games has a full immersion in gaming. AllGame staff continues to play it.
NHL 2005 is perfect for playing alone or with friends.
At AllGame you can find reviews on NHL 2005, gameplay videos, screenshots of the game and other Simulator representatives.
NHL 2005
Date: 2021-02-05 02:51:46
Frosty pleasure: the ice hockey series is back in top form. Nevertheless, she barely defends the top spot in our sports hit list.
One thing is certain: only mimosas play football. Tough guys, on the other hand, grab their clubs, helmets and skates - after all, ice hockey is not about playful tricks, but about body checks, slap shots and broken bones. But don't worry: if you prefer to stay intact, you just have to resort to NHL 2005. Because the ice hockey simulation implements the skating sport in a more realistic and atmospheric way than any game before.
Before the kick-off, camera pans show the beautiful 3D audience and the atmospheric stadium entrance. The Detroit Red Wings, for example, whiz under a plastic squid onto the ice. Original fan chants and matching English commentaries will be played during the matches. The players shine with flowing animations: goalkeepers, for example, throw themselves wildly in front of the net when there is danger. You can recognize stars like Eric Lindros in no time thanks to lifelike player faces - an improvement on the artificial expressions of the NHL 2004 aces. Weak: You are not allowed to create your own players.
Talent helps
The individual talents of the players have an even stronger effect in NHL 2005 than in its predecessor: Accurate slap shots from the blue line, like in real life, can only be achieved by trained puck snipers like Jarome Iginla. Weaker strikers usually hit the target far past the box from a distance. That creates a good mood: you literally suffer when the opponent has taken his goalkeeper off the ice and your second-rate striker misses the empty net. In addition, every player now has a stamina value and is quickly exhausted when sprinting. Therefore, you can no longer rush across the entire playing field with one player, but have to pass carefully.
Goals always fall understandably - a merit of the excellent puck physics. For example, the disc ricochets off the keeper's protector and slides slowly over the line from there. Or the puck hits the net untenable after a hard shot. There are no weak points for surefire hits: the goalkeepers react realistically and usually hold long-range shots loosely. Therefore, you have to cleverly exploit opportunities, for example with one-two passes or deception.
Smart on the puck
The intelligence of runners has increased slightly since the 2004 NHL. Teammates now run into position even more skillfully. Defenders, for example, wait on the opponent's blue line when advancing in order to fire long-range shots or to disrupt counterattacks early on. In addition, your comrades will independently get rivals off their feet and throw themselves into shots on goal if necessary. Pleasant: the strong AI opponents sometimes make human errors and poke the puck into their own goal, for example.
The levels of difficulty are well coordinated. Even newcomers to the NHL can celebrate successes on "Beginners" and can soon switch to "Easy". "Medium" is a case for experienced players, "Difficult" is only won by veterans who know all the control tricks and the strengths of the teams. Within the levels, you can adjust the difficulty individually and reduce the goalkeeper's reaction times, for example. A training mode without an opponent is missing.
There are problems in our test version with the referee: If we set his foul sensitivity to one of the two highest levels, he sends a player off the ice for every little bump. At lower levels, on the other hand, he lets pass almost all fouls. According to EA spokesman Nicolas Pothmann, this is a bug that should be fixed in the final version of NHL 2005. Since this is not yet available, the bug affects our rating.
Ice cold strategists
Tactics play an important role in ice hockey - which NHL 2005 correctly implements: Use the control pad on your gamepad or the number pad on the keyboard to determine the behavior of the troops. For example, when the command "Total Offensive" is given, strikers will dash forward quickly, but will only run back hesitantly when the opponent counters. Great: Your AI fellow players follow the instructions exactly. The computer opponents also use the guidelines in a tactically wise manner and choose, for example, "keep the lead" if they lead shortly before the end of the game.
In the break before a face-off (the so-called bully) you have around ten seconds in NHL 2005 to choose one of two predefined lineups. They each have advantages and disadvantages: For example, you can place an attacker far away from the face-off on the rival's blue line. He then rushes undisturbed into the third of the opponent - if you win the face-off. However, if you lose, the man is missing from the opposing counterattack. In the alternative line-up, the striker therefore remains closer to the face-off point.
Bodyguard commands
NHL 2005 offers two useful commands to the AI teammates. You can request a close comrade to act as a bodyguard, he will then automatically jump on opponents and check the way for you. Alternatively, leave the player in charge of the puck to the AI and run into free space with another athlete. If you are in a good shooting position, your colleague will automatically suit you - or, if the opportunity arises, shoot yourself at goal. You can bypass this automatic by giving the AI guy commands with a shot or pass button. The trick only works with a lot of practice, but leads to good scoring opportunities. Apart from that, little has changed in the way NHL 2004 is operated successfully. With the right analog stick you can conjure up evasive maneuvers or determine the direction and strength of a check. Control works best with an analog ten-button pad. (GR)
You can read the complete article in GameStar issue 11/2004.
Videos
If screenshots are not enough, you can enjoy creative videos from EA Sports
No videos
You may also like
If you like NHL 2005, but you're tired of it and want something new, you can try other games.