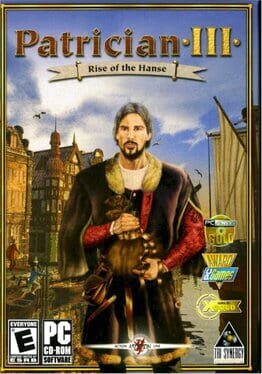 Patrician III: Rise of the Hanse
Publisher

Encore

Developer

Ascaron Entertainment

Release date

1 Jan 2000
Patrician III is a real-time trading simulation featuring elements of construction and the historical background of maritime trade in Northern Europe during the 1300's. As a resident of a medieval town, your goal is to rise from the status of a simple, insignificant trader to that of a Patrician and perhaps even become the head of the Hanseatic League. You can raise your standing through town improvement and diplomacy or fill your coffers through piracy and smuggling.
see all / fold
| AGM score | 74% |
| --- | --- |
| GameSpot | 7.2 |
| Metacritic | 75 |
expand / fold
About Patrician III: Rise of the Hanse
Patrician III: Rise of the Hanse is released by Encore in 1 Jan 2000. The game is designed by Ascaron Entertainment. Patrician III: Rise of the Hanse is a typical representative of the Role-playing (RPG) genre. Playing Patrician III: Rise of the Hanse is a pleasure. It does not matter whether it is the first or a millionth hour in Role-playing (RPG), there will always be room for something new and interesting. Thrilling levels and gameplay Patrician III: Rise of the Hanse will not leave anyone indifferent. The complexity of gameplay increases with each new level and does not let any player get bored.
In addition to it in 1 Jan 2000 released games such as:
In addition to Patrician III: Rise of the Hanse, the representatives of Role-playing (RPG) games also belong:
A complete list of games like Patrician III: Rise of the Hanse can be found at AllGame here.
Patrician III: Rise of the Hanse is versatile and does not stand still, but it is never too late to start playing. The game, like many Role-playing (RPG) games has a full immersion in gaming. AllGame staff continues to play it.
Patrician III: Rise of the Hanse is perfect for playing alone or with friends.
At AllGame you can find reviews on Patrician III: Rise of the Hanse, gameplay videos, screenshots of the game and other Role-playing (RPG) representatives.
Patrician III: Rise of the Hanse - game review
Date: 2003-12-04 11:17:00
The review was based on the PC version.
Economic strategy lovers, now is a good time for you! After more than two years of waiting, the third installment of Patrician has been released! And, in short, it rocks!
Ascaron Software has been specializing in games where the sea is an indispensable element for many years. After all, in addition to the Patrician series, they created two parts of Port Royale, or recently Pirate Hunter (also known as Tortuga: Age of Piracy). And I have to admit that they are doing quite well.
In Partician III Rise of the Hanse, we will play the role of a modest shopkeeper living in one of the cities belonging to the Hanseatic League. Along with the successful business we conduct, our career will develop dynamically and our treasury will be filled. With time, we will become a respected merchant, a wealthy patrician or finally the mayor of our city, and even the president of the entire Hanseatic League! Each role will have slightly different responsibilities and challenges that we will have to face. Summarizing in a few words - in Partician III we will conduct various businesses, the goal of which will be to earn as much as possible and gain a high social position.
As befits a good economic game, we can get money in various ways. After choosing one of the cities in which we will start our career, we proceed to decisive actions to ensure our wealth. The best idea after starting is to trade between cities. We can buy 20 different goods, of course having in mind to buy cheap and sell very expensive. Initially, it may be difficult, because we only know prices from our city, and information about what another city needs will usually be out of date when we get there. However, after some time it is easy to find out what is produced where (i.e. low prices) and where it is not, and there is a high demand for it (high prices). This information can be easily obtained by visiting the exhibition hall building. In every city we visit, there are many other buildings worth visiting. In the port, we can order the construction of a new ship (which takes a very long time), in the town hall, for example, to track contracts for the delivery of a specific raw material to a given city, in the church to make donations for its development or to allocate food for the poor, find out about ship auctions in the merchant's guild , at the marketplace, commission the preparation of a festive event for the residents (our popularity will increase), and in the tavern, buy illegal goods, hire sailors or undertake some special mission. As you can see, the possibilities are many. With the flow of cash, we will be able to invest in the development of the city by opening our own workshops. This has a double plus, because in addition to securing a permanent income, we will also contribute to the development of the settlement and the residence of new residents, who will additionally pay us a rent when we build their houses. If we care about popularity, we can invest in public buildings, building wells, creating roads or building, for example, a school.
In Partician III Rise of the Hanse, although the gameplay takes place in real time (RTS), we don't have to rush. When doing business, it is worth setting the slowest time flow mode, thanks to which we will be able to calmly perform the activities we have planned. Only after we have loaded all the goods onto the ship and shipped it to another city, does it pay off to increase the pace as much as possible so that it will reach its destination in a second. Everything can be done automatically (time will slow down by itself as soon as the ship arrives or something important happens), which is fine for me. Besides, the game offers more such facilities, allowing us to relax to a greater extent. In each city where we are based, we can hire a special manager who will manage the goods stored in the warehouse, selling inventory at the best time, at a predetermined price, or by making ordered purchases (important when we have workshops). By employing a captain on a ship, we can entrust him with full control over the ship, delineating only the routes on which it is to sail. All this means that we do not have to perform the same tedious activities over and over, but only develop an optimal strategy and put it into practice.
The game allows for great freedom in our actions. We can only focus on trade, expanding our fleet and transporting goods between cities. With the right combination, you will be able to influence the demand for given goods yourself, causing the city to run out of stocks, or take advantage of seasonal changes by buying, for example, a lot of grain in summer at the end of summer and selling it in winter. Later, it is worth keeping the demand at a high level, selling only a few items at a time, although our warehouses will have 1000 of them. In addition to traditional earning money from trade, we can discover unknown parts of the world, importing rare and luxurious goods from there, declaring war on pirates, trying to track down and destroy their hiding places, and if loneliness starts to bother us, we can always marry a beautiful 14-year-old girl. Well, these are the times ;-). Another idea is to take care of the inhabitants of the city, trying to provide them with everything their heart desires and bringing goods not so much for profit as to fill the market. The advantage of such activities will be the growing popularity, which, supported by appropriate bribes and subsidies, will allow us to take the honorable position of mayor! When administering a city, we must ensure the safety of its inhabitants by expanding defensive fortifications, purchasing cannons and maintaining a sufficiently large army of defenders. We will also decide on the amount of taxation of the population living in the city. The war element is treated quite briefly in the game and is limited to making key decisions. In the event of an enemy attack, we can try to negotiate surrender conditions that are favorable to us or try to defend ourselves, and when it succeeds, take the risk and start a counterattack!
Partician III Rise of the Hanse is quite a complicated game, but not difficult. This is due to that he has a well-prepared tutorial containing five missions. In truth, it does not exhaust the topic and only introduces you to the basics, but the other aspects of the game can be easily assimilated by playing the first campaign and following the excellently prepared instructions.
Like any good game, it is easy to master at an intermediate level, but it takes a lot of work to master it, so you won't get bored quickly. In addition to the aforementioned tutorial and easy campaign, we have six others that are much more difficult. So, if you get frustrated with a merchant career in the quiet times, you can try your hand at trading during the plague epidemic or try to get $ 3,000,000 in three months. In addition, you can play the scenario we created, in which we will set all the key factors, relating both to the difficulty level and to what needs to be done to achieve victory. An interesting fact is that you can fight a duel with a friend on one computer! I haven't seen the "hot seat" mode for a long time in similar strategy games. It is not very pleasant (the time it takes to move with time becomes longer), but for people who do not have permanent access to the Internet, it is certainly an interesting alternative. Concluding the topic of the possibilities of the game, it should be mentioned that Partician III has a neatly made and easy to use map editor, in which we can create the scenario that best suits us.
In terms of graphics, the game looks decent. The world is shown in a 2D isometric projection, and the developers put special emphasis on refining the smallest details. Cities are teeming with life, and we can observe the inhabitants during their daily activities. Ship models were made with high accuracy, which is clearly visible, for example, during naval battles, during which we can see with the naked eye all the damage that the ship has suffered. Over time, weather conditions also change and I must admit that the view of snow-covered houses was so suggestive for me that I started to miss winter ;-). In about two months I will probably curse her ... However, it must be firmly stated that the 2D graphics full of colors and various weather conditions are, for the present times, not enough to be delighted. Especially that the appearance of the game has not changed in comparison with the second part.
The musical setting made a good impression on me. Although there are not too many sounds, the music in the background perfectly fits the era, creating the right mood for the game. Most importantly - it does not overly absorb our attention and is not boring. Even after 10 hours of non-stop playing, it never occurred to me to run Winamp in the background. Finishing the technical thread, one should mention very low hardware requirements. Partician III. The game can be run on Pentium II - 233 MHz with 32 MB and 4 MB graphics card! It is a real rarity these days.
Finally, one thing needs to be clarified - Partician III Rise of the Hanse is one of the best economic strategies I have had the pleasure to play. Exactly, economic strategies! It is quite a specific and not very popular genre, so if you are not particularly familiar with it, then Partician III will probably not be to your liking either. However, it does not change the fact that it is an outstanding position in its class, hence the high rating. I recommend it with a clear conscience for long autumn and winter evenings. Good winds and may fortune be with you!
Artur "Mao" Okoń
Screenshots
Screenshots will help you evaluate the graphics and gameplay of Patrician III: Rise of the Hanse.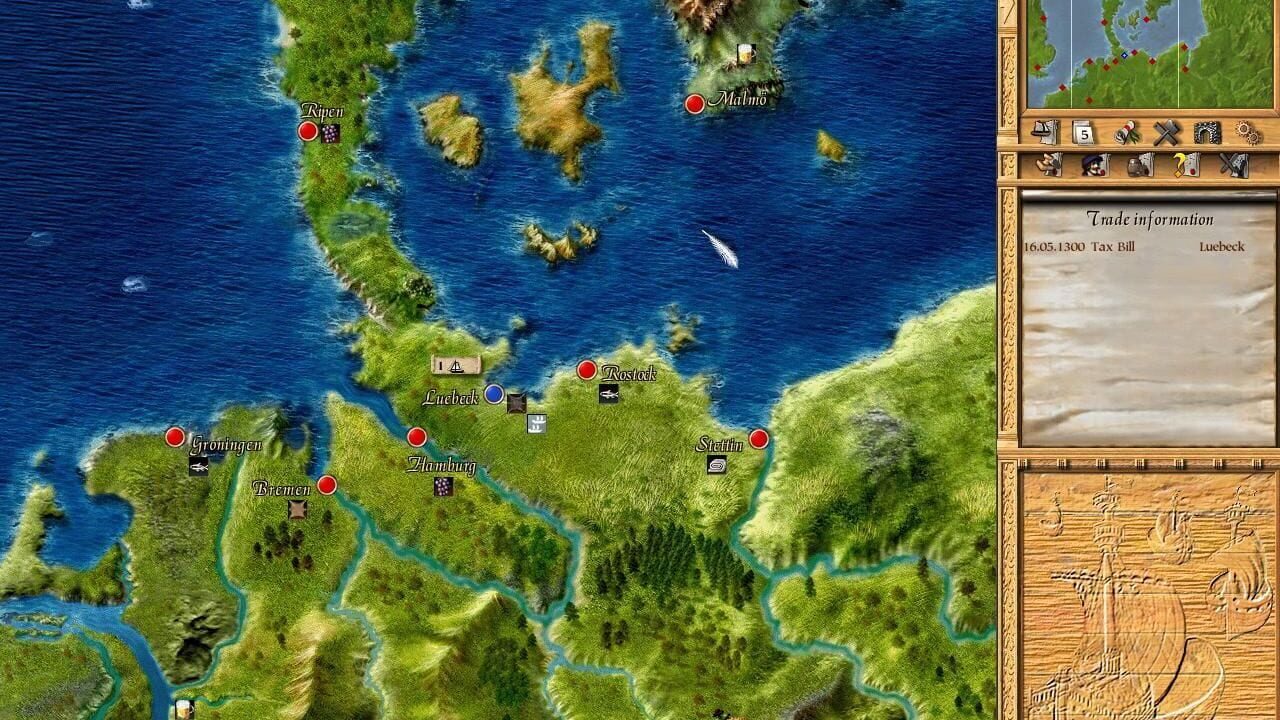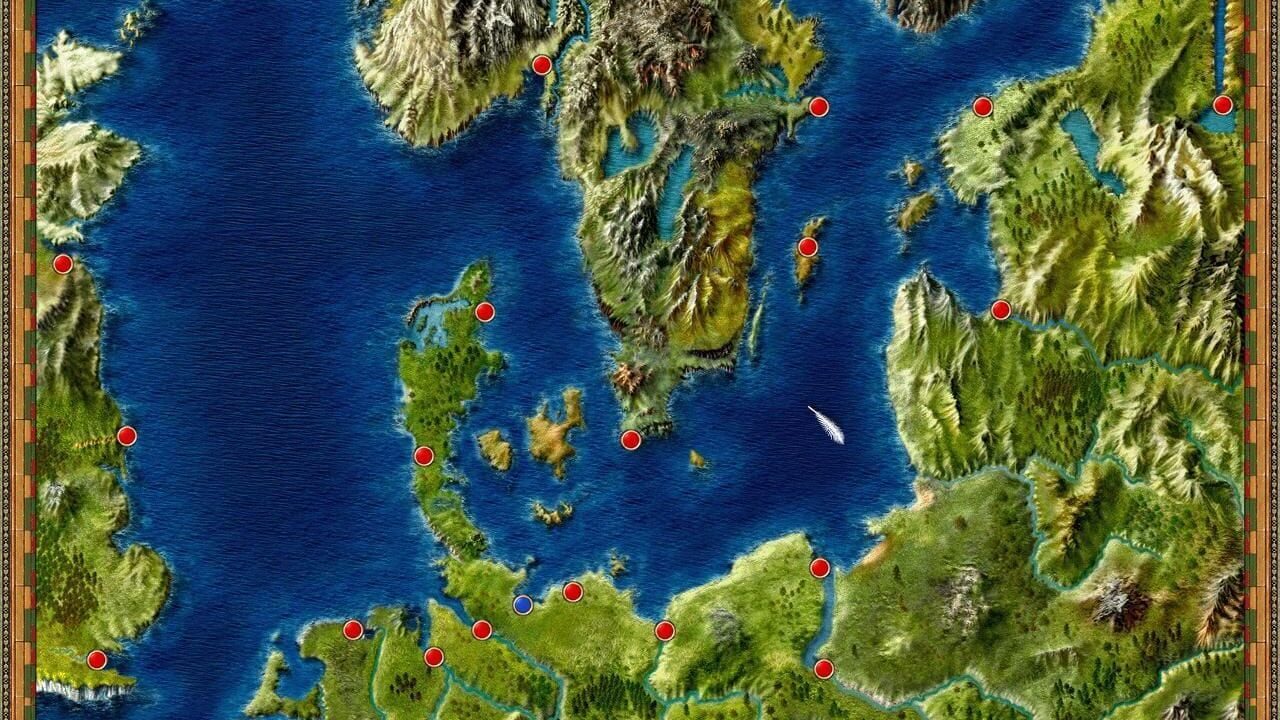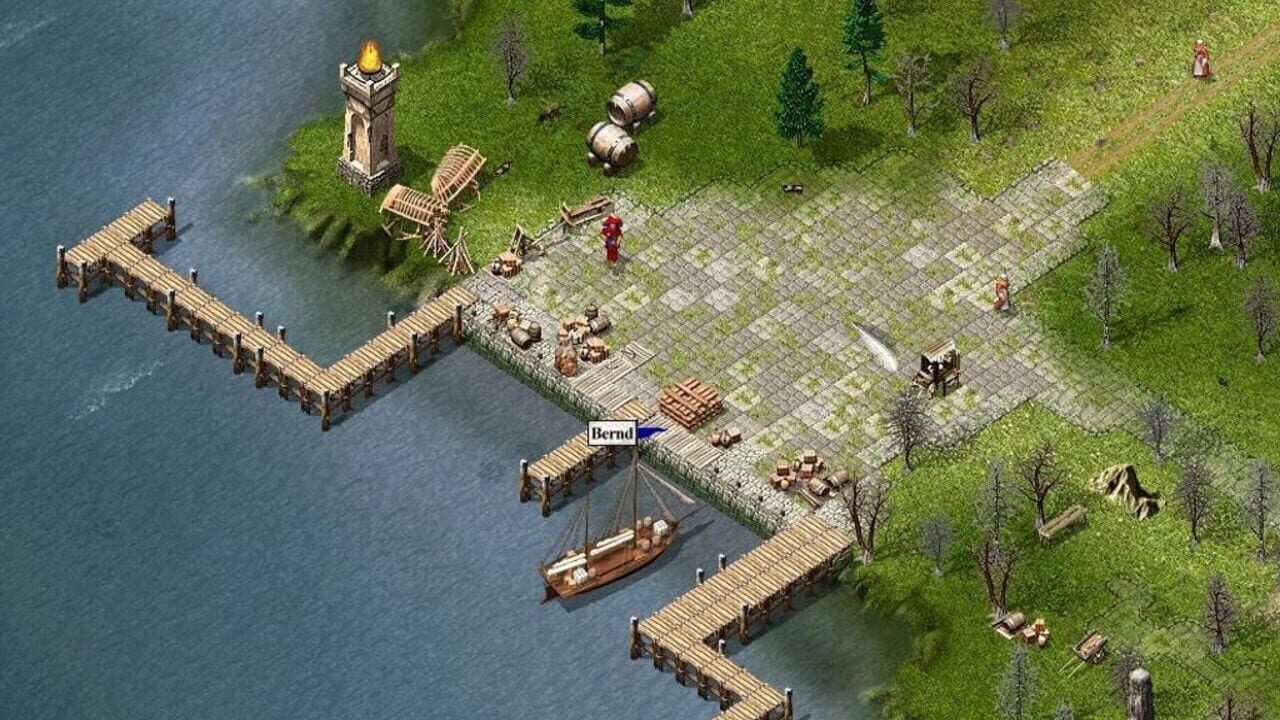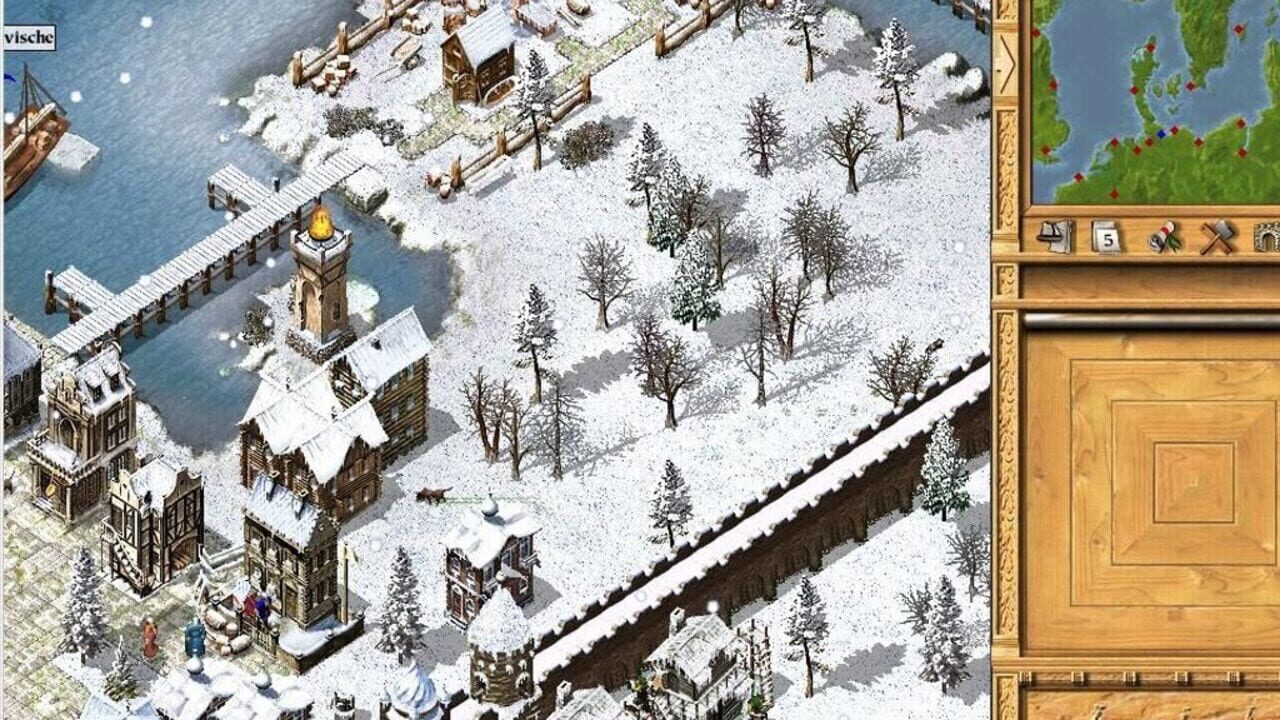 Videos
If screenshots are not enough, you can enjoy creative videos from Encore
You may also like
If you like Patrician III: Rise of the Hanse, but you're tired of it and want something new, you can try other games.