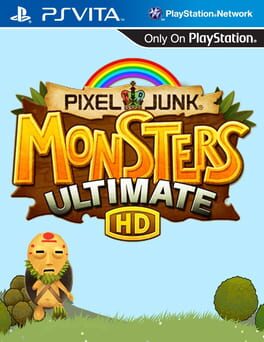 PixelJunk Monsters Ultimate HD
Publisher

Double Eleven

Developer

-

Release date

30 Jul 2013
The definitive PixelJunk Monsters experience! Tikiman the Forest Defender is in trouble. Hordes of monsters are sweeping through his realm, hoping to chow down on his offspring – and it's up to you to defend them. By placing weapon towers at strategic points around the landscape, you can destroy the invaders and save the little ones. Collect treasure along the way to build up your arsenal and pay for new towers – countless waves of monsters are out to get the babies, so you need to be prepared to battle!
see all / fold
expand / fold
About PixelJunk Monsters Ultimate HD
PixelJunk Monsters Ultimate HD is released by Double Eleven in 30 Jul 2013. The game is designed by -. PixelJunk Monsters Ultimate HD is a typical representative of the Strategy genre. Playing PixelJunk Monsters Ultimate HD is a pleasure. It does not matter whether it is the first or a millionth hour in Strategy, there will always be room for something new and interesting. Thrilling levels and gameplay PixelJunk Monsters Ultimate HD will not leave anyone indifferent. The complexity of gameplay increases with each new level and does not let any player get bored.
In addition to it in 30 Jul 2013 released games such as:
In addition to PixelJunk Monsters Ultimate HD, the representatives of Strategy games also belong:
A complete list of games like PixelJunk Monsters Ultimate HD can be found at AllGame here.
PixelJunk Monsters Ultimate HD is versatile and does not stand still, but it is never too late to start playing. The game, like many Strategy games has a full immersion in gaming. AllGame staff continues to play it.
PixelJunk Monsters Ultimate HD is perfect for playing alone or with friends.
At AllGame you can find reviews on PixelJunk Monsters Ultimate HD, gameplay videos, screenshots of the game and other Strategy representatives.
PixelJunk Monsters: Ultimate - Recensione
Author: Andrea Maderna
Date: 2020-03-03 20:12:02
In full 2013, in the face of the arrival of PixelJunk Monsters: Ultimate HD on PlayStation Vita, it may be legitimate to miss a "Tower Defense? Still?". Especially since the timing of going out practically simultaneously with the highly anticipated Plants against Zombies 2 may not be the best. Or maybe, instead, it is a great way to ride the wave of the Popcap game by going out on a console that does not (yet?) Host the clash between vegetables and living dead. All these considerations, however, must not overshadow what matters most: PixelJunk Monsters has always been and still remains one of the best exponents of the genre, strong of some brilliant ideas, abundant content and great general quality.
In addition, the developer Double Eleven has made an excellent conversion, albeit limited to the bare minimum. PixelJunk Monsters: Ultimate HD, is basically a revival of the PSP version released in 2009, but with the high resolution graphic impact of the original PS3 game. The contents, therefore, are all there and also include the extras released in the form of DLC in home format, the graphics wear the dress of the party and in addition there are touch controls that do their duty, even if they are perhaps not suitable for particular approach to the genre proposed by the game. So, in short, if you have never tried PixelJunk Monsters and you want to get your hands on a nice tower defense for PlayStation Vita, you have the opportunity to try a great game. But if you've already gotten acquainted with the series in the past, well, it's obviously a negligible title. Unless a new Trophy list or the simple pleasure of reliving the same experience on PS Vita is enough to motivate you.
PixelJunk Monsters was born in early 2008, as the second release of the multi-faceted series created by Q-Games, at a time when the tower defense genre was starting to make some noise and, to say, the aforementioned blockbuster Plants against Zombies it was still a couple of years away. In that context, the game created under the Sony umbrella stood out for its interesting ideas and for an approach that is certainly not unique, but not among the most widespread in the genre, probably also largely the result of having to create an experience suitable for control via DualShock 3. In the game you control Tikiman, a masked guy who has the task of going around the maps physically reaching the points where we want to place the classic defensive towers.
The structure is the usual one of the tower defense, with a base / hut that contains the children of the protagonist and must be defended by waves of assaults, brought by creatures of different types. By moving Tikiman around, it is possible to build defense towers (by selecting them from a hidden radial menu) instead of the trees on the map, collect money and gems that are left on the ground, return to the base to buy new types of towers and place themselves to dance next to a single tower to speed up the increase in experience and the level up. Furthermore, obviously, in his movements, the character must avoid being hit by monsters, otherwise he finds himself briefly stunned and with the precious money scattered around, all to be collected.
The touch control system works in a decent way, but it is not recommended when there are monsters along the path of Tikiman.
This game structure works very well because it causes active involvement, always making moments of pause between attacks interesting and full of things to do, creating situations in which the choice of how and where to move can be decisive and, in fact, adding an additional "layer" of play to simple strategic planning. To this, then, we add a really well-designed map design, which proposes very varied and demanding situations and stimulates - thanks also to the need to accumulate rainbows with perfect shots to unlock advanced missions - to a healthy trial & error practice. Repeating a map is fun because you always do it with a bag of increased knowledge and experimentation and the belief that you can find the most suitable strategy. Observing a last, single, monster that approaches its target, with perhaps only a crossbow to act as an obstacle, generates crazy tension.
The game, then, despite the presence of three difficulty levels (the highest of which to be unlocked) is very demanding, above all because it offers always different situations and does not allow you to rest on your laurels, recycling the same tactical map-by-map approach. In addition, the contents are really many, including the campaign, the random map generator and the very tough challenges, which ask to face missions by satisfying certain requirements. In short, completing everything 100% and collecting every single Trophy is not easy.
If monsters are killed over water or a cliff, money and gems are lost. There is a choice ...
To all this must be added the delicious personality of the game, truly captivating on the audiovisual level, full of small, adorable details, which catches and makes you want to never get away from it. Even when the curses start for yet another rainbow missing a breath, or the hundredth time that you fail to face a challenge. The only real flaw of the game, perhaps, lies in the fact that the cooperative (local and online) does not count in carrying out the progression of the campaign. On the one hand, this is probably and understandably due to balancing needs, but on the other, given how tough the game can be, it would have been a welcome concession. On the other hand, it is a choice inherited from previous versions ...
Andrea Maderna hates tower defense because he has a lot of fun with tower defense, so he can't get away from it and he always ends up badly. Attack him in waves on Facebook and Twitter.
Screenshots
Screenshots will help you evaluate the graphics and gameplay of PixelJunk Monsters Ultimate HD.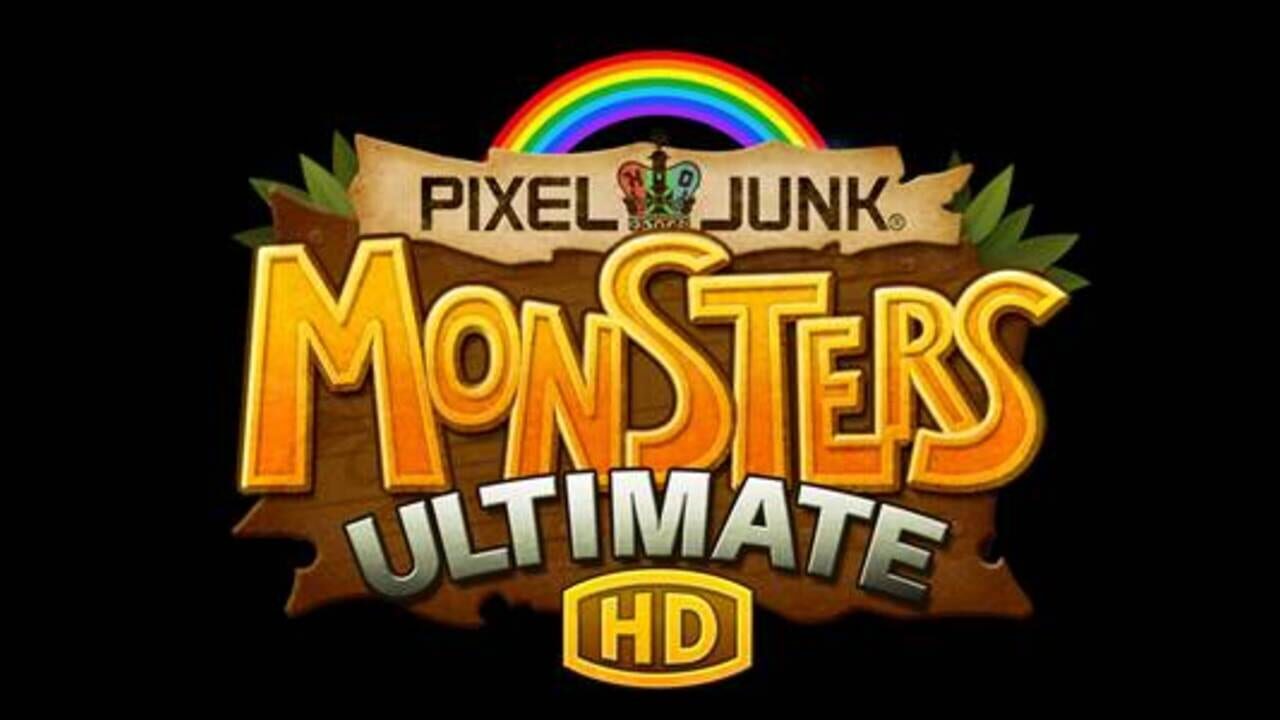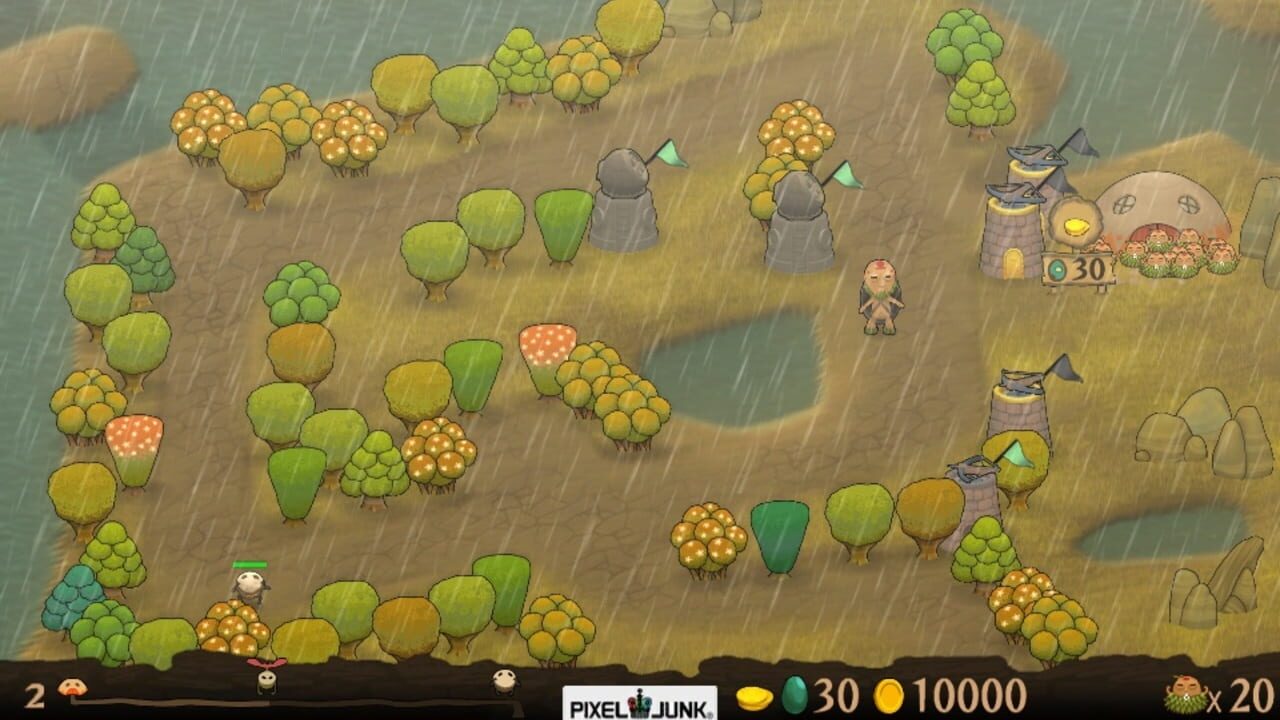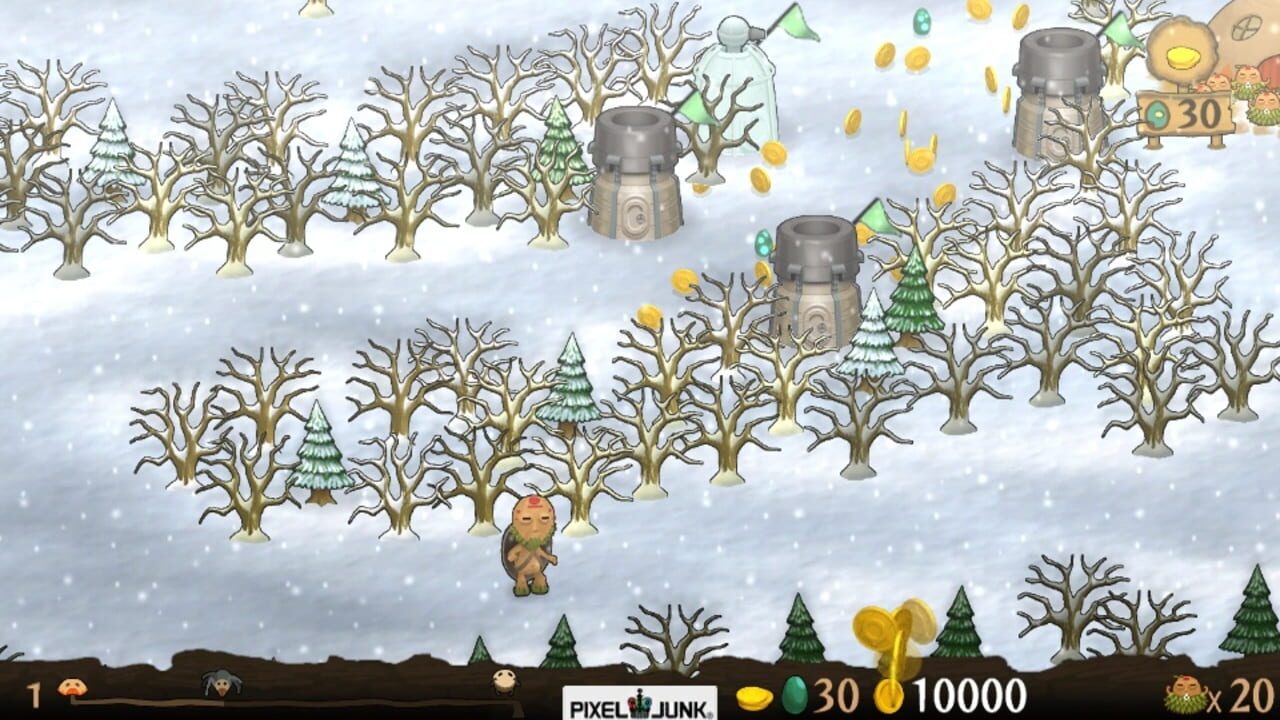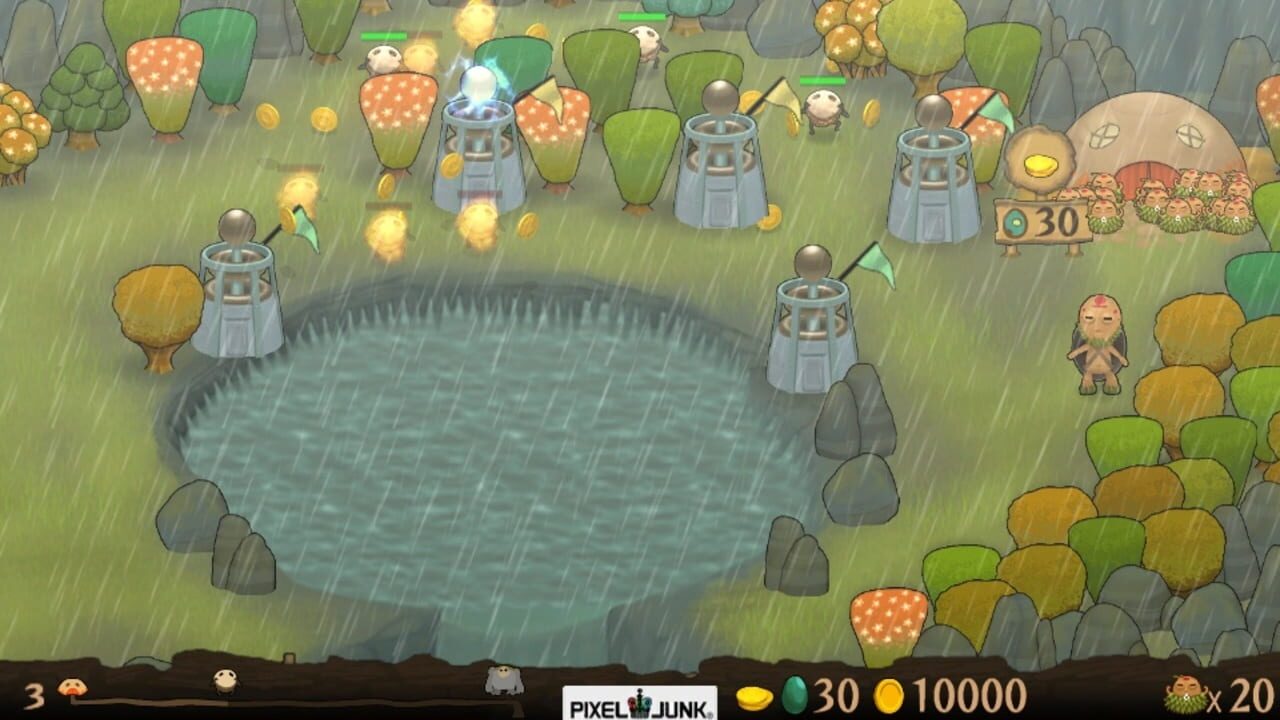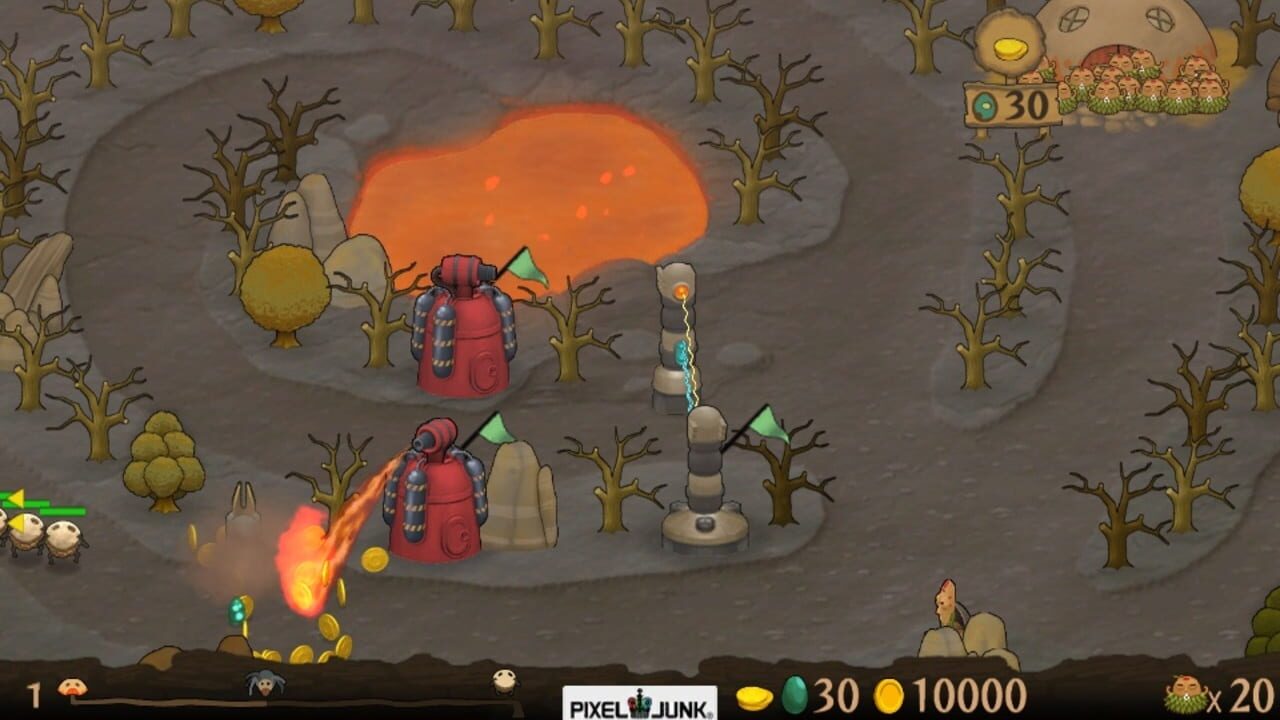 Videos
If screenshots are not enough, you can enjoy creative videos from Double Eleven
No videos
You may also like
If you like PixelJunk Monsters Ultimate HD, but you're tired of it and want something new, you can try other games.