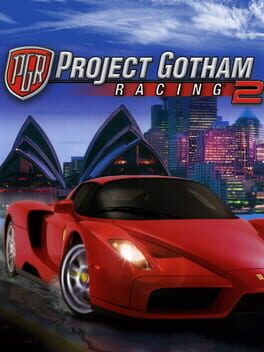 Project Gotham Racing 2
Publisher

Microsoft Game Studios

Developer

Bizarre Creations

Release date

17 Nov 2003
Project Gotham Racing 2 is a racing game for the Xbox, developed by Bizarre Creations and published by Microsoft. PGR2 is the sequel to the highly successful Project Gotham Racing. It is the second title in the Project Gotham Racing series
see all / fold
| AGM score | 89% |
| --- | --- |
| GameSpot | 8.7 |
| Metacritic | 90 |
expand / fold
About Project Gotham Racing 2
Project Gotham Racing 2 is released by Microsoft Game Studios in 17 Nov 2003. The game is designed by Bizarre Creations. Project Gotham Racing 2 is a typical representative of the Racing genre. Playing Project Gotham Racing 2 is a pleasure. It does not matter whether it is the first or a millionth hour in Racing, there will always be room for something new and interesting. Thrilling levels and gameplay Project Gotham Racing 2 will not leave anyone indifferent. The complexity of gameplay increases with each new level and does not let any player get bored.
In addition to it in 17 Nov 2003 released games such as:
In addition to Project Gotham Racing 2, the representatives of Racing games also belong:
A complete list of games like Project Gotham Racing 2 can be found at AllGame here.
Project Gotham Racing 2 is versatile and does not stand still, but it is never too late to start playing. The game, like many Racing games has a full immersion in gaming. AllGame staff continues to play it.
Project Gotham Racing 2 is perfect for playing alone or with friends.
At AllGame you can find reviews on Project Gotham Racing 2, gameplay videos, screenshots of the game and other Racing representatives.
Project Gotham Racing 2 - game review
Date: 2004-08-31 02:03:00
The review was based on the XBOX version.
It started modestly and very unexpectedly. On November 3, 2000, the Dreamcast debuted with Metropolis Street Racer from Bizarre Creations - the people who until now released "only" subsequent parts of Formula 1 on PlayStation. A brilliant formula should be added. A few days after the premiere, a significant boom took place: from day to day favorable opinions from experts increased (including the first, historical 10/10 rating in the British DC-UK magazine) and most importantly - players. MSR after a very short time was undoubtedly hailed as the best racing on the Sega console and one of the most playable items of the year. After a few months, the emotions subsided, they began to talk about the sequel, which finally appeared in 2002, but on ... Xbox and ... it was not a sequel. Project Gotham Racing, because this is the name given to its child geniuses from Bizarre, was an improved, more dark version of MSR. Although this position was one of the key at the start of X, it no longer made such a staggering impression as the original. Well, you can even say that she was disappointed ... A year and a half after her, the sequel hit the market.
The main aspect that makes Project Gotham Racing 2 stand out from the rest of the peloton are Kudos points, which we get as a result of the show ride (spectacular and long slips, without reflection from the band). Original, isn't it? Given that all these evolutions can be combined, so that the amount of kudos increases several times. Just like in Capcomu fighting games! There are few game modes (Kudos World Series, Arcade Racing and Time Attack), but each of its completion will take us a good few days. Arcade Racing is simply the opportunity to play for relaxation, e.g. during a party with friends. In short, it's fun. Time Attack is a time trial. Here you need more focus, precision. To get the best time, sand the entrance to almost every corner. And the Kudos World Series is the key PGR2 mode, where, apart from driving as fast as possible, its effectiveness is also important. Going through each stage unlocks the next ones. In this way, the carousel turns, the time of the game lengthens, and the smile widens ;-).
Gran Turismo is king when it comes to the number of cars and ... PGR2 has not changed that. We will sit behind the wheel of over 100 well-mapped carriages based on the license (it is worth mentioning such rarities as: Enzo Ferrari, Porsche GT2, BMW Z4, Pontiac GTO, Ferrari Dino GT, MINI Cooper S or Porsche Cayenne Turbo), which can be deformed at any time (implemented destruction effect). Somehow, they really knock down and in this element can boldly fight with the current king - the work of Polyphony. Each car has a different driving style. Do you want to easily take turns? Choose the MINI Cooper, which is far behind in terms of speed; Ferrari Enzo reigns in this field. There was also the possibility of changing the color of your car, but this is what every modern racing game (?) Already has.
PGR2 is also a great morsel for tourists, because every city, every route is reflected in reality. And there are quite a few of them: Sydney, Moscow, Hong Kong, Yokohama, Barcelona, Florence and Chicago are just some of them. Even a layman will not have problems with recognizing characteristic buildings. After all, why wonder here, already at Metropolis Street Racer for Dreamcast, the creators sharply emphasized the reflection of the terrain that exists in reality. It already looked great then, so how can it be now ...?
To make the race even more pleasant, the developers have provided us with 4 cameras: further from behind the vehicle, closer from behind the vehicle and two from the first person (in front of the car). Unfortunately, there was no more important (characteristic for the Need for Speed series) showing the car dashboard. It is difficult, maybe another time, or maybe it was simply not the intention of the creators. After all, PGR2 is not a simulation, but light and pleasant to the point arcade races.
Project Gotham Racing 2 is not only beautiful graphics, but also a perfectly selected soundtrack. In addition to listening to many radio stations (playing from soul to Russian disco, everyone will find something for themselves), it is possible to rip your own songs to the console's hard disk. There is really a lot to choose from. The Bizarre Creations product is also one of the first items to enable Xbox Live play. Now you and you will be able to impress your driving European players, although access to the network through the Microsoft console in our country is somewhat difficult.
The Bizarre Creations product is fantastic racing, a must buy for every Xbox owner. Although this is a sequel, it has so many new things implemented that other games of this type can only be envied. What can I say, PGR2 is a master of its genre. A genre of arcade racing with incredible playability.
Videos
If screenshots are not enough, you can enjoy creative videos from Microsoft Game Studios
No videos
You may also like
If you like Project Gotham Racing 2, but you're tired of it and want something new, you can try other games.