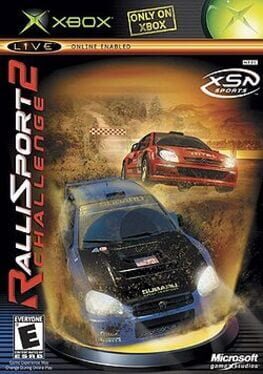 RalliSport Challenge 2
Publisher

Microsoft Game Studios

Developer

EA Digital Illusions CE

Release date

4 May 2004
RalliSport Challenge 2 is a 2004 rally racing video game, and the sequel to the 2002 RalliSport Challenge. This game contains new features such as a cockpit cameras and ability to change car at the last moment. However, stats like total horsepower and number of gears have been eliminated from the car selection screen. Cars are split up into 5 categories with 2 subcategories each plus "Classic" cars. There are 4 paint schemes on each car and drivers must drive 31, 87, and 249 miles before unlocking a new one. By winning all championships in the career mode, all paint schemes for all cars are unlocked.
see all / fold
| AGM score | 93% |
| --- | --- |
| IGN | 9.2 |
| GameSpot | 9.3 |
expand / fold
About RalliSport Challenge 2
RalliSport Challenge 2 is released by Microsoft Game Studios in 4 May 2004. The game is designed by EA Digital Illusions CE. RalliSport Challenge 2 is a typical representative of the Racing genre. Playing RalliSport Challenge 2 is a pleasure. It does not matter whether it is the first or a millionth hour in Racing, there will always be room for something new and interesting. Thrilling levels and gameplay RalliSport Challenge 2 will not leave anyone indifferent. The complexity of gameplay increases with each new level and does not let any player get bored.
In addition to it in 4 May 2004 released games such as:
In addition to RalliSport Challenge 2, the representatives of Racing games also belong:
A complete list of games like RalliSport Challenge 2 can be found at AllGame here.
RalliSport Challenge 2 is versatile and does not stand still, but it is never too late to start playing. The game, like many Racing games has a full immersion in gaming. AllGame staff continues to play it.
RalliSport Challenge 2 is perfect for playing alone or with friends.
At AllGame you can find reviews on RalliSport Challenge 2, gameplay videos, screenshots of the game and other Racing representatives.
RalliSport Challenge 2 - game review
Date: 2004-08-31 01:48:00
The review was based on the XBOX version.
Xbox owners can't complain about the lack of racing games for their console. Over the past two years, so many good positions have appeared, of which the top leaders are: Project Gotham Racing 2, Midtown Madness 3 or TOCA Race Driver 2. Another large group has just joined the Microsoft Studio - Digital Ilusions. Who knows, maybe she should not be included in the list at all, because ... RalliSport Challenge 2 is currently the best and the most beautiful rally game for consoles ...? The latest child of Microsoft programmers is the sequel to the game that reigned with the premiere of the console. She was a great success on the market, the reviewers did not spare her praise, which is why she was converted to PC. Will the second part be the same or will computer owners get in touch with it? For now, nothing indicates this ...
In the era of sequels that have recently stormed the video game market without bringing anything new to the genre, RalliSport Challenge 2 is a full-fledged, extensive rally game. In vain to look for a little improved graphic design, new cars or routes. There is much more here, I can safely say that RS2 could be a completely separate game. The original was strictly arcade racing, now it is similar, although the level of realism has slightly increased. The game still remained pleasant to pick up and available to everyone at any time. Which of course puts her far in the shadows behind Colin McRae Rally 04 when it comes to a realistic driving model. If I'm already on the comparison, this Digital Ilusions work is the most reminiscent of ... Sega Rally 2 on Dreamcast. Is it bad or good? Sega Racer is the determinant of this type of games, so I think we already know the answer?
Referring to the comparisons, there are not many cars ... if we consider what Polyphony did with its Gran Turismo. On the other hand, over 40 (including Hyundai Accent WRC, Renault Megane Maxi, Volvo 440T, Lancia Stratos, Ford GT70 or Suzuki Aerio P950) licensed and perfectly mapped carriages should arouse respect. Everyone differs in proportions and style of driving, after just a few rides we will notice that Peugeots are more maneuverable than faster Mitsubishi. It is not difficult to replace a shiny monster with a completely smashed machine, because the damage model was made with Swiss precision. Every larger stone, every railing, tree, contribute to the destruction. And these are really many, starting with a flying mask and ending with broken windows. The performance of quadricycles is the first, absolutely first class. Every detail: the mirror, wheel, wipers, mask are made with great precision and craftsmanship. Together with an unprecedented damage model, I can safely say that the RalliSport Challenge 2 has the most beautifully made cars. No extra time. The routes are not lagging behind. Their quantity, variety and, above all, performance are world class. Ice Canada, sunny Argentina, Australian deserts, a total of over 90 long and winding routes. We will test the car literally on every surface. Is it impressive? It should!
The main game is divided into 5 types of routes: rally, ice racing, rallycross, crossover and hit climb. To complete the game 100%, you must meet the challenge of all of them, which certainly will not be easy. The car behaves differently on every surface. The modes available to everyone are already well known to every racing lover: single-race (single player game), time-trial (time racing, excellent place to break records) and a career in which we have to overcome many rallies on 4 levels of difficulty : amateur, pro, champion and super-rally. Important information: you can finish your career by skipping some of the rallies, but if you want to complete all the cars, skins for them (new colors) and routes, you will need to complete all stages.
The music that accompanies us in the background can be safely turned off. Heavy rock is definitely not a favorite genre for most people, although it probably fits rally best. After all, it's a matter of taste. If you are a true rally fan, all you need is the sound of the engine and burning rubber, which in RalliSport is at ... a real level ;-). Added to this is cooperation with the Dolby Digital system, so if you have several columns, the effect will be even better. Oh, you can rip your own soundtrack, just like in the vast majority of Xbox games.
Are you looking for a beautifully made, pleasant, made with the skill and art of a racing game? You've written RalliSport Challenge 2! Do you love simulators, a real driving model? Maybe it's time for a slight change ...? At the moment, it's one of the best games of the year, one of the best for Xbox and ... an absolute champion in terms of performance and enjoyment of the game. Are you determined to buy? Start tearing out the pages of the calendar and tell the girl that you are going on vacation ... Pretty long.
Videos
If screenshots are not enough, you can enjoy creative videos from Microsoft Game Studios
No videos
You may also like
If you like RalliSport Challenge 2, but you're tired of it and want something new, you can try other games.