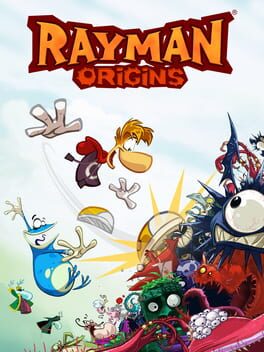 Rayman Origins
Publisher

Ubisoft Entertainment

Developer

Ubisoft Montpellier

Release date

15 Nov 2011
Michel Ancel, the famous innovator of Rayman®, Beyond Good & Evil® and Raving Rabbids® has pondered his underlying foundations and brings the new experience Rayman® Origins to the gaming network, a 2D side-scroller in splendid HD illustrations and with one Complete community mode for up to four players! In Rayman Origins, let yourself be charmed again or just because by the mystical world and the unbelievable, two-dimensional game rule that once excited a huge number of players ... As the detestable darktoons the clearing who is spooky by dreams, Rayman gets a frantic sob for help from the Fairy Council, who educates him to spare their country. Be that as it may, throughout the years the great saint escaped shape effectively ... So Rayman unites with his closest companion Globox and two agile wizards, the little ones. It is currently up to them, seemingly the most unusual courageous woman on the planet, to reestablish harmony in the clearing. On the off chance that they fall flat, their dearest home takes steps to vanish everlastingly, similar to a terrible dream ... Key featuresThe resurrection of the hop 'n' run legend: Rayman's first discharge was 15 years prior. Rayman Origins resuscitates a considerable lot of the old associates in their enchanting 2D look and sends them on an excursion through a totally different world with their own residents.Koop mode for four players with any passage: Play the crusade alone in the job of Rayman or permit yourself to be joined by up to three companions who can slip into the skin of Globox or that of the little ones. Players have the choice to exit whenever without influencing the advancement of others.Unique 2D illustrations: the world with more than 100 characters and twelve exceptional situations was made by the absolute best level and movement creators in the computer game industry. The inventively actualized 2D optics will overcome the hearts of bounce 'n' run fans and simultaneously messenger in another time in which one of the most mainstream characters in game history will discover its way back to its two-dimensional archetype.Giant game world: Rayman Origins incorporates more than 60 levels two-dimensional platforming activity for all ages and sorts of players. Open new abilities a little bit at a time and come back to past levels to find new ways and covered up secrets.Various interactivity: Although Rayman Origins is basically a stage game, components of different types can likewise be found , So Rayman, Globox and the little ones learn new, singular aptitudes, for example, swimming, plunging and obviously the fabulous "helicopter hair" over the span of the plot. The game likewise contains different parts from the activity, experience and beat 'em up kinds: Epic supervisor battles: A monstrous, pink beast with several eyes ... A fixated, mountain-high golem ... A vindictive, savage daisy. .. In Rayman Origins, players will experience these and other, much nastier managers! A gathering of exceptionally skilled fashioners and designers: Rayman Origins was created by the UBIart group from Montpellier based on an open source motor, the UBIart structure created by Michel Ancel , It permits essentially littler engineer gatherings and empowers quick, proficient creation of excellent illustrations and game substance. This "garage game" approach has uncovered fundamentally more noteworthy inventiveness and advancement.
see all / fold
| AGM score | 87% |
| --- | --- |
| IGN | 9 |
| GameSpot | 8.5 |
| Metacritic | 85 |
expand / fold
About Rayman Origins
Rayman Origins is released by Ubisoft Entertainment in 15 Nov 2011. The game is designed by Ubisoft Montpellier. Rayman Origins is a typical representative of the Adventure genre. Playing Rayman Origins is a pleasure. It does not matter whether it is the first or a millionth hour in Adventure, there will always be room for something new and interesting. Thrilling levels and gameplay Rayman Origins will not leave anyone indifferent. The complexity of gameplay increases with each new level and does not let any player get bored.
In addition to it in 15 Nov 2011 released games such as:
In addition to Rayman Origins, the representatives of Adventure games also belong:
A complete list of games like Rayman Origins can be found at AllGame here.
Rayman Origins is versatile and does not stand still, but it is never too late to start playing. The game, like many Adventure games has a full immersion in gaming. AllGame staff continues to play it.
Rayman Origins is perfect for playing alone or with friends.
At AllGame you can find reviews on Rayman Origins, gameplay videos, screenshots of the game and other Adventure representatives.
Rayman Origins in the test - innovation in a classic way
Author: Daniel Matschijewsky
Date: 2012-03-30 16:20:00
Finally the PC version in the test: after almost ten years of absence, the armless and legless bouncer returns to Rayman Origins. And Ubisoft delivers a classic as well as incredibly lovingly made Jump & Run.
Rayman Origins lives up to its name. Because if you thought that the times of great heroism were long history for Rayman, you were very wrong. Even if he has been content with small guest roles with the Raving Rabbids in recent years, he has never been able to give up the adventurous life entirely.

And so the hero with no arms or legs finally returns to his usual life to tell us about his very first adventure in the Jump & Run Rayman Origins. Together with his best friend Globox and two small dogs, we are going on a brilliant journey into the world of the Lums.
New old feel
It couldn't be more classic: As in the first Rayman game 17 years ago, you have to run, jump, hit - in 2D from left to right. On the never-ending mission to save well-proportioned magical fairies from the Darktoons, we take down the cuddliest opponents you can imagine.
In the windy desert, for example, we knock grumpy cartoon birds on the beak, while crazy-looking piranhas snap at us in the ice-cold world of fruit punch. How good that Rayman is equipped with a few powerful hands and feet. The well-known helicopter hair, with which he glides over abysses and even flies on air currents, is enthroned on his head again this time.

However, Ubisoft has also given the jump-in field a few new skills. Rayman can now sprint at the push of a button, which makes the whole thing a lot faster and more dynamic. And since he can now dive too, the game takes us every now and then into beautiful underwater worlds.
Right, left, up, down
The developers use the new skills to build lots of varied, cleverly designed challenges. The usual from-left-to-right run can turn into a rapid slide, a humid dive in the midst of poisonous corals or a dizzying high-altitude flight.
And then there is the mosquito. In the original Rayman game, the first boss opponent, we now regularly hop on the back of the purple journeyman and shoot our way through exciting flight passages.
The level of difficulty, which is geared towards beginners and casual gamers, often exceeds the level of what is reasonable, especially towards the end. Some sections can only be created by endless repetition and memorization, which quickly becomes frustrating. After all, Ubisoft has distributed the automatic save points fairly in most cases, so that we only have to tackle short sections of the level again after a failure.
Chaotic team
Very humorous: For those who don't like to spend the game evening alone, Rayman Origins provides a co-op mode in which up to four players can get on and off as they like. Cool: if one of the participants should ever give up the virtual spoon, his buddies can revive him as often as they want.
On the one hand this is practical because it makes it easier to overcome tricky areas, on the other hand it makes some sections almost too easy, despite the sometimes poor overview. In addition, Ubisoft has not fully exhausted the idea of co-op: puzzles or jump passages that are tailored to the clever interaction of all participants are completely missing.
However, this is criticism at a high level, because on the one hand solo players must be able to master the levels without help. On the other hand, it is a lot of fun, even without complex puzzles, to hop around in a group of four, collect extras, track down secrets or take revenge for an extra life that has been snatched away.
Detailed & loving
So many cool ideas are in the game, so Ubisoft knows how to present them. Rayman Origins looks downright intoxicatingly good. The variety of colors, combined with the lovingly hand-drawn comic style and the funny character animations should make every gamer's heart beat faster.
The levels are so detailed, varied and filled with so many creative ideas that you never get bored. The sound is in no way inferior to the successful graphics: When a swarm of colorful fish strikes a song underwater, it inevitably puts a smile on our face. In addition, Rayman Origins knows how to awaken pleasant memories of times gone by in us. For example, individual sections refer to milestones such as Pacman or Space Invaders , where we have to kill birds that work their way down row by row in the grid - great!
Screenshots
Screenshots will help you evaluate the graphics and gameplay of Rayman Origins.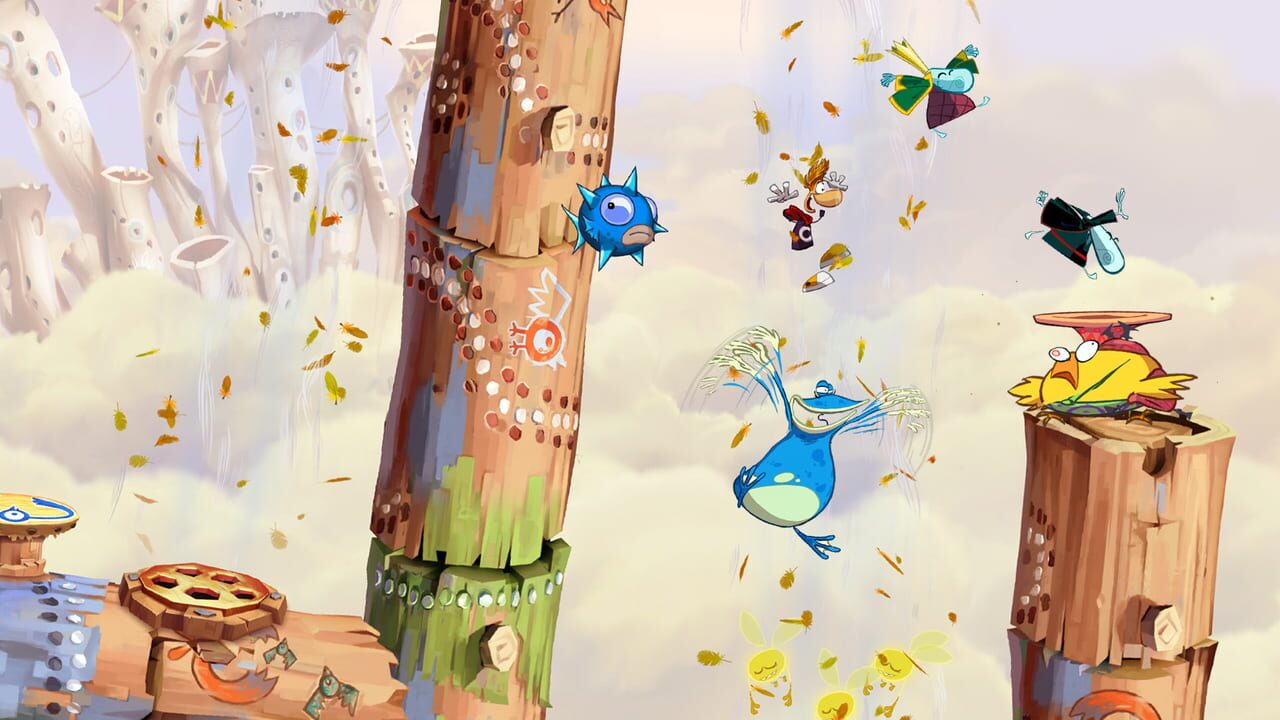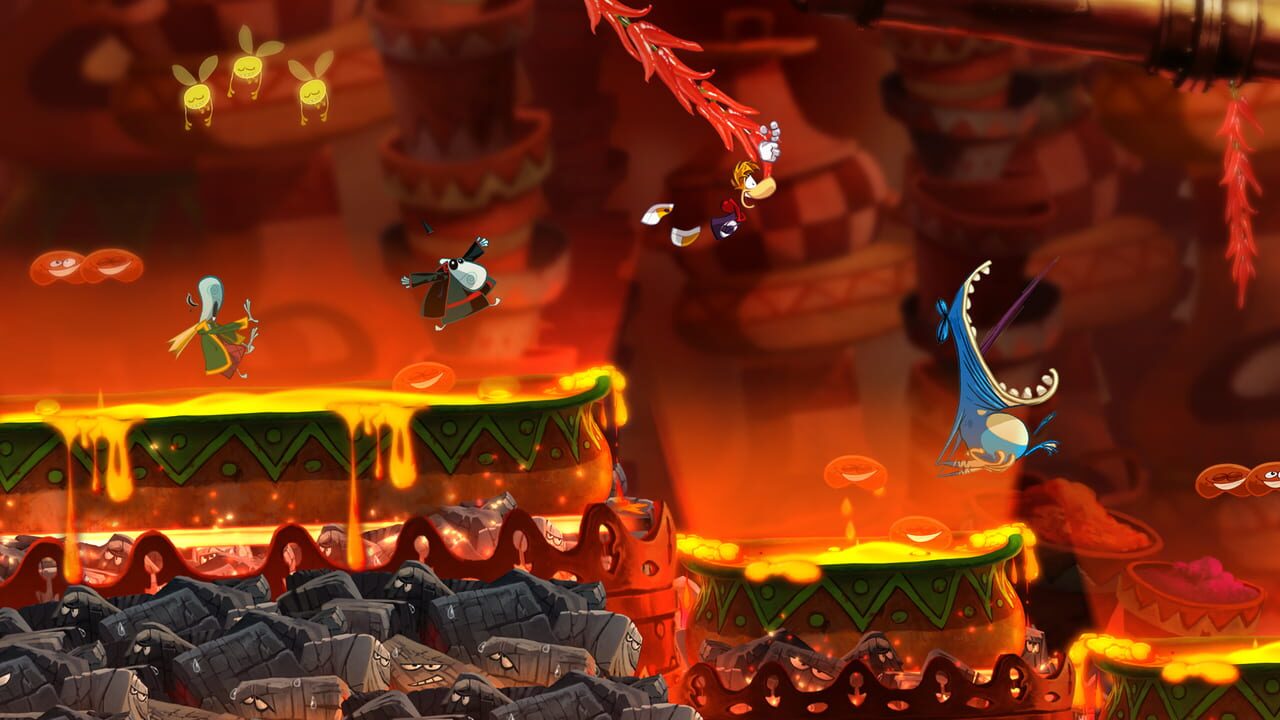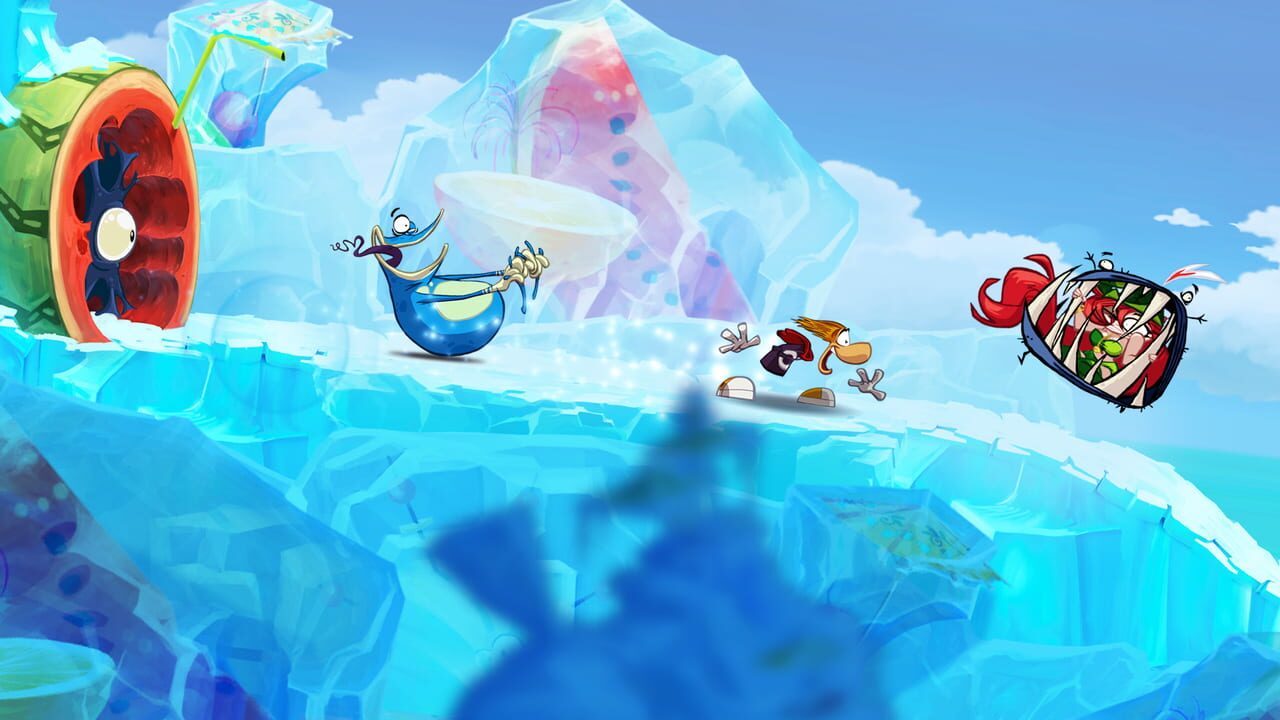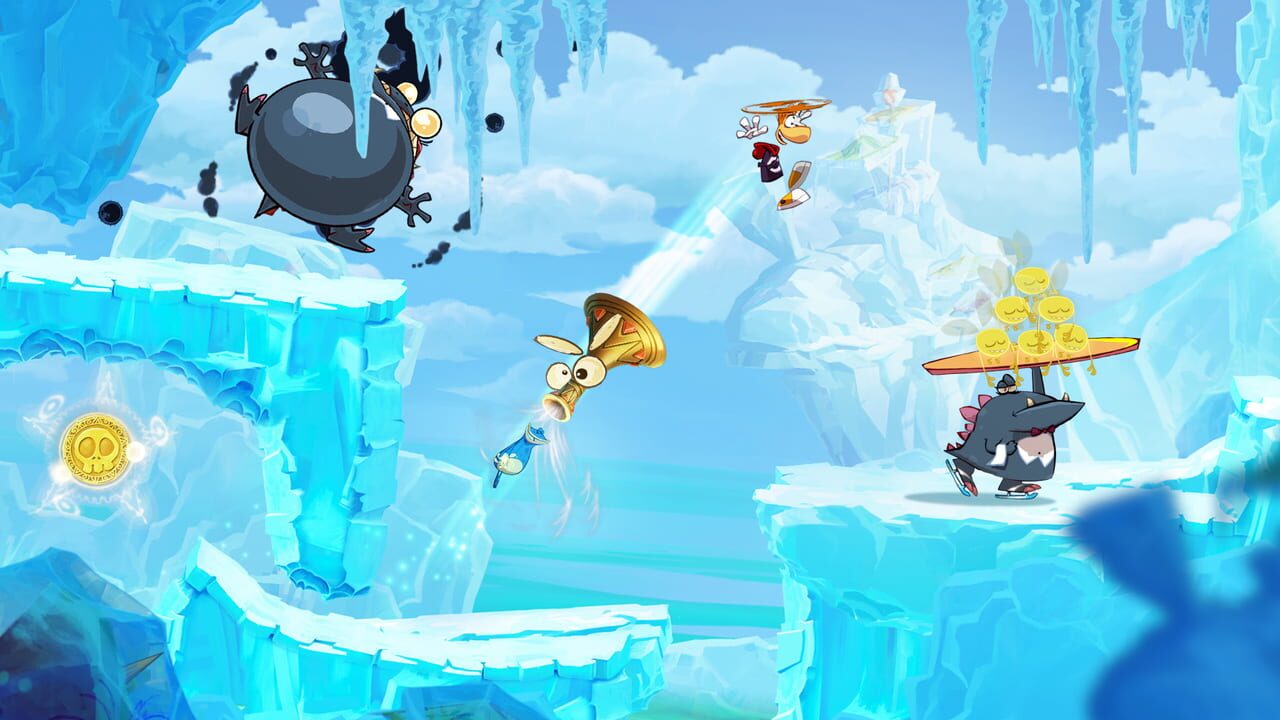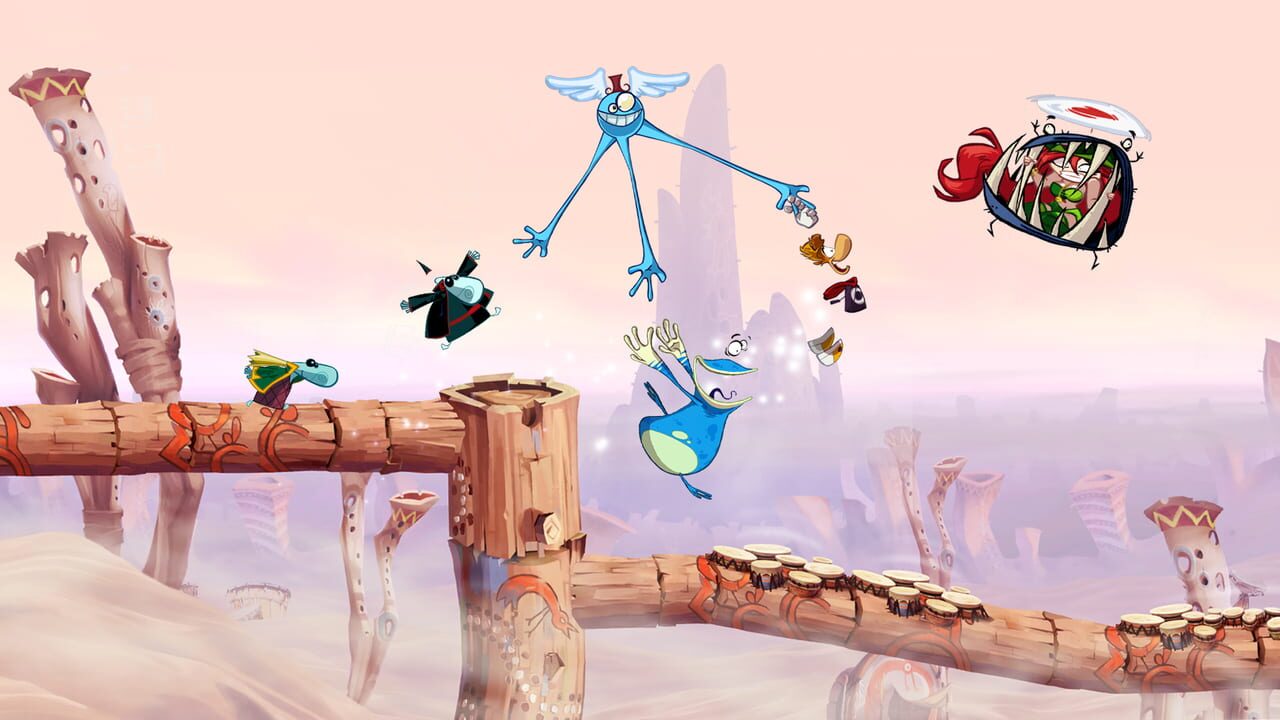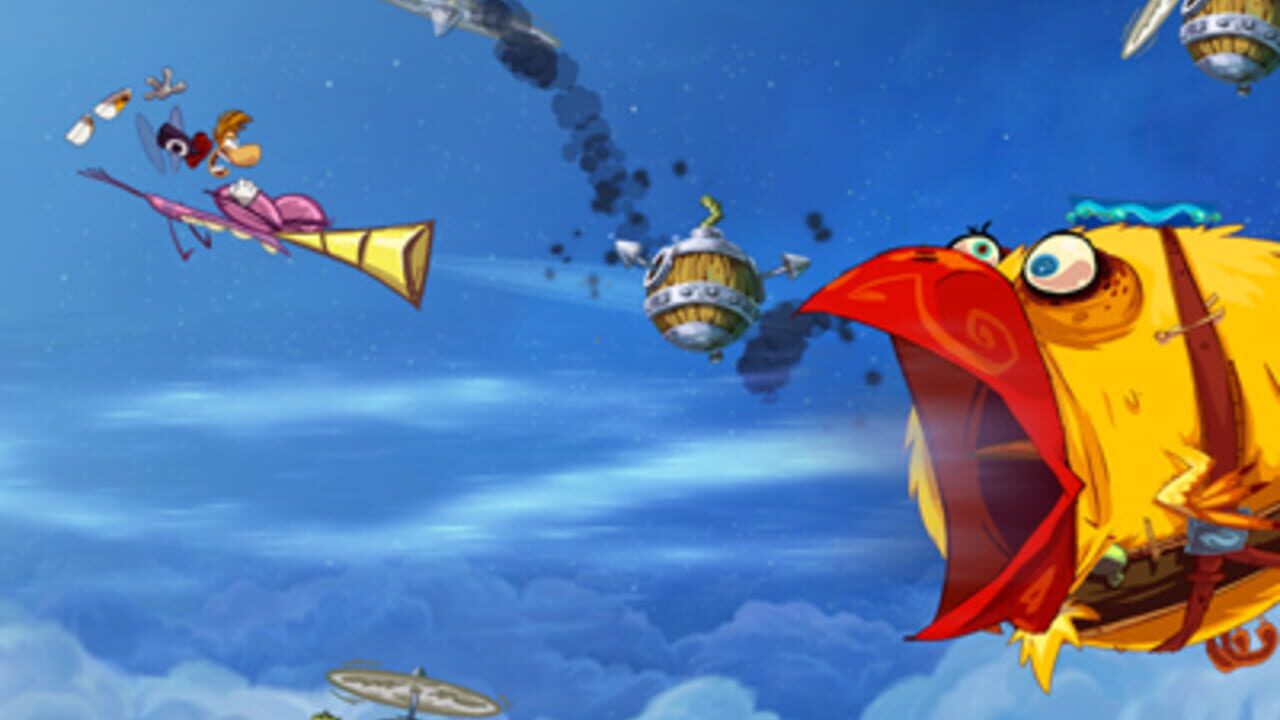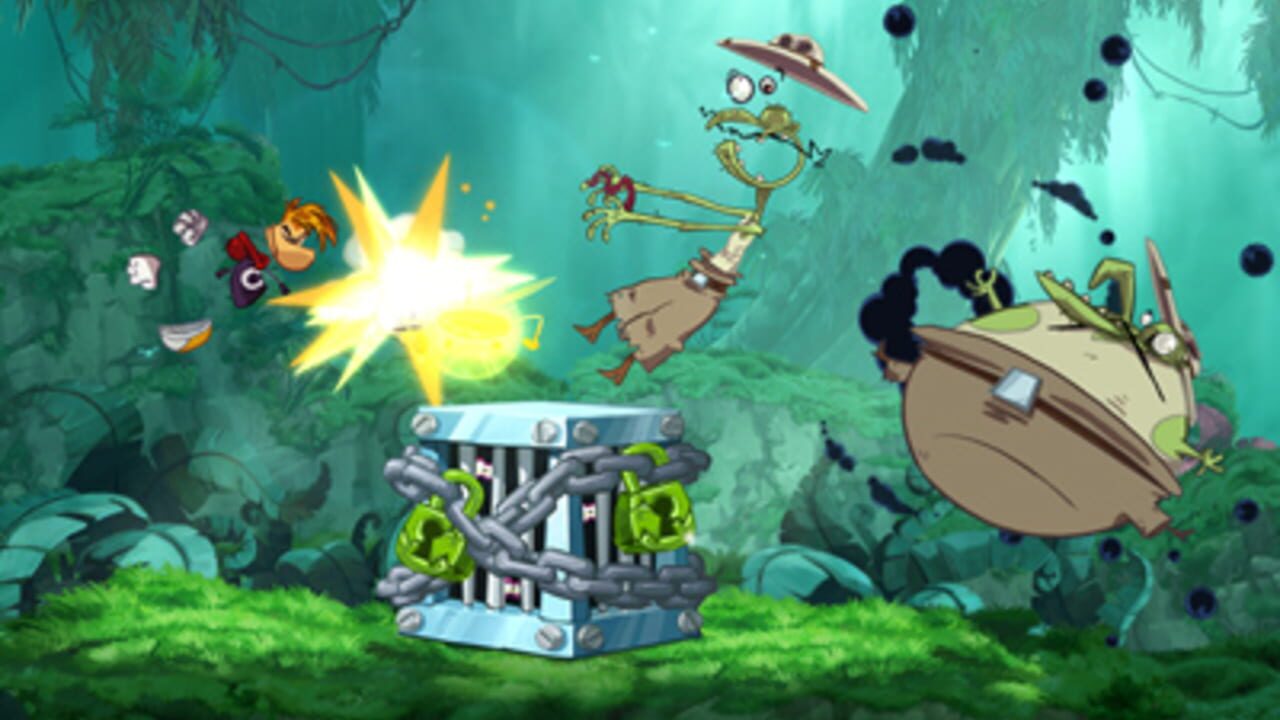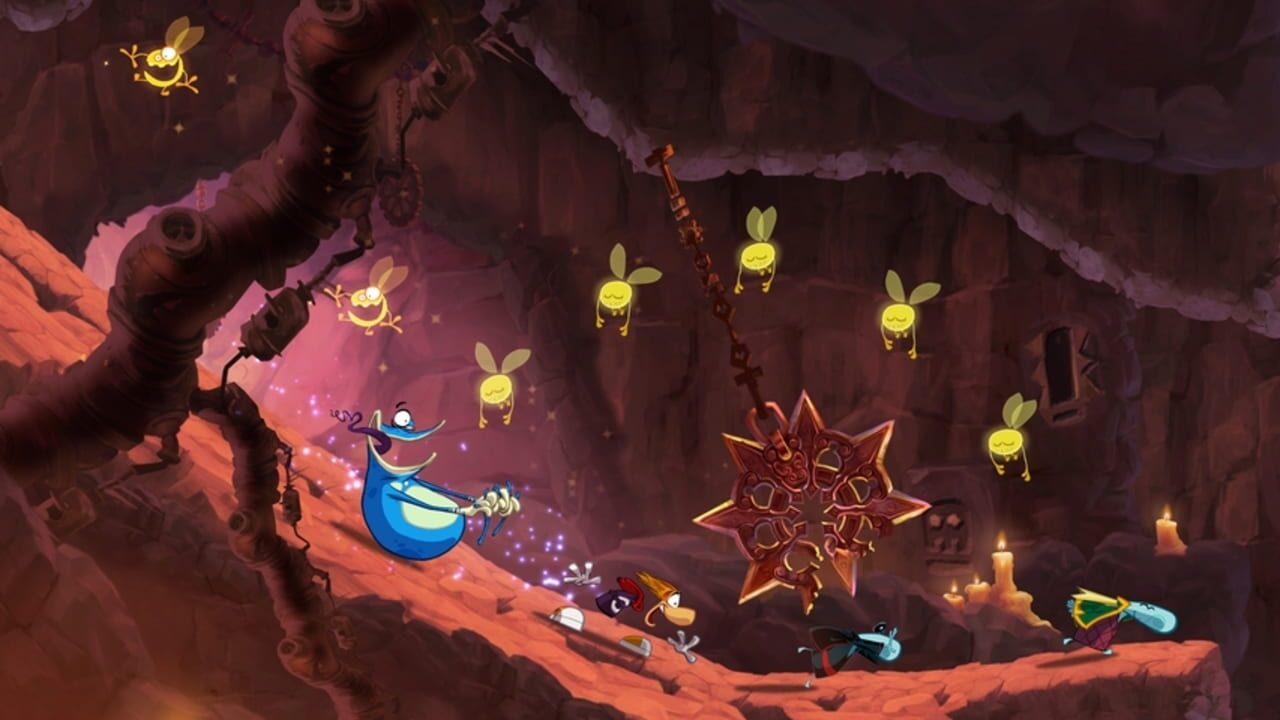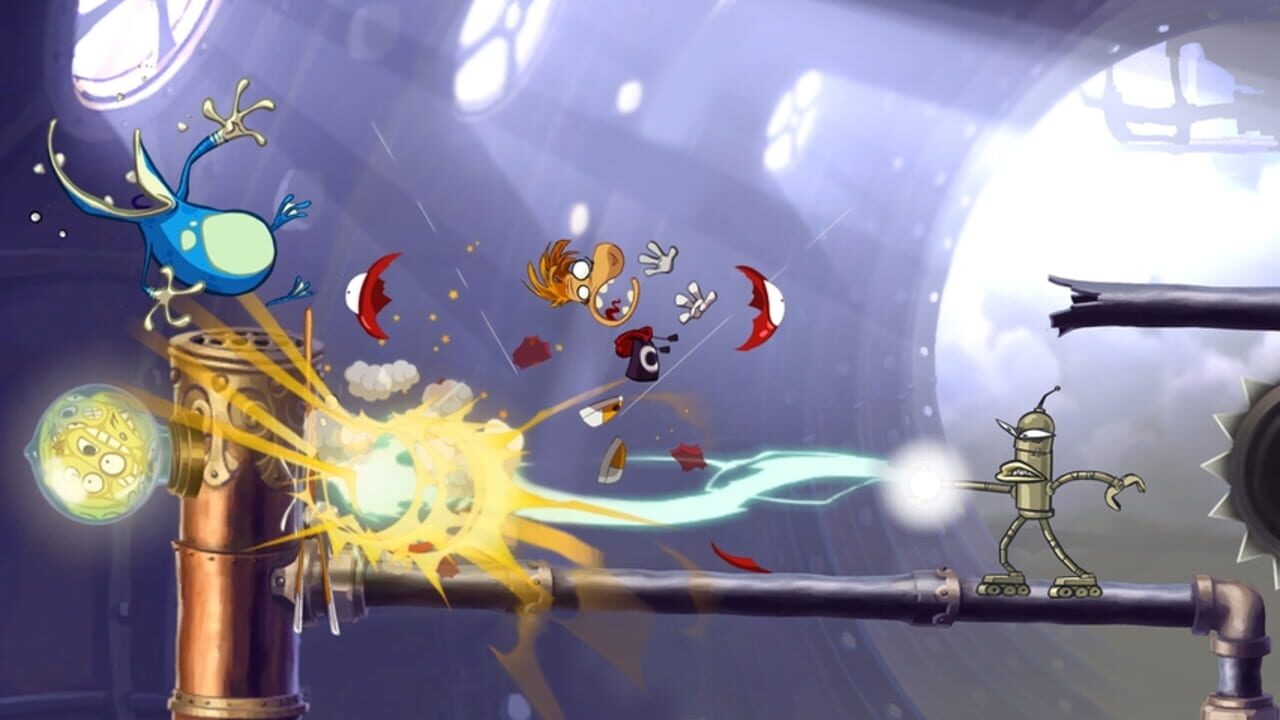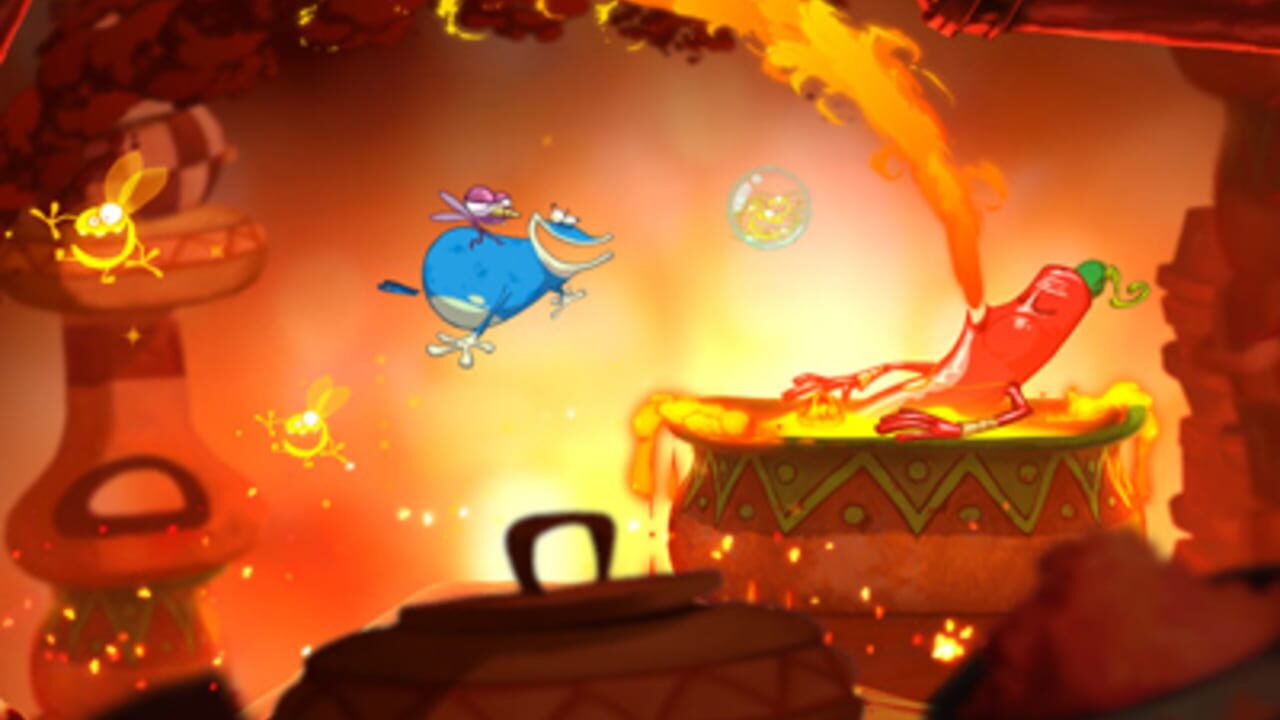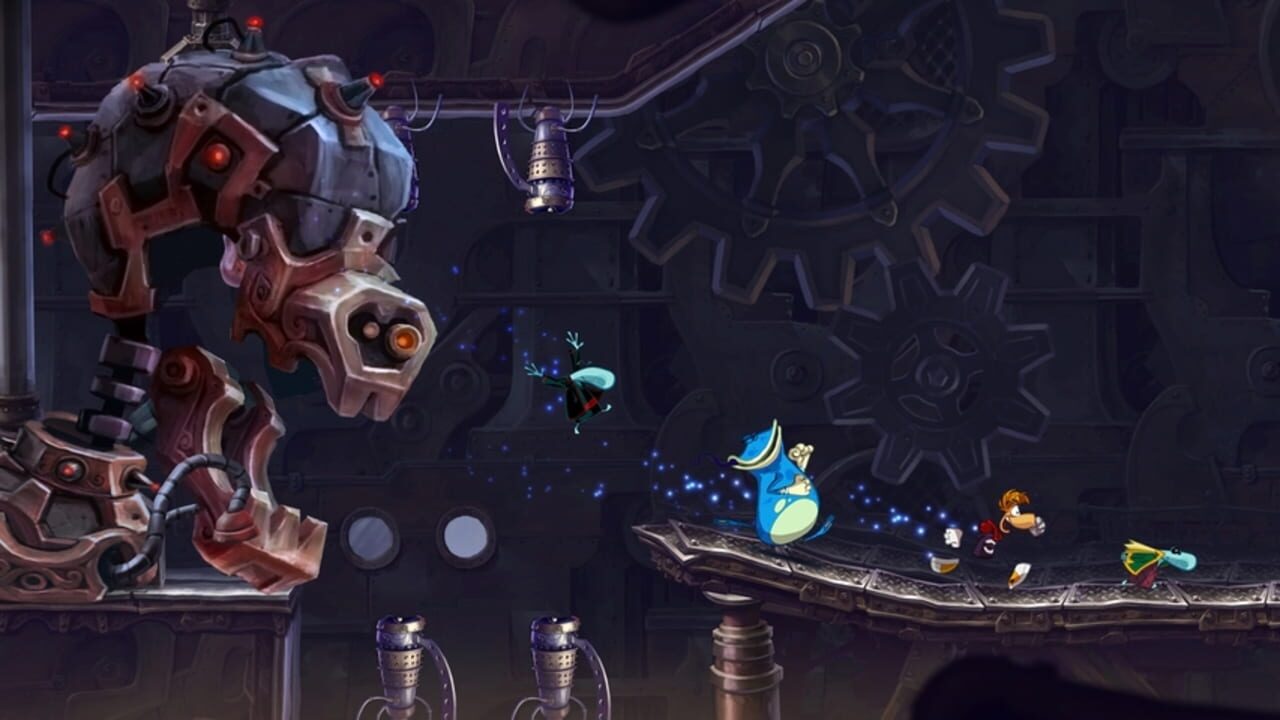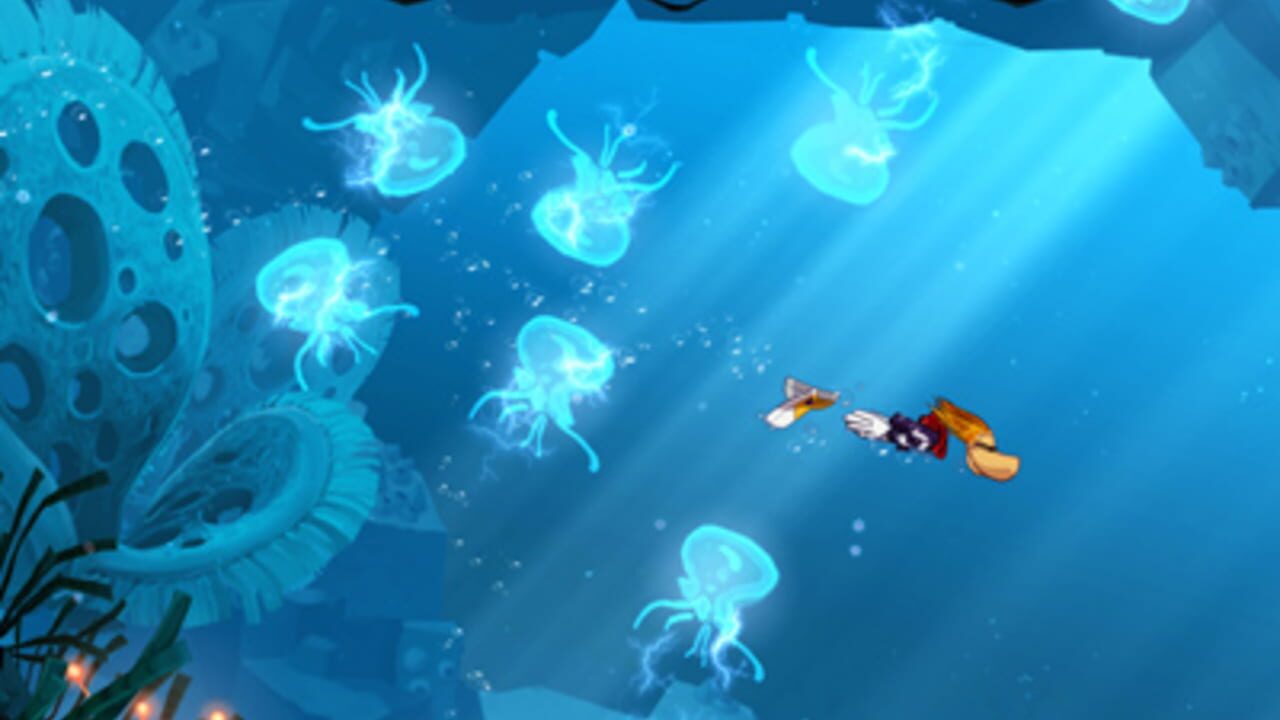 Videos
If screenshots are not enough, you can enjoy creative videos from Ubisoft Entertainment
You may also like
If you like Rayman Origins, but you're tired of it and want something new, you can try other games.