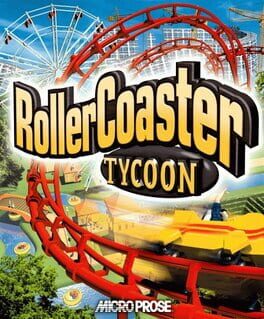 RollerCoaster Tycoon
Publisher

Hasbro Interactive

Developer

MicroProse

Release date

31 Mar 1999
The premise of the game is to complete a series of preset scenarios by successfully building and maintaining amusement parks through business ownership as a theme park entrepreneur. The key to any park is building a large amount and diverse range of rides for the visitors. Players can choose from dozens of roller coaster types and can also build log flumes, carousels, bumper cars, haunted houses, go karts, ferris wheels, and swinging ships, among other rides. The intensity and type of rides must be balanced, as visitors' preferences vary significantly from person to person. For example, some guests prefer exciting rides and have high nausea tolerance levels, while other guests are just the opposite.
see all / fold
| AGM score | 86% |
| --- | --- |
| IGN | 8.5 |
| GameSpot | 8.6 |
expand / fold
About RollerCoaster Tycoon
RollerCoaster Tycoon is released by Hasbro Interactive in 31 Mar 1999. The game is designed by MicroProse. RollerCoaster Tycoon is a typical representative of the Simulator genre. Playing RollerCoaster Tycoon is a pleasure. It does not matter whether it is the first or a millionth hour in Simulator, there will always be room for something new and interesting. Thrilling levels and gameplay RollerCoaster Tycoon will not leave anyone indifferent. The complexity of gameplay increases with each new level and does not let any player get bored.
In addition to it in 31 Mar 1999 released games such as:
In addition to RollerCoaster Tycoon, the representatives of Simulator games also belong:
A complete list of games like RollerCoaster Tycoon can be found at AllGame here.
RollerCoaster Tycoon is versatile and does not stand still, but it is never too late to start playing. The game, like many Simulator games has a full immersion in gaming. AllGame staff continues to play it.
RollerCoaster Tycoon is perfect for playing alone or with friends.
At AllGame you can find reviews on RollerCoaster Tycoon, gameplay videos, screenshots of the game and other Simulator representatives.
RollerCoaster Tycoon - game review
Date: 2000-12-22 21:31:00
The review was based on the PC version.
Our beautiful country still lacks a lot of things that have been functioning in the West for many years. We do not have, among others good roads and highways, modern airports, real stadiums and attractive amusement parks. All those hungry for fun in the amusement park are doomed either to expensive trips abroad or to a waste of time in one of the miniature (and nasty) Polish amusement parks.
An economic strategy released in 1999 - RollerCoaster Tycoon (RCT), in which you play the role of the owner of an amusement park, can help. Your task will be to build the most attractive amusement park possible and manage its finances. All this to achieve the assumed goals, which may be: getting a certain number of visitors in a given period of time or obtaining a predetermined park rating. There are over 20 scenarios to play in various scenarios. It is worth knowing that the game was designed by Chris Sawyer from Microprose, the creator of, among others Transport Tycoon hit.
The most fascinating thing about RCT is its creators' attention to detail. All the roller coasters in the game are real. If you look closely at the individual rides, you will notice the components that make up their counterparts in parks around the world. By placing individual attractions, you can use the projects proposed by the authors of the game or build your own queue. However, you should be aware that a too crazy structure will not attract many people who will avoid it from a distance, fearing gagging reflexes.
The player has at his disposal virtually all the achievements in the field of "park" entertainment - from a crackling, wooden roller coaster to an inverted inertial coaster or an iron corkscrew. There are also water attractions and transport lines. In addition, the park's technical department can work on improvements that will allow the cars to, for example, go backwards. In addition to maintaining a high level of attractions, it is necessary to take care of cleanliness and order and provide visitors with adequate food, places to rest and toilets. You have to make customers feel great in the park and want to come back to it as often as possible.
Financial management is an important, but not the most important, element of a RCT. For example, you can set a high ticket price for entering the park, but let visitors in for free. The second option is free admission, but paid attractions. Of course you can also ask for money for everything. The financial situation can be precisely controlled thanks to clear charts. If the popularity of the park is not satisfactory, various marketing tricks should be used (park tickets with a 50% discount, coupons for free food or drink, park advertising, advertising of individual attractions).
The RCT graphics are not great, but the most important thing is that it is transparent and does not hinder the game operation. You can play even at the resolution of 1024x768 and you do not need super equipment. A P200 with a good graphics card is enough (it doesn't have to be an accelerator). The sound and music match the atmosphere of the game and do not annoy you when playing for a long time.
Overall, RCT is a successful product. If you are looking for an interesting strategy with elements of the economy, you like to design and build and you have a lot of free time, this game is for you. Once you have mastered the construction and management of your park, you can always reach for the addition:
Screenshots
Screenshots will help you evaluate the graphics and gameplay of RollerCoaster Tycoon.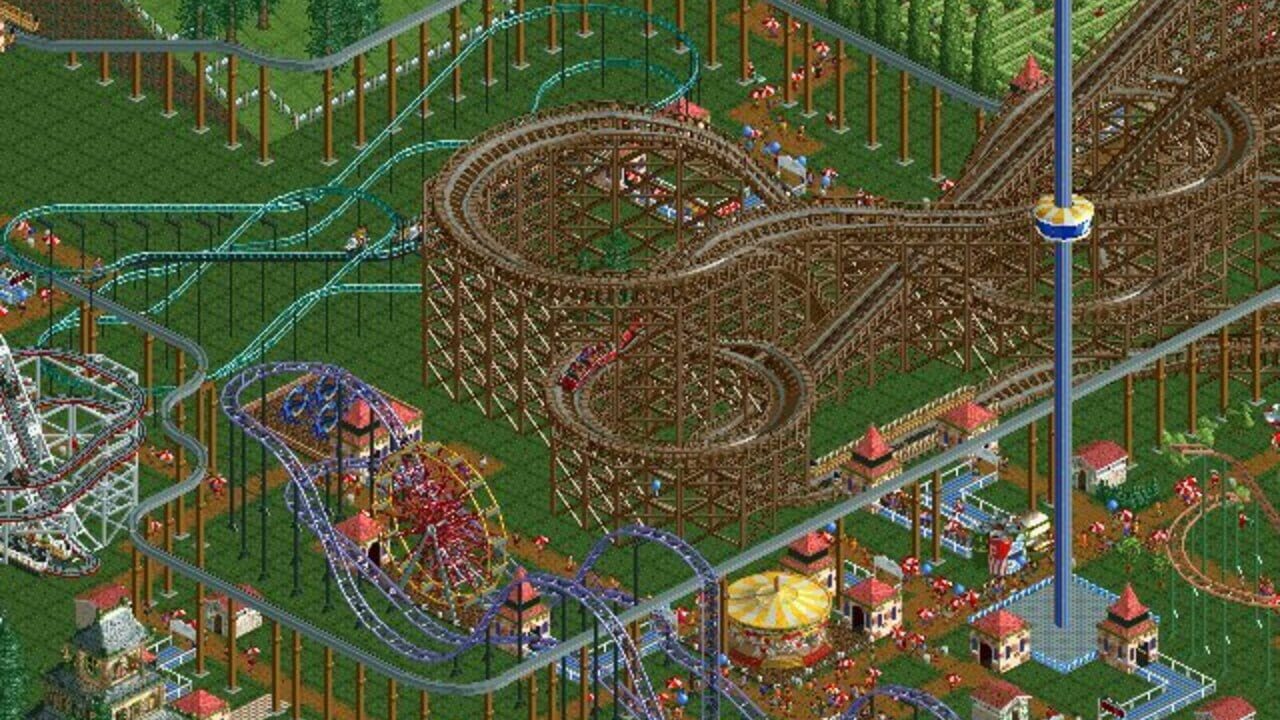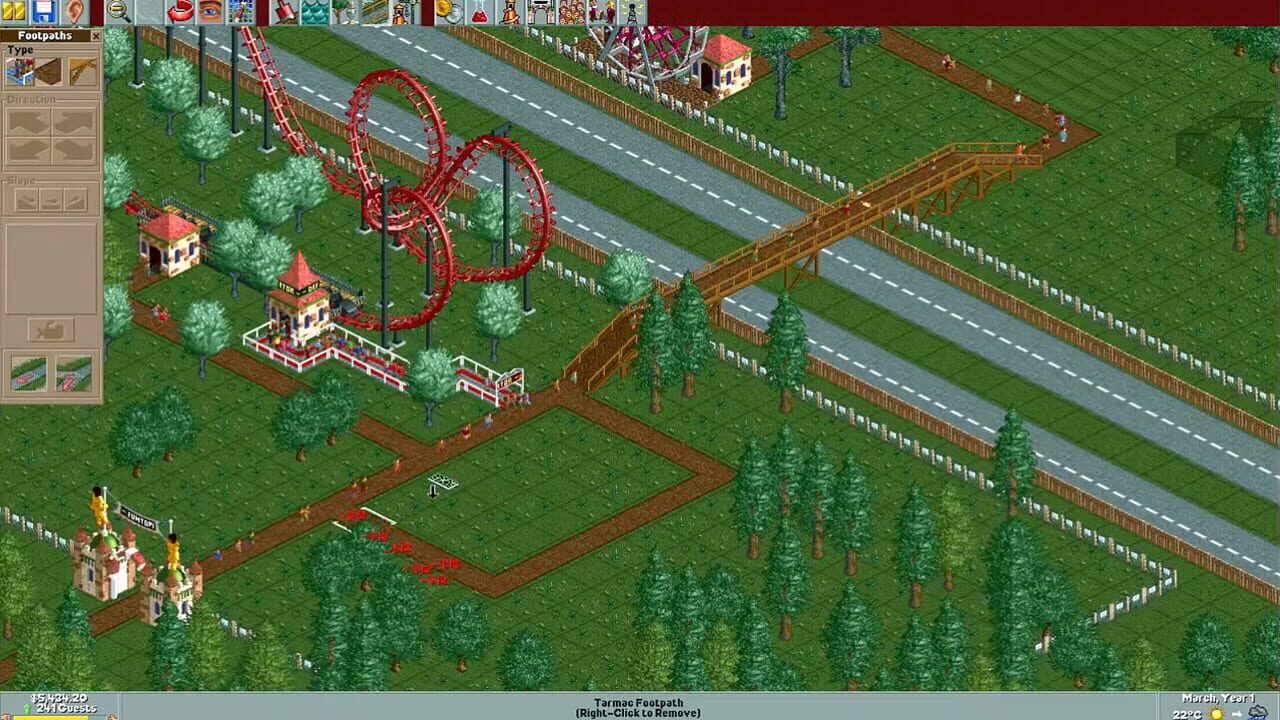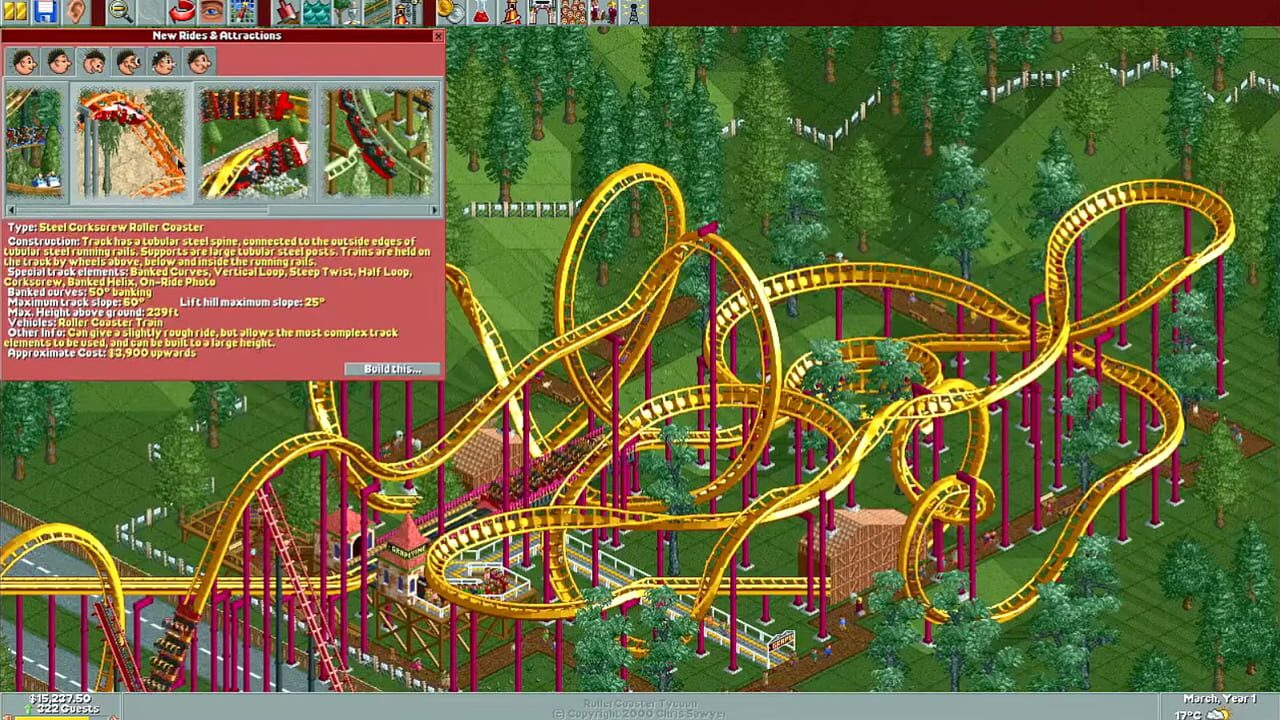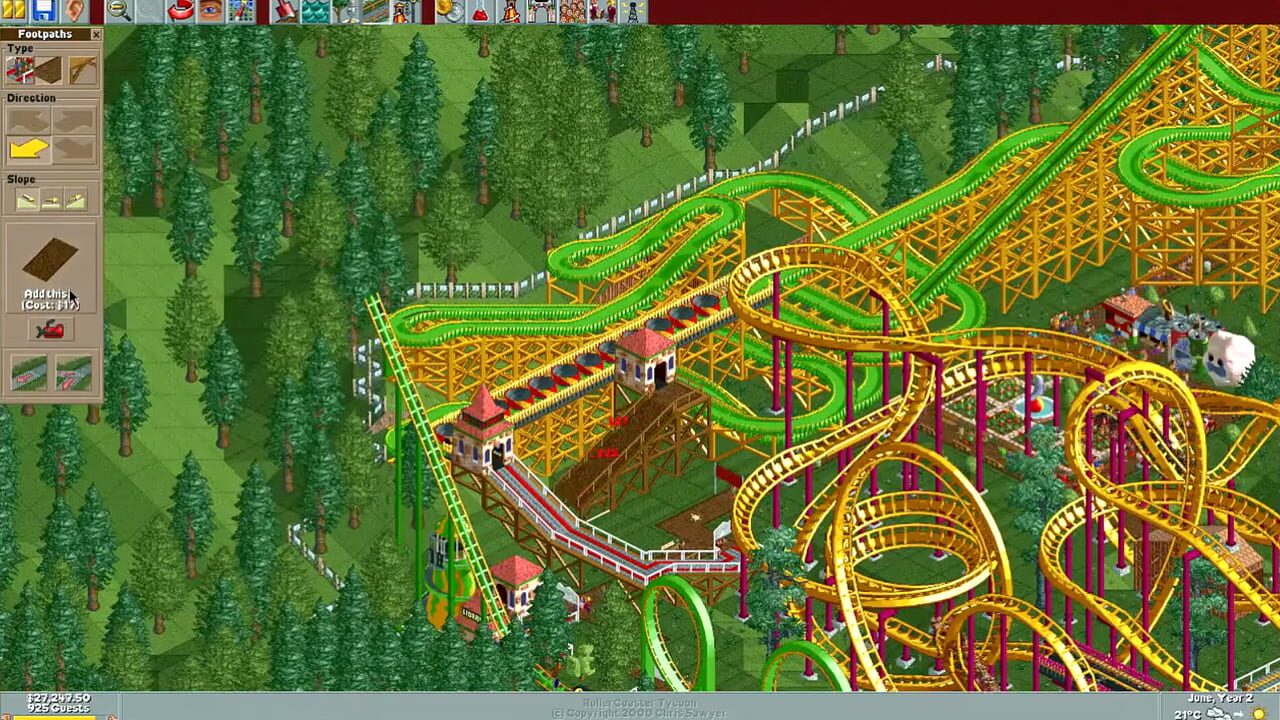 Videos
If screenshots are not enough, you can enjoy creative videos from Hasbro Interactive
You may also like
If you like RollerCoaster Tycoon, but you're tired of it and want something new, you can try other games.