Serious Sam: The Second Encounter
Publisher

Gathering of Developers

Developer

Croteam

Release date

24 Jan 2002
Serious Sam: The Second Encounter, the highly anticipated arcade action FPS sequel to the Serious Sam: The First Encounter, is a high-adrenaline arcade-action shooter heavily focused on frantic arcade-style single player action. In a world where cyberpunk meets fantasy-fiction and advanced technology is mixed with black magic and psycho-powers, Sam travels through the three beautiful worlds, confronting countless Mental's minions on his way to the Mental's base.
see all / fold
| AGM score | 85% |
| --- | --- |
| GameSpot | 9.1 |
| Metacritic | 78 |
expand / fold
About Serious Sam: The Second Encounter
Serious Sam: The Second Encounter is released by Gathering of Developers in 24 Jan 2002. The game is designed by Croteam. Serious Sam: The Second Encounter is a typical representative of the Indie genre. Playing Serious Sam: The Second Encounter is a pleasure. It does not matter whether it is the first or a millionth hour in Indie, there will always be room for something new and interesting. Thrilling levels and gameplay Serious Sam: The Second Encounter will not leave anyone indifferent. The complexity of gameplay increases with each new level and does not let any player get bored.
In addition to it in 24 Jan 2002 released games such as:
In addition to Serious Sam: The Second Encounter, the representatives of Indie games also belong:
A complete list of games like Serious Sam: The Second Encounter can be found at AllGame here.
Serious Sam: The Second Encounter is versatile and does not stand still, but it is never too late to start playing. The game, like many Indie games has a full immersion in gaming. AllGame staff continues to play it.
Serious Sam: The Second Encounter is perfect for playing alone or with friends.
At AllGame you can find reviews on Serious Sam: The Second Encounter, gameplay videos, screenshots of the game and other Indie representatives.
Serious Sam: The Second Encounter - game review
Date: 2002-02-20 04:29:00
The review was based on the PC version.
My name is Sam and I'm serious. If you don't like something, son, check better quickly if you can still reach with one hand with the other. A serious matter, huh? But I didn't come here to wander and brag that I deprive mosquitoes of masculinity from a kilometer away. Although this is true. Hi! Be serious, son, because if I see your smile you will look for it two blocks away. Well. I came here for this and even to tell you, son, what a serious cabal I got this time. And all because my spacecraft - I will add that it was acquired with ease and serious problems - landed prematurely and to make matters worse in South America.
Well then I think: what will I be sitting here alone in a large canned on the top of the rock, so sooner I stumbled and fell through the hole. And I'm flying, but git! Straight to the pond under the waterfall. And it is beautiful. Lilies float on the water, I swim underwater, the se light flashes after all - I say: git. I float to the surface, jump out on the shore, look around and it's fun. I could have landed in the desert again, but no. There is a forest, rare, strength, it is known, but there are, there are trees, bushes, sunshine warms, breeze, rocking branches, music playing. The sun is even a little offensive, some reflections are getting on my knobs, but I say: it can be nice, that's how they are in the south. I had to shoot. I spit in my paw and play on the water, after the trees after all. The bark is falling, the leaves are flying, the water is plummy - let nature know that my heart is glad! I still have a knife, what? Good thing, if you have to exclude someone so that he does not notice that he is gone. I'm going under a tree, for I remembered how I love and cut Jolka: Jolka Malicky has the biggest eyes. The bark flies, but what I got used to is nothing to know. It's a pity. Maybe I would like too much. But for sure if I get any better gan, I'll sign on every temple.
And silence is to be, son, because then I see something beautiful - here lies a serious chainsaw lying on the bridge. Not bad, my legs buckled in bliss. I run, grab, kiss in a blackened chain and return to the tree - maybe I will cut a heart for Jolka. The tree is shaking, I put more effort to work, maybe ... fright! went! There is no tree, the branches covered me. And I got a revelation - I know how I will prove Jolce love - I will cut a heart-shaped clearing. I went to look for a convenient place for creativity, but I did not walk far, because something is rushing on me through the ferns. I can't see because the big leaves obscure, but I hear it roars and stomps. Well, she saw it, full of struggle and waiting for the monster. Jumped out of ten. Straight on the saw. Ha! Goulash made such ankle-high. Seriousness. He took it and disappeared in a moment, but that moment pleased my eyes.
I shook myself with delight, because something in the weed flashed in me. I came closer and I got it. Shotgun as you look. However, there was no time for delight, because something is coming again. First kamikaze, then x-rays, but all pimple - I shot to the last pollen, the last smoke. As needed. Just something farther in my ears. It would be a memory but not! I stare at the weed and here, son, listen seriously: leaves are falling into the air, as if the train was going down. What the hell !? Just in case, I combed twice from the gan, blindly, as if in welcome, and here at me like a bull will not jump out - I barely dodged. And this fru sideways and straight into the tree: spoil! Until the branches hid him. It was beautiful, but I don't wonder because the bullfucker is coming back. Corrida, ole! I killed a bastard, but for a doctor - a nerve - I spend it, it's not mine anymore.
I'm going further. I am starting to feel the rags of the traveled road when I see something between the trees. It is good, I think, how to look at the temple. The entrances are defended by a few random gosteks, which I accidentally exclude and enter the courtyard, and there again a flashing wonder - a sniper like a dream. I take it and I start to seriously wonder what would happen here, when the first red dot appears, he is far away and starts blinking at me. I have a little ambiguity on such a joke, so the scope is closer to the eye, I get closer and I have a spider like on a plate. Bam - once, bam - two and lies. I'm serious, and here I hear something screaming in advance. Well, head up and scan the clouds, finally I can see some pixels enter the atmosphere. The telescope again, close-up and I just know what's going on. There are distances, let it be sound.
In the end I break through. The stairs themselves extended my life by several years (4 seconds per degree). And I tell you, son, beautiful inside too. Not that I have to be diluted, because the shadows on the walls and the floor glares caught my eyes, but I have a little sensitivity to elemental charge. Well. Tears came to my eyes when I saw the abandoned flamethrower. As soon as possible, without delay, lest I immediately kidnapped him and go! after every monster that jumped at me. Ten seconds did not pass, as the burning torches swept around me, it became clear from the burning walls and floors that forgive. This is a serious toy for a serious guy (who I am, son, I remind you). I will only say: paradise on earth - even later the revolving turret did not bother me anymore. I grabbed the pitcher harder and open the door to the corridor. And there again the arachnid with a machine gun. He barely dodged. He stopped tearing, I looked at him, shamed him with napalm, and fled. He burned himself alone. Compulsorily.
Now I could not wait to look outside and take a few trees for Jolka. That my feeling so fiery and serious in general. In the end he left. And the trees are burning, and how black the culture is. It's just a pimple, because I passed the footbridge over the precipice, myk-myk from the ledge to the rock and came into possession of a truly serious rocket launcher. He adopted half a forest for pasture! Five minutes and everything hid branches and chopped trunks. One stub did not stay as the rockets ended. She was riding that hey! And enough talking, sonny, because if you want to know what happened next, then check it yourself, because I'm already caught by paralysis. And keep serious!
My name is Shuck and I'm not serious that I have given myself so much time to steal from a shooter. And the simplest of all possible, devoid of any message, even the plot plot, anything that would justify why this monster has four arms and those six legs and for what reason they are fighting side by side defending the Tower of Babel against me ... But indisputable the charm of "Serious Sam" lies in the fact that by offering an opportunity for totally unrestrained madness on a very decent level, he doesn't try to pretend anything he is not. To a possible complaint that the game has a story, I answer right away: sure - ;-).
In recent years, producers have already accustomed us to agility games, in which dexterity, just like in life, becomes only one of the tools to achieve a given goal, experience certain adventures, take part in a larger, fictional whole. Strictly arcade games have evolved into network arenas, where a few, a dozen or even several hundred players try to hit the others as many times as possible before they are hit. Thus, they seem to have lost the reason for being doom-like games, based on an even older principle of platformers - get ahead through new areas and kill more and more other creatures appearing on your way.
The CroTeam boys thought similarly, because the graphically perfect 3D engine, which they developed at their own expense, was intended for "higher" purposes - if you believe the legend. The first "Serious Sam" was to be above all a demonstration of the team's programming capabilities, while in the meantime it became unforeseen. (?) The game fit perfectly into the growing hole in the gaming market, which, as it turned out, crowds of players were waiting to fill.
In this situation, the release of the second part of the game became only a matter of time, especially since "Serious Sam: The First Encounter" was criticized for not enough varied graphics, and for too short time necessary to complete the whole, and for too little varieties of opponents. Most of the accusations against the game the game developers apparently realized or realized in time, because the lack of differentiation of what or in the second part of the game will be difficult to complain. There are twelve extensive levels, fourteen types of weapons, nearly thirty species of hostile creatures waiting for the player, all in three extremely different regions of the globe. Because no later than at the second stage of the game I found out that even at medium difficulty it will take a while before I see everything, so (shame, shame) I put on a checked shirt, khaki vest, baseball cap on my head, and around the neck I hung the camera and I set off to explore other regions as touristically as possible. It took me nearly ten hours, which makes it more promising for more ambitious players that they will use a good two times more time to complete the whole. "Serious Sam" is not one of the easiest games, especially since it is different to fight a dozen or so biped friends, and a hundred other wonders, some of whom shoot rockets, others self-guiding fireballs, others spit lead, and others try to ram the player . And yet failure does not mean only frags on a colleague's account, but the need to load the game and fight again to pave the way.
The three regions of the world that I mentioned mean: open air taken from rainforests, interwoven here and there like Mayan temples, then Middle Eastern architecture, to finish the tale among the snow-covered mountains and fortified European-medieval castles hidden among them. There is something to hang on from one fight to the other, the more so because the graphic engine created by CroTeam does not stand out from the accepted standards, and maybe even exceeds them here and there, considering the environment mapping for reflections, or dynamic lighting with shadows. It is a pity that all this potential suffers a bit from a banal reason, which are usually used color palettes - and they are very burning eyes. The grass could be less green and the sky less blue and everything would be absolutely great.
The fights in the game alone provide a real opportunity to demonstrate monkey dexterity and develop occipital-behind-the-ear view, very useful. Generally, the rule of packing a player in trouble remains the same throughout the game - a daredevil enters a new room, or into another square, the door or gate closes behind him, and the next ones will not open until anything else is created in this way (often giant) arena to breathe. Personally, I like this solution very much, because every fight gains in this way the charm of a specially prepared, even directed, thought out in terms of challenges that the player is to solve. If I add that many of these arenas are equipped with additional flavors such as attracting or reflecting walls, moving floors, or gravity running away from the geometric center of the room, then it will become clear that the game developers have done their best to provide players with maximum impressions and challenges, not just the opportunity to constantly hold the trigger. The pre-final fight is particularly impressive, taking place in an open space, during which heavy clouds cover the sky, rain begins to pour, and hundreds of fireballs attack the player and himself. When the fight is over, the sky clears up again and the sun returns to it. It's pretty and it's worth experiencing.
It is equally good and perfectly complements the sound in the game. There are a lot of musical themes, they are diverse (including metal) and usually are very attractive to my ear (at least mine, of course). I write about it mainly because of the fact that at the very beginning of the game nothing good music promises yet. Sound effects like the effects - sound engineers remain in the shadows - if they were bad, they would have to be mentioned. I do not mention at all. Things are a little worse with Sam's texts. In the English version, they can't be faulted, although they lack the subtle imagination of Duke Nukem ("hah, what a mess", "you're an excuse for birth control", "it's time to kick ass and chew bubble gum" ). Polish dubbing, unfortunately, as usual, leaves a lot to be desired, which puts into question the opinion on Poles in the universe that they like to drink - is it really so hard to find a compatriot with a drunk voice so that he would not have to pretend to be a god of spirit abstinent? (I'm sorry if I have offended him ...)
At the end I left myself a relish which I have already mentioned here and there, but it is worth devoting the whole paragraph to it. I mean the space in "Seroius Sam". When more than a year ago (or maybe it's been two years ...? How is the time going on) I played in the incredibly atmospheric "Deus Exa", then the space also made a great impression on me. Here I went out onto the ledge under the Statue of Liberty peak, put my binoculars to the eye and hen below, at the marina I saw the corpses of terrorists that I had abandoned there an hour earlier. When I put the binoculars away, I only saw clusters of pixels in a slightly different color from the surroundings. It's even better in Serious Sam. This is the Jaguar Valley, there are three temples on its banks. I stand at the top of the stairs of one of them, I put the rifle scope to the eye and set its magnification to the maximum. I do this because how do I know that in the middle of the valley a monster is waiting for me. I hit him, although in total I could miss, because in the viewfinder it is not much larger than the point at the intersection of the line, without the telescope you can hardly see it at all. If he stood on the other side of the valley, then even in the optical viewfinder I probably wouldn't see him! And this is really beautiful and it repeats more than once, and although the reasons to play in "Serious Sama: The Second Encounter" are in the past paragraphs quite and still a bit to spare, space remains, for me, the most important.
Shuck
Screenshots
Screenshots will help you evaluate the graphics and gameplay of Serious Sam: The Second Encounter.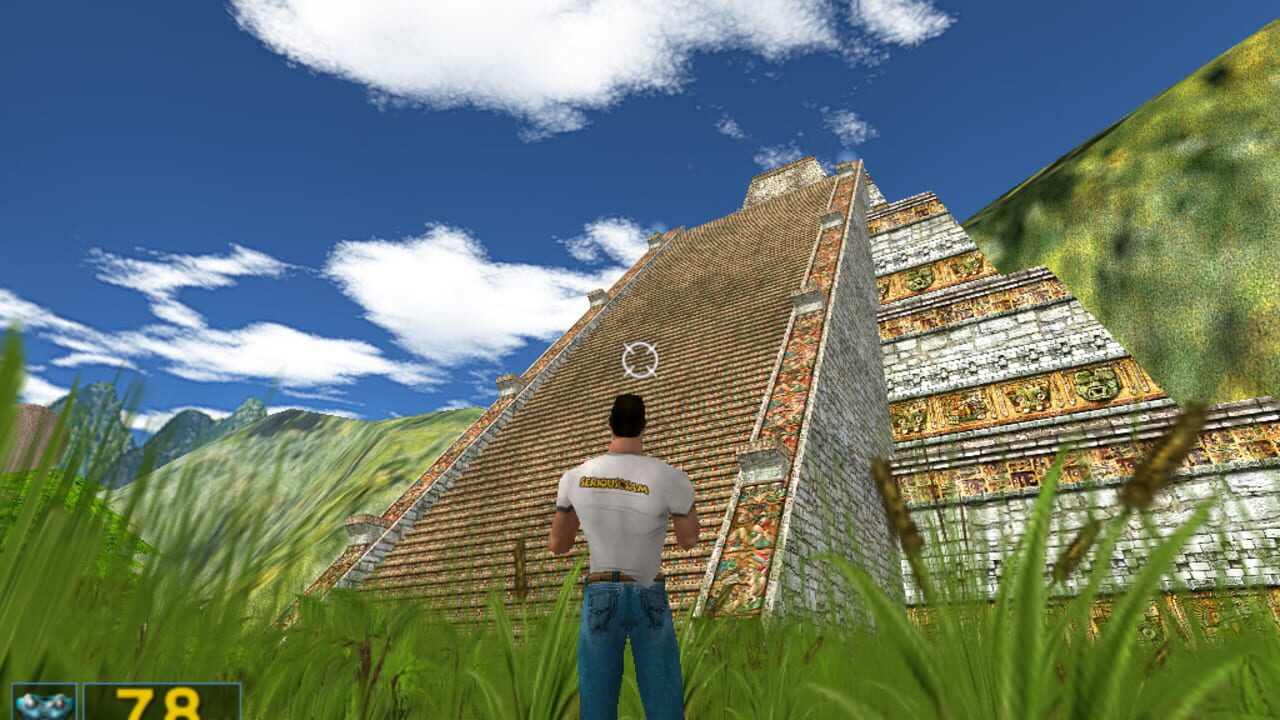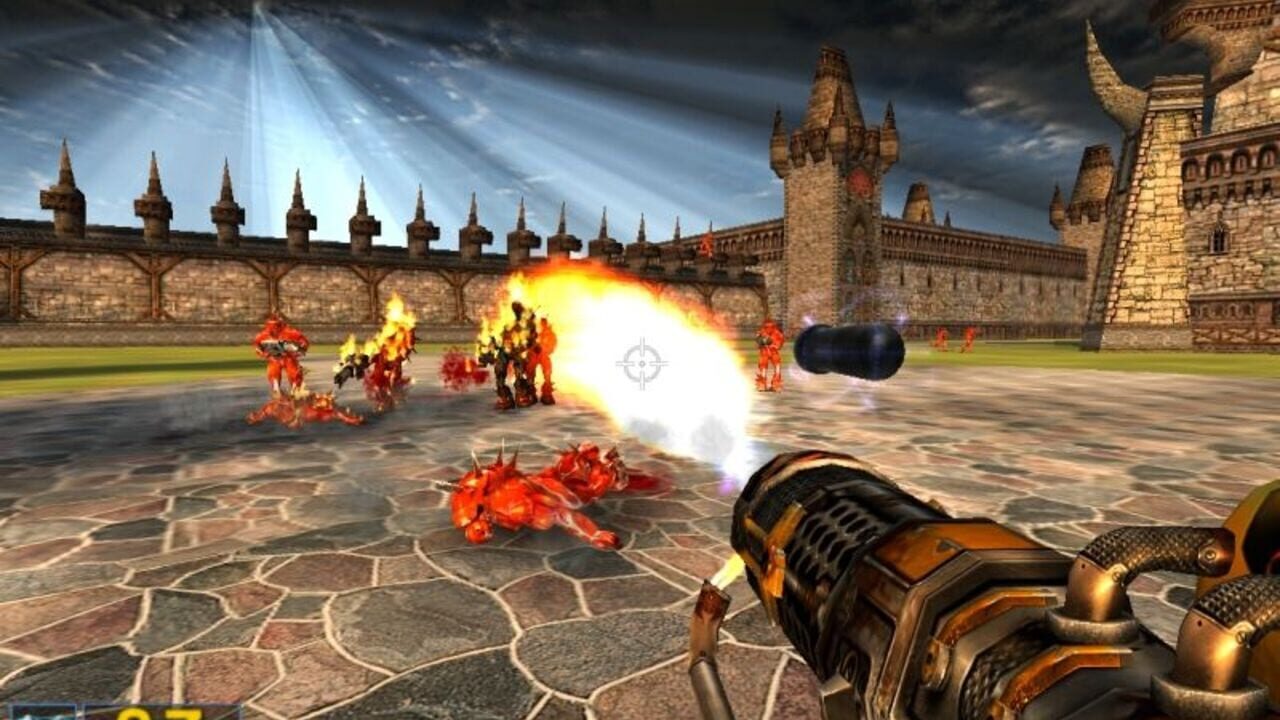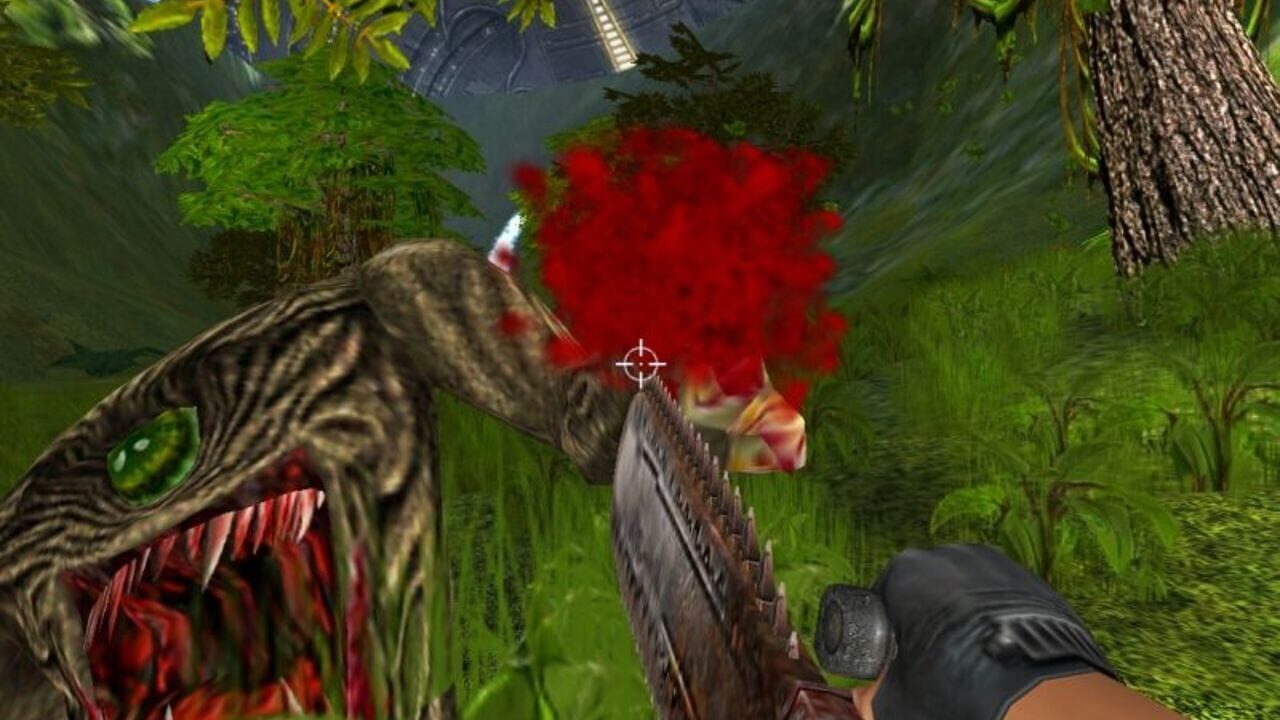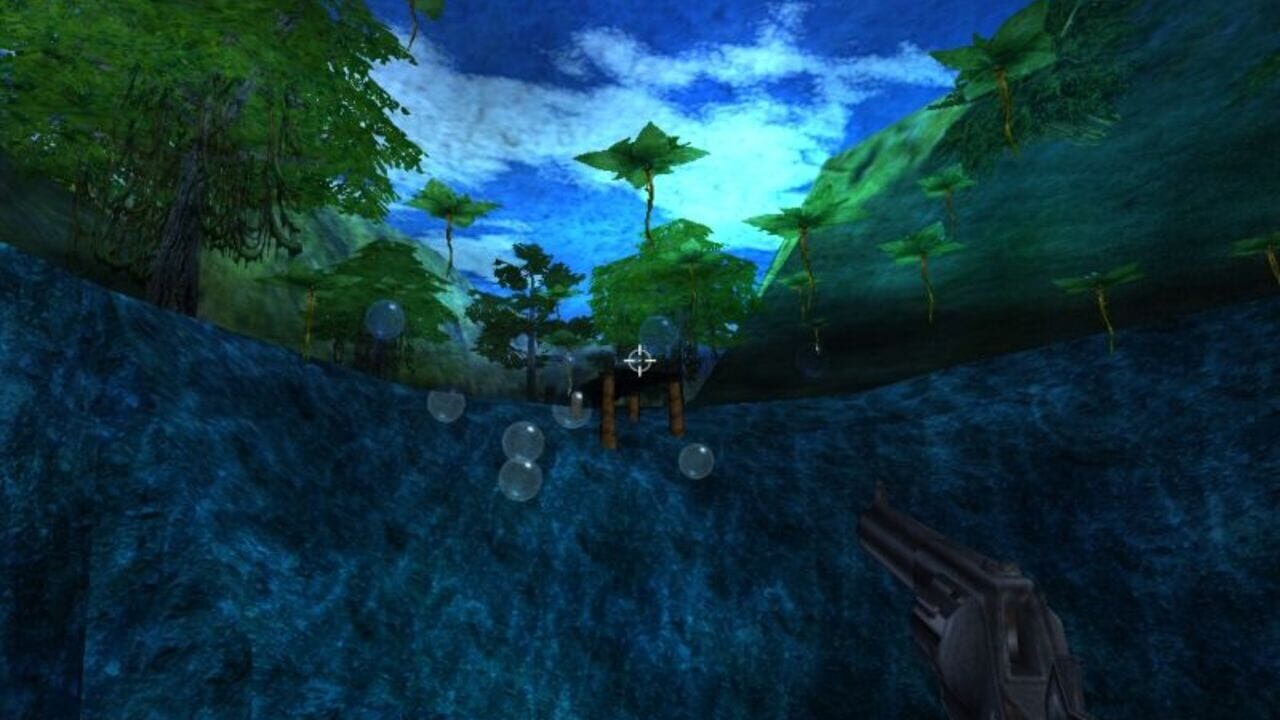 Videos
If screenshots are not enough, you can enjoy creative videos from Gathering of Developers
No videos
You may also like
If you like Serious Sam: The Second Encounter, but you're tired of it and want something new, you can try other games.