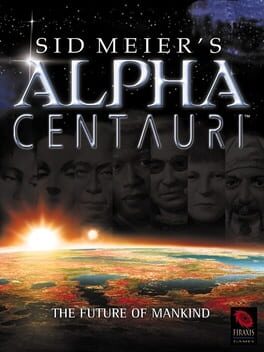 Sid Meier's Alpha Centauri
Publisher

Loki Software

Developer

Firaxis Games

Release date

12 Feb 1999
Legendary designer Sid Meier presents the next evolution in strategy games, with the most addictive, compelling gameplay yet. Explore the alien planet that is your new home and uncover its myriad mysteries. Discover over 75 extraordinary technologies. Build over 60 base upgrades and large scales secret projects for your empire. Conquer your enemies with a war machine that you design from over 32,000 possible unit types.
see all / fold
| AGM score | 92% |
| --- | --- |
| GameSpot | 9.1 |
| Metacritic | 92 |
expand / fold
About Sid Meier's Alpha Centauri
Sid Meier's Alpha Centauri is released by Loki Software in 12 Feb 1999. The game is designed by Firaxis Games. Sid Meier's Alpha Centauri is a typical representative of the Simulator genre. Playing Sid Meier's Alpha Centauri is a pleasure. It does not matter whether it is the first or a millionth hour in Simulator, there will always be room for something new and interesting. Thrilling levels and gameplay Sid Meier's Alpha Centauri will not leave anyone indifferent. The complexity of gameplay increases with each new level and does not let any player get bored.
In addition to it in 12 Feb 1999 released games such as:
In addition to Sid Meier's Alpha Centauri, the representatives of Simulator games also belong:
A complete list of games like Sid Meier's Alpha Centauri can be found at AllGame here.
Sid Meier's Alpha Centauri is versatile and does not stand still, but it is never too late to start playing. The game, like many Simulator games has a full immersion in gaming. AllGame staff continues to play it.
Sid Meier's Alpha Centauri is perfect for playing alone or with friends.
At AllGame you can find reviews on Sid Meier's Alpha Centauri, gameplay videos, screenshots of the game and other Simulator representatives.
Sid Meier's Alpha Centauri - game review
Date: 2000-12-22 16:14:00
The review was based on the PC version.
History
And it hapenned. Humanity has finally reached a level of civilization so high that on the native planet, much interesting to discover is no longer left. There was nothing else to do but look beyond our beloved Earth, maybe there we will find the New World, new challenges - as once sailors, conquerors of new lands. Maybe somewhere in space, in an area unknown so far, new possibilities will open before us. We have reached the technological level so high that we could send an expedition towards the stars - a level high enough for the mission to be successful. And we did it! The expedition reached its destination but ... Well, that success ended an unforgettable game by Sid Meiers Civilization II. It was possible to sit in the armchair after the game and enjoy the victory, thoughts started to whirl - what's next? How could the fate of our mission continue? In what direction could our civilization develop, or maybe there - on a foreign planet would we build the same society as on Earth, or maybe we would follow a completely different path? Well, since the release of Civilization II in 1996, we had to wait two years for an answer, which is the continuation of the great Meiers game - Alpha Centauri.
At the end of Civilization II, we learn that the expedition has reached its destination. Starting the game Alpha Centauri we learn that it was not so simple, during the flight there was a reactor failure, among the crew - as it happens in extreme situations - there was a split. Seven leaders emerged from the future colonizers, representing seven different factions, representing different views, different views on the essence of the purpose of the journey, representing different values and different methods of achieving their goals. After forty years of flight, being in the Alpha Centauri planetary system, it was no longer as a single expedition, but as seven different factions, people left the spacecraft and landed on the most favorable planet in the whole system. They landed in seven different locations, having no contact with each other, and a new stage in the history of humanity began.
A new stage in the lives of strategy lovers has also started. As players, we play the role of one of the leaders and by standing at the head of our faction we will create a new civilization in new, unknown conditions.
After determining such details as the type of map (planet or random map), type of terrain and factors affecting it, level of difficulty and also the rules in force in the game, it remains for us to choose the most suitable fraction for us. Unlike other games of this type, where the nationality we chose did not have a great impact on the game, this choice is important here, as it significantly affects our social model and the facilities or disadvantages characteristic of a given faction.
Before I get to the description of the content of the game itself, I would like to discuss some technical issues related to the game, because we have some interesting facts here.
Installation - four types:
- complete
- custom
- laptop
- typical
Noteworthy is the fact that the game does not require that the drive has a game board, but displays at the start message that without the board certain game features will be unavailable. This message is misleading when we have a full installation, because then it occurs.
Graphics
The subject of many controversial statements - starting with the opinion that it is great, perfectly matched to the atmosphere of the game, original and in general great, ending with complaints of illegibility, poor expressiveness, unnaturality. So I'm not going to talk about its quality, take a look at the screenshots and make up your own mind.
Compared to the predecessor - Civilization II, they immediately catch the eye of "mountains and holes" - the game surface becomes three-dimensional, which is probably nicer than flat terrain. If you think otherwise, no problem - the "flat terrain" option is also available. The interface has also been changed - a menu similar to the Windows 95 start menu has been introduced, we have a few information windows available - a selected unit, a marked map field, units in this field, current information and a map. The only thing I didn't like was the neglect of the colony window (on Earth - the city). There is a lack of a nice panorama with a view of the erected buildings, which we could call up in the predecessor, while the icons of these buildings are simply nightmarish. These are no longer colored drawings of churches, barracks, factories but single-color pictograms symbolizing various laboratories, energy banks or other modern buildings (modules?) Of utility. At the end of the graphics description, one more technical note: in case the image was not displayed correctly on our computer or we were not satisfied, we have a folder with alternative graphics on the plate, which we can replace the original one.
Sound and music
What can you write about it? The music in the game appears as a delicate background, unobtrusively reflecting the mysterious atmosphere of an unknown planet, sometimes appears, sometimes stops, again to go unnoticed again. This is not a type of melody that turns off after a few hours of play, it is only an addition here although very nice and pleasant moments of reflection on strategic gameplay. About special effects it is enough to mention that they occur, they are appropriately varied (e.g. in terms of weapons used), in addition, we can also meet with verbal comments of events such as the beginning of a rebellion in a colony or the completion of a building for the first time.
Movies
You just have to see it! I have never seen such well-made films as the ones we see after completing each of the secret projects. Their artistry is so great that they are not turned off even playing Alpha Centauri for the twentieth time. This is an element that is able to largely compensate for the nasty interior of the city;)
Purpose of the game
The goal is to dominate the planet at all costs and in all possible ways. And we have a lot to choose from:
Planet and its colonization
It cannot be hidden that the planet on which people are to live must be similar to the home Earth. We have lands, seas, mountains, volcanoes - everything we can find on our planet and where we can freely build new colonies. Of course, it is not possible to create the foundations of the city in rocky areas, but the seas are no longer an impassable area for us and we can establish new bases there without too much difficulty. And everything would be simple, if it had never been encountered a form of plant life (?) Called xenofungus - difficult to pass, not colonized, alive and spreading. This area does not always look like we would like it, that's why in the near future scientists have developed a model of the terrain forming unit, to a limited extent for now, but with time these units will have more and more possibilities. Separating colonization and terrain forming units is another significant difference from the previous one.
colonies
Equivalent of terrestrial cities - population centers, development centers of the new civilization. This is where we build, distribute resources, struggle with hunger, revolts and crises. Armed forces necessary to defend our borders or expand them to the territory of the enemy faction are also formed here. When we have too many bases, or we are a bit lazy, we can entrust the Governor with some or all of the care for the colony. We can even set priorities to be followed when choosing the next production item. If we have a development policy different for each colony, it should be remembered that in each newly created Governor's settings they will be initially identical to those in the capital. Another convenience is setting up a production queue for ten (not including current production) subsequent buildings or units. I also wanted to mention some differences in relation to Civilization: Call To Power, which appeared almost in parallel with the work of Sid Meyers - there we also have a "queuing system", without quantitative restrictions, with the ability to write a queue pattern for use in other cities (very helpful ), although there is a minus there in the form of the lack of the "replace" command for the middle elements of the queue. Another difference that caught my eye is the buildings themselves - in Alpha Centauri the possibility of choosing the next elements is much more thoughtful - we have no way of choosing a building that requires the construction of another one before, and we do not have to worry about throwing it into queue something that we still have, e.g. due to the completion of the relevant Secret Project.
Social models
The social model of the faction consists of four elements: politics, economics, values and the society of the future. There are no specific political systems with their features - here we can set these features freely (with minimal restrictions for individual factions) and change at any time without side effects such as transient periods of anarchy. In each of these four elements, we have four different options to choose from, each of which may have some impact on our development, reinforcements, production and economic capabilities, and a few other indicators. The options we choose are also of great importance during diplomatic talks - if we have ideas in common with some other faction, it will be easier for us to maintain peace with them or even make an alliance.
Diplomacy
With a clear conscience I can say that this is the most developed and most refined element of all the strategy games I have encountered so far. It is not limited to arrangements regarding war / peace / alliance - in a diplomatic conversation we can agree on almost all aspects of the game. Some interesting examples are: setting goals for scientific discoveries for later exchanges, discussing attacks on individual goals, soliciting votes in the next election. The last example is related to another aspect of diplomacy - voting on issues important for the entire globe - the selection of a Planetary Governor, actions aimed at lowering or increasing the planet's temperature, lifting or restoring sanctions for extremely cruel activities (e.g. using nuclear weapons).
Units and combat
The units are assembled in the workshop from elements developed by our engineers. Finally, we can create an army of our dreams equipped with everything that we think will be useful in battle and what our production capabilities will allow us to do. In the world of Alpha Centauri, we no longer need to use solutions imposed by the computer (although we can use its propositions). We manufacture by choosing any type of vehicle among those available for combat on land, in the sea and in the air, we choose armament and armor, the type of reactor used (we have forgotten about conventional engines more than forty years ago after leaving Earth) and optionally two special abilities. This idea is not quite innovative, because we had it before in a somewhat similar game Master of Orion. The idea is interesting because it allows a certain maneuver, not only in the production of combat, but also civilian units - we can add heavy armor forming the terrain or build fast colonizers to quickly occupy the largest area of the planet. In addition to the inventions of our engineers, at a later stage of the game we have the opportunity to acquire or breed native life forms in the form of varieties of various mental worms, which sometimes may prove to be a better weapon than the conventional one. The fight between individuals can take place in two ways - either using traditional weapons or weapons affecting the mind. In the second case, it is not important how strong our weapons are, but how mentally resistant we are. In addition, no great revelations have been introduced, even the lack of the possibility of combining units into groups, which certainly would be a great help.
Game rating
Playability: 100% - the rating is not negotiable, too many hours spent with this game does not allow to give another rating.
Graphics: 70% - although it is a strategy and its concept is what counts, it is the graphics that make the first impression on us, and it could be improved a bit (colonies!).
Movies: 100% - see for yourself.
Sound and music: 100% - why not? I do not see any argument to lower this rating a bit.
Game concepts: 100% - minus would be due to the inability to group units, but diplomacy the best of all games minus this eliminates.
This description may not exhaust the topic completely, but Alpha Centauri is not a casual game, easy and can be described in a few words. If you are interested in a broader discussion or more detailed guide, please contact me.
Sebastian 'Kreator' Gunpowder
Videos
If screenshots are not enough, you can enjoy creative videos from Loki Software
No videos
You may also like
If you like Sid Meier's Alpha Centauri, but you're tired of it and want something new, you can try other games.