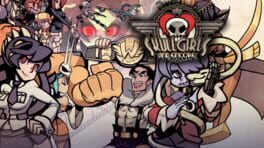 Skullgirls: 2nd Encore
Publisher

Autumn Games

Developer

Lab Zero Games

Release date

7 Jul 2015
Skullgirls 2nd Encore is a beautifully hand-animated, fast-paced 2D fighting game that puts players in control of fierce warriors in an extraordinary Dark Deco world. Each of the 14 wildly original characters features unique gameplay mechanics and plenty of personality.
see all / fold
| AGM score | 48% |
| --- | --- |
| IGN | 0 |
| GameSpot | 0 |
| Metacritic | 48 |
expand / fold
About Skullgirls: 2nd Encore
Skullgirls: 2nd Encore is released by Autumn Games in 7 Jul 2015. The game is designed by Lab Zero Games. Skullgirls: 2nd Encore is a typical representative of the Fighting genre. Playing Skullgirls: 2nd Encore is a pleasure. It does not matter whether it is the first or a millionth hour in Fighting, there will always be room for something new and interesting. Thrilling levels and gameplay Skullgirls: 2nd Encore will not leave anyone indifferent. The complexity of gameplay increases with each new level and does not let any player get bored.
In addition to it in 7 Jul 2015 released games such as:
In addition to Skullgirls: 2nd Encore, the representatives of Fighting games also belong:
A complete list of games like Skullgirls: 2nd Encore can be found at AllGame here.
Skullgirls: 2nd Encore is versatile and does not stand still, but it is never too late to start playing. The game, like many Fighting games has a full immersion in gaming. AllGame staff continues to play it.
Skullgirls: 2nd Encore is perfect for playing alone or with friends.
At AllGame you can find reviews on Skullgirls: 2nd Encore, gameplay videos, screenshots of the game and other Fighting representatives.
Skullgirls 2nd Encore - Review
Author: Víctor Ayora
Date: 2020-07-30 23:47:51
With Skullgirls 2nd Encore, little by little, the catalog of two-dimensional fighting games on PS4 is taking a really nice shape, and that Capcom fails to fully channel its Ultra Street Fighter IV and has just had a very bad experience with Street Fighter V closed beta, which we are still waiting for.
If the PS3 game is in your possession and you have also been getting the different content that has been published, it is quite likely that you do not want to approach this new version. However, if you haven't had the pleasure of enjoying Skullgirls yet, you have a unique opportunity with this new review of the game on PS4 (and soon on PS Vita).
Before we mentioned the games designed by Arc System Works. Sure enough, Skullgirls 2nd Encore has plenty of them, though we obviously find a soul of our own. You can see the affection put in by the programmers in the designs of the huge sprites that fill the screen and the 14 fighters who jump onto the scene in the game offer a wide variety to choose from, but here we find a small but: the fighters lack a personality that makes us define our style with any of them, and especially the less skilled players in fighting games will have a little difficulty in selecting their favorite character.
And if we talk about the novice players we also have to add that the game will not be receptive to them at first. The difficulty curve is hard and in the game the concatenation of combos is excessively prevalent . It is very difficult for a rookie to accidentally beat an experienced player, although there is a small point to hold on to, and that is that some characters are too dominant in their attacks, something that falls negatively on the section of the fighters' swing.
The battles have a development similar to any Street Fighter. There are six buttons chosen for attacks (three for punches and three for kicks), although as we have commented what prevails in the fray is the achievement of combos, coming to occur at times, if you know how to control Skullgirls parameters well 2nd Encore, moves that lead to the end of the round in a devastating attack of dozens of punches.
Sometimes, in story mode or arcade mode, you can select a team of fighters (up to 3 reps) instead of just one. Even three fighters will be able to face only one, although the one who goes solo will have the advantage of having a protagonist with more resistance and strength than the three rivals.
The music follows the visual aesthetics similar to the world of celluloid, which for us when performing the analysis has seemed unsuitable for a game of this genre. The themes that sound in battles seem to be taken from the black cinema of the 50s or 60s and are difficult to fit into the high moments of combat. They are pleasant melodies and pleasing composition, but they are out of the question in a work of this type.
What is very remarkable, and that we have already commented at the beginning of this analysis, is the inclusion of texts in Spanish in the different scenes that are developed between the game. The story mode is seasoned with long conversations between the characters and it is highly appreciated that for those who do not understand English, at least the texts in our language have been added.
However, these scenes end up being quite nondescript by their own conception, since they are simple static expositions with a similar aspect to a conversation that can occur, for example, in any of Professor Layton's 3DS games. Its excessive duration and the fixed rhythm of the scenes is not the best option to tell the story of a PS4 game, even if it is a fighting game, whose story is simply secondary.
Another of Skullgirls 2nd Encore's strengths is the use of cross-play between the three Sony consoles. Players of the PS3 title will be able to face those of PS4 and in the future they will be joined by users of PlayStation Vita, Sony's forgotten laptop. This will lengthen the online section, since the player community is not excessively buoyant. In addition, the studio developed a driver that allows the arcade sticks of the old desktop console to be used in the new one, so that the game can be played in conditions.
Screenshots
Screenshots will help you evaluate the graphics and gameplay of Skullgirls: 2nd Encore.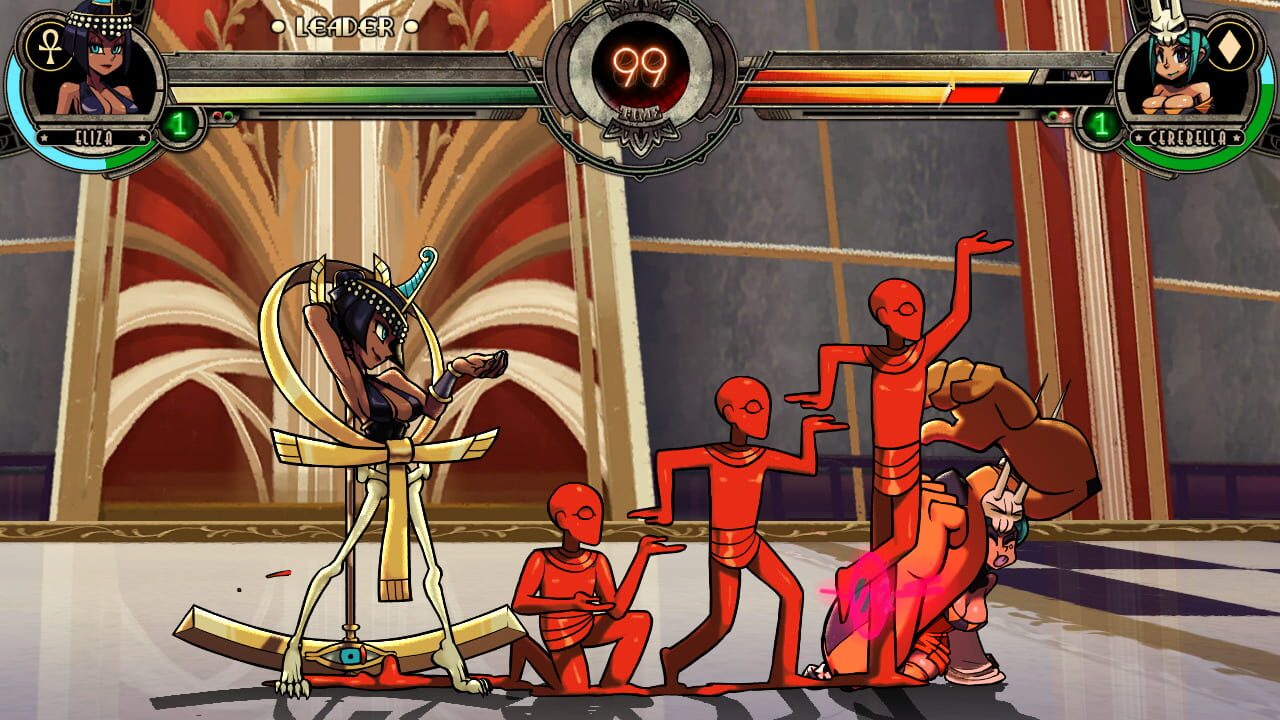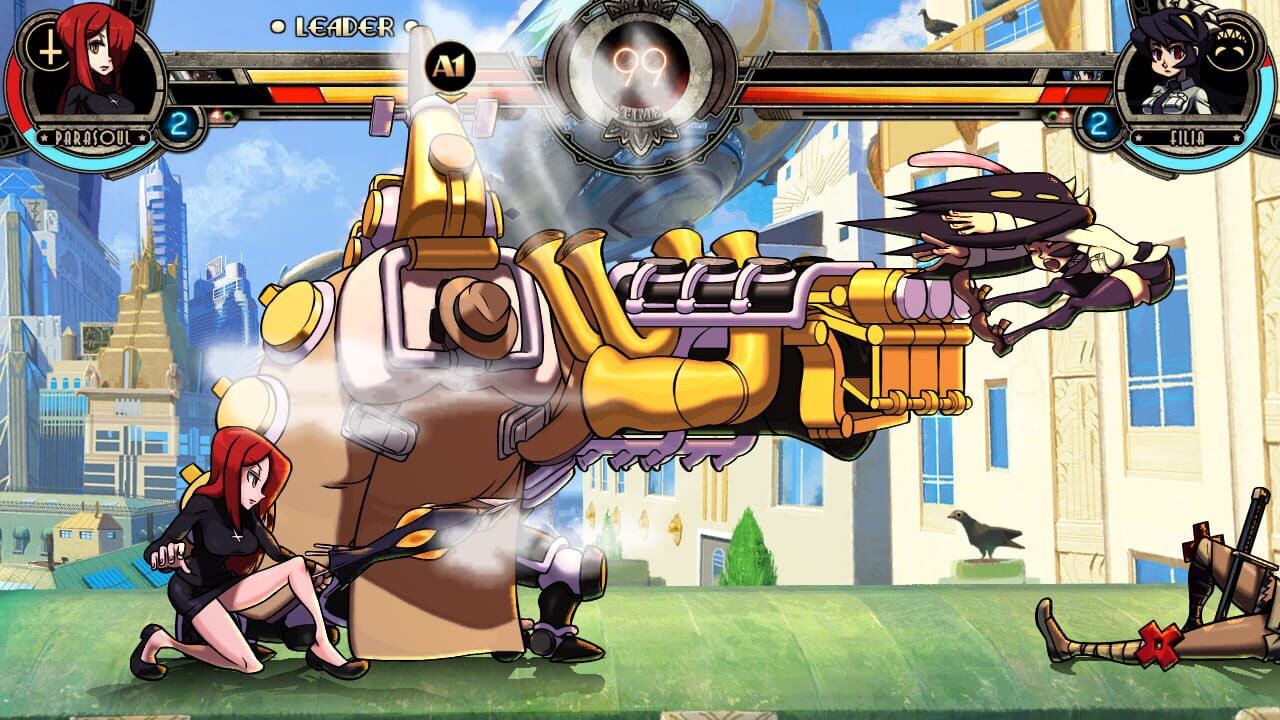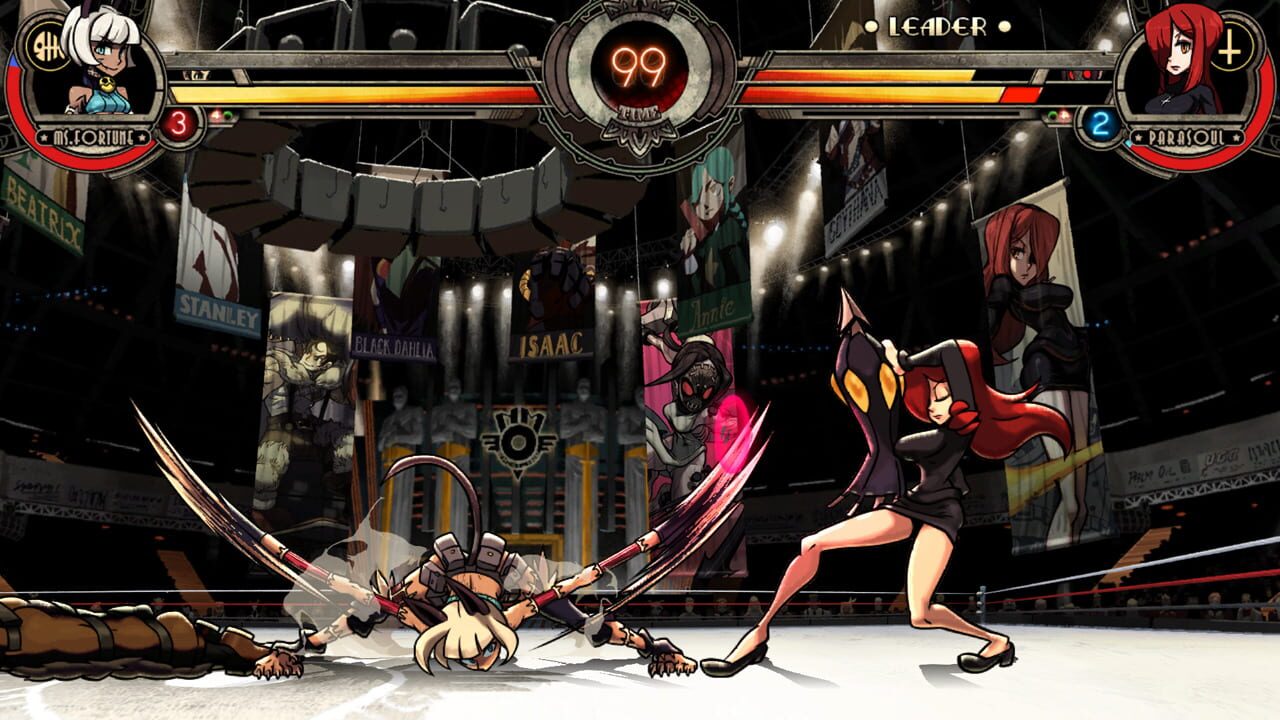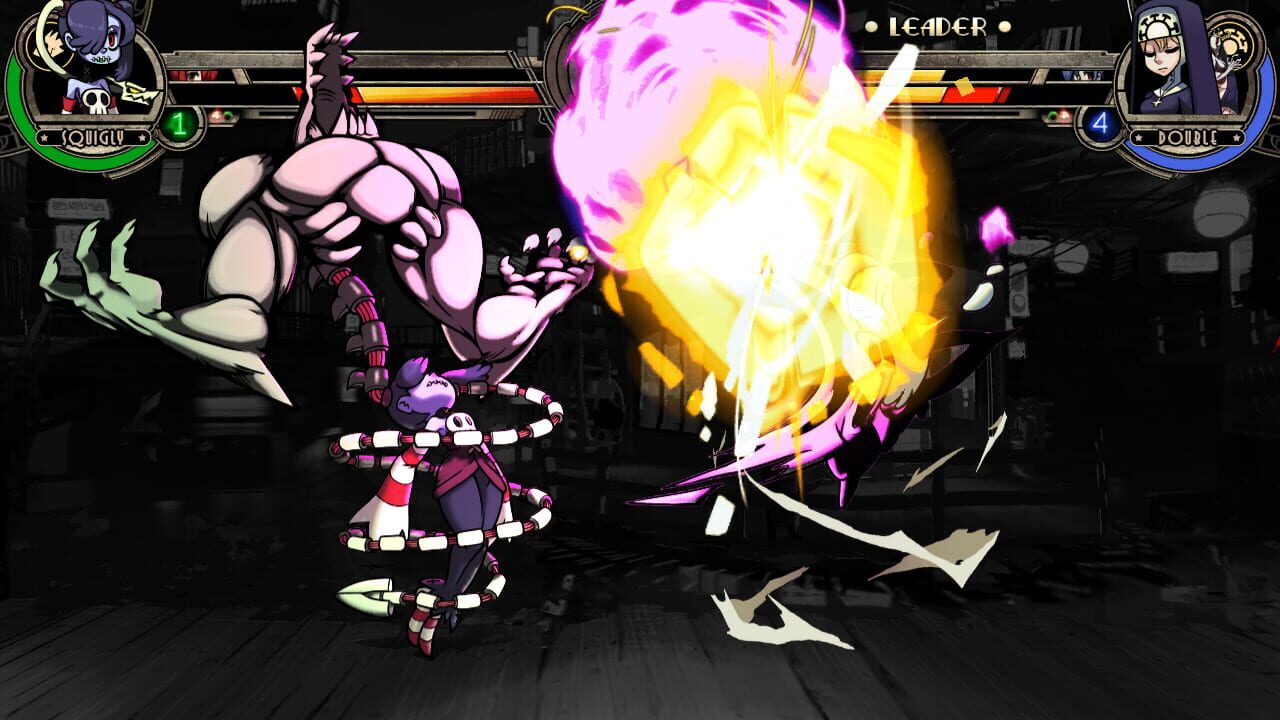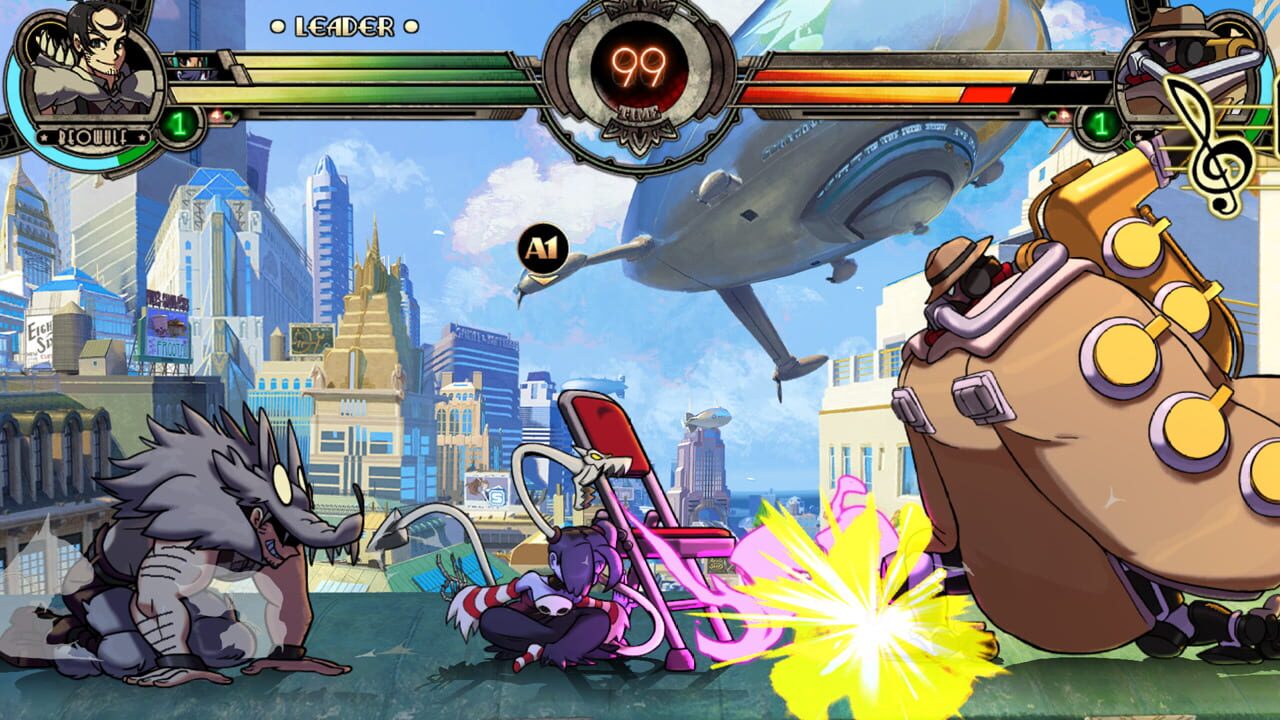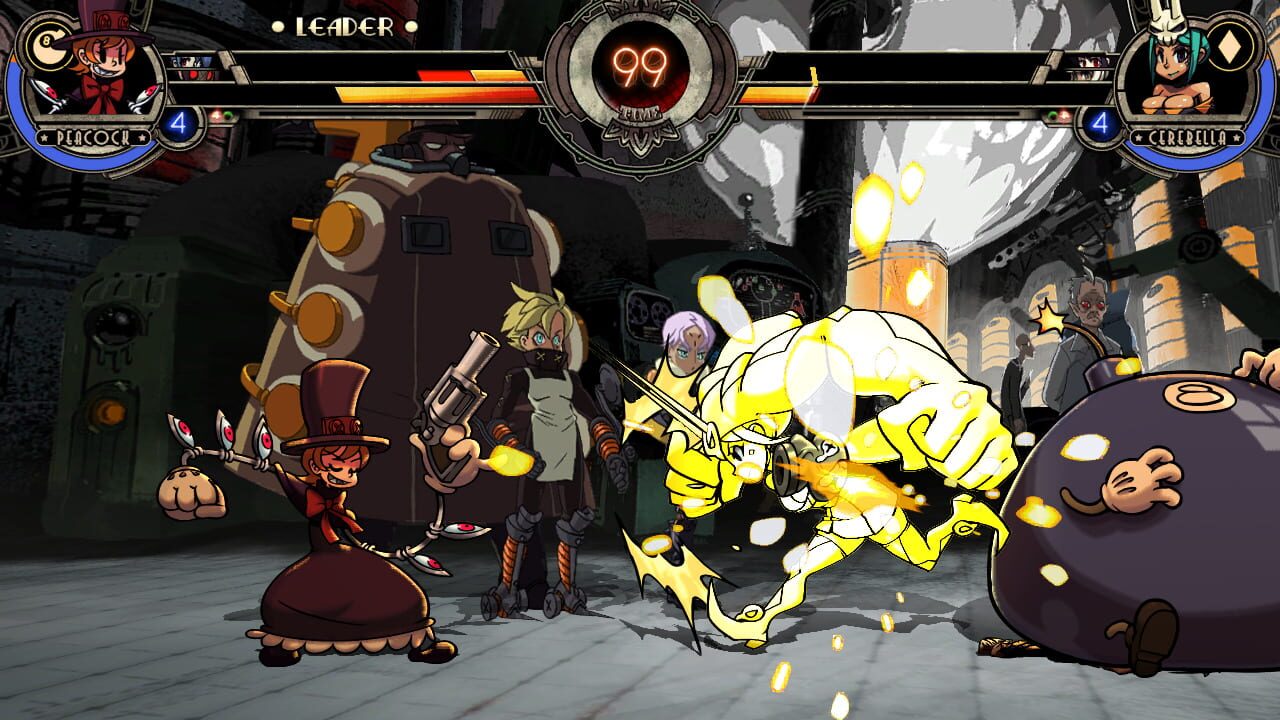 Videos
If screenshots are not enough, you can enjoy creative videos from Autumn Games
You may also like
If you like Skullgirls: 2nd Encore, but you're tired of it and want something new, you can try other games.