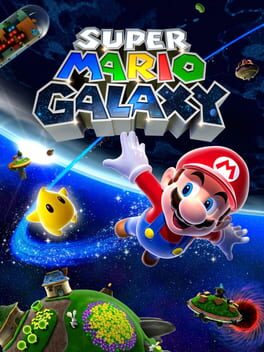 Super Mario Galaxy
Publisher

Nintendo

Developer

Nintendo EAD Tokyo

Release date

1 Nov 2007
Experience a gravity-defying adventure! Become Mario as he traverses gravity-bending galaxies, traveling in and out of gravitational fields by blasting from planet to planet. Players experience dizzying perspective shifts as they run upside down through wild alien worlds that need to be seen to be believed. Whether you're surfing on a ray across an ocean in the clouds, rolling on a ball through a treacherous garden, or floating in a bubble over a poisonous swamp, there's no limit to the cosmic challenges you'll encounter! * Shake it! Controlling Mario is as simple as can be with the Wii Remote and Nunchuk. Move Mario with the Control Stick and shake the Wii Remote to perform a spin move or cue Ring Stars that launch you to and from planetary objects. You can even point at bits of stardust to collect them or latch onto Beam Stars to blaze a magnetic trail through the heavens. * Mario can run, tiptoe, jump, triple-jump, backflip, and long-jump, but what he'll do most is spin. By shaking the Wii Remote, players make Mario spin around with fists outstretched, allowing him to pummel enemies and cue Star Rings that launch him from planet to planet. * He can also find plenty of power-ups: A Bee Mushroom turns him into Bee Mario, allowing him to fly for short periods of time and cling to honeycombs. A Boo Mushroom turns him into Boo Mario, allowing him to float and turn invisible to pass through mesh gates. * He'll constantly collect bits of stardust. These can be fired at enemies using the B Button. A second player can even take on this role, using a second Wii Remote to stall enemies, fire stardust, or even sweep aside projectiles.
see all / fold
| AGM score | 96% |
| --- | --- |
| IGN | 9.7 |
| GameSpot | 9.5 |
| Metacritic | 97 |
expand / fold
About Super Mario Galaxy
Super Mario Galaxy is released by Nintendo in 1 Nov 2007. The game is designed by Nintendo EAD Tokyo. Super Mario Galaxy is a typical representative of the Adventure genre. Playing Super Mario Galaxy is a pleasure. It does not matter whether it is the first or a millionth hour in Adventure, there will always be room for something new and interesting. Thrilling levels and gameplay Super Mario Galaxy will not leave anyone indifferent. The complexity of gameplay increases with each new level and does not let any player get bored.
In addition to it in 1 Nov 2007 released games such as:
In addition to Super Mario Galaxy, the representatives of Adventure games also belong:
A complete list of games like Super Mario Galaxy can be found at AllGame here.
Super Mario Galaxy is versatile and does not stand still, but it is never too late to start playing. The game, like many Adventure games has a full immersion in gaming. AllGame staff continues to play it.
Super Mario Galaxy is perfect for playing alone or with friends.
At AllGame you can find reviews on Super Mario Galaxy, gameplay videos, screenshots of the game and other Adventure representatives.
Super Mario Galaxy - game review
Date: 2007-12-14 08:30:00
The review was based on the Wii version.
When research in the 90s showed that the plumber Mario is better recognized than Mickey Mouse, everyone was surprised ... with one exception. Nintendo already at that time possessed massive imagination of players of virtually all ages and was well aware of how to not squander this capital. To understand this phenomenon, one should go back to the mid-80s. In our homeland there was then only vinegar and mustard, and every thing brought from the West was treated at least as a relic. Then Mario was born - previously appearing only as a guest in other Nintendo productions, now he appeared in his own game entitled Super Mario Bros. While the whole world was playing the adventures of Maria, with us (assuming that someone had a very agile person in the family) you could at most play on the ZX Spectrum 48k rubber keyboard connected with a reel-to-reel tape recorder and flammable TV. Our country, as well as the entire Eastern Bloc, bypassed fashion, which at that time kidnapped millions of players around the world. Only the first part of the series sold more than 40 million copies. No wonder that in our place Mario is associated by the average bread eater with a bizarre whim or Japanese gadgets for kids, while in Japan and the USA it brings to mind memories of the legendary NES console, childhood and the beginning of the adventure with games. The Iron Curtain divided not only politically and militarily, but culturally above all. If someone asks who has been spinning the globe for the past decades, the answer is simple: Nintendo and their Mario along with two hundred million copies of only games in this series sold alone, not counting tons of toys, towels, clothes and everything that can be printed mustache hydraulics. With this sky-high quantity, the best-selling series like Halo , Warcraft or Tomb Raider are niche productions.
The legend of Mario is not only a pop-cultural phenomenon, but above all excellent games that have contributed to this and not another status of the Kyoto concern in the industry. So productions went from ancient two-dimensional platformers that defined the rules of game design in this genre for many years, to the revolutionary Super Mario 64 bringing the gameplay to the third dimension in the style worthy of Japanese masters. It is true that Super Mario Sunshine aroused mixed opinions among both players and critics, but still remained relatively high in all elements of the game. Nintendo has always been famous for innovative products, and their Wii, which was predicted by a disaster, is now the most sought after console. Unfortunately, this does not go hand-in-hand with the quality of games produced for this console and it's actually hard to look for more interesting titles outside the top. Fortunately, this time a mustached superhero comes to the rescue and if someone from the last event with Wii Sports has a dusty console, it's time to bring her from the attic. Super Mario Galaxy is coming and we knew it would be a good game. But not that good.
Super Mario Galaxy begins with a great disaster. As if nobody expected it, Bowser attacks the Mushroom Kingdom, kidnaps Princess Peach, escapes with her space vehicle and hides, planning to destroy the entire universe. Of course, Mario must save the world by allying himself with the mysterious star creatures and their ruler. Our task is to regain the stars and stars possessed by Bowser and his subordinates, but as it happens in games, it will not be easy. To be able to even think about saving Peach, you need to visit dozens of galaxies, discovering the story behind our allies. We will meet all old friends, like Luigi, Toadstool People, Bowser and Bowser Junior himself, as well as many other completely new, cute and less charming creatures.
If someone would like to be tempted to define in a few words the latest work of Shigeru Miyamoto, this is a platformer with a fierce adventure and would probably be right. The other side of the coin is that the gameplay of Super Mario Galaxy is so rich that it would be a great injustice to put it in.
Control is done using a nunchuk, with which we move; the A button in the remote control is used for jumping and contextual activities, and by moving the crosshair we move and shoot the enemies with star shards. The shake of the motion sets Maria in a whirling motion. We also control the pilot in other, more exotic situations, e.g. when our hero moves walking on a ball: then we hold the pilot vertically, like a joystick, tilting in the right direction. If anyone has any doubts whether the combination nunchuk plus remote control works in this type of games, Super Mario Galaxy gives it from the first minutes and after a few hours it is difficult to imagine a better, more intuitive and at the same time immersive control.
The gameplay scheme itself is very clear - so we have a mother base and from this observatory we set off to conquer space. There are six groups of galaxies to explore, each containing five more worlds, and if we add a dozen or so hidden levels to it, in total we have well over forty. As if that was not enough, each of them is completely different, almost never duplicating the previous scheme and this is where the secret of the greatness of the latest part of Mario lies. The organization of individual boards was carried out in a unique way in this genre games. Usually in most games we deal with a simple scheme that we learn at the beginning and which is reproduced to the end credits. Super Mario Galaxy breaks this rule by replacing it with its rule - a million ideas per minute, i.e. virtually every new stage, indeed, almost every moment gives new, fresh feelings.
Some elements may repeat (rarely), like some bosses or races, but the most important thing is that we never feel tired, we don't play any fillers and we still get something new, completely unique. We visit worlds in which gravity often works in a completely crazy way, we walk on the sides of the screen or upside down, and in some worlds it is impossible to determine where the top is and where the bottom is. Sometimes we see Maria from the side, like in a classic two-dimensional platformer, in a moment to watch him from above or behind. The action never stops and we take a breath only after completing the stage. In addition to known coins, we also collect star shards that play a key role in the game. For example, we can shoot them at enemies we encounter - this is done in an extremely simple way - we simply direct the remote control to the right place and press the trigger. We also use shards to feed Luma, voracious creatures that turn into new galaxies in exchange for star food. Often, we will also have to play a special version of our hero, and Mario has many possibilities and each of them is interesting: we can see a Mario-spring, ghost, ice or fire version and a unique bee with a mustache.
The level of difficulty and transit time of individual galaxies varies greatly, but it will take about fifteen hours to complete the game by collecting the minimum number of stars necessary. It is worth mentioning that it is fifteen unforgettable hours during which we will run on a ball, fly in a soap bubble, race with ghosts, climb honeycombs or visit absolutely psychedelic places, where the laws of physics and geometry do not seem to matter. Finding all the stars, however, will take much more time, so there is something to do even after the end credits. The game also has the option of two-player mode, but it works in a rather unconventional way: then another crosshair appears on the screen and the second player can by using the remote control help us shoot monsters or collect star shards.
Graphically, Super Mario Galaxy looks great. Of course, you would like to watch this game in a higher resolution, but still what we can admire is excellent. From the artistic side, the people of Shigeru Miyamoto have done a great job and the amount of work put into creating so many diverse worlds, planets and creatures beats almost everything that has been done so far. The animation of the created characters is first-rate - nothing is static, and the worlds are pulsating with movement. And just as important, nothing crunches here, nothing jumps and nothing lands with the head embedded in the texture. The game supports widescreen screens and 480p mode, which should please LCD owners. Music is also great, which is absolutely phenomenal and can be easily classified as one of the best games in history. Believe me, these are not idle words - performed by a symphony orchestra, it perfectly captures the atmosphere of individual galaxies, and the melodic line is catchy and difficult to shake from there. Old motifs are combined with new ones, but nothing here is parasitic on nostalgia, on the contrary - we are still overwhelmed with new ones. The sound is similar and although Super Mario Galaxy is not fully dubbed, the number of different, extremely characteristic sounds is so large and made with such fantasy that it is difficult not to pay attention to it.
One of the games of the year, one of the best platform games in the genre's history and one of the best games ever. Super Mario Galaxy is a melting pot of ideas, fantasies and a sense of authors, whose gigantic effort can be seen everywhere in the game. We wish all producers so many great ideas, and we, players, such great titles. A must have for every Wii owner and definitely the best for this console.
Great game. In every respect. The king returned in a truly royal style.
Maciej "Shinobix" Kurowiak
PROS:
MINUS:
Screenshots
Screenshots will help you evaluate the graphics and gameplay of Super Mario Galaxy.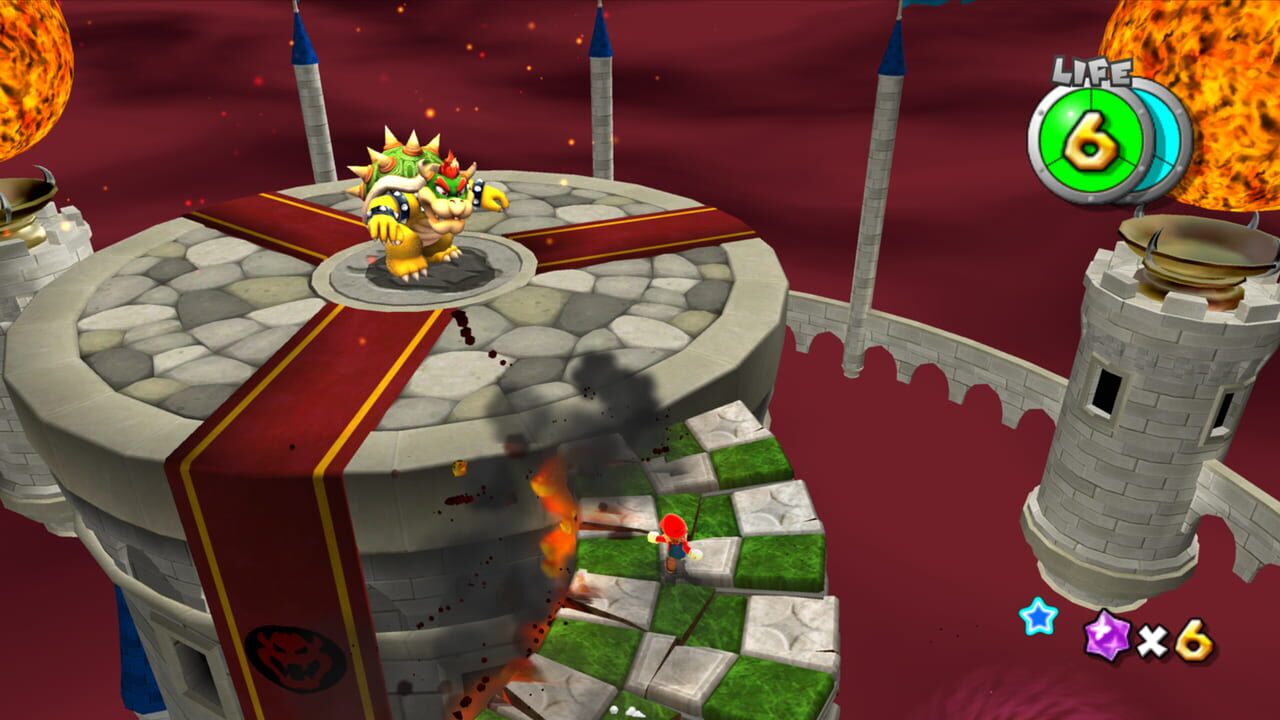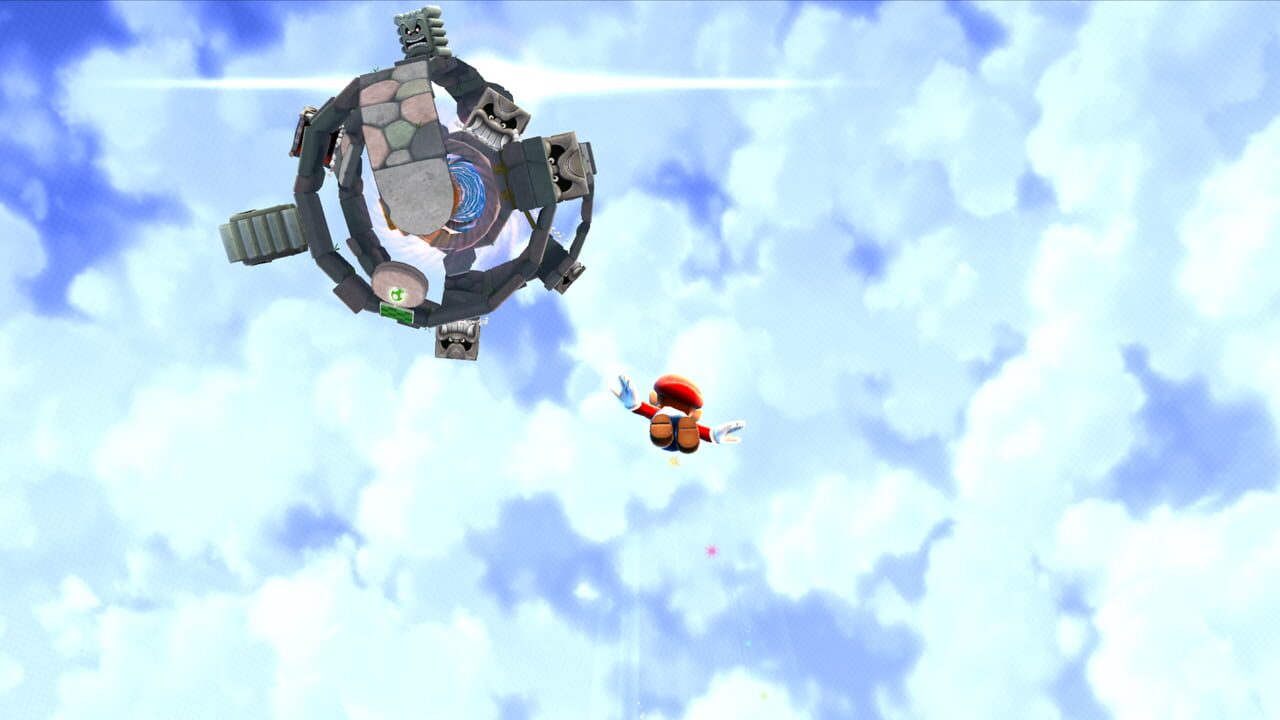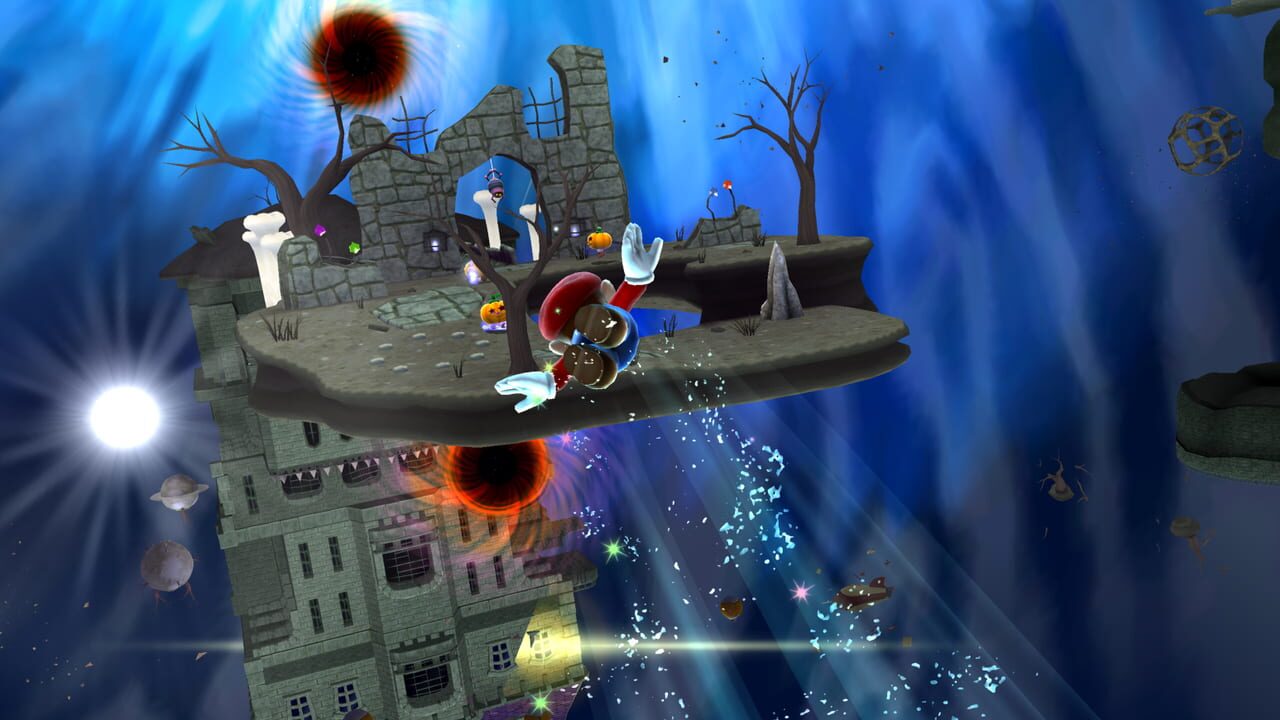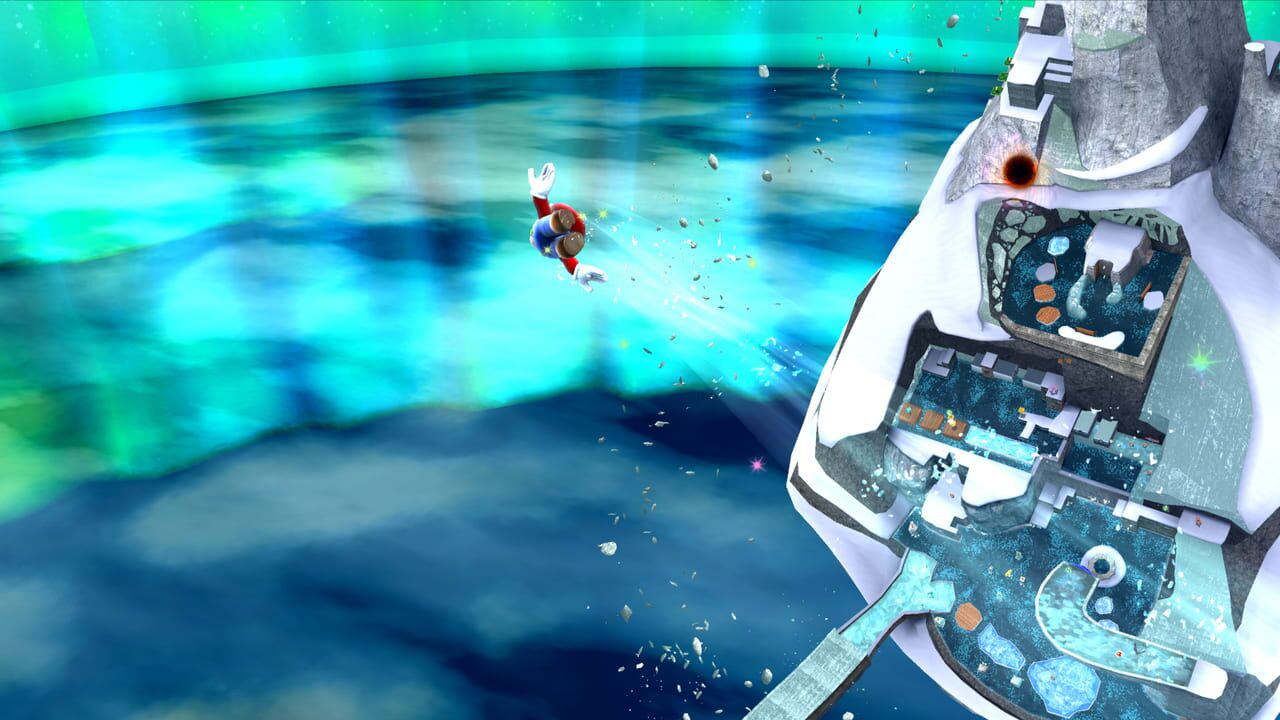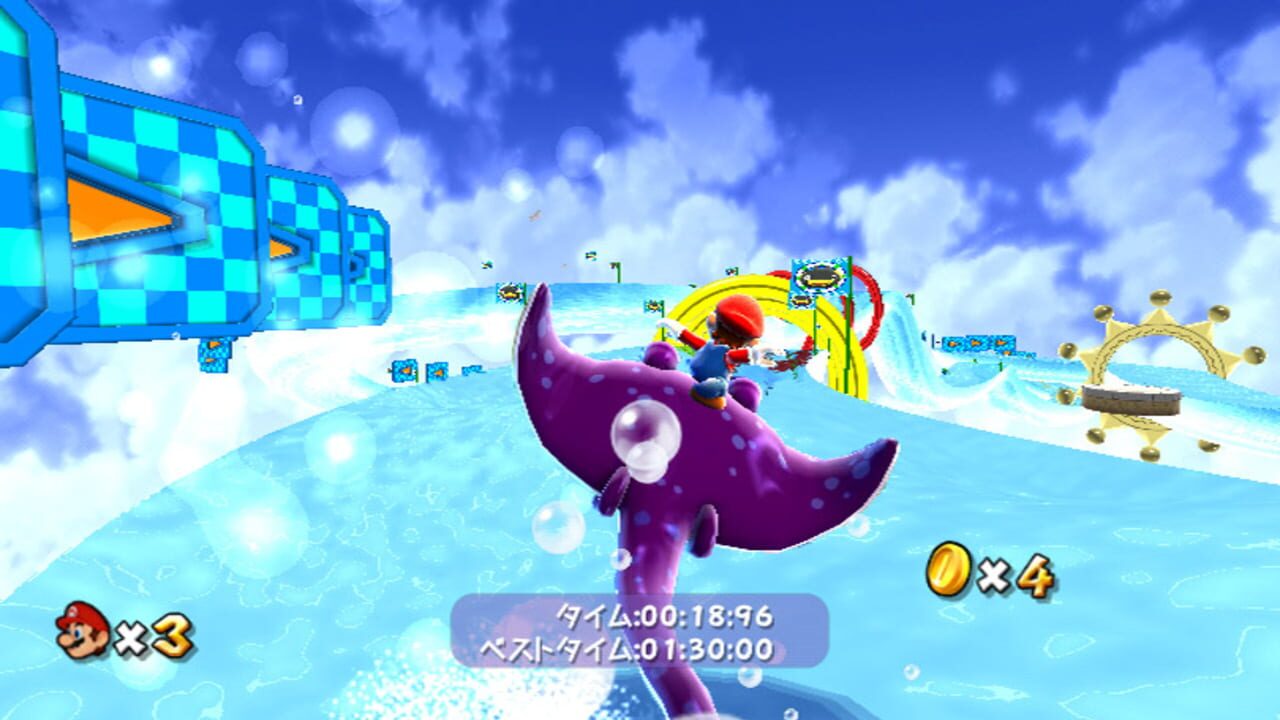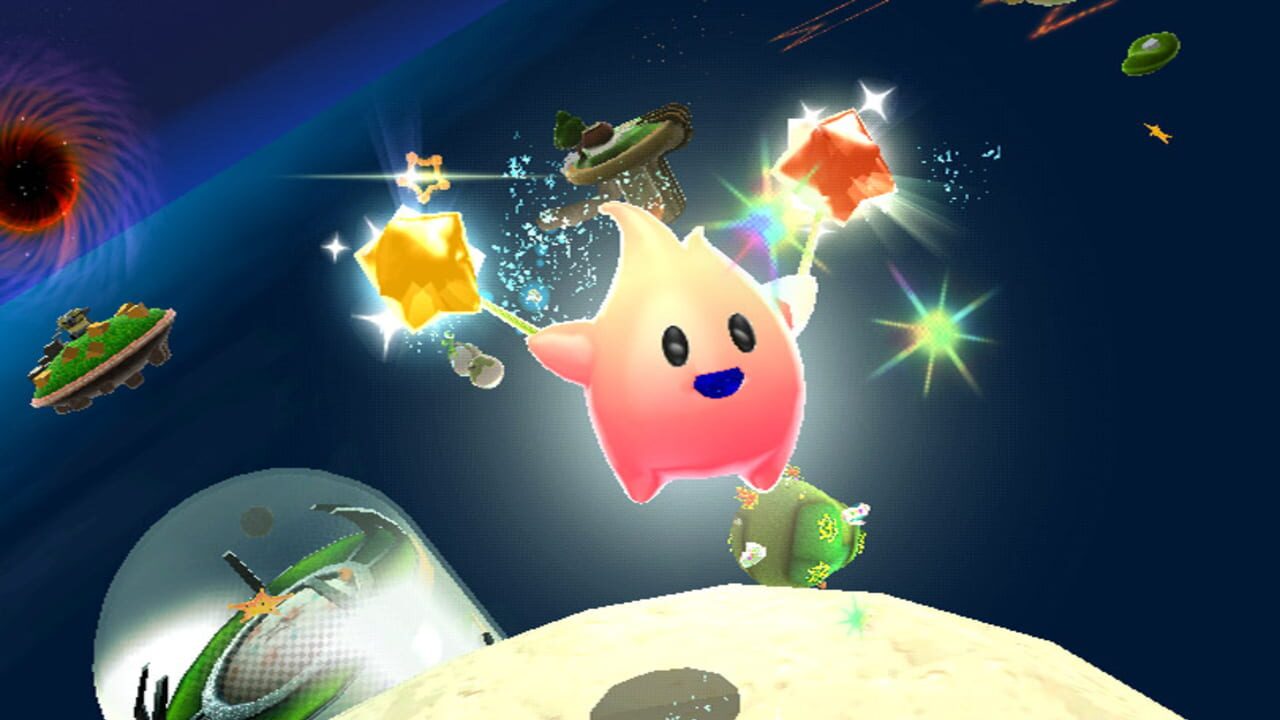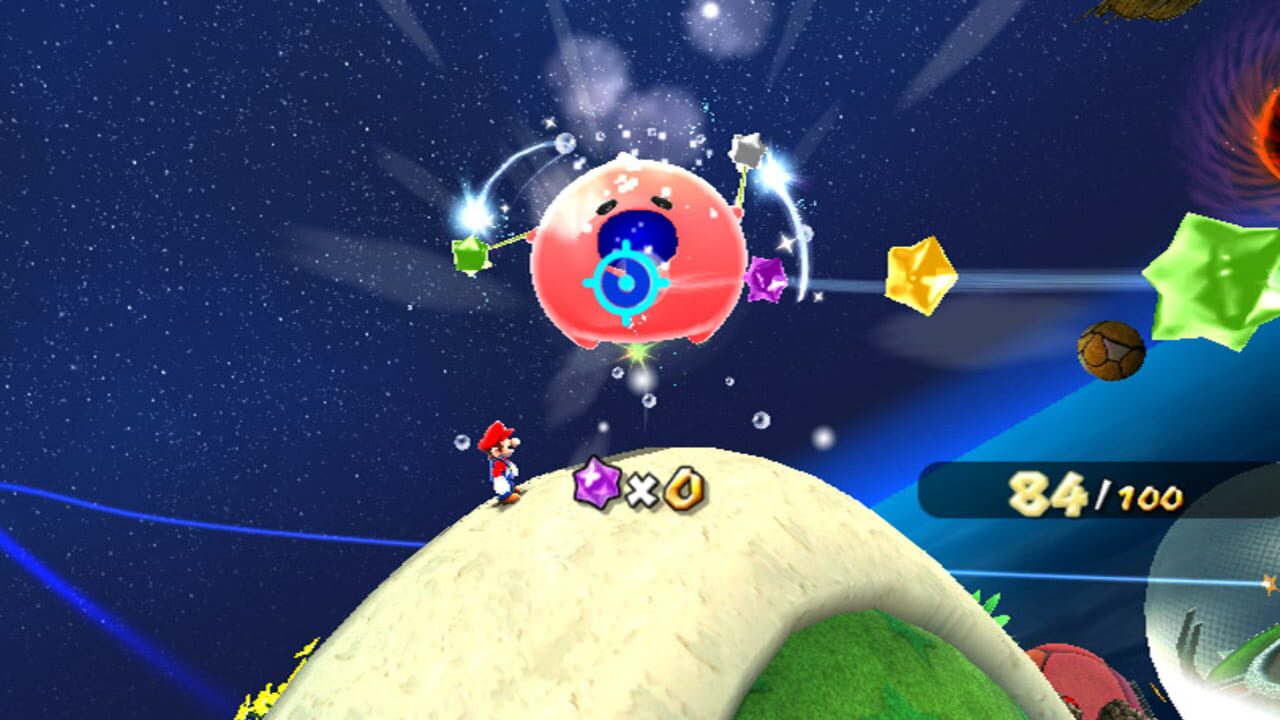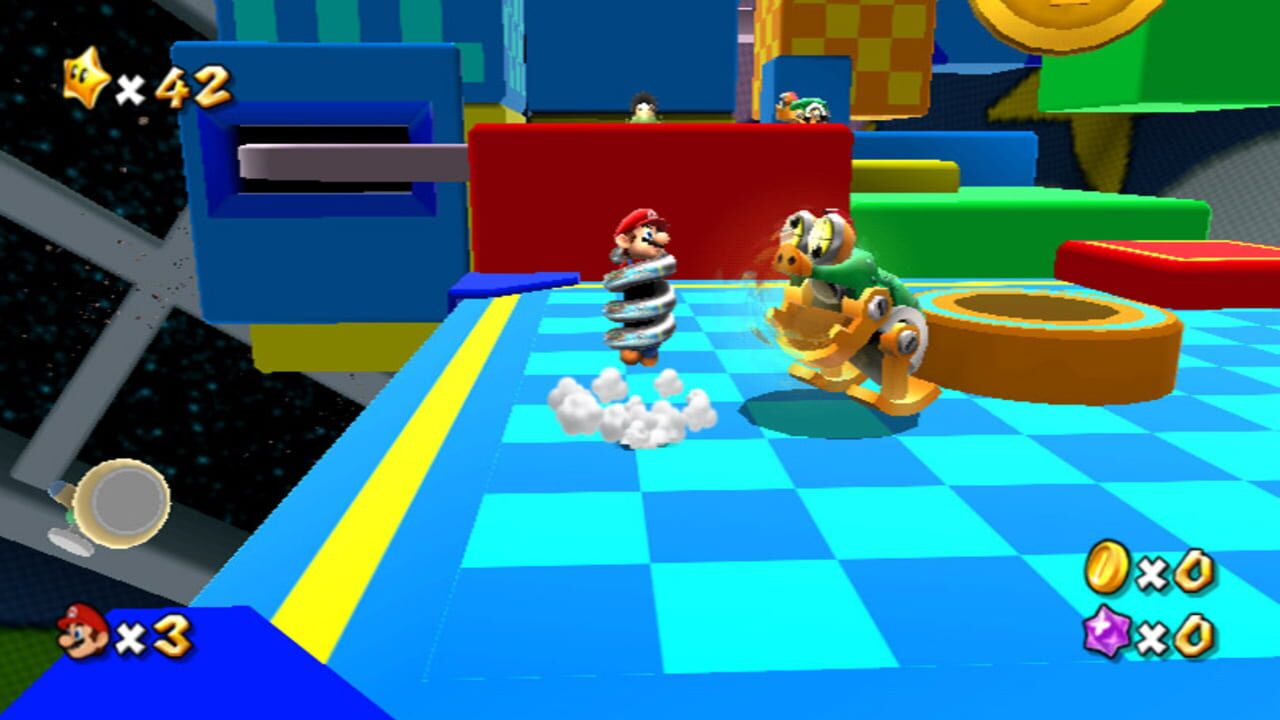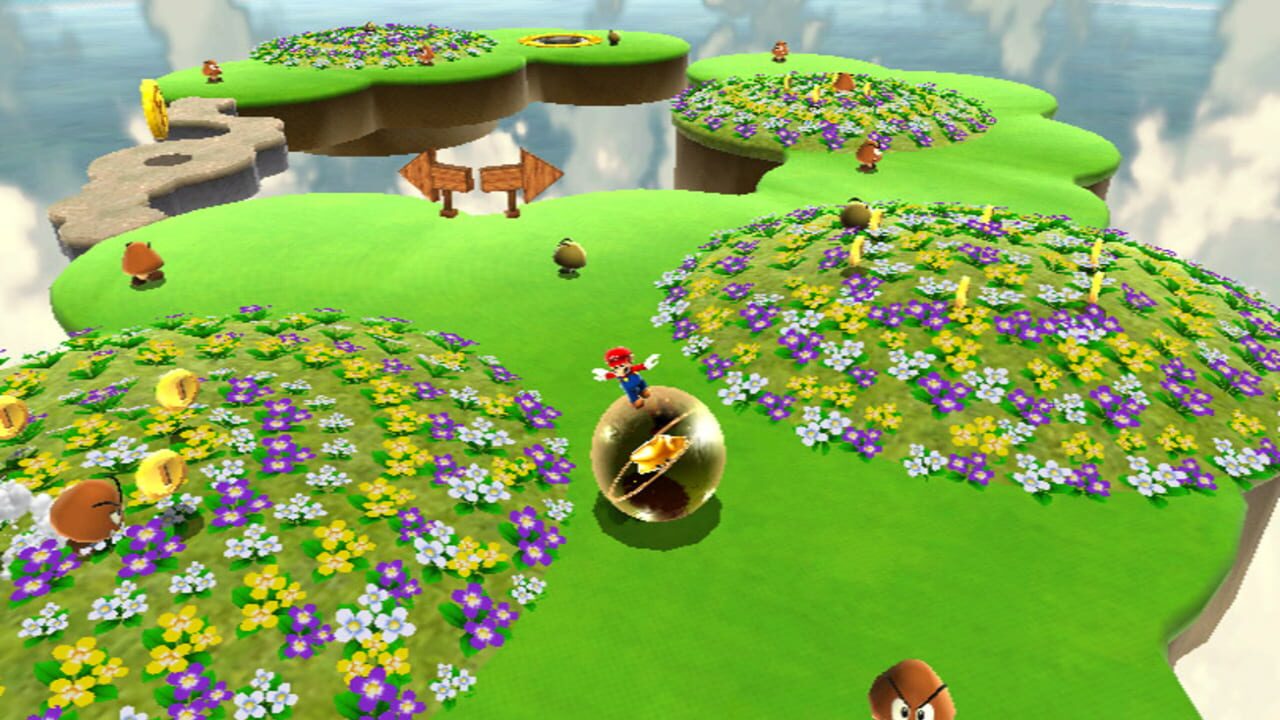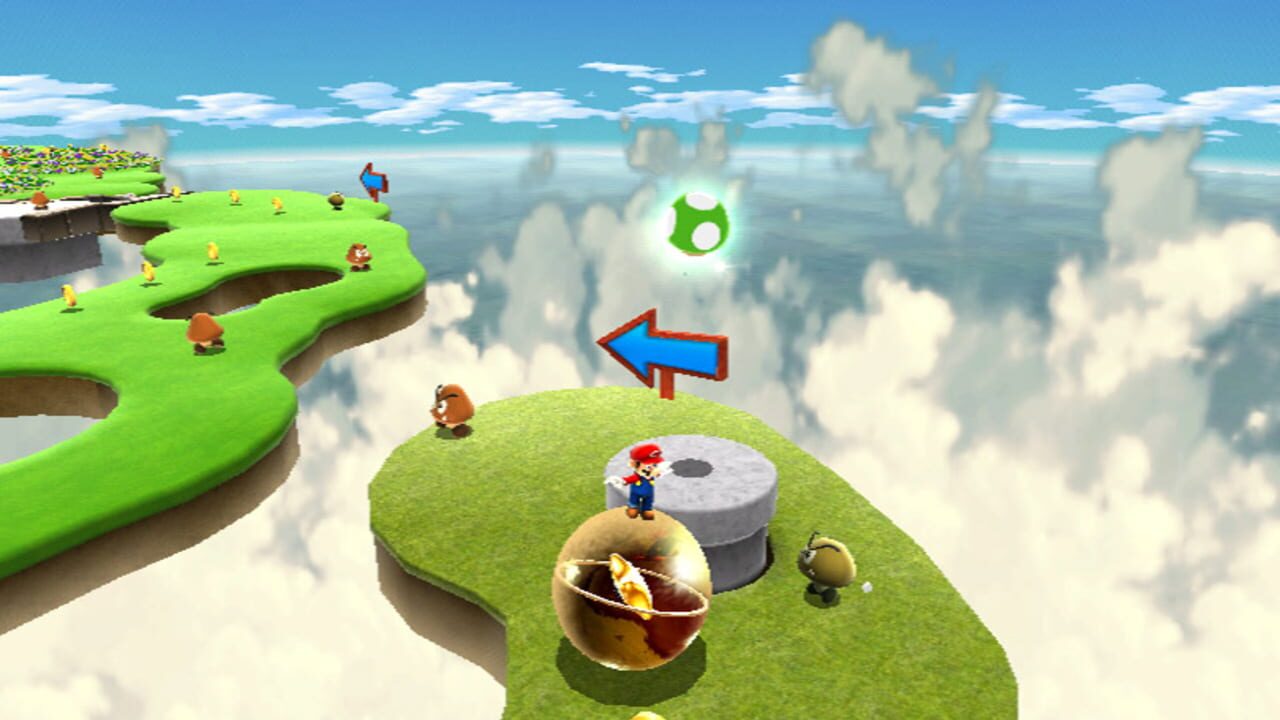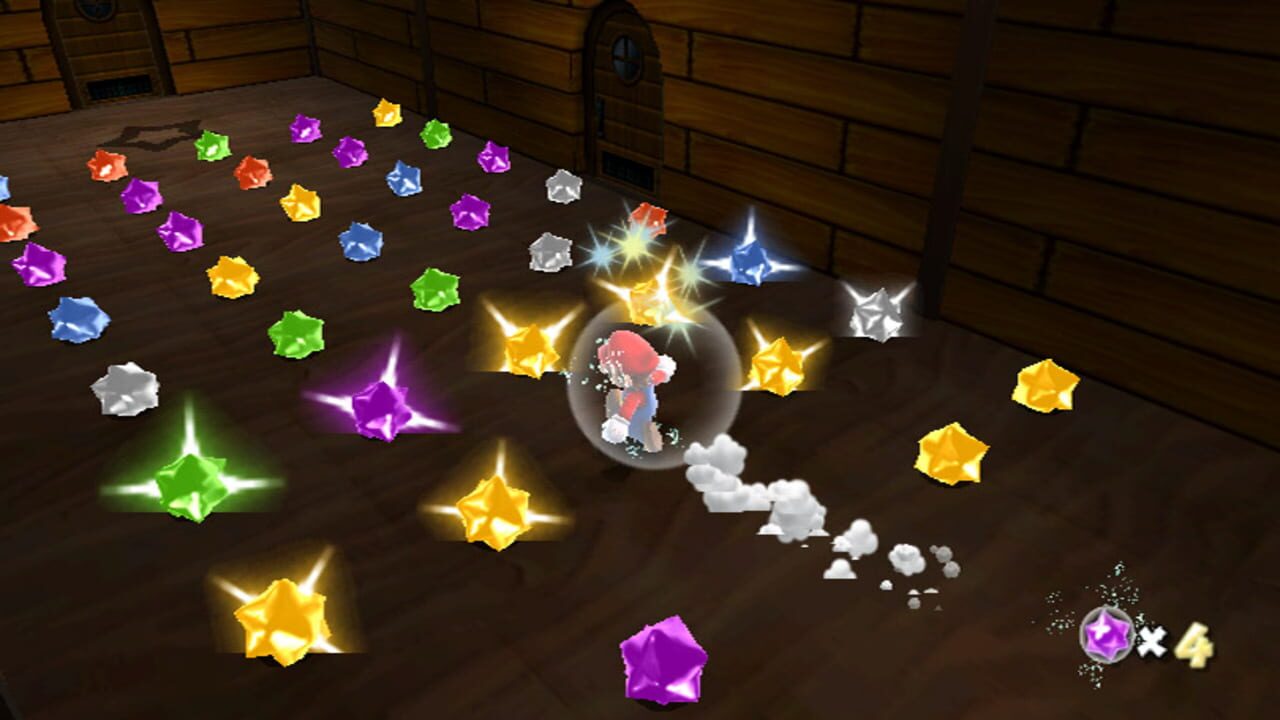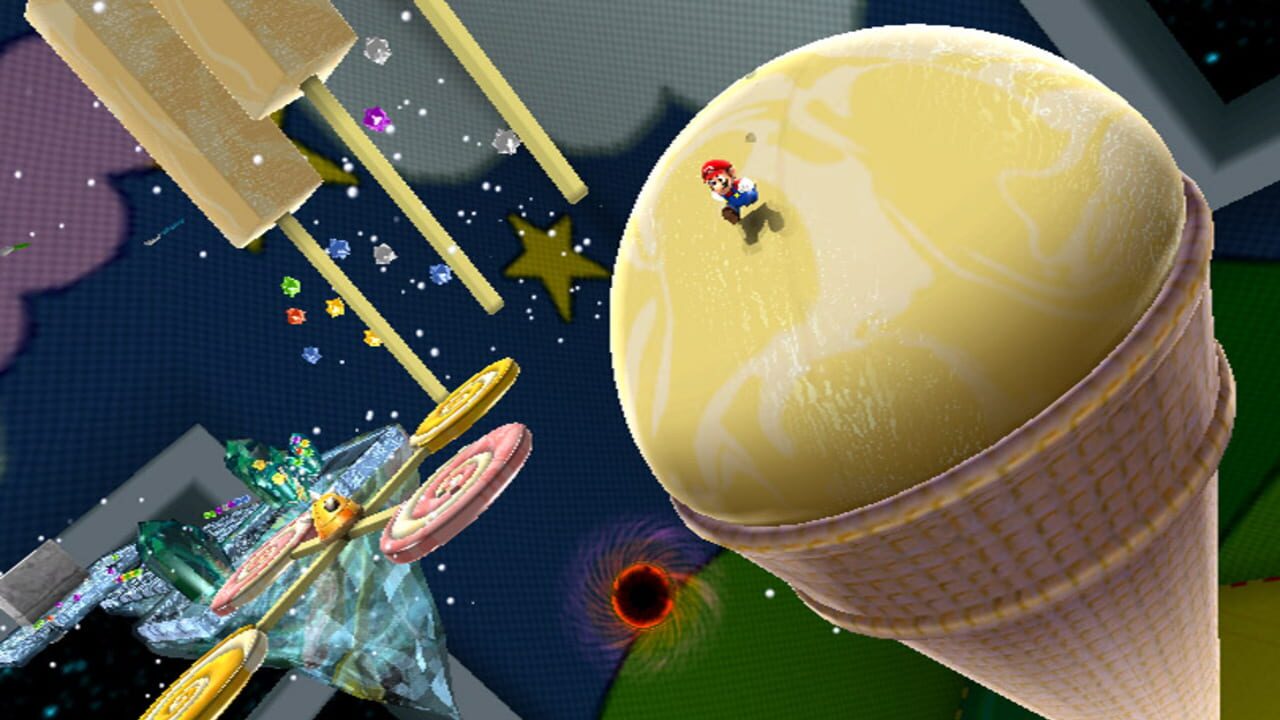 Videos
If screenshots are not enough, you can enjoy creative videos from Nintendo
You may also like
If you like Super Mario Galaxy, but you're tired of it and want something new, you can try other games.