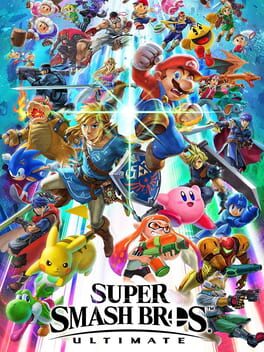 Super Smash Bros. Ultimate
Publisher

Nintendo

Developer

BANDAI NAMCO Studios Inc.

Release date

7 Dec 2018
Legendary game worlds and fighters collide in the ultimate showdown—a new entry in the Super Smash Bros. series for the Nintendo Switch system! New fighters, like Inkling from the Splatoon series and Ridley from the Metroid series, make their Super Smash Bros. series debut alongside every Super Smash Bros. fighter in the series…EVER! Faster combat, new items, new attacks, new defensive options, and more will keep the battle raging whether you're at home or on the go.
see all / fold
| AGM score | 92% |
| --- | --- |
| IGN | 9.4 |
| GameSpot | 9 |
| Metacritic | 93 |
expand / fold
About Super Smash Bros. Ultimate
Super Smash Bros. Ultimate is released by Nintendo in 7 Dec 2018. The game is designed by BANDAI NAMCO Studios Inc.. Super Smash Bros. Ultimate is a typical representative of the Fighting genre. Playing Super Smash Bros. Ultimate is a pleasure. It does not matter whether it is the first or a millionth hour in Fighting, there will always be room for something new and interesting. Thrilling levels and gameplay Super Smash Bros. Ultimate will not leave anyone indifferent. The complexity of gameplay increases with each new level and does not let any player get bored.
In addition to it in 7 Dec 2018 released games such as:
In addition to Super Smash Bros. Ultimate, the representatives of Fighting games also belong:
A complete list of games like Super Smash Bros. Ultimate can be found at AllGame here.
Super Smash Bros. Ultimate is versatile and does not stand still, but it is never too late to start playing. The game, like many Fighting games has a full immersion in gaming. AllGame staff continues to play it.
Super Smash Bros. Ultimate is perfect for playing alone or with friends.
At AllGame you can find reviews on Super Smash Bros. Ultimate, gameplay videos, screenshots of the game and other Fighting representatives.
Super Smash Bros. Ultimate - Review
Author: Javi Andrés
Date: 2020-07-30 23:17:32
Boom! Nintendo Switch fixes its 2018 wasteland in terms of great first parties with a single and devastating bombshell, a master key at the last moment, in December. Super Smash Bros. Ultimate is not only the best Smash Bros of the entire saga since it compiles everything sown in these two decades of crossover, but it also goes directly to Olympus of fighting games, relying on that Nintendo for traditional players who We like it so much and that it ends up presiding over every genre it touches.
If in arcade races there is no rival for Mario Kart , on platforms there is no rival for Super Mario , or in adventures there is no rival for The Legend of Zelda , trembling Street Fighter, Tekken, Soul Calibur, Mortal Kombat or Virtua Fighter , which This crazy character and franchise crossover is a tremendously tough opponent to knock down. Masahiro Sakurai , the father of the brand and Kirby, has practically fulfilled his dream and can now dedicate himself to other franchises. He just made history.
And he just touched the top not only because his new video game combines hundreds of collectibles between characters, fighters, spirits, references, helpers, objects, settings, songs or invocations ... but also because the always-faced devotees of Super Smash Bros Melee, on the one hand; and the defenders of Wii U Super Smash Bros, on the other hand, are finally going to shake hands sharing the illusion and preference of this SSB Ultimate, a definitive title in everything that comes to twin both communities. Considering that Melee rewarded the one who dominated the feel of the game more than the Wii U Smash - with some hands extended to the novice player and some touches of extra accessibility to give everyone possibilities - join sides in a definitive combination and that leaves everyone at ease was not an easy task. Until yesterday considered impossible.
Definitive not only in content
For many, that will be the main and great success of Super Smash Bros Ultimate, which we are sure will bury that duality in professional tournaments such as the EVO , where both titles shared the grid, to remain alone in regards to this saga, unifying players. It will not surprise us at all that the entire competitive sector moves to Ultimate , those on one side and those on the other. The balance between characters and sense of justice without choking the neophyte is simply perfect, equitable, in the optimal balance based on fixing that Super Smash Bros for Wii U from 4 years ago. As they say about Blizzard jewelry, this is another one of those "easy to learn, difficult to master" that its managers have achieved by investing a lot of time in testing and testing, time they have gained by reusing much already designed. And that treatment brings him closer to perfection
Its overwhelming amount of content, starting with the 74 well-defined and different base fighters , is not, from the outset, an access ramp for anyone to the highest positions of their online modalities and the addictive new mode by rank and area VIP Combat . We will have to make an effort to succeed in online multiplayer, far superior to what we had on Wii U, since it is the game format that will probably give more hours in the long term for those who pay for the subscription service Nintendo Switch Online.
Certainly, this will not take long to fill up with pro-players, and its creators, the traditional Sora studio together with the Bandai Namco team lent for the occasion, have wanted everyone to feel rewarded and comfortable in online gaming, whatever your level. Because that is Smash Bros, continuous rewards, satisfaction, unlocking, progress, complicit looks that the video game throws at you because it knows that you are capturing its references without brake and having a great time with such a display of cameos .
Well, Ultimate, and this is another thing that does better than the Wii U and 3DS Smash, again bet on unlocking for almost everything and the collection feeling always unfinished. Only its more than 100 scenarios are available in full from the first game, something that could have been added to what the other elements, all of them, have been achieving little by little in that eagerness for more and more.
Ultimate wants to be a review of the entire SSB franchise , and that's why it begins by offering the player the possibility of playing the different modes only with the team that was at the time on Nintendo 64, in the first and original Super Smash Bros of 1999 . This is 8 fighters.
The more than 900 music tracks , the hundreds of spirits, the special cinematics, the challenges, the consumables to improve spirits, the consumables to weaken enemies ... Absolutely everything, except the fight scenarios, you have to get it by playing. Having 100% content will take countless hours, starting with its new Adventure mode, which is also gigantic.
The world of lost stars
Sakurai removed in Wii U and 3DS one of the most liked points in Wii Brawl, the Subspace Emissary mode and its narrative style by cinematics between fights. It was supported in that Brawl's premature leak in pursuit of piracy made him lose the illusion for working on this adventure-singleplayer game format that gave us such good times. And now, with Ultimate, the damn previous leaks have played a trick on him again. But nonetheless, here comes the greatest adventure mode ever created for a Smash Bros, and ever created for a fighting game in general, that clear . More than 30 hours will be necessary to unravel all the secrets that this colossal map covered by clouds hides in all its nooks and crannies, buttons, chests, castles and forks. Not too many cinematics of those that fans love, everything being said.
The journey begins with Kirby , the sole survivor of a massive demonic petrification that has plagued all video game characters and in charge of a new and biblical evil, called Lúmina , with an entire army of devastating Master Hands at his mercy. The gathering of Spirits through valleys, temples, caves, mountains, cities, and even outer space is interspersed with the salvation of other fighters possessed by evil spirits. Along the way, Kirby will join Mario and others to choose, step by step, following a labyrinthine route in which there are closed paths until you have a certain Spirit with a certain ability, or floodgates with switches at the other end of the map.
Every fight is themed. For example, the encounter against a Metal Gear Ray in Shadow Moses is in the coldest and snowiest part of the map, along with the battle of the Ice Climbers and other protagonists related to snow and winter that it is better not to reveal here ... Also, Each one of these clashes has its own particular rules , which sometimes better and others with less care, try to remind the game that they refer to, achieve similar gameplay situations or nail characteristics of the original characters. For example, against the squid Blooper what we will have will be Splatoon characters essentially with big jumps upwards, to imitate the movement of the unmistakable enemy of the underwater depths throughout Super Mario.
Added to this are the skill points , which allow you to unlock general passive skills on a sphere board that can be obtained by spending points. And the snacks , consumables to level spirits faster, which can be primary or secondary and are equipped in fighters by providing advantages, equipped items, physical changes, specific resistances, etc.
Everything related to the Spirits is the great novelty of this installment of Smash Bros, something that is not entirely well explained on the advice screens but that, once intuited and as the game increases the difficulty with the advance, forcing the player to better prepare the sets, it ends up being understood out of full necessity. Let's say it's not a serious thing or to regret how the Sakurai team has chosen to explain all this deployment, but honestly, it could have been done a little better. Just as mini-games or bonus platforming tests could have been interspersed to give more variety in such a durable mode.
Now, assimilated its more neutral stone-paper-scissors mechanics with attack-defense-grip , and stopping to read the indications and exact enhancer of each spirit, checking in the ring that this is the case and which ones favor us the most, that tactical component prior to the fights it is unprecedented in the saga , being now radically important how we enter the combat. Of course, only in this Adventure mode and in Spirit Board , which is the other fastest game mode to unlock and unlock more of these cards with tons of characters from all the sagas that come together in this video game, which is already You will know that they range from all Nintendo brands without leaving even Tomodachi Life, to guests such as Bayonetta, Metal Gear Solid, Street Fighter, Final Fantasy, Pac-Man, Castlevania, Monster Hunter, Sonic, Rayman or Mega Man . A real nonsense of names, songs, settings or objects that make it an interactive encyclopedia.
Screenshots
Screenshots will help you evaluate the graphics and gameplay of Super Smash Bros. Ultimate.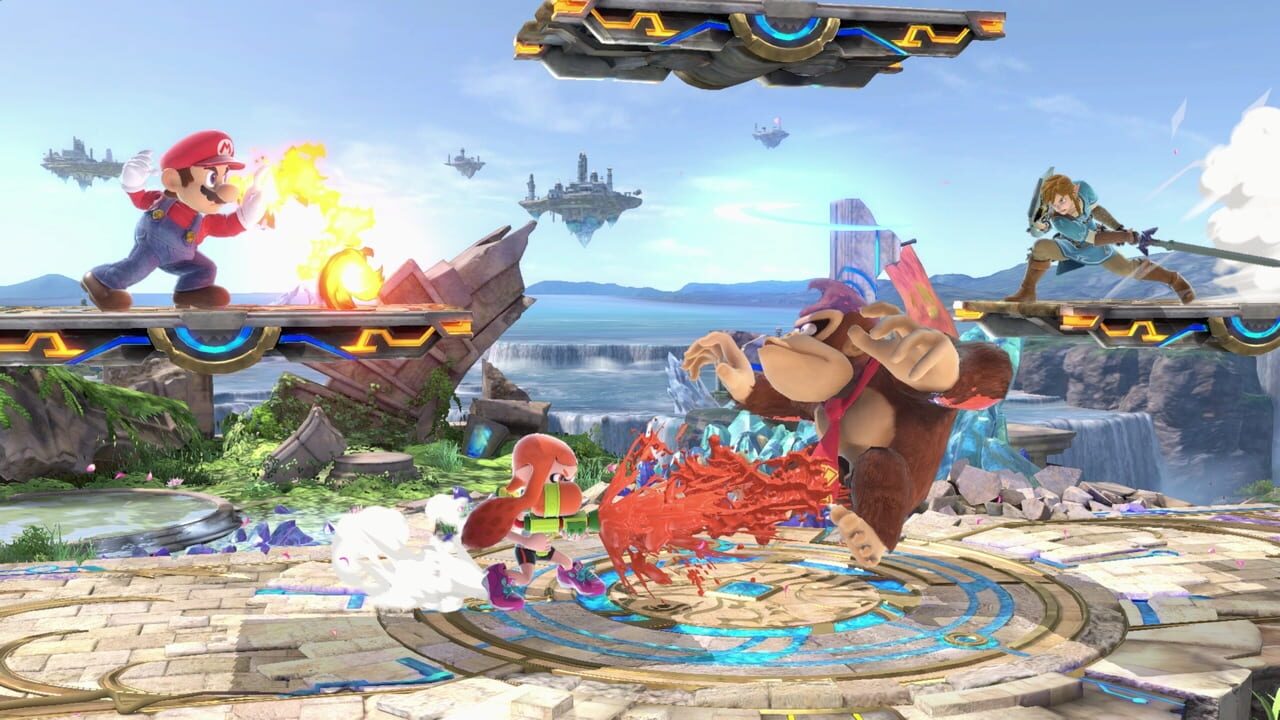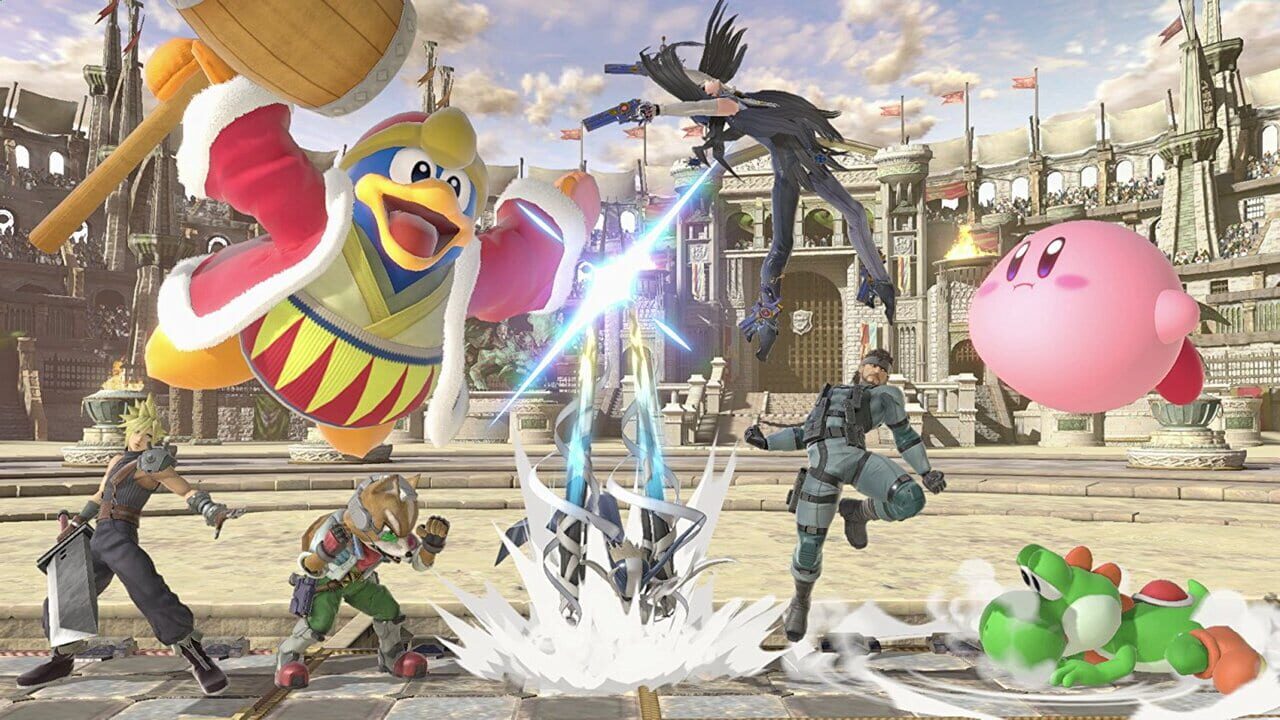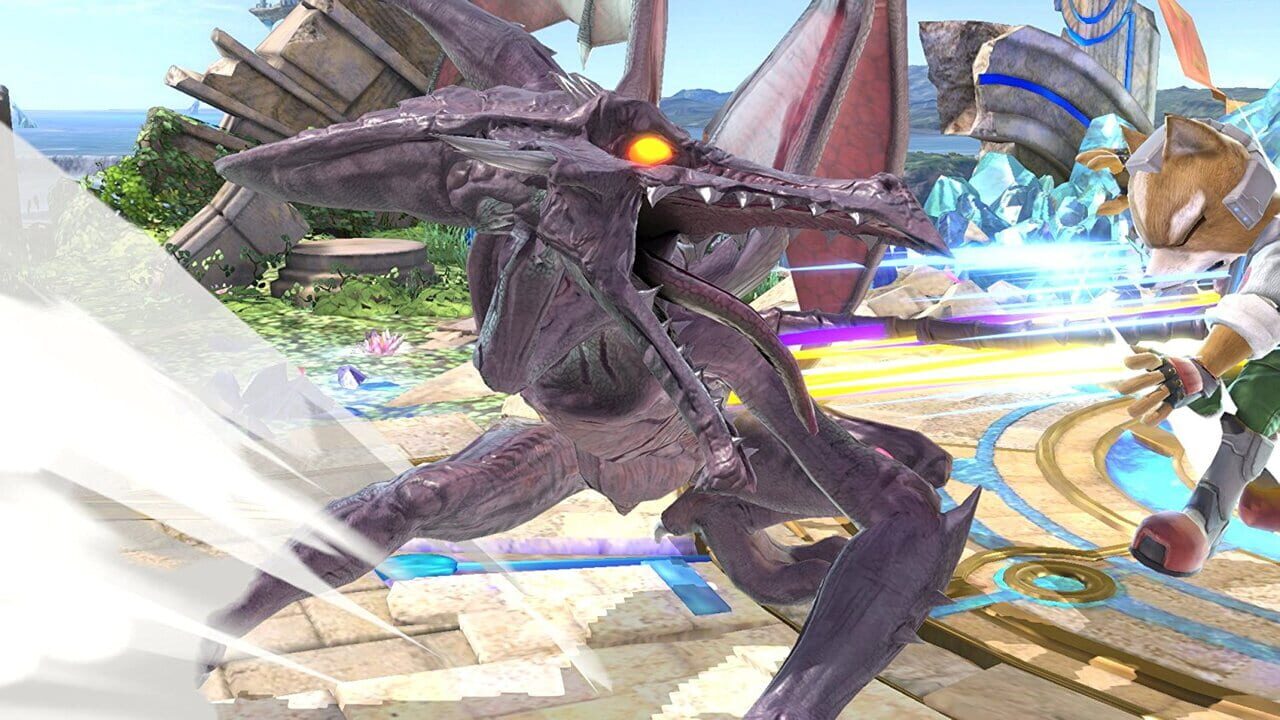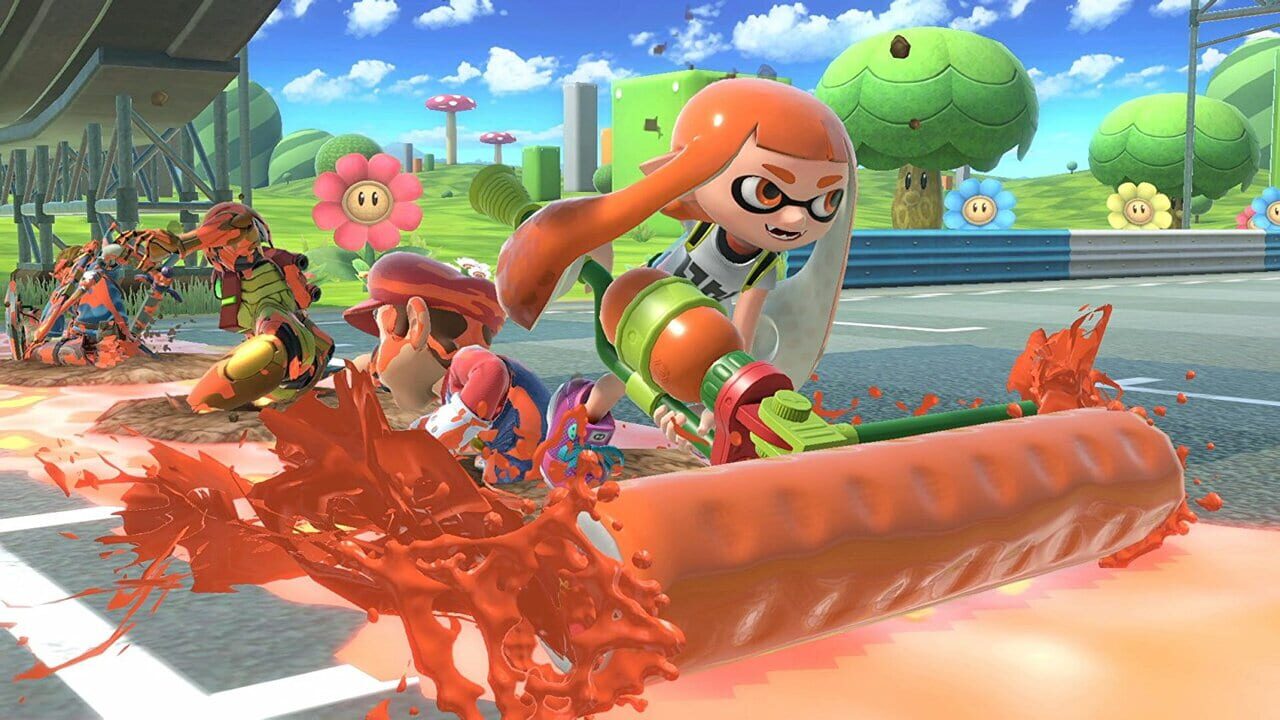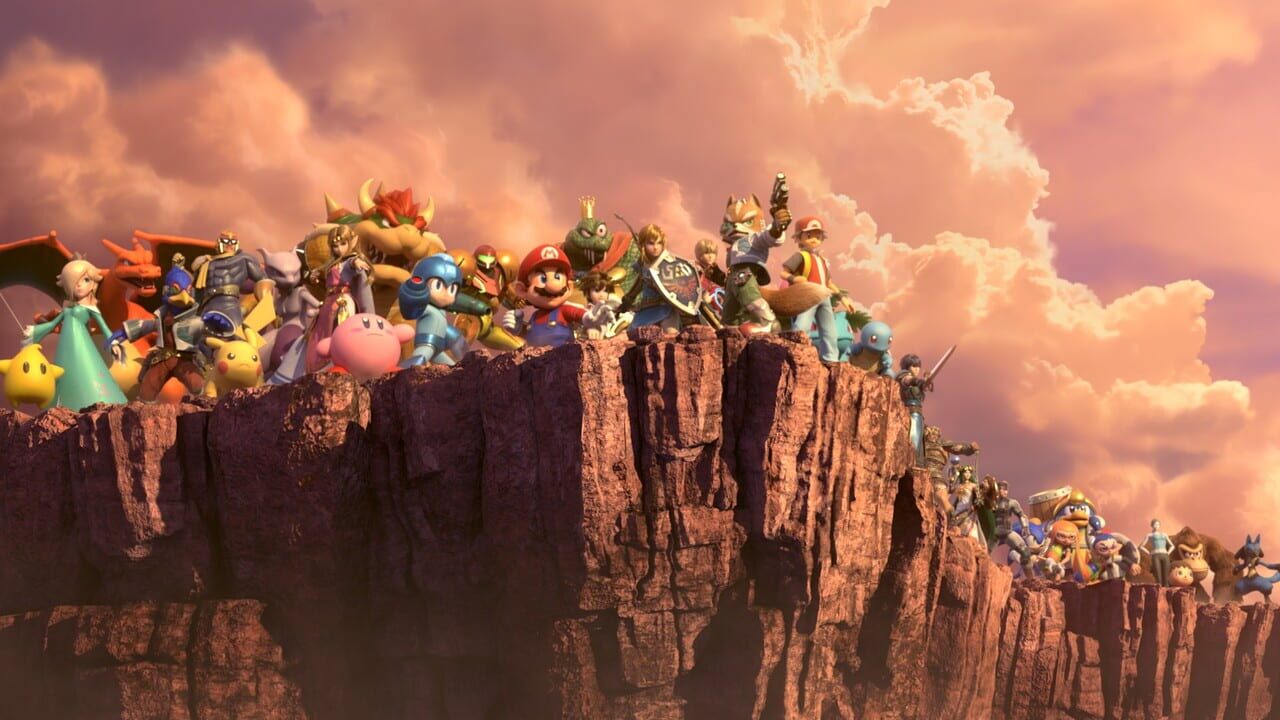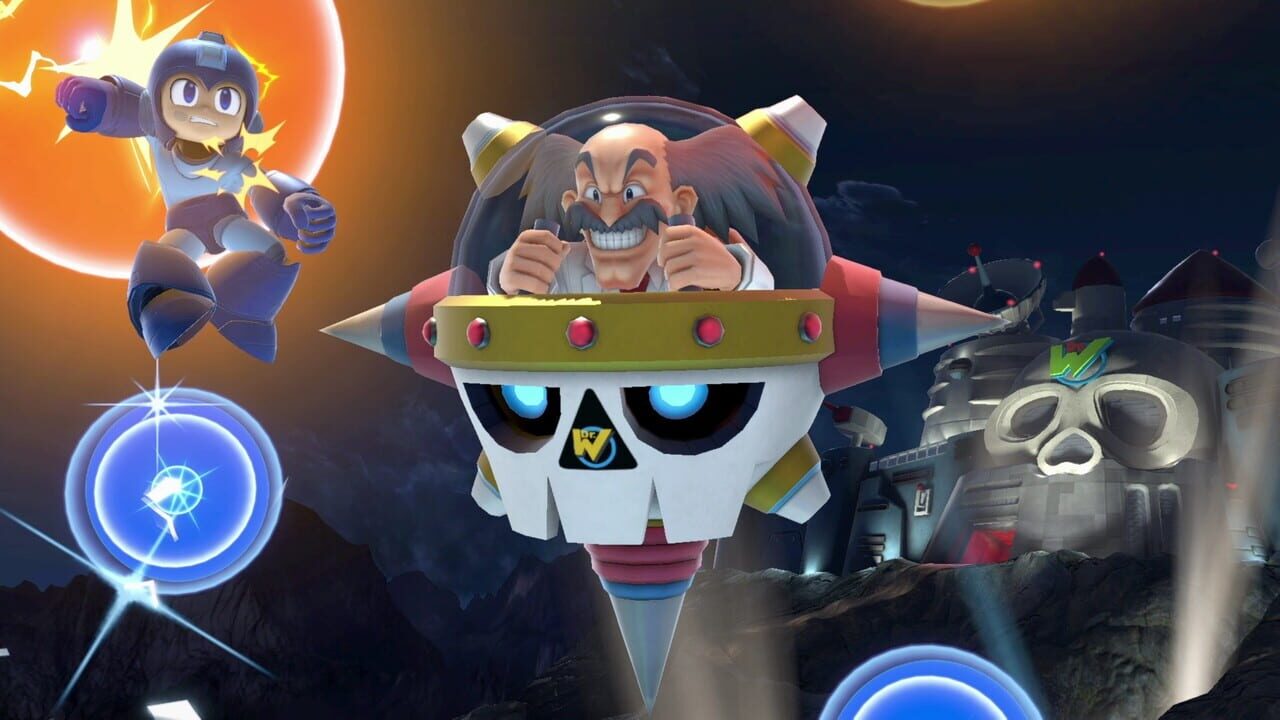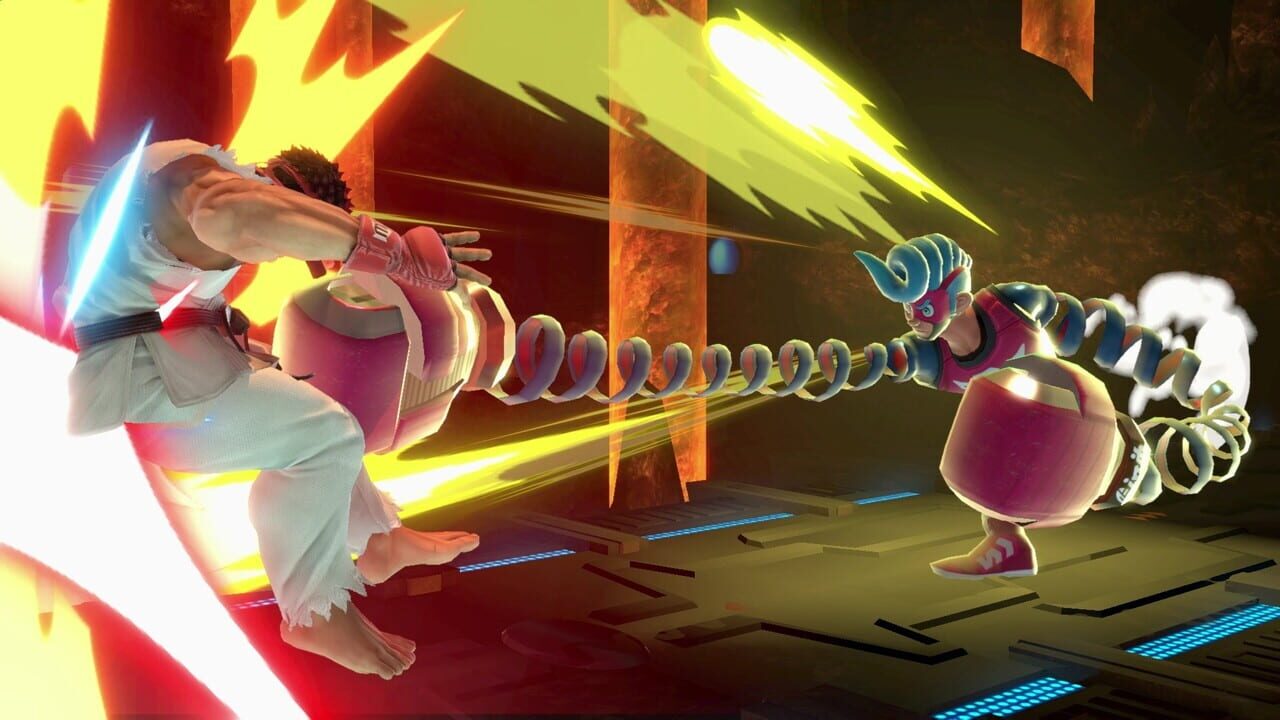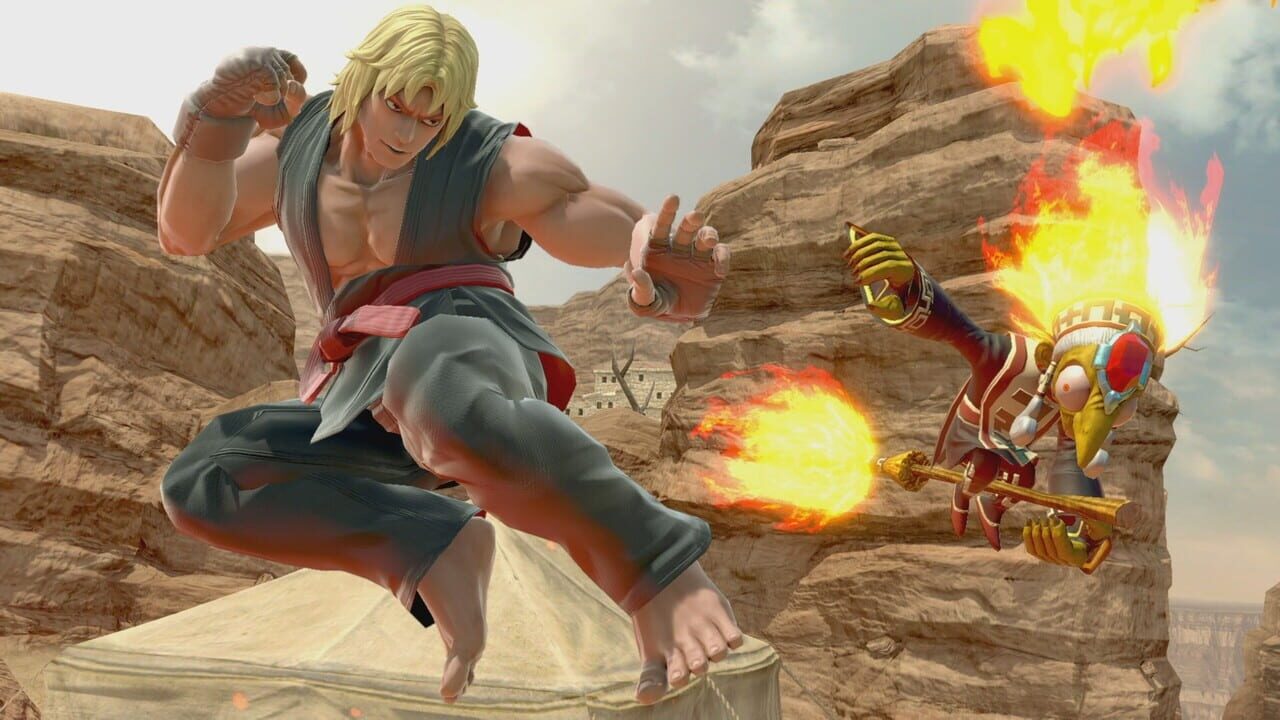 Videos
If screenshots are not enough, you can enjoy creative videos from Nintendo
You may also like
If you like Super Smash Bros. Ultimate, but you're tired of it and want something new, you can try other games.