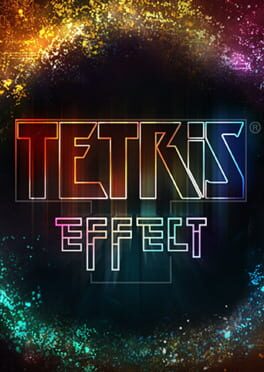 Tetris Effect
Publisher

Enhance Games

Developer

Monstars

Release date

9 Nov 2018
Named after a real-world phenomenon where players' brains are so engrossed that images of the iconic falling Tetrimino blocks (i.e. the Tetris playing pieces) linger in their vision, thoughts, and even dreams, TETRIS® EFFECT amplifies this magical feeling of total immersion by surrounding you with fantastic, fully three-dimensional worlds that react and evolve based on how you play. Music, backgrounds, sounds, special effects—everything, down to the Tetris pieces themselves, pulse, dance, shimmer, and explode in perfect sync with how you're playing. From deep beneath the ocean to the furthest reaches of outer space and everywhere between, TETRIS® EFFECT's 30-plus stages take players on a wondrous, emotional journey through the universe. The core of the game is still Tetris—one of the most popular puzzle games of all time—but like you've never seen it, or heard it, or felt it before.
see all / fold
| AGM score | 88% |
| --- | --- |
| IGN | 8.5 |
| GameSpot | 9 |
| Metacritic | 90 |
expand / fold
About Tetris Effect
Tetris Effect is released by Enhance Games in 9 Nov 2018. The game is designed by Monstars. Tetris Effect is a typical representative of the Puzzle genre. Playing Tetris Effect is a pleasure. It does not matter whether it is the first or a millionth hour in Puzzle, there will always be room for something new and interesting. Thrilling levels and gameplay Tetris Effect will not leave anyone indifferent. The complexity of gameplay increases with each new level and does not let any player get bored.
In addition to it in 9 Nov 2018 released games such as:
In addition to Tetris Effect, the representatives of Puzzle games also belong:
A complete list of games like Tetris Effect can be found at AllGame here.
Tetris Effect is versatile and does not stand still, but it is never too late to start playing. The game, like many Puzzle games has a full immersion in gaming. AllGame staff continues to play it.
Tetris Effect is perfect for playing alone or with friends.
At AllGame you can find reviews on Tetris Effect, gameplay videos, screenshots of the game and other Puzzle representatives.
The story
This section tells the history of the world of Tetris Effect
Tetris® Effect is Tetris like you've never seen it, or heard it, or felt it before—an incredibly addictive, unique, and breathtakingly gorgeous reinvention of one of the most popular puzzle games of all time, from the people who brought you the award-winning Rez Infinite and legendary puzzle game Lumines. Fully playable on either a standard display—with unlocked resolution and uncapped framerate (with Vsync disabled)—or optionally in mind-blowing 3D on Oculus Rift and HTC VIVE. As the ultimate version of Tetris Effect, the PC version is capable of running at resolutions of 4K or more, with an uncapped framerate (if Vsync is disabled), and includes ultra-wide monitor support as well as other expanded game and graphical options for both 2D and VR play (including adjustable particle volume and size, texture filtering, and more) not found in the PlayStation 4 console release. Music, backgrounds, sounds, special effects—everything, down to the Tetriminos themselves, pulse, dance, shimmer, and explode in perfect sync with how you're playing, making any of the game's 30+ stages and 10+ modes something you'll want to experience over and over again. A challenge for the mind and a feast for all the senses, Tetris Effect is the perfect excuse to play Tetris again... and again...and again, and again, and again and again and again and again and again and again and…" VR Optional: Playable on your PC desktop, or in full VR with your Oculus Rift or HTC VIVE headset and accompanying controllers (standard gamepads, VIVE Controllers, and Oculus Remote and Touch controllers are all supported). All-new "Zone" Mechanic: Players can stop time (and Tetriminos falling) by entering "the Zone" and either get out of a sticky situation that could otherwise lead to "Game Over," or rack up extra Line Clears for bonus scoring rewards." Over 30 Different Stages: Each with its own music, sound effects, graphical style and background that all evolve and change as you play through them. Enhanced PC Visuals & More: Unlocked resolution and uncapped framerate if Vsync is disabled, increased texture and particle effect options, support for super high-resolution and ultrawide monitors, and more. Created by Monstars Inc. and Resonair
Tetris Effect - Analysis
Author: Victor Sánchez
Date: 2020-07-30 22:25:52
Tetsuya Mizuguchi has spent many years trying to perfect something. Let's say that on the one hand he has always wanted the player to be seen in a kind of synesthesia, mixing gameplay with sound and with visual effects. A definitive sensory sensation. Something that turns the playable experience into something more intense. He began this adventure of his with his Space Channel 5, mixing rhythms and playability to the eccentric, with colors and sounds as if there was no tomorrow.
And then in 2001, just two years after his first personal project and just six since he designed the Sega Rally Championship, he launched REZ. And that's when one of his paths really begins. There the sensory experience is total. There he gets his greatest fame and memory.
Now we go with the other obsession of the great Japanese author. It starts in 2004 with one of the PSP launch games: Lumines. It is a curious puzzle game in which music is important. Let's say it seems like at that moment Mizuguchi wanted to mix two loves: Tetris and music. And, well, somehow he did, because the title he released under his Q Enterteinment label has gone down as one of the best Tetris Style in the universe and, well, the music was there.
After a time when he played various sticks, producing brilliant puzzle games like Meteos for Nintendo DS, designing the musou Ninety Nine Nights , or picking up on something similar to Rez, but compatible with Kinect such as Child of Eden, it seemed like fire from an author who marked the 90s considerably, it had gone out.
But no, the stars joined and Mizuguchi returned with us, to give us back the light.
What brings us now with Tetris Effect? It really is very simple to understand: it has gifted all of humanity with the perfect fusion between his two obsessions. The game that mixes your passion for synesthesia and Tetris. And since he is aware that his strength is not to create the mechanics, but to turn it into a special experience, he has managed to make his latest project to date be Tetris Effect. In other words, he has removed the burden of inventing a gameplay, taking a totem of the indisputable genre, and has led him on his way making him the first author Tetris since Alekséi Pázhitnov created the first prototype of the game in the Soviet Union in the year 1984.
What is special about a Tetris at this point in the film? For starters, we are not going to deny that Mizuguchi's Tetris Effect is, completely and entirely, an ordinary Tetris . The game is the game, the pieces are the pieces and the mechanics is the mechanics. It has not altered anything in this regard. What he has done is significantly improve the packaging to take it to his field.
To start, let's talk about the trip mode , which could be considered the central campaign of the game on which the rest of the game resides. There we find a journey of about 30 levels to complete the entire journey of the game. We can face these levels, one by one, to get to the end of the game.
Each of them has been designed in a unique way, both musically and aesthetically. Let's say that Mizuguchi has thought each screen as if it were a music video . At the beginning, the music goes to a rhythm and that determines the predetermined speed for the fall of the dates. Little by little the game continues and, depending on the level we are at and the theme that is playing, the speeds vary, the intensity.
Of course, as a good deed by Mizuguchi, the experience can get better and better. Our game is making the music change. The number of lines, of the 36 that we have to meet to pass each level, makes you change. Everything we do affects music. We, playing, are orchestra conductors. And we can make the melody perfect or gradually fall into monotony if we have been without lines for a long time. Everything is noticeable and can be seen.
If we play this whole experience with good headphones, everything increases significantly. And, if we do it in VR mode, compatible with PlayStation VR, things get really intense. Let's understand that the latter is one more option and that it does not add much more meaning to the game. Nothing really changes if we go from normal to Virtual Reality mode, we do not see a different perspective. But we see our game session from within, surrounded by the color and designs with which Mizuguchi complements each of his small works of art.
Within the musical styles, with very few exceptions, we will have to expect an almost constant chillout / new age tone . Of course, sifted by the settings in different styles depending on what you see. For example, we will find Native American music, African music, space music, some songs that are more bordering on pop, and even an absolutely priceless piece inspired by the city and with jazz rhythms.
Therefore, we have the best Tetris that we could dream of at a basic level . And what else is inside it? Of course, the travel mode is not the only one that we will find. Rather than focus on a competitive online swoop as many of the next-gen Tetris have done, what Mizuguchi has come up with is to generate a kind of global level of testing he has called Effect Mode. What we do here is move through different styles of play to which they have given names of the type Concentration, Relaxation or Adventure, which determine the type of game we want to have at that time. The idea is to carry out really fun little challenges in which we will have to, for example, pass a phase with all kinds of traps (such as turning the map upside down or radically changing the type of tiles or the camera perspective), as well as make concrete lines in a few seconds. Here we see a kind of Global Tetris, in which we can locate ourselves in our location on the map and assess how many people are playing. Among us, the travel version is the one that fills you the most. But the Effect mode is the one that ultimately brings the experience to life.
Screenshots
Screenshots will help you evaluate the graphics and gameplay of Tetris Effect.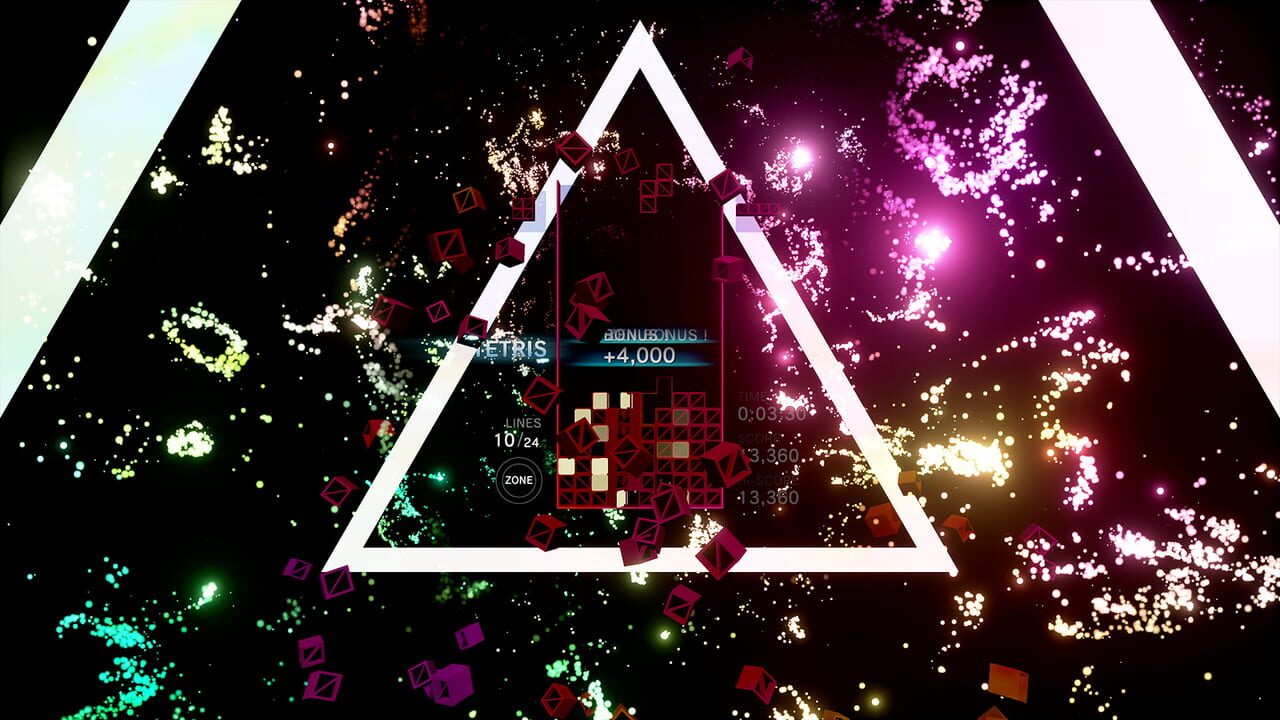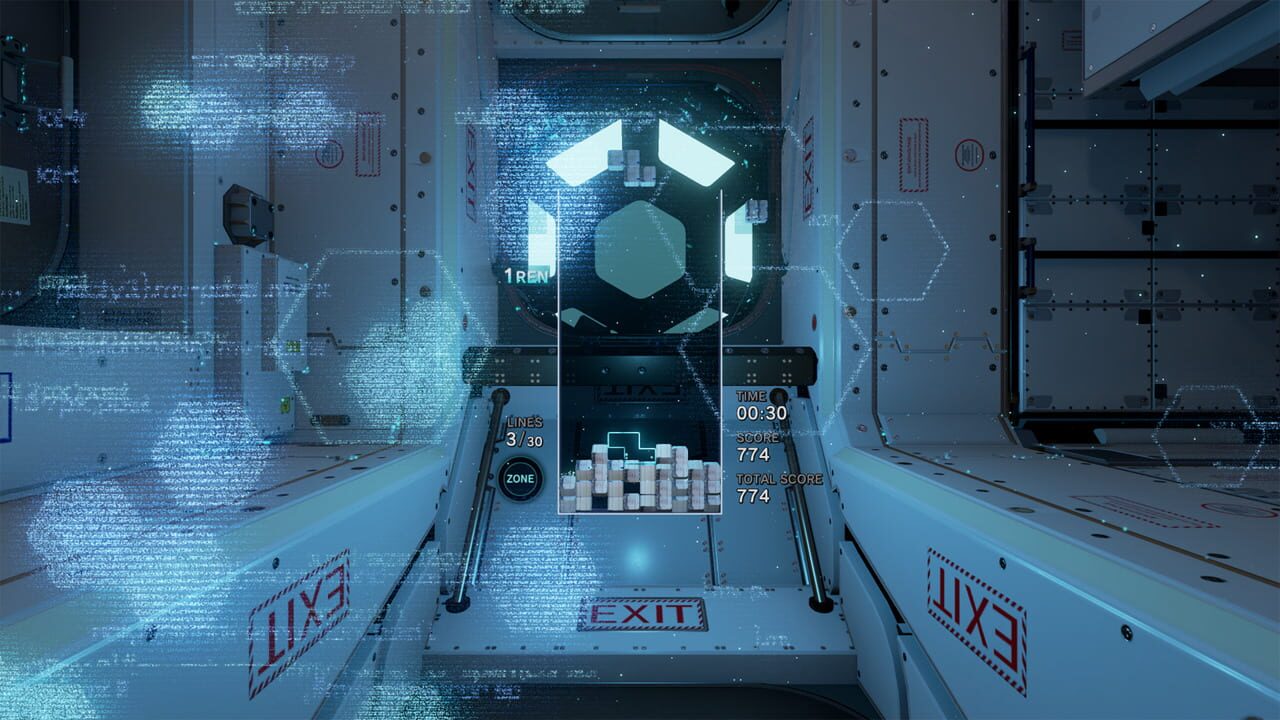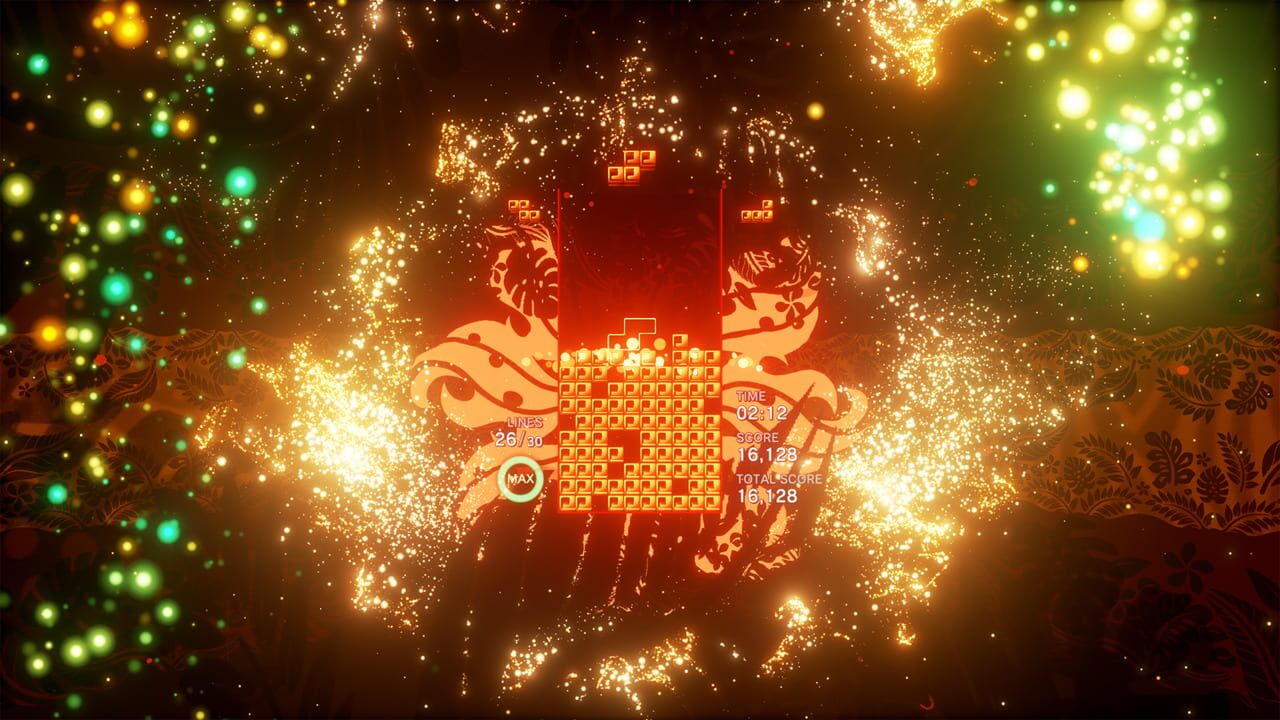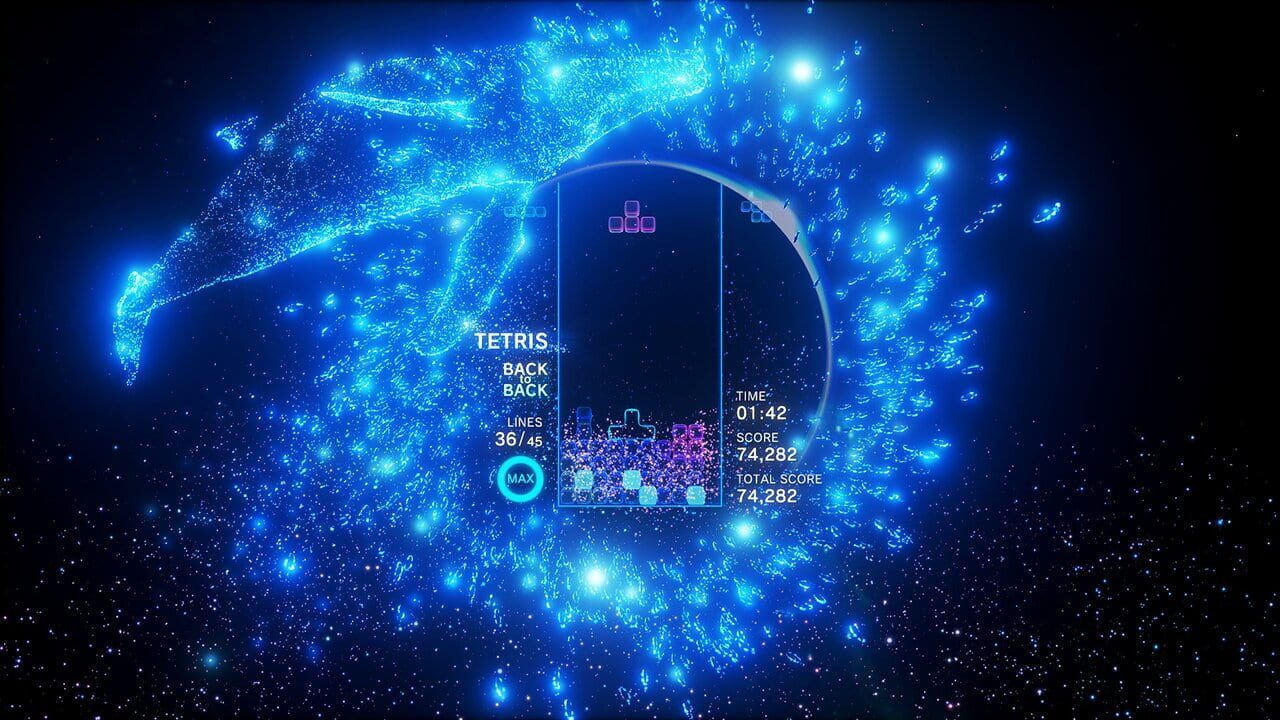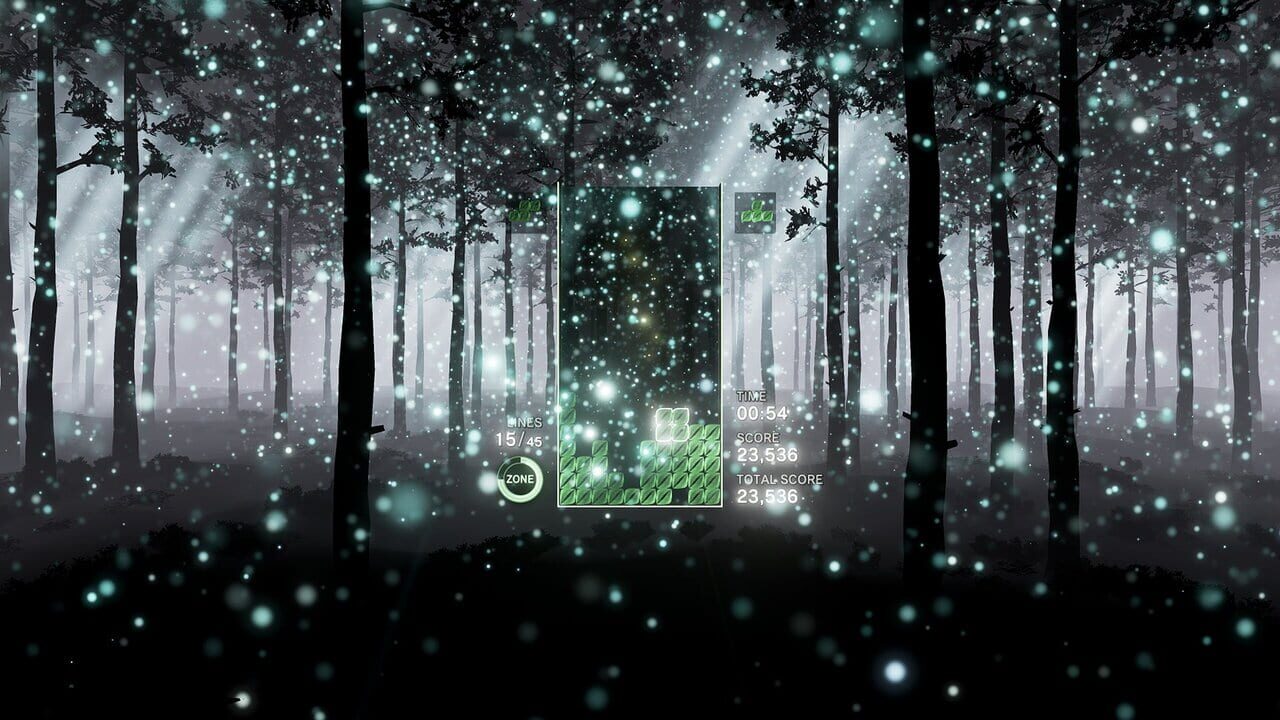 Videos
If screenshots are not enough, you can enjoy creative videos from Enhance Games
You may also like
If you like Tetris Effect, but you're tired of it and want something new, you can try other games.