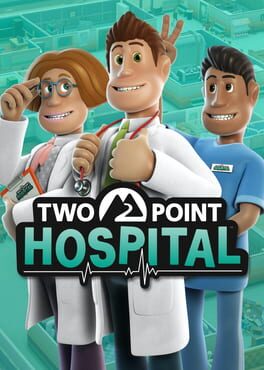 Two Point Hospital
Publisher

Sega Entertainment

Developer

Two Point Studios

Release date

30 Aug 2018
Structure and assemble your own hospital! Manufacture a hospital from stone to perfect work of art. Make the most excellent - or best - human services supplier in all of Two Point County. Improve your hospital to build understanding stream (and consequently deals) and make passages, rooms and holding up regions as indicated by your thoughts. Expand your hospital by a few structures and introduce entryways that are as extensive as could be allowed - at that point more patients will fit in. Circulate classy enrichments and useful things in your hospital to expand its glory, diminish the fatigue of your patients, increment their fulfillment and toward the year's end tap however many honors as would be prudent. Fearlessness Unusual Diseases There are very few typical patients in Two Point County. There are in reality just unusual illnesses right now, for instance, isn't only a painting style here. Each disease requires its own treatment machine. Be that as it may, before that, the infection needs to be analyzed. You need to assemble the correct rooms in which to take care of them, contract the correct experts and afterward keep yourself prepared - in light of the fact that relieving a case is only the start. A solitary patient isn't an issue, yet shouldn't something be said about a pandemic? Once you've relieved an ailment, you can inquire about improved fixes and transform your hospital into a relentless medication juggernaut. Improve and grow your hospital skyline! Everything begins with your first hospital, however how can it go on? When the occupants of a little port town are totally relieved, the wellsprings of salary normally evaporate - solid individuals don't burn through cash on specialists. Terrible plan of action? Jabber, somebody is constantly wiped out some place. Face a greater test in a bustling hospital! Improve divisions, show signs of improvement machines, employ increasingly talented staff, and patch up your whole hospital to get more cash-flow quicker - through the enduring of others, however who precisely inquires? A while later everybody is better. Your wallet as well. Train your staff, show them new aptitudes and make your hospital considerably progressively productive. Utilize the point by point insights and data screens to precisely distinguish your qualities and shortcomings and make speedy modifications. Change the costs of your medications, watch out for your benefit, take out credits and improve your earnings.You will manage staff who have interesting characters and attributes, so discover who works proficiently - and who just on the spoiled skin. All things considered, it's additionally undesirable, and really debilitated individuals should pay you and not the a different way. Discover a harmony between your workforce and your arrangements so you can make a genuine benefit. What's more, who knows, perhaps you will spare a couple of lives all the while. All things considered, there was something in particular about hospitals and recuperating.
see all / fold
| AGM score | 83% |
| --- | --- |
| IGN | 8.4 |
| GameSpot | 8 |
| Metacritic | 84 |
expand / fold
About Two Point Hospital
Two Point Hospital is released by Sega Entertainment in 30 Aug 2018. The game is designed by Two Point Studios. Two Point Hospital is a typical representative of the Indie genre. Playing Two Point Hospital is a pleasure. It does not matter whether it is the first or a millionth hour in Indie, there will always be room for something new and interesting. Thrilling levels and gameplay Two Point Hospital will not leave anyone indifferent. The complexity of gameplay increases with each new level and does not let any player get bored.
In addition to it in 30 Aug 2018 released games such as:
In addition to Two Point Hospital, the representatives of Indie games also belong:
A complete list of games like Two Point Hospital can be found at AllGame here.
Two Point Hospital is versatile and does not stand still, but it is never too late to start playing. The game, like many Indie games has a full immersion in gaming. AllGame staff continues to play it.
Two Point Hospital is perfect for playing alone or with friends.
At AllGame you can find reviews on Two Point Hospital, gameplay videos, screenshots of the game and other Indie representatives.
Two Point Hospital - Análisis
Author: José Cabrera
Date: 2020-03-03 03:53:45
Sometimes when we watch a movie or play a video game, a memory is recorded, probably more of the moment than the game itself. Something similar to nostalgia, although not always surrounded by so much mysticism. Theme Hospital was launched in 1997. Developed by the now disappeared Bullfrog Production studio, or more than disappeared, converted, we'll see. However, I don't think it was until 2001 or so when I could play it. You could not tweet or share screenshots of the patients you sent to "inflatoterapia". A kind of forum was then created, around a package of pipes most of the time, in which you shared with colleagues what they had discovered. 21 years later Two Point Hospital resurrects one of the unforgettable myths of that generation.
Mark Webley and Gary Carr are two of those responsible for Theme Hospital , still in Bullfrog. After the absorption of the study by EA, and having already founded Lionhead by, among others, Webley and Peter Molyneux, both developers participate in projects such as Fable or The Movies. And it would n't be until 2016 , when Carr and Webley, along with programmer Ben Hymers, decide to create Two Point Studios . It will be then when the developers manage to recover the old project of creating a sequel to Theme Hospital . After an agreement with Sega, finally the announcement of Two Point Hospital is shown in January 2018. To which we have finally been able to play and we tell you many of the things that await you from August 30.
The first thing that attracts attention is humor . Webley and Carr themselves have highlighted this aspect during the pre-launch promotion. The game is about managing a hospital, but surrealism and fun take precedence over the seriousness you'd expect from a real hospital. The game completely recovers the spirit of Theme hospital . We will deal with diseases as disparate as a patient is created Freddy Mercuri or another that causes people to become a clown (with a priest's room converted into a circus tent, whatever the past ... medicine).
The Unity engine is very well used, graphically the game is quite well solved, unpretentious and within an aesthetic already marked by its creators two decades ago. The designs honor and follow the same line as in 97 but are updated enough to justify a new delivery . In fact, the interface is much more intuitive and attractive, taking more advantage of its visual appearance and animations. The soundtrack does not offer much beyond leitmotivs but it exceeds. A pity, however, that the Spanish translation is only in the texts and not the audio, although this section in its original version is quite fun and brings much to the experience.
We started the game in Two Point County, an extensive setting in which we will have to manage several hospitals. The same classic strategy and simulation system from the previous installment is recovered . During the first hours, as a tutorial as expected, the difficulty and pace at which new mechanics are presented to us is quite balanced. We will have to move from one hospital to another, spread across different parts of the county. In each hospital the difficulty increases, and each of them is subject to peculiarities based on their location. For example, if there is a hospital near an amusement park, it will be more frequent for us to receive patients with clown disease. Or if it is a mountain area, many patients with fractures will come. But not only does the influence of the environment remain there, another example is that of an area where earthquakes usually register, which will damage our equipment and force us to repair it.
There are fixed objectives in each area , designed to make the different rooms level up and therefore the general assessment of the hospital. The basics will be the reception, consultation room and pharmacy. From there we will be gradually unlocking more rooms for the different diagnoses and diseases discovered, which will do in turn that we should review the qualification of the personnel we are hiring. And that is another interesting point of this game. All staff has some skill slots that we can fill out once we build a training room to teach them and level up . This will allow us not only for a nurse to attend to better or less tired, but also to provide research skills to medical staff to cope with new symptoms. Special attention in this regard deserves the ability to aspire ghosts that the brothels can learn. When a patient dies, his ghost will roam the hospital, scaring everyone he meets, unless we aspire.
In addition to the predefined challenges for each hospital, new ones will appear as we move forward in the management of the center. From visits by health inspectors, politicians, employees who want a promotion, an epidemic outbreak ... Overcoming each of these challenges will make us earn more money but also influence the reputation of our hospital. Of course, both patients and employees are a very demanding fauna, which will mean that we must be attentive to the state of the equipment, the decoration or the temperature of each room. A good reputation will attract more patients and with it more money. With the money we can continue to improve and expand each hospital which implies leveling up.
At first it will be easy to please patients with a few benches to sit on, or staff with a rest room, but there comes a time when the difficulty curve increases. Two point hospital is not a particularly difficult game, but it does have moments of real madness. Sometimes it does not leave you much time for experimentation because problems and chaotic moments that you will have to solve will not stop.
At the end of the main objectives of an area, the state of the center will be valued between 1 and 3 stars. As more stars accumulate more areas we can unlock. In this sense, an interesting aspect is that we will have the possibility of going back, and continuing to manage a hospital that we have previously opened to increase its reputation and improve its facilities. There is also a global reward system, which will give us more money as we meet more challenges (cure 100 patients, Earn 1000k etc.)
Screenshots
Screenshots will help you evaluate the graphics and gameplay of Two Point Hospital.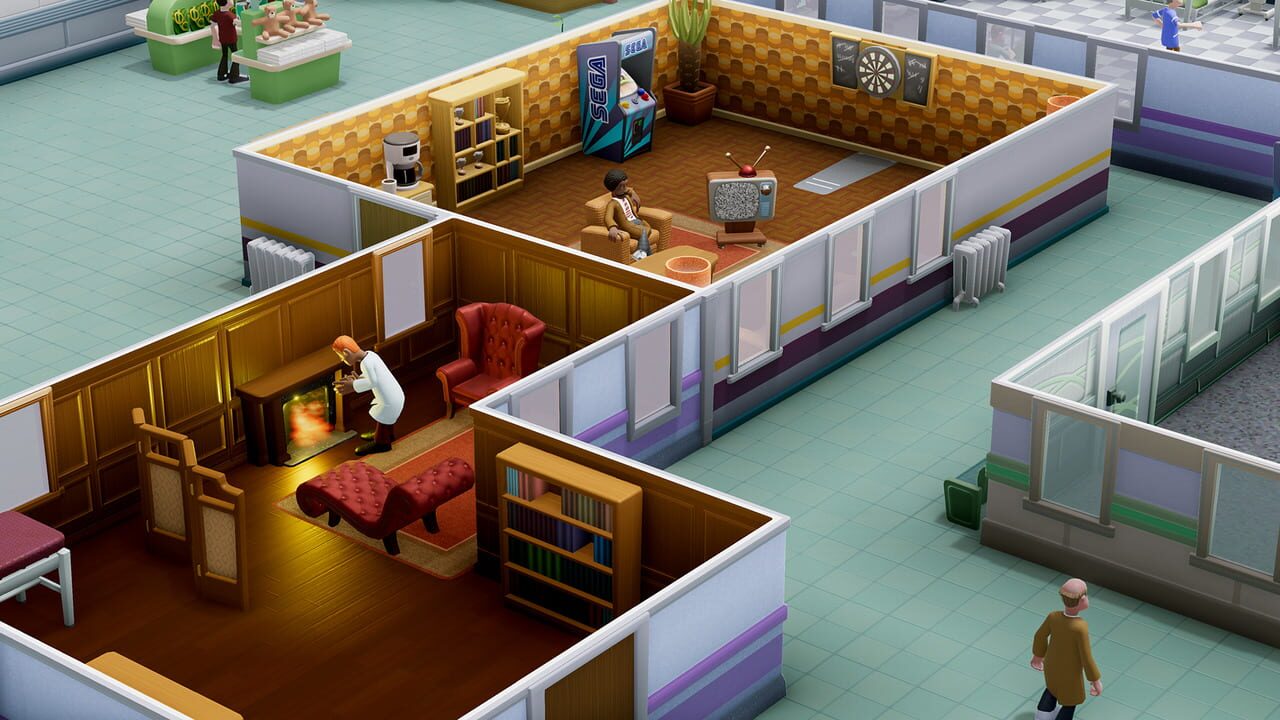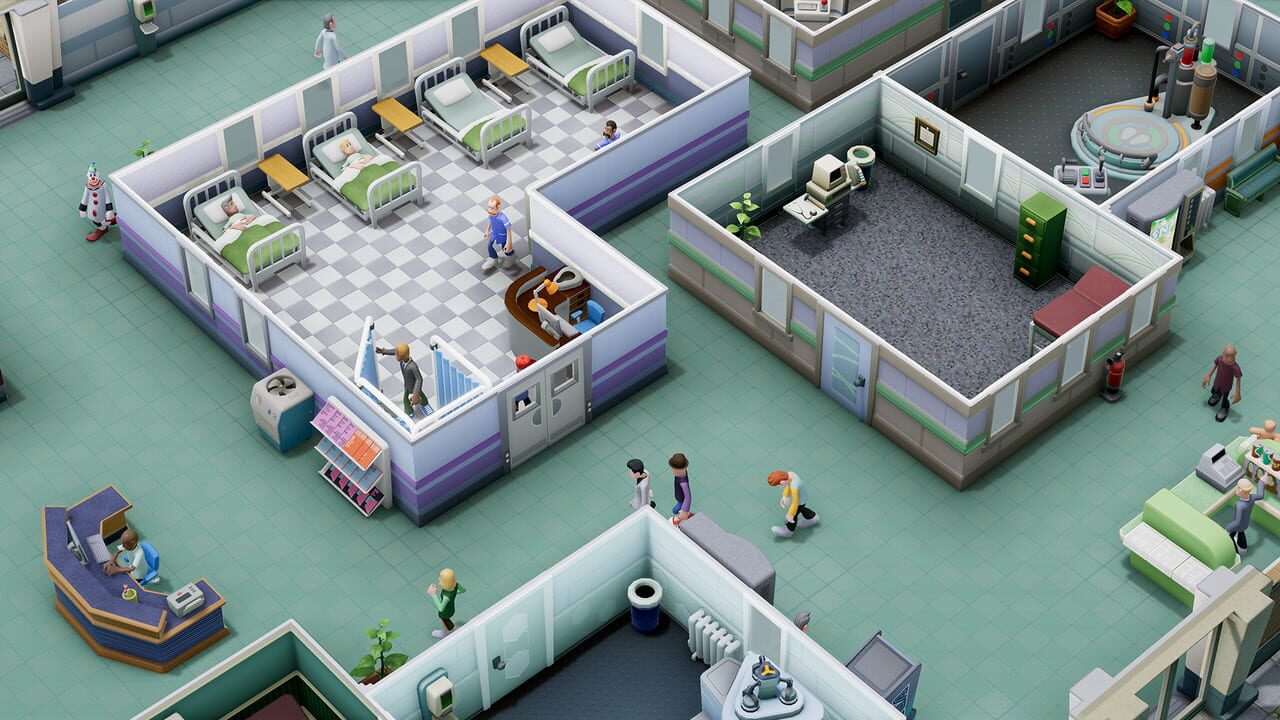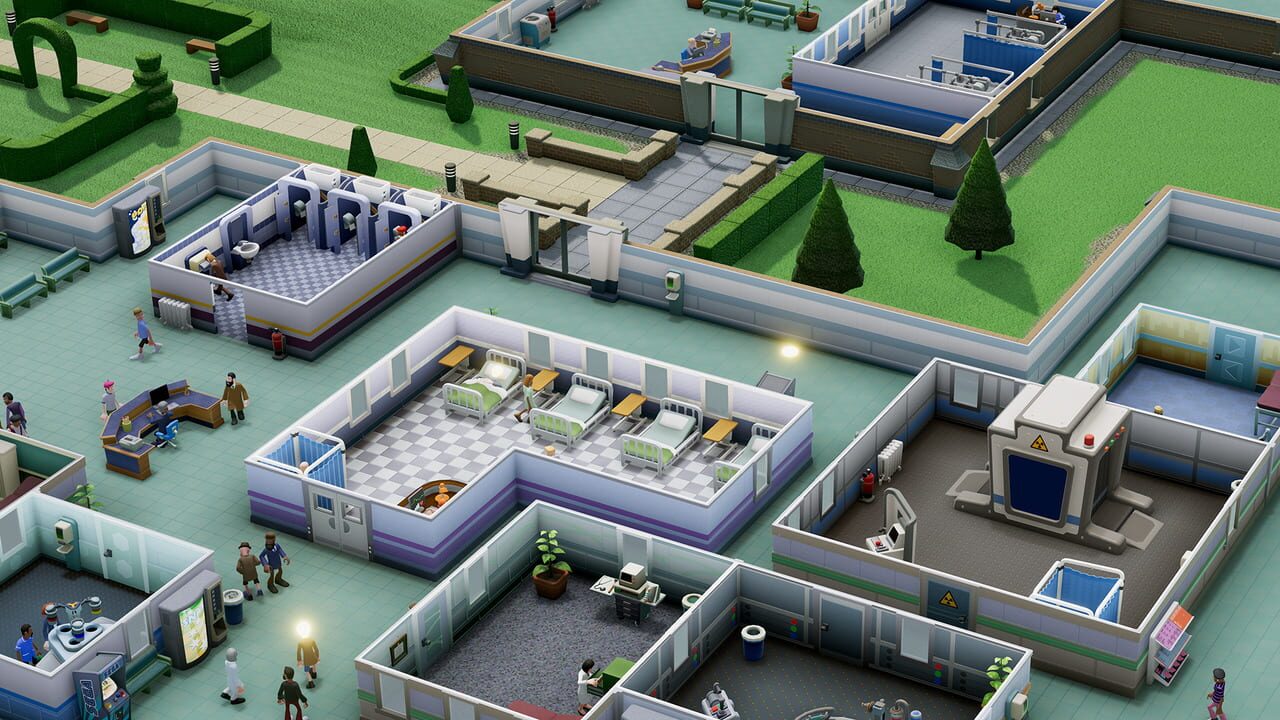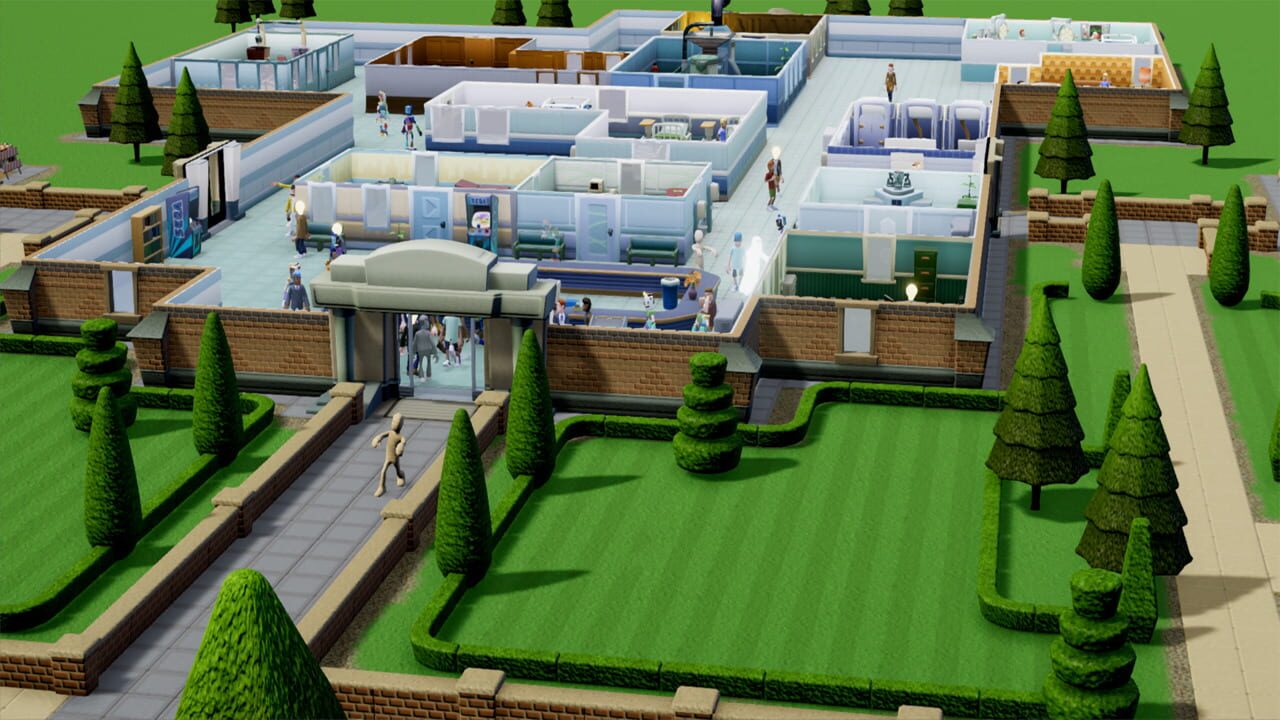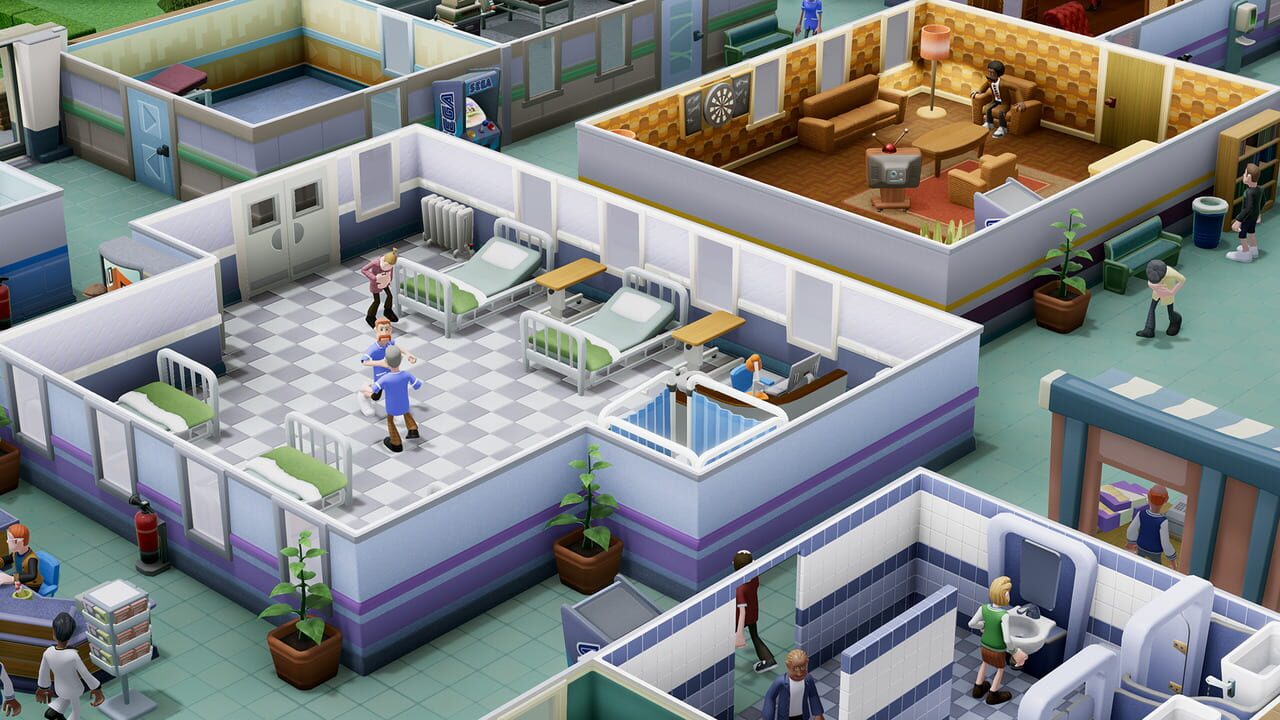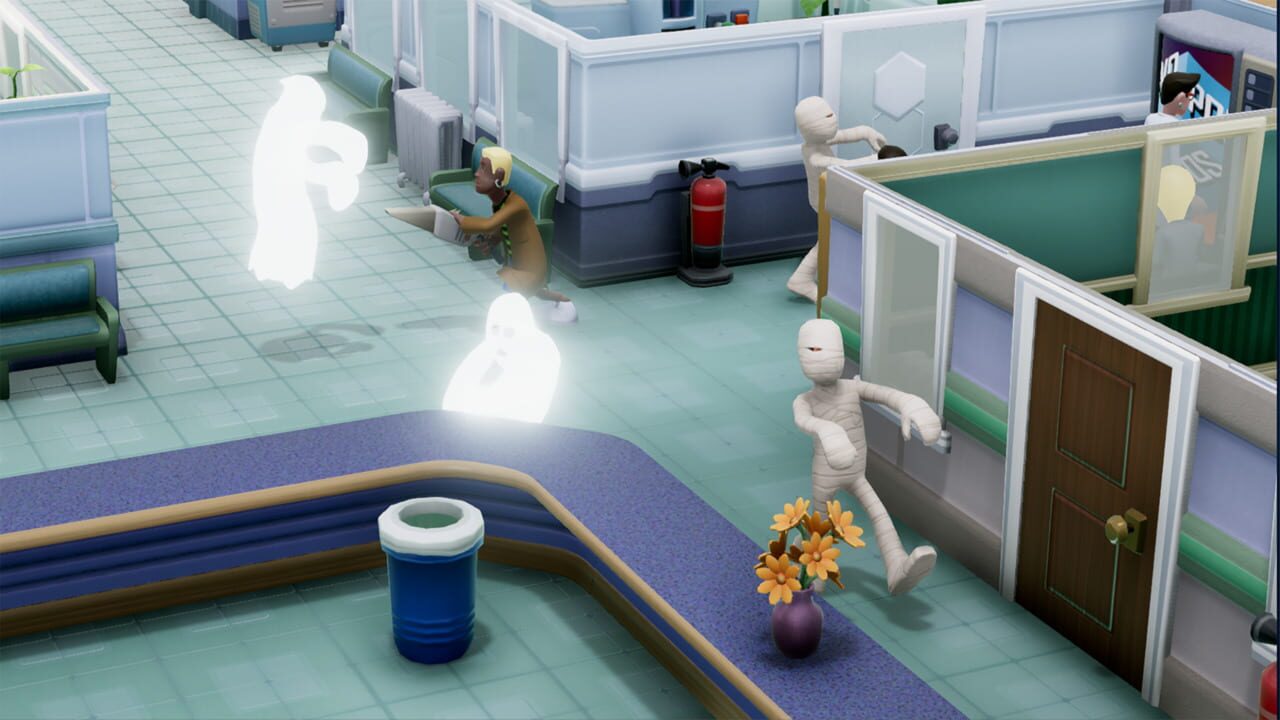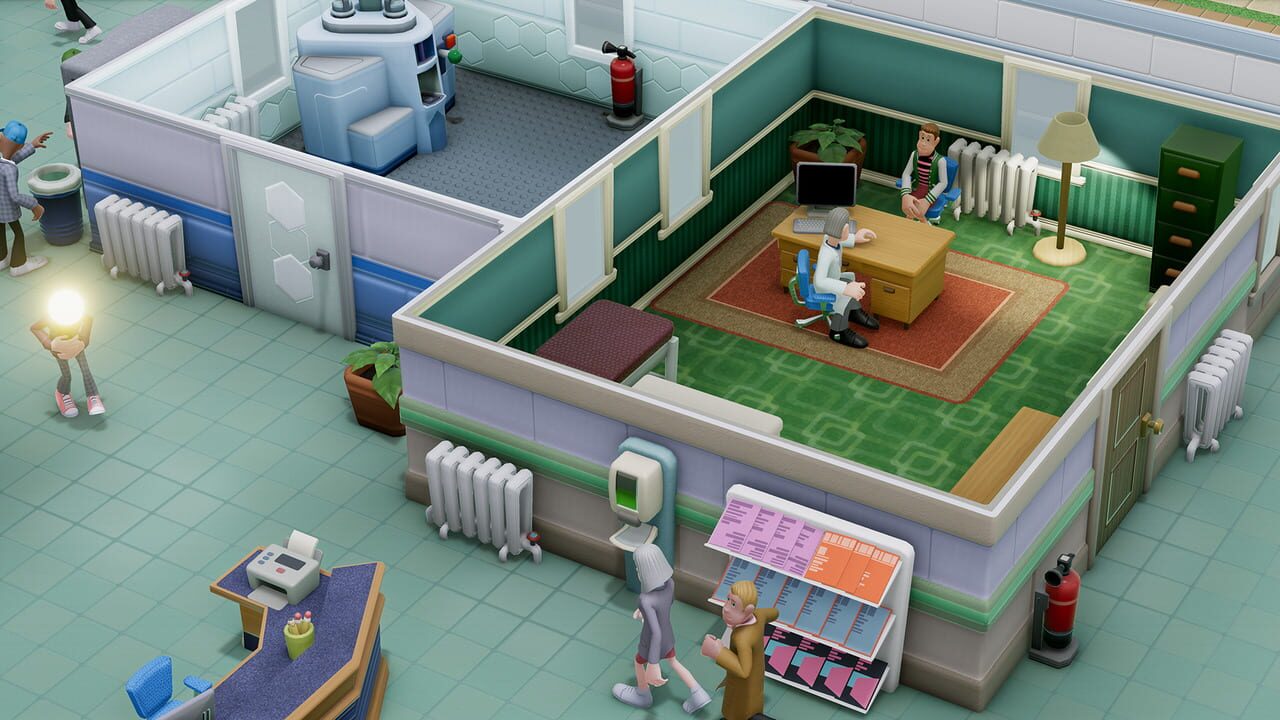 Videos
If screenshots are not enough, you can enjoy creative videos from Sega Entertainment
Streams
But that's not all! We also carefully prepared the best strips from Two Point Hospital.
You may also like
If you like Two Point Hospital, but you're tired of it and want something new, you can try other games.