VOEZ
Publisher

PM Studios

Developer

Rayark Inc.

Release date

26 May 2016
VOEZ is played by touching falling notes in time with the music. Set in a fictional town named Lan Kong Town, which is modelled after Yilan in Taiwan, the story is centred around six high school students who form a band that eventually achieves international fame. Gameplay is simple, requiring players to touch vertically falling notes that have hit a bar on the bottom of the screen. Depending on the song, the number of lanes for the notes increases and they shift side to side, making the screen look as if it is dancing to the music. There are over 100 songs in the library. Three difficulty levels Easy, Hard and Special are available. Players are able to choose difficulty levels according to their skill so they may enjoy all pieces.
see all / fold
| AGM score | 86% |
| --- | --- |
| IGN | 0 |
| GameSpot | 0 |
| Metacritic | 86 |
expand / fold
About VOEZ
VOEZ is released by PM Studios in 26 May 2016. The game is designed by Rayark Inc.. VOEZ is a typical representative of the Music genre. Playing VOEZ is a pleasure. It does not matter whether it is the first or a millionth hour in Music, there will always be room for something new and interesting. Thrilling levels and gameplay VOEZ will not leave anyone indifferent. The complexity of gameplay increases with each new level and does not let any player get bored.
In addition to it in 26 May 2016 released games such as:
In addition to VOEZ, the representatives of Music games also belong:
A complete list of games like VOEZ can be found at AllGame here.
VOEZ is versatile and does not stand still, but it is never too late to start playing. The game, like many Music games has a full immersion in gaming. AllGame staff continues to play it.
VOEZ is perfect for playing alone or with friends.
At AllGame you can find reviews on VOEZ, gameplay videos, screenshots of the game and other Music representatives.
Voez - Analysis
Author: Miguel Ángel Escudero
Date: 2020-07-30 22:44:30
We say this now to avoid error or misunderstanding: VOEZ is one of the little gems that we can find in the initial catalog in the Nintendo Switch eShop. We have already said the most important part of the analysis. But please, do not stop reading the reasons we give you for giving such a statement. And this musical game has surprised us for good. Sometimes appearances are deceiving and, after a small initial rejection, we have been forced to surrender to him.
VOEZ is presented on Nintendo Switch after passing through iOS and Android devices. Work of the Taiwanese studio Rayark Inc., experts in the development of games for mobile devices and especially music games with great acceptance in eastern lands. Here they will be known by the rest of the community who adore the oriental aesthetics and the catchy and pounding rhythms of Electro J-Pop. Server only got into these rhythms thanks to Splatoon. So the proposal could not be more risky. We have been delighted with the experience . But don't panic, because at VOEZ we will not only find the most pounding Japanese pop rhythms. Because the musical variety and the extensive set-list give much more game than you might expect; We will see - or rather, we will listen - from classical music, ballads and the odd oddity. A real delight for the most hardcore music lovers. It has also been confirmed that new themes will be included for free through various updates. So we are facing a game that is full of content.
As in any self-respecting musical game, our goal will be to chain chords together making impossible combos and blow up our scoreboard . In essence something so simple and at the same time addictive. And watch out for the dislocations of the phalanges that we know ...
The first thing that stands out at VOEZ is its elegant, simple and minimalist interface. Here we will not find strident video clips as the notes go down the screen, no. Here we will simply see how the notes that we must press slide across the screen, while it changes color. Simple and direct. It is not intended to distract the player, our duty is to press the notes at the right time and the game wants us to have our full attention on this task. Having a good rhythm and synchronization with what is appearing on the screen will be crucial to chain combos and obtain a higher scoring range. A rank that will be of vital importance to be able to advance in the History that the game presents us.
And is that VOEZ brings with it a small but well tacked and interesting story. With our group of friends we will form a music group and its success will depend on our ability and score. Not that it is a groundbreaking argument but only because of the way it is told, through text messages, chats or even tweets with very manga-style illustrations, it is worth it. However, this is a small double-edged sword, because in order to advance in this Story we will need to be skillful in each and every one of the different levels of difficulty.
So we will take advantage of this point to discuss the three levels of difficulty that this game brings. We will have the Easy (easy), Hard (difficult) and Special. Easy and Hard Modes are relatively accessible to all types of players. If we want a little more challenge when facing the first songs and sweat a little, we can easily choose the difficult mode. However, the Special Mode is already crazy for all those who are not very familiar with the genre. And it requires a brutal level of coordination and reflexes, only available to true masters. This humble editor has been unable to complete a single topic on this difficulty ... Call me one-armed if you like.
The case is that, obviously, the difficulty is linked to the rank that we will obtain by our global score. Ranges ranging from Classification C to S -passing B and A- where the first would be the worst and the S would be the height of perfection. And for this reason we have linked the evolution in the history of the game with its difficulty. Because the higher the rank obtained, the more fragments of history we will be able to unlock. And not only fragments of the evolution of our musical group, but also we will be obtaining avatars -there are more than 250 different- related to the characters of the game. So if you are one of those looking to complete 100% of a game, with VOEZ you have time.
When we start the game for the first time, we will be asked to interpret a theme. At this moment it does not matter what score we get since it is a mere tutorial and introduction of what is ahead. The first song is a perfect excuse to get caught up in what VOEZ proposes. Touch it and you will be in their networks. It does not matter that you are not able to master the 3 Levels and, therefore, you cannot advance in the Story. What really matters is that you will want to continue interpreting songs. Play them all and enjoy both melodies and playing notes on the screen. The essence of VOEZ is plain and simple to enjoy music, play songs and forget about everything else.
Best of all, once this first song is performed, we will have at our disposal the entire list of songs unlocked so we can choose what we want to do at all times. A great success although seeing so many subjects in one go can overwhelm even the most painted. Do not be alarmed, its simple and clean interface and the alphabetical order will make you not miss. Although it would have been a detail that the order of the songs, instead of alphabetical, was by musical genre. However, this problem is solved by selecting one of the covers of the interface since when doing so, a small fragment of the song will sound.
And now it comes when we answer the million dollar question: how does the Nintendo Switch screen defend itself against the barrage of notes coming down it? Well the answer is simple, it exceeds perfectly and perfectly. VOEZ requires a lot of tactile skill -some notes require us to make specific gestures to make them sound- and the Switch's multi-touch screen responds like a charm.
Another factor that has surprised us the most is the brutal sound quality, both of the game and the console. When we start a game in VOEZ, an informative sign always appears to warn us that we will get a superior gaming experience if we play with headphones. Obviously that is true, but the small Switch speakers give a fairly optimal sound quality even being too high if we have the volume of the console at maximum.
To finish this analysis of this great little surprise that is VOEZ, we will go on to talk about the comfort and ergonomics that Switch offers when it comes to playing these types of games. Well, the console is the ideal size for it. We have always played directly with the "tablet", bareback. Since in no case do you need to have the joy-con attached to it. It is a tactile game on all four sides and it has been designed for this. The Switch feels like a phablet in hand so there are no major issues. While it is true that VOEZ is designed to play a few songs at once and rest a little. It is not necessary to stick to a three-hour concert to enjoy this title. We, particularly, have started to feel tired after games of 20 or 30 minutes -what has been games of between 30 and 35 minutes-. So VOEZ is a perfect complement when we want to disconnect and have a quick game.
Screenshots
Screenshots will help you evaluate the graphics and gameplay of VOEZ.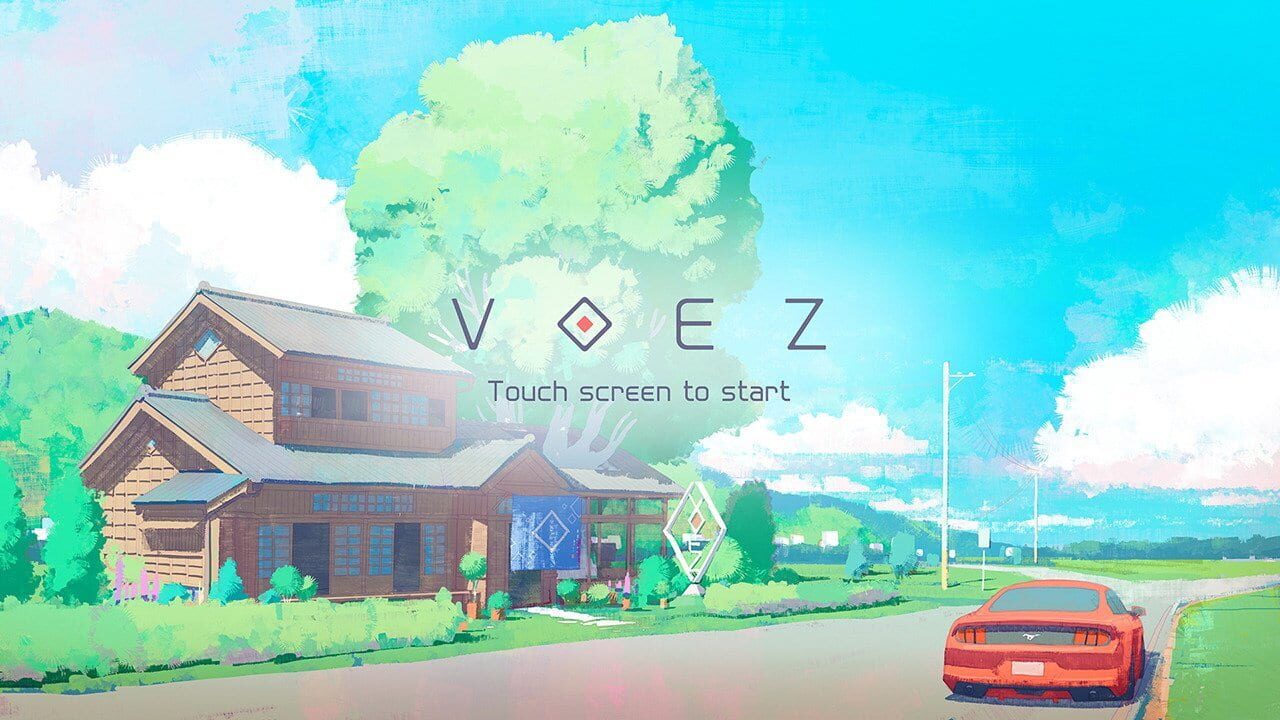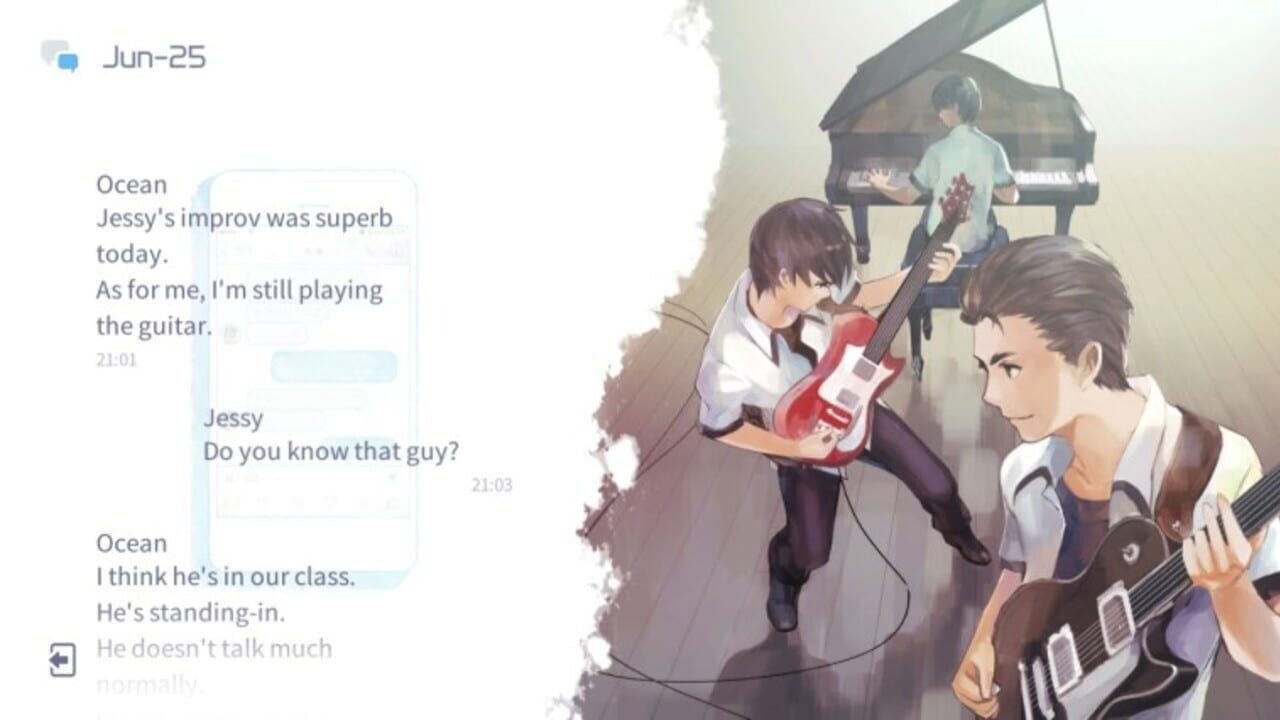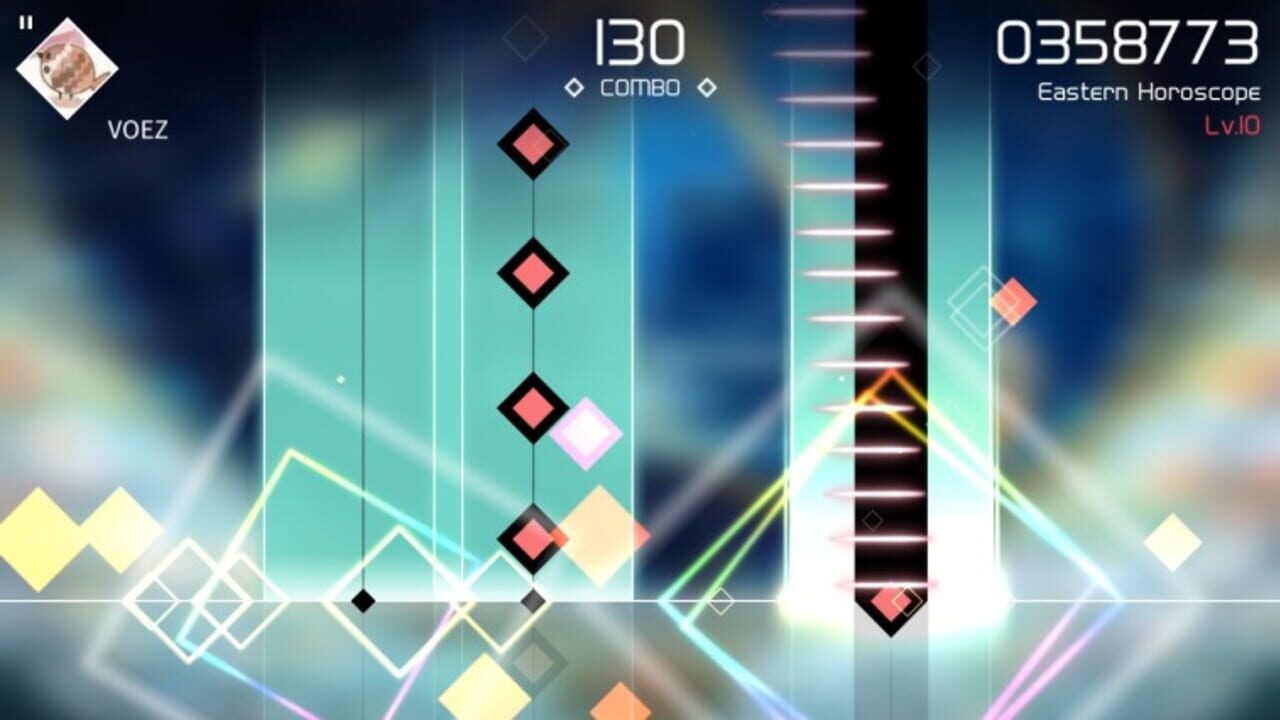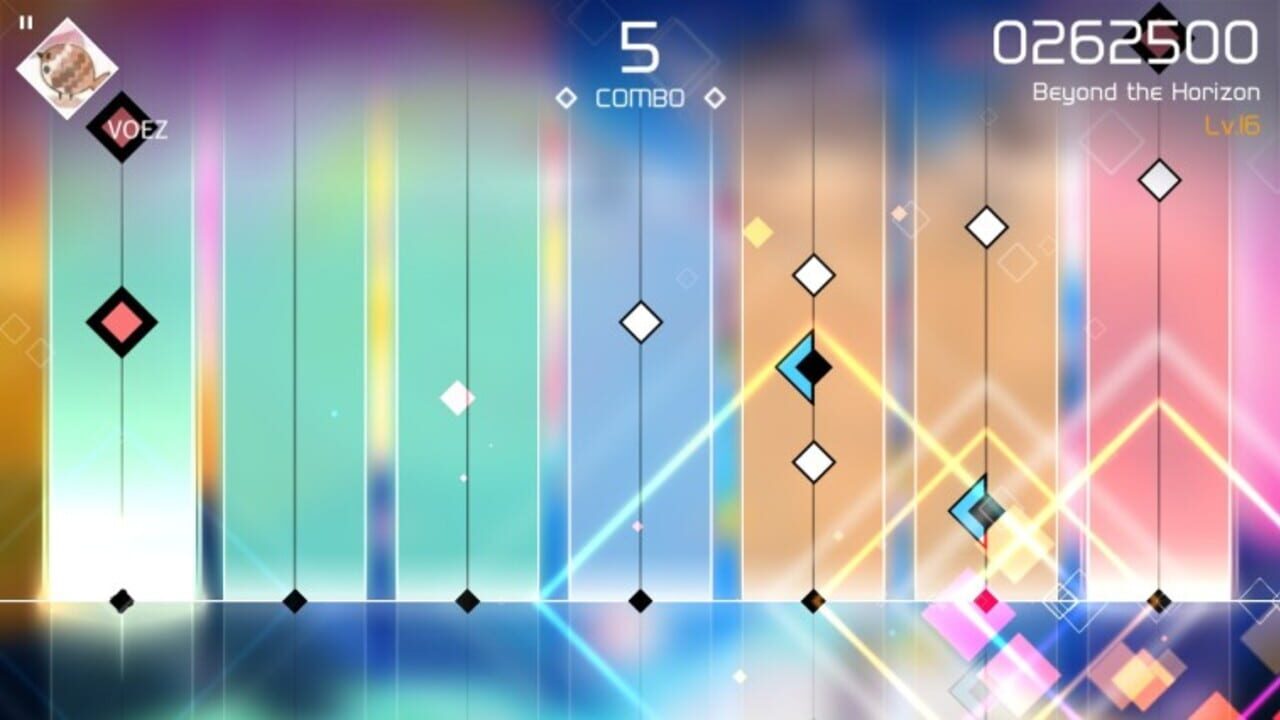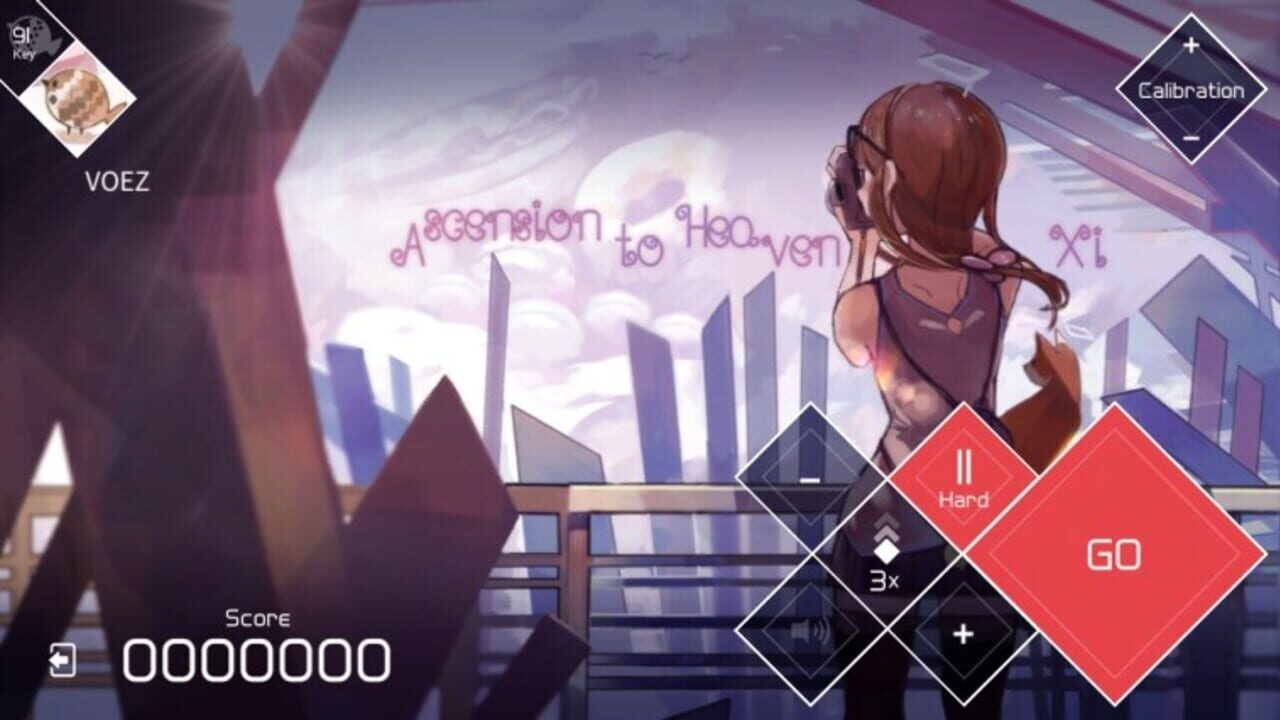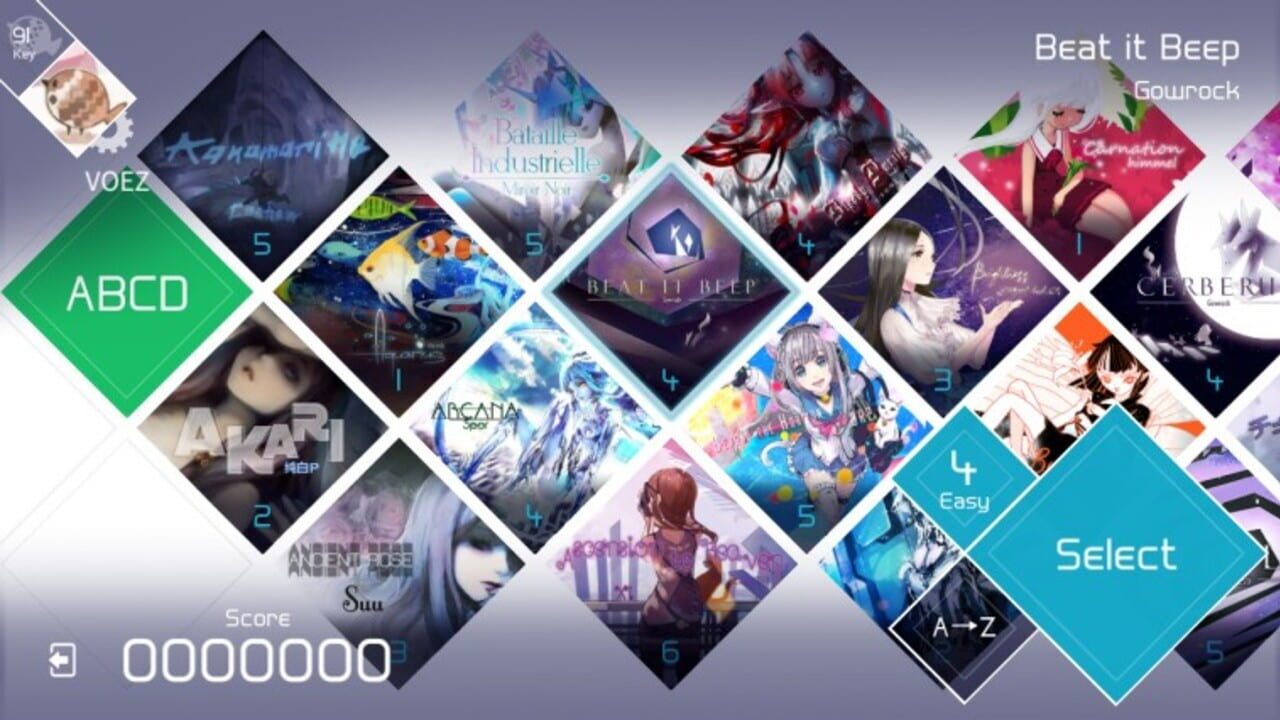 Videos
If screenshots are not enough, you can enjoy creative videos from PM Studios
You may also like
If you like VOEZ, but you're tired of it and want something new, you can try other games.