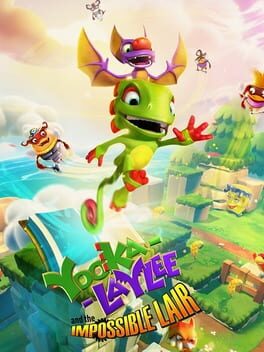 Yooka-Laylee and the Impossible Lair
Publisher

Team 17

Developer

Playtonic

Release date

8 Oct 2019
Yooka and Laylee Return for Hybrid Jump 'n' Run Adventure Yooka-Laylee and the Unreachable Hideaway is a brand new experience platformer from a portion of the key imaginative gifts behind Donkey Kong Country. Your chief rival Capital B is planning some mischief, so the amigo couple needs to make all the difference once more. To defeat his underhanded arrangement to oppress a whole honey bee realm with a "Hivemind" gadget, our legends must battle to battle in Capital B's "unreachable" concealing spot. It is by all accounts a problem area, however with the assistance of Queen Phoebee and her Royal Beetaillon, Yooka and Laylee may get an opportunity! 2.5D platformer! Each level offers pleasant, definite and extraordinary illustrations. Yooka, Laylee and an entire scope of brilliant characters (both great and terrible) were acknowledged in a phenomenal 2.5D world. 3D overworld! In the overworld you don't simply hop from level to level, it offers an own special gaming experience! Investigate and open extra 2D levels by finishing journeys and riddles, saving the Beetallon's Bees and discovering collectibles. Elective level states! Do you think you know a level back to front? Take a stab at playing it in its substitute state! Work switches in the overworld and make new landscapes. Interface them to power, inundate them in water, hold up them, or truly flip around them to get totally new difficulties! THERE'S TONIC AGAIN! Get some assortment in your game with "Tonika"! There are more than 60 tonics in Yooka-Laylee and the Impossible Lair that bring adjustments, for example, boundless moving, progressively troublesome adversaries, and super speed. You can likewise utilize them to open new natural and realistic impacts! Thrashing the inaccessible concealing spot! Players are allowed to challenge Capital B's distant concealing spot whenever, however without the assistance of the Royal Beetaillon this could demonstrate troublesome. Finish and open levels and they will strengthen your guard when you face Capital B's treacherous snares!
see all / fold
| AGM score | 76% |
| --- | --- |
| IGN | 8.7 |
| GameSpot | 6 |
| Metacritic | 82 |
expand / fold
About Yooka-Laylee and the Impossible Lair
Yooka-Laylee and the Impossible Lair is released by Team 17 in 8 Oct 2019. The game is designed by Playtonic. Yooka-Laylee and the Impossible Lair is a typical representative of the Adventure genre. Playing Yooka-Laylee and the Impossible Lair is a pleasure. It does not matter whether it is the first or a millionth hour in Adventure, there will always be room for something new and interesting. Thrilling levels and gameplay Yooka-Laylee and the Impossible Lair will not leave anyone indifferent. The complexity of gameplay increases with each new level and does not let any player get bored.
In addition to it in 8 Oct 2019 released games such as:
In addition to Yooka-Laylee and the Impossible Lair, the representatives of Adventure games also belong:
A complete list of games like Yooka-Laylee and the Impossible Lair can be found at AllGame here.
Yooka-Laylee and the Impossible Lair is versatile and does not stand still, but it is never too late to start playing. The game, like many Adventure games has a full immersion in gaming. AllGame staff continues to play it.
Yooka-Laylee and the Impossible Lair is perfect for playing alone or with friends.
At AllGame you can find reviews on Yooka-Laylee and the Impossible Lair, gameplay videos, screenshots of the game and other Adventure representatives.
Yooka-Laylee and the Impossible Lair - Análisis
Author: Miguel Ángel Escudero
Date: 2020-07-30 23:38:50
A couple of years ago, a chameleon, Yooka, and a bat, Laylee, performed in partnership with Yooka & Laylee under the tutelage of Playtonic Games - a study made up of Rare veterans - with the firm intention of honoring and trying to replace another legendary one animal couple: Banjo and Kazooie. Almost two decades had passed since the bear and the bird dazzled millions of players with the pair of brilliant titles released on the Nintendo 64. Banjo and Kazooie pursued their careers outside of Nintendo machines as Rare was bought by Microsoft.
Many players feel somewhat orphaned and saw Yooka and Laylee as a perfect replacement. For this reason, Playtonic Games created a very good platforms that contained all the ingredients of the long-awaited saga: humor, chascarrillos, a leading duo with a lot of charisma, bad guys, exploration, puzzles and many platforms. Yooka and Laylee defeated the evil and greedy Capital B, or at least they believed that, since now they have to see each other again and things are going to be even more complicated. That the new adventure of the chameleon and the bat be nicknamed "The Impossible Lair" is not trivial. Just as it is no coincidence that this time, 2D platforms were chosen , and if Yooka & Laylee paid tribute to 3D platforms from the late 90s, The Impossible Lair is a great tribute to games like Donkey Kong Country.
The game starts with our protagonists in full action, facing Capital B and trying to defend Queen Phoebee and her Army of Bees. We are in Reinolmena and peace and tranquility have been ruined by the bumblebee of Capital B, the villain has made a scepter that allows him to control the will of the worker bees and has proclaimed himself Master and Lord of Reinolmena. Although at first the willful bees will protect us, they will quickly fall under hypnosis. As expected, we will be defeated in the battle against Capital B and the Queen will ask us to help her rebuild her Army of Soldabejas so that we can defeat our rival. So our goal is clear: to rescue each and every worker bee that has been trapped and scattered throughout Reinolmena , return to The Impossible Lair and defeat Capital B. Easy, right? Well no, none of that, we remind you that it is impossible. But we will have time to talk about it.
The first thing that will catch our attention once they leave us to our air is that -isometric view and 2.5D apart- we have a wide map to explore and in which the 20 levels are disaggregated, although they are really 40 since all they have a "Side B". In this world we will find the entrance to the levels, we will have to explore to open new paths, complete the Challenges of the Pagies that have the power to make great changes in the mapping, solve puzzles, collect Tonics that Vendi has lost and that they will grant us varied effects within the levels and even pay tolls to the usurer and sibylline Trowzer in order to find new areas. This system gives a touch of freshness to the game since while we explore we do not have to calculate the jumps that everywhere flood the levels or worry about losing our lives and the objects we have obtained. It is a grateful and hilarious world to explore .
So, it could be said that Yooka-Laylee and the Impossible Lair are several games in one since we have the part where we have to discover the entire map and get the "Side B" of the scenarios -through ingenious and fun puzzles - and the other in which we have to complete the mission that Queen Phoebee has entrusted to us. And for this we are going to have to enter the Volumes that make up each world. And it is at this point where the game is transformed again. We went from the isometric view and the so-called 2.5D to a pure and hard 2D platforms where jumps, rebounds, traps, obstacles, enemies and collectibles are the general trend. In each level we will have hundreds of feathers to collect, five TWIT coins to collect and walk with nerves and a pulse of steel while the stage and the enemies want to make us fail in our mission to rescue the soldabeja on duty.
The settings are beautiful, varied, with various paths and doors that will give us access to secret areas . The vast majority have a very inspired design and take us to various fantasy locations, forests, jungles, industrial worlds full of factories or machinery, water or fire worlds, or ice cream. There is no lack of variety, and to this we must add what we have been apt to call "B-faces", which are variants of the same scenarios, but with different peculiarities. For example, if in Reinolmena we do different actions -such as applying ice, fire, water or other substances- we will transform the scenario. This will cause a forest to become a flooded jungle, the fountains and the entire level to freeze or everything to be covered in thick, delicious, slimy and sweet honey, giving rise to new situations and causing the number of levels to multiply by two. Of course, we must mention the tribute to classic 2D platform games such as Donkey Kong Country which have been inspired - perhaps too much.
The levels are very rich and fun, although there are also some less inspired than others , but each and every one of them will pose a small challenge if we want to get hold of the 5 Coins that are in them. We must also point out that there are hardly any Final Chiefs so we have lost that point of action.
And it is that Yooka-Laylee and The Impossible Lair is, like all good exponents of the genre, a demanding game with those who want to get the most out of it. If we go from collecting the coins - careful because it can affect us when completing the game - we are facing a fairly affordable difficulty, although it is not easy . Through the levels we will come across a camera that will record our progress and serves as a checkpoint - if we palm with the camera activated we will keep pens and coins. In addition, if any enemy or obstacle hits us, Laylee will shoot out and start fluttering around us so we will have to try to catch her, if we do not do it the bat will leave and leave the chameleon somewhat sold since any touch will kill us. To solve this situation on the stage, there are several bells distributed that will bring good Laylee back to our side. It must be said that in this game we have no lives, no health bar or effort. Our health is limited to being careful not to lose Laylee and avoid Yooka being hit when we are alone.
Since we are talking about difficulty, you will remember that a few lines above we commented that there would be time to dedicate to The Impossible Lair. Well, the time has come. The first thing we have to say is that, in a style similar to The Legend of Zelda: Breath of The Wild, we can access the final level from the beginning of the game. Another thing is that we are able to complete it. Spoiler: we have not been able . And even with the story well advanced and counting on a copious swarm of soldabejas.
And it is because of something called Impossible Lair. Because, literally, it almost is and even more so if we do not have the help of a good number of soldabejas that serve as a shield and protection. Not just because of the fight against Capital B, no. It is that in The Impossible Lair we face an exaggeratedly long, challenging level that does not have control points. Almost nothing to the device and a whole bauble for all lovers of the physically and morally impossible challenges that many video games put before us. A real joy.
As it is a joy the control system designed for this superb 2D platforms. We will never tire of repeating it, in a game of these characteristics having a reliable and precise control system makes the difference. You can be very attractive, but if when it comes to jumping, bouncing, falling, hitting enemies, calculating the fall, the control is not fully calibrated, all the effort goes to hell. That does not happen here. Yooka responds perfectly to our orders with the command. Control is precise and allows us to carry out all kinds of actions effectively . In addition, the animations of the lead duo and the enemies are wonderful.
And is that if Yooka-Laylee and The Impossible Lair is a playable delight, it is also in its visual and sound part. Since Playtonic they have put all the meat on the grill and they have people at the level of Steve Mayles at the controls of character design or Steven Hurst in charge of environment design. Two veterans of the old Rare who make this sequel look even better than Yooka and Laylee's first appearance. We've played the title on an Xbox One X and it's a true visual spectacle, with native 4K resolution at constant, rocky 60fps. Mogollón of effects of light, water, fire or ice. In addition to the aforementioned superb animations both in enemies and in the lead duo. Everything in Reinolmena has its own life and light.
And the soundtrack, composed by David Wise with the collaboration of members of Playtonic Games, is also remarkable. It has many winks and reminiscences of the games it wants to honor. Of course, they are very varied, fun compositions and can even get hooked -or hum them while we play- but they do not reach the level of excellence of, for example, Donkey Kong Country. However, both the music and the sound effects border on a great level. As well as the subtitles perfectly localized and translated into Spanish with a multitude of winks to the whole world of video games and with infinity of jokes and easy jokes.
Screenshots
Screenshots will help you evaluate the graphics and gameplay of Yooka-Laylee and the Impossible Lair.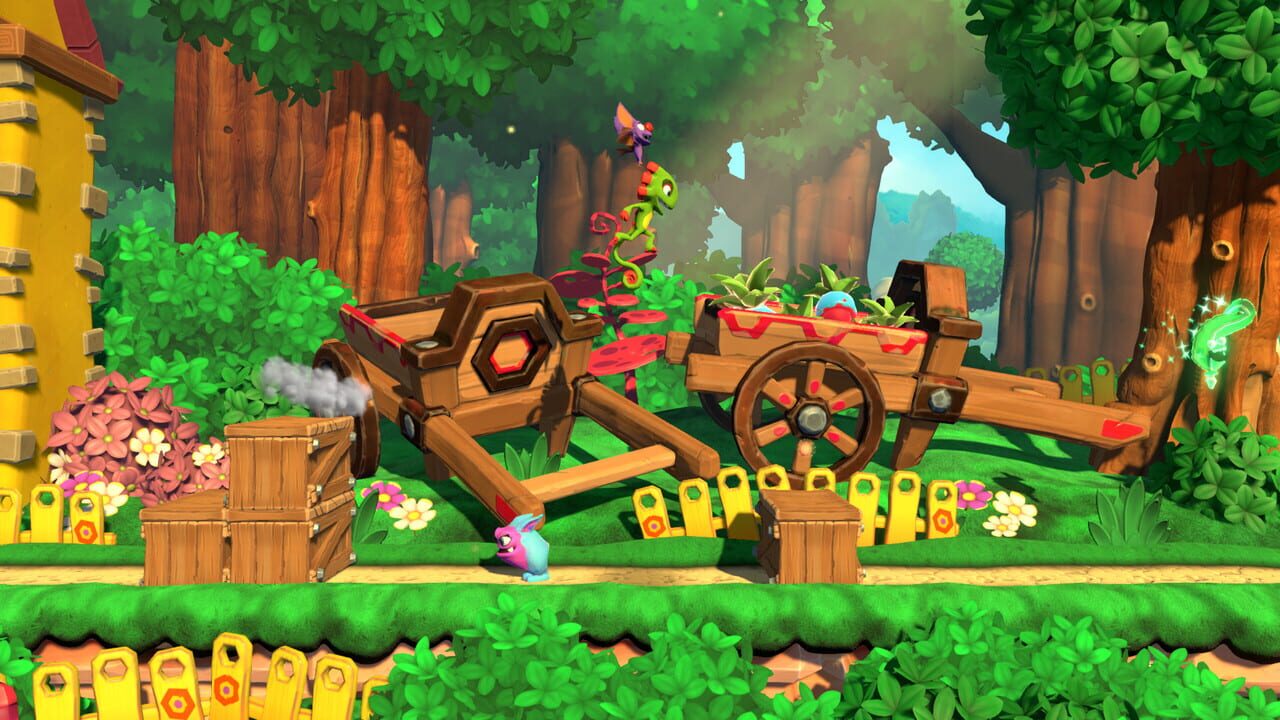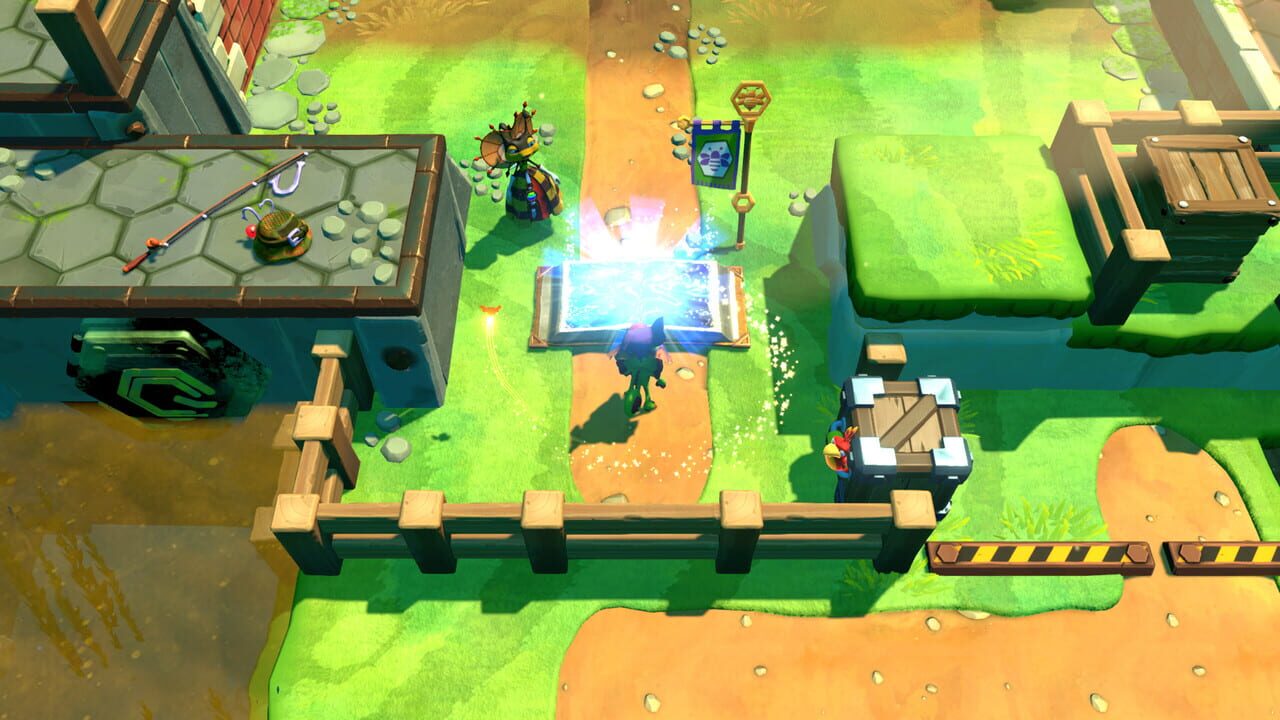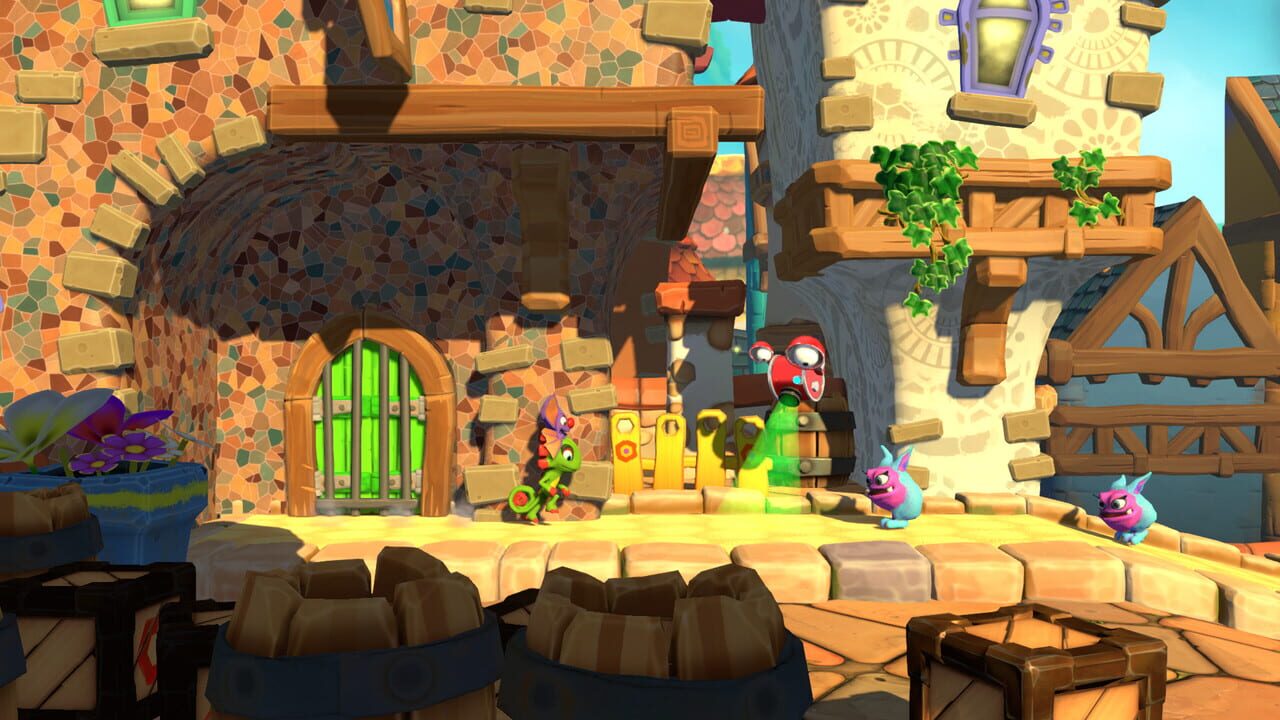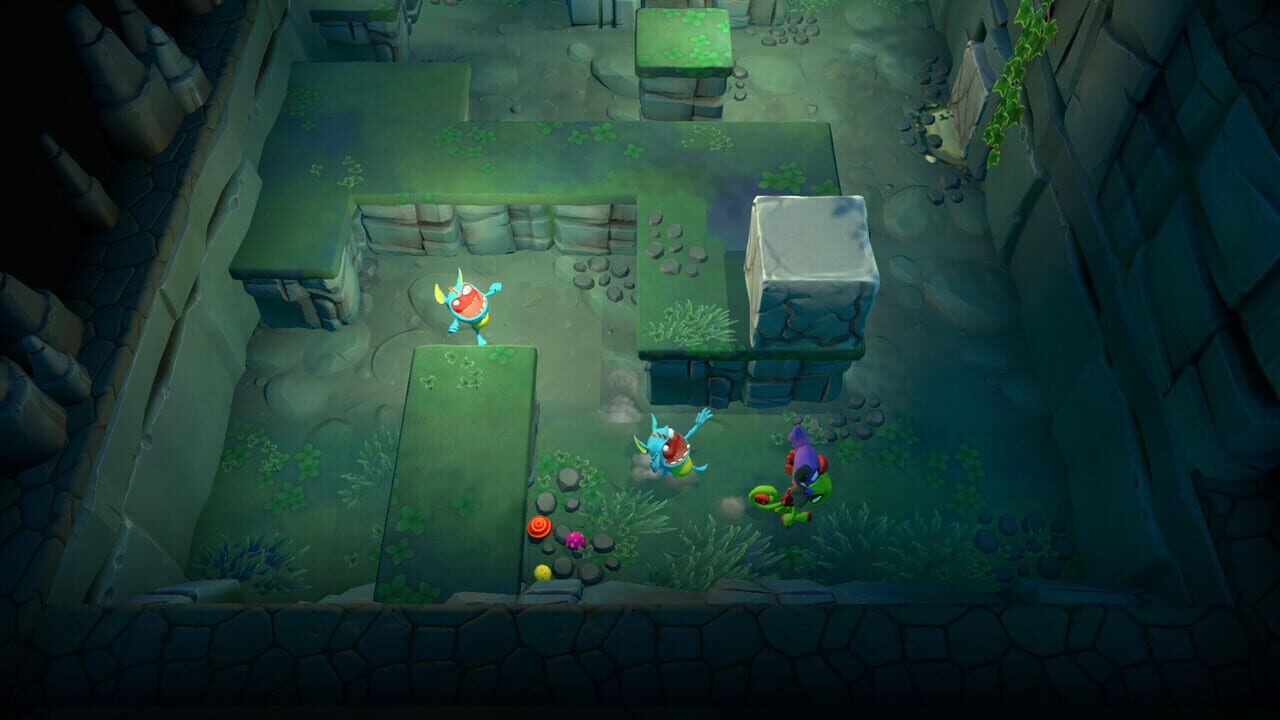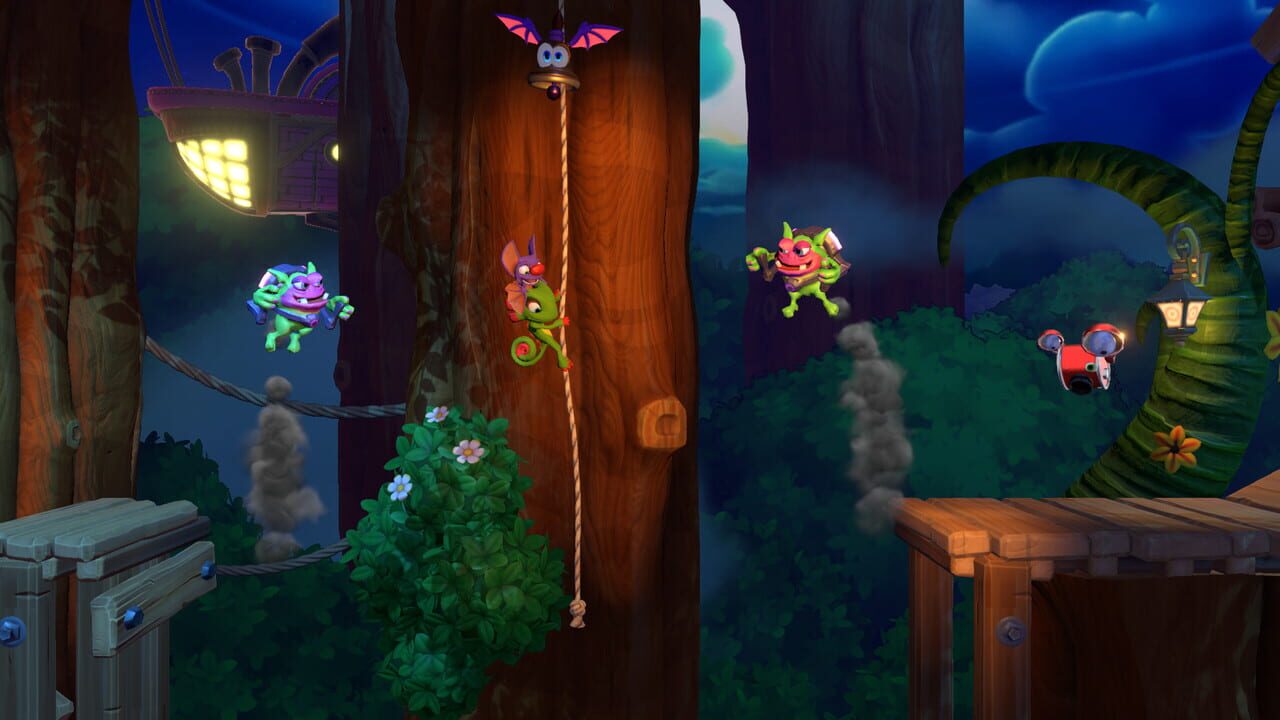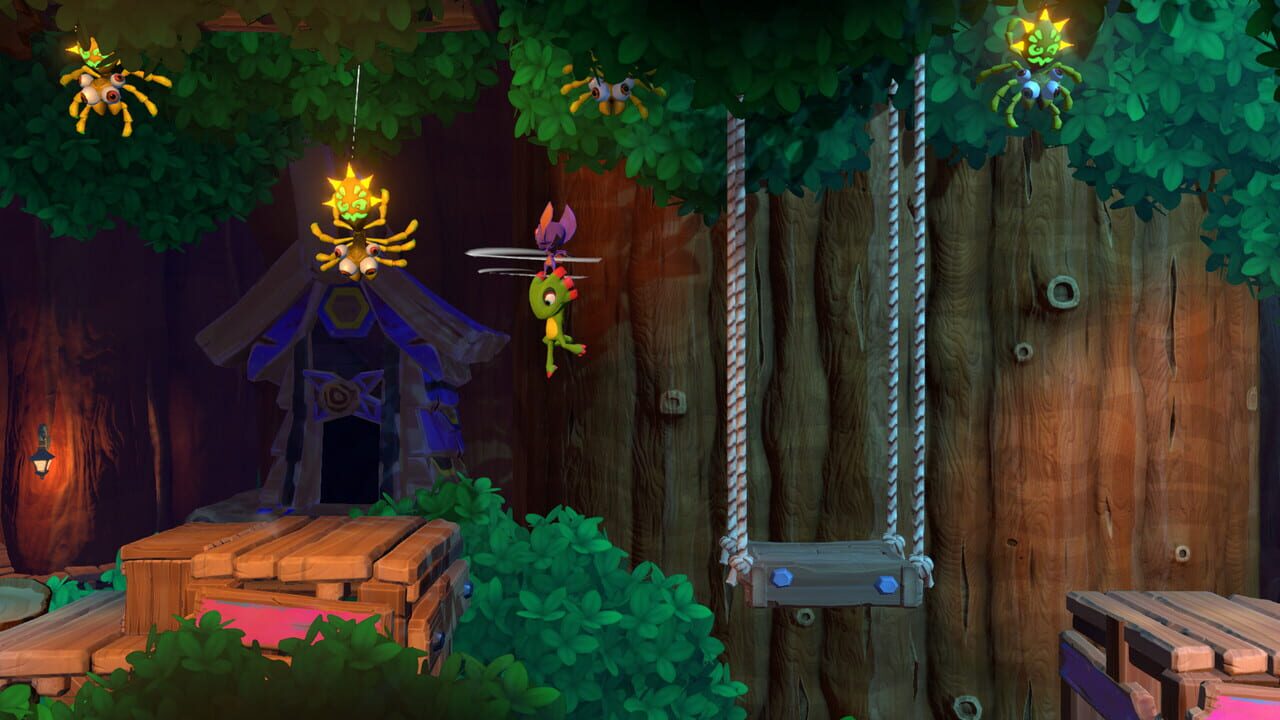 Videos
If screenshots are not enough, you can enjoy creative videos from Team 17
You may also like
If you like Yooka-Laylee and the Impossible Lair, but you're tired of it and want something new, you can try other games.