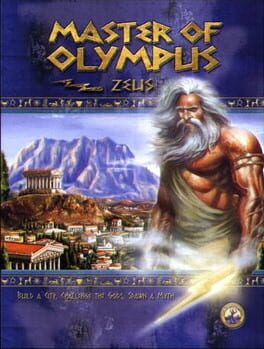 Zeus: Master of Olympus
Publisher

Sierra Entertainment

Developer

Impressions Games

Release date

22 Oct 2000
Zeus: Master of Olympus is the fifth full title of the City Building Series developed by Impressions Games and published by Sierra Entertainment. Like previous titles, Zeus focuses on the building and development of a city in ancient times, this time in Ancient Greece. It features some changes to the Caesar III engine, most notably the new housing blocks, now dividing "common" and "elite" housing from the start, and more detailed walkers.
see all / fold
| AGM score | 88% |
| --- | --- |
| IGN | 9.1 |
| GameSpot | 8.6 |
| Metacritic | 87 |
expand / fold
About Zeus: Master of Olympus
Zeus: Master of Olympus is released by Sierra Entertainment in 22 Oct 2000. The game is designed by Impressions Games. Zeus: Master of Olympus is a typical representative of the Strategy genre. Playing Zeus: Master of Olympus is a pleasure. It does not matter whether it is the first or a millionth hour in Strategy, there will always be room for something new and interesting. Thrilling levels and gameplay Zeus: Master of Olympus will not leave anyone indifferent. The complexity of gameplay increases with each new level and does not let any player get bored.
In addition to it in 22 Oct 2000 released games such as:
In addition to Zeus: Master of Olympus, the representatives of Strategy games also belong:
A complete list of games like Zeus: Master of Olympus can be found at AllGame here.
Zeus: Master of Olympus is versatile and does not stand still, but it is never too late to start playing. The game, like many Strategy games has a full immersion in gaming. AllGame staff continues to play it.
Zeus: Master of Olympus is perfect for playing alone or with friends.
At AllGame you can find reviews on Zeus: Master of Olympus, gameplay videos, screenshots of the game and other Strategy representatives.
Zeus: Lord of Olympus - game review
Date: 2001-02-15 14:54:00
The review was based on the PC version.
Zeus by Impressions is another title in which we play the role of the governor of a city (this time mythical), which we have to bring to splendor and splendor by expanding it and fighting with our opponents. Title: Zeus - Ruler of Olympus immediately informs us in what era we have built the power of our city-state. After building great Roman cities in Caesars, Egyptian cities in Pharaoh, this time our goal is to bring the Greek Empire to glory. However, in order not to be so boring during our struggles, we are helped by Greek gods and heroes, but we are disturbed by famous mythological creatures and evil gods.
After inserting the CD into the reader, proceed to the installation process. We can choose from "as many as" three types of installations - the smallest is only 410 Mb and the largest 650 (the difference between them is imperceptible). After choosing the type of installation, we wait a moment and we can delve into the world of monsters, heroes and ordinary mortals. Before that happens, however, we have the pleasure of seeing how the world of that time was created, i.e. we are watching the intro. Unfortunately, this movie is of poor quality, not very interesting and it is very good that the evaluation of this title does not depend only on the first contact with this game, because Zeus would not get such high marks. Then we go to the first menu, where we can create our own character or visit the Zeus website. After creating the leader with whom we will identify, the menu appears, very poor in terms of choice, because we have the choice between starting a new adventure, loading the game or selecting a tutorial (there is not even a direct exit from the game :-(. There is no such thing as options where we can choose the resolution (we have been given a choice of 800x600 and 1024x768) or configure the volume of music and sounds We can only do it during the game, if these options could not be "pushed" into the menu, which does not suffer from too many options. The first form of entertainment that I tried is a tutorial, wanting to get acquainted with the game's controls and assumptions. We have a large selection of scenarios where we can check whether the knowledge gained from other games of this type will be useful to us and by learning step by step the mechanisms that control our gameplay. After getting acquainted with them, we throw ourselves into the deep water and choose some real adventure. We have a choice of 10 of them, of which 3 these are tasks without any goals - the so-called open gaming. In each of the adventures, we have a few scenarios to overcome (from 5 to 8). Each scenario has specific goals to complete (e.g. you have 800 residents in residences or an income of 1000 drachmas per year), and unfortunately they are very often analogous to those from the previous adventure. After completing the tasks, we move on to the next ones, where the goals are different, but we are still in the same city, which we have to expand even further to meet the next goal that is set before us.
The controls are intuitive and you can quickly find out where all the options are. In addition, we have a division into types of buildings, each of which is used to meet different needs of the population, or ours :-). It seems to me that this division is very good, because you can easily and quickly find the building you need, but the information that has been assigned to specific types of buildings is a complete misunderstanding for me. When we go to the Industry section, we cannot see how much specific types of buildings produce, we can only turn them off. Unfortunately, it is impossible to reduce the number of operating, for example, goat farms if we lack workers. Either we turn them off completely, or they all work, but none of them work at full capacity, because we do not have that many people, and those who are allocated to everything equally. There is also no summary list where we can see exactly what we have, what we are missing and what we should still build. To find out, you need to skim through a lot of information if it couldn't be put in one place.
The graphics do not knock you on your knees. It is very monotonous and not very colorful. People who walk the streets are also not very colorful. We can find out what a given person thinks and what he thought some time ago. Ideally, they would resemble viewers at RollerCoaster Tyccon or Theme Park or Hospital. So far, these are the most colorful games I have ever played :-) However, we can find out without any problems how many materials are in a given composition, what our porters carry, because these materials are very clearly visible and therefore easy to count . The areas on which we built all the wonderful cities are very uniform and almost uniform, some rocks, meadows, some animals and that's all. If I had to rate the roster with school grades, they would get three. I would also rate the musicians' work that way. The music playing in the background is hardly noticeable, at the very beginning I was so fascinated by the game that it took some time to notice that some music was playing in the background. Maybe it's a good thing that the music is so uninteresting - it doesn't distract you from focusing on the game. On the other hand, the sound effects are very interesting - you can hear warriors fighting in the stadium, stoneworkers or miners working.
My impressions from the game are very positive - I liked building the city, watching it develop and how tenement houses are made of tents, and how the mansions grow upwards and become more magnificent. In addition to building standard buildings such as farms, apartments, stadiums or rosters (Greece is the mother of Democracy, not without reason), we can (and sometimes have to) build temples for heroes and gods. Thanks to these buildings, we then have support, which often manifests itself in additional soldiers who guard our city. If we are talking about combat, we have little influence on the actions of our soldiers only when someone attacks us, otherwise we are only informed about the result of the battle. But when we are under attack, it is better to take matters into your own hands and throw all your armies in one place, because the computer's AI is very low. The game is quite difficult, because, as in every game of this type, mistakes made in the first scenario take revenge in the fourth, where to correct them you have to destroy half the city. That is why you need to think ahead and know that what we are building now must have a future.
To sum up - this production is quite successful, although it does not differ much from the titles mentioned in the introduction, but it has some kind of magnet, because as soon as I finish writing this review, I intend to return to it, just to finish the construction of the Temple of Athena. For people who prefer constructive creation to mindless demolition, this title is perfect. And for the rest - RTSs are currently available so much that the choice should not be so difficult and everyone will find something for themselves.
Alchemist
Screenshots
Screenshots will help you evaluate the graphics and gameplay of Zeus: Master of Olympus.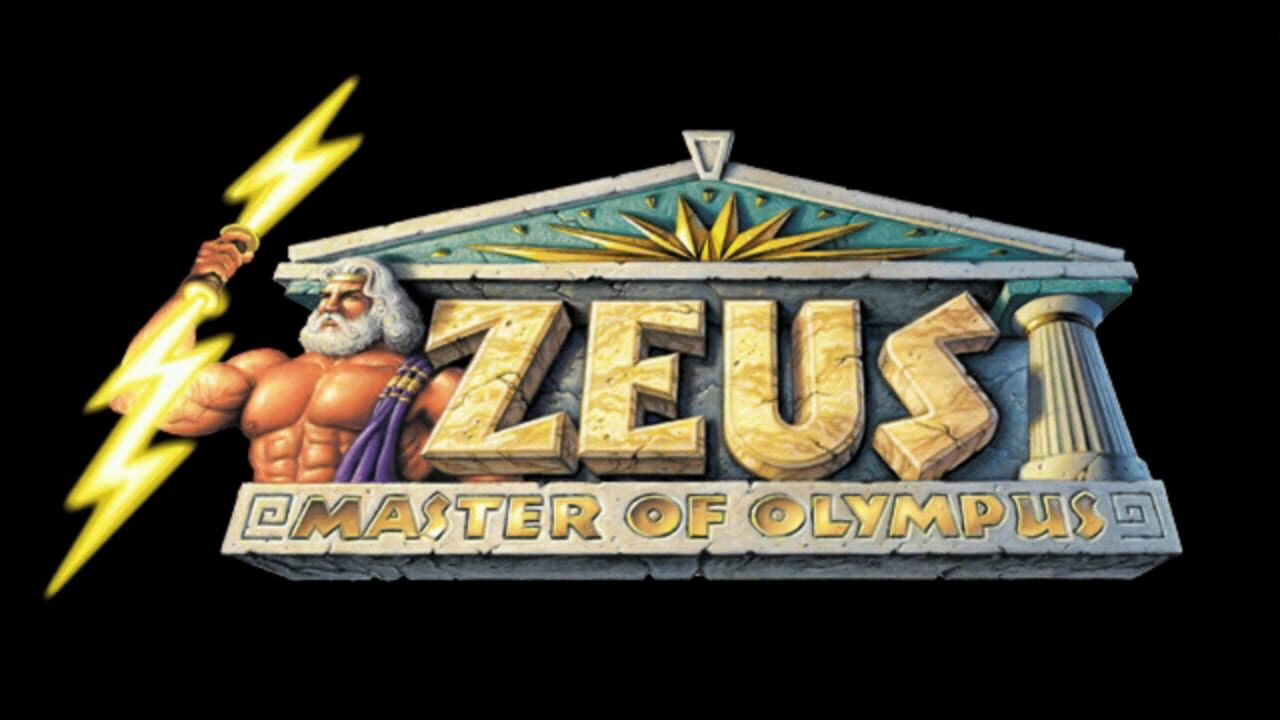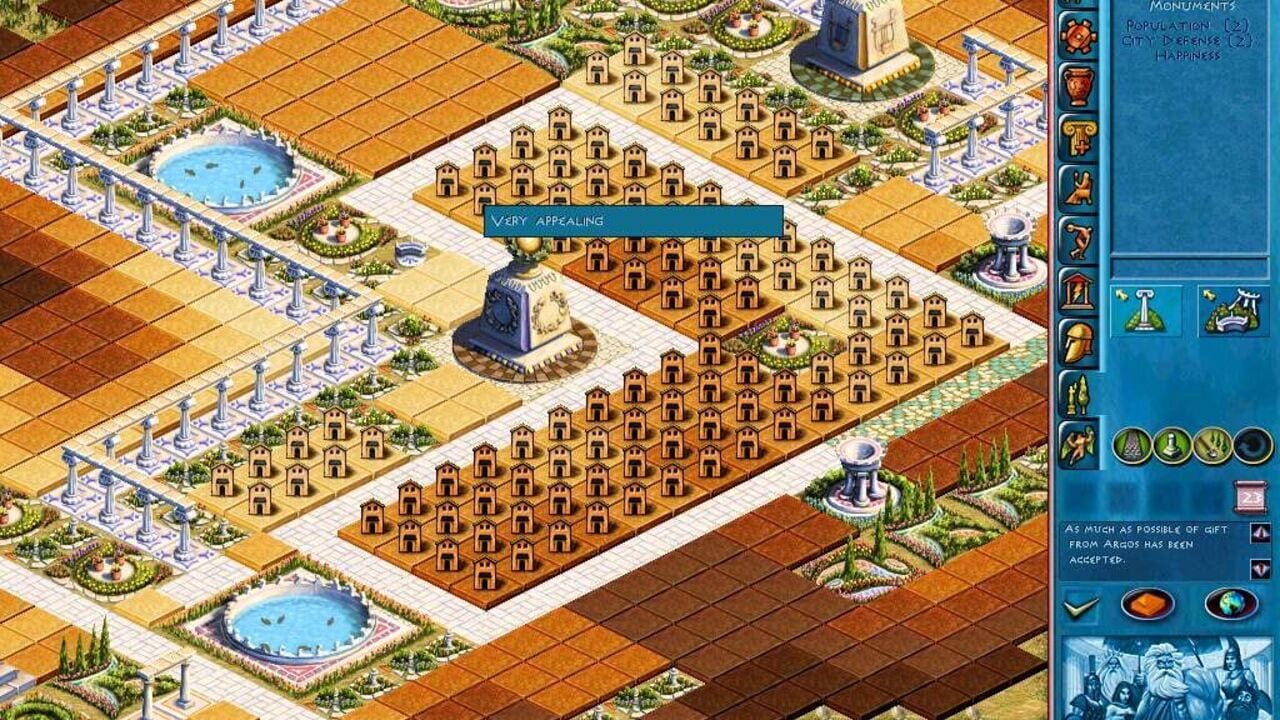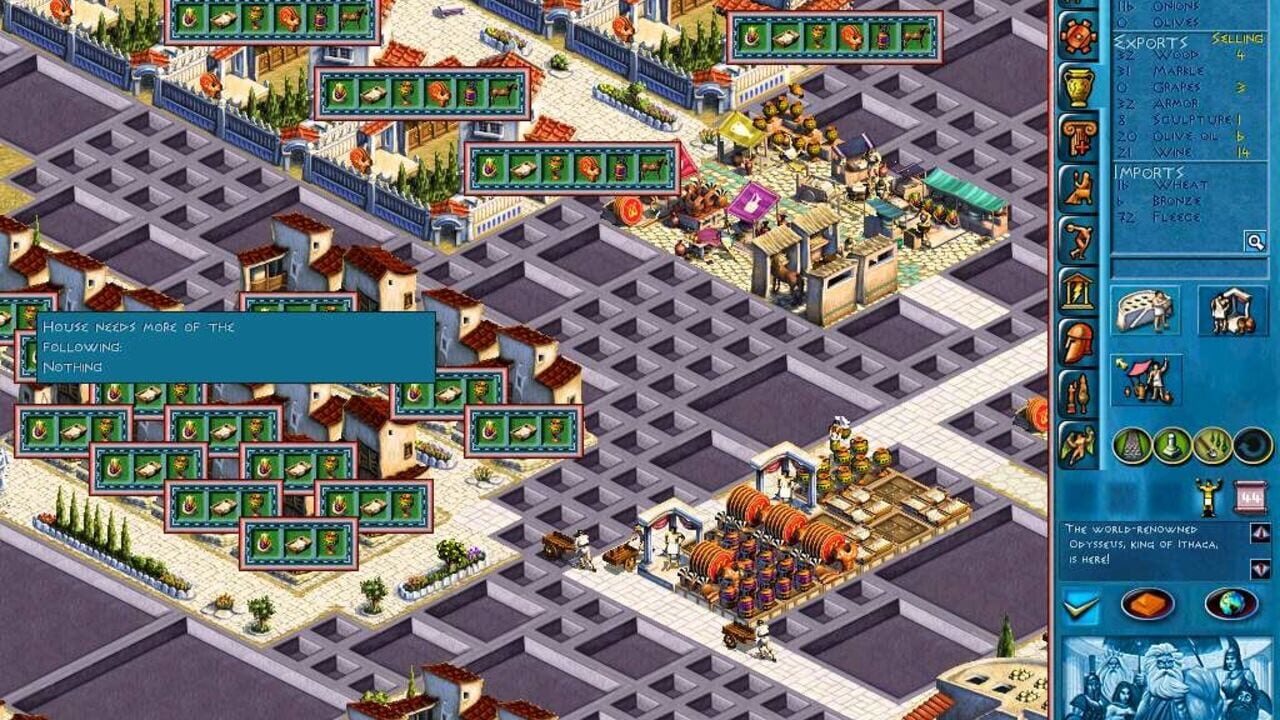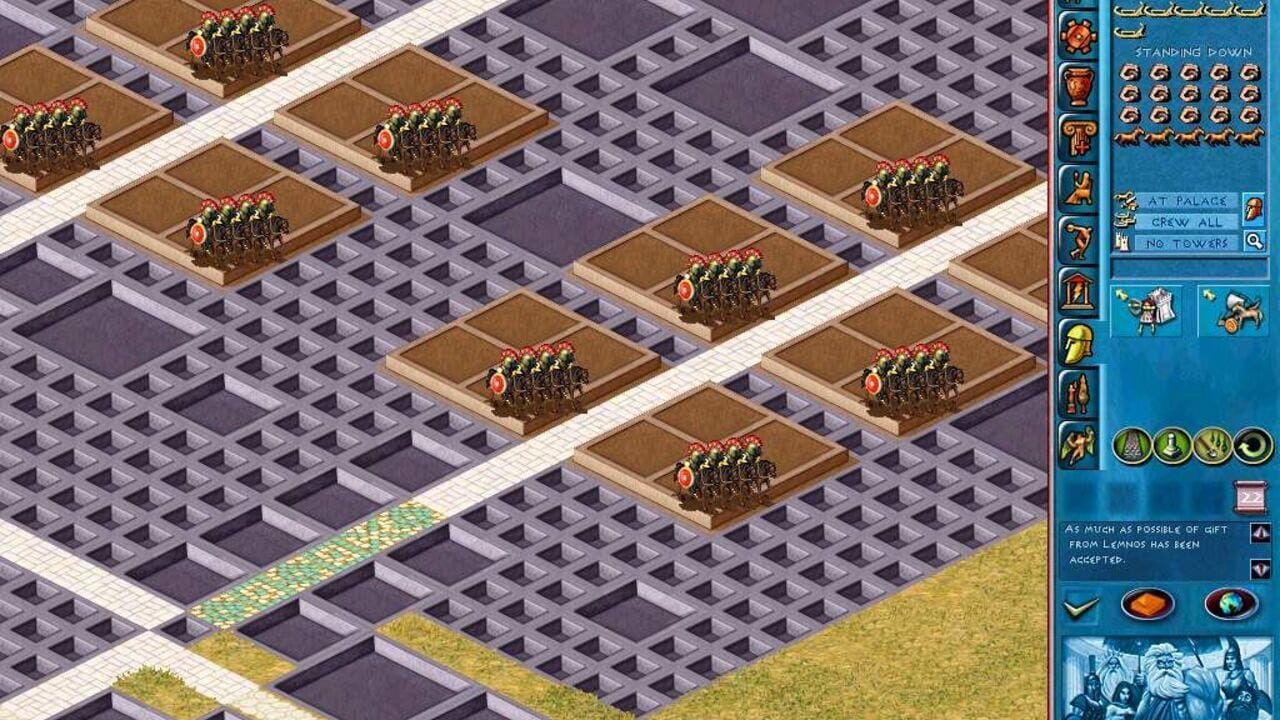 Videos
If screenshots are not enough, you can enjoy creative videos from Sierra Entertainment
No videos
You may also like
If you like Zeus: Master of Olympus, but you're tired of it and want something new, you can try other games.